Your Suffering
Jesus says: (Gesù Our Teacher, Vol. 1) -"My children, here you are devoted and serene even if in your heart the suffering, at times so acute, torments you. I am your Jesus: Brother, Friend, Father of your souls and I know and understand everything. I want to help you to resolve your problems, I want to give some respite to your anguish.
I want for you to have peace and I invite you to exercise that virtue which is indispensable for you to be able to reach also, with the mastery of yourselves, that fortitude so as to be able call back your dear ones, who are far from Me, from truth, from faith, from love.
I mean to talk to you about the patience, children, that gives you peace and which accustoms you to learn to wait. Your good desires are also mine, and I help you to realize then: but you cannot do everything and have it all in a moment.
In waiting, your faith is exercised.
Hope must never die in you, since, till there is life there is always reason to hope.
If then you think of the power and the usefulness of prayer, addressed to God for yourselves or for others, you can grasp how the period of waiting for the graces that you desire is nevertheless precious, because it is a continual increase of merits.
I would like, however, my beloved, that, when the desire to see your families settled down and your children become part of the Church again torments you, to think how great and intense are also my desires for the good of my children.
Today I'll point out one of them which forms the sigh of my Heart.
One day when I travelled the roads of Palestine, my divine glance extended itself to the point of embracing the whole world and from my mouth came out that lament:
"The harvest is great but the labourers are few. Pray to the Lord of the harvest that He send many labourers into his harvest."
Oh, children, I go knocking on the door of the hearts of many young people in whom, from infancy, I had laid particular graces, favours and gifts. I had prepared the earth and if they had corresponded they would have become my apostles. But the world with its attractions, the family and society with its flatteries, the absence of a spirit of mortification and sacrifice, the love of comfort, has rendered them deaf to the divine call.
And many of those who have come and have drawn at my fount grace upon grace, have then drunk also at polluted waters: they have taken error for truth and go madly after phantasms and heresies which swarm and spread themselves where truth should be spreading itself and with it light and life.
Behold my sorrow, behold my desires and my hopes. May my Father and yours will to raise up numerous and holy vocations and may, these elect, be able to transform the earth.
My children, when sorrow grips your heart and the desire to say that you no longer believe should come to you, that you no longer want to pray, give a higher value to these sufferings.
Say that with these you want to ask the Father that the Heart of your Jesus be consoled. You think of Me: I will occupy myself with your things and I will make your sorrows mine.
Children, I bless you all and I embrace you with infinite tenderness.
 Carmela Negri Carabelli: Jesus Our Teacher
The thoughts, the reflections and the meditations in this booklet, were inspired by Our Lord Jesus to Carmela Negri Carabelli. They are, however, addressed to all those souls, who, desirous to love the Lord, seek to put into practice his teachings and to live the Christian life more perfectly. May Jesus bless these pages and those who read them with the desire to improve themselves, granting the help of his grace.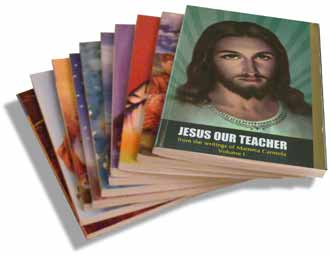 For more information about these magnificent teachings, for any spiritual assistance you may need or to participate and spread throughout the world the cenacles of prayer and the apostolate of the Divine Mercy, please contact:
"CENACOLO DELLA DIVINA MISERICORDIA",
Viale Lunigiana 30, 20125 Milano, Italy
01139-02-66-71-0625
email : cenadimi@gmail.com
www.cenacolodivinamisericordia.it
Nihil Obstat: Reverend Gerard Diamond MA (Oxon), LSS,
D. Theol, Diocesan Censor
Imprimatur: Rev. Monsignor Les Tomlinson, Vicar General
Date: 20th July 2007
The Nihil Obstat and Imprimatur are official declarations that a book or pamphlet is free of doctrinal or moral error. No implication is contained therein that those who have granted the Nihil Obstat and Imprimatur agree with the contents, opinions or statements expressed. They do not necessarily signify that the work is approved as a basic text for catechetical instruction.
Catholic Archdiocese of Melbourne