Wednesday, July 31, 2019: (St. Ignatius of Loyola)
Jesus said: "My people, I love My faithful followers, and I will reach out to protect you from the evil ones. There are people in My own Church that are trying to mislead My faithful, and they will be causing a schismatic church. You will have to separate yourselves from this evil group, and only follow My faithful remnant. In addition to the schismatic church, you will see persecution coming from your government, once your current President is removed. When your lives are in danger, I will call My faithful to My refuges. Fear not these evil ones because My angels will shield you at My refuges. After the Warning, the six conversion weeks, and a brief reign of the Antichrist, I will bring My punishment upon the evil ones, and they will be cast into hell. My faithful will have their reward in My Era of Peace, and later in heaven."
Jesus said: "My people, you have been seeing some active earthquakes cause some damage in California. You are also seeing in the vision another earthquake with devastating quaking which could even send San Francisco into the Pacific Ocean. I have given you several messages about San Francisco falling into the ocean. This city is a modern day Sodom and Gomorrah, and it will suffer from My justice for its many sins of homosexual activity. Once My faithful are secure at My refuges in this area, I will allow this earthquake to swallow up San Francisco as a punishment for their sins. Now is the time to get your souls ready to handle your Warning judgment by coming to monthly Confession. Keep praying for your families that their souls will be saved during the coming tribulation."
Thursday, August 1, 2019: (St. Alphonsus Liguori)
Jesus said: "My people, I gave the people a parable about the Judgment Day. Some fishermen put out their net for a catch of fish. They pulled in their nets with the fish, and they had to sort out the good fish from the bad fish. This is similar to the Judgment Day when My angels will sort the bad people from the good people. The evil people will be collected and thrown into the flames of hell. While the good and faithful people will be escorted into My Kingdom in heaven. You are either with Me or against Me. My faithful will repent of their sins, obey My Commandments, and perform good works to show how they believe in Me. The evil ones will refuse to love Me, and they will perform all manner of evil works without any repentance for their sins. I will forgive even the most serious sin, but people must be sorry for their sins and seek My forgiveness in Confession to a priest, if they want to be saved. Be prepared with a pure soul so you are ready to face Me at your particular judgment when you die."
Prayer Group:
Jesus said: "My son, you saw four men that wore beards in four cars in your church parking lot that looked suspicious. Now, last night you saw a shed to collect clothes for the poor, that was burned to the ground this morning. It was arson, and this could be linked to what you saw last week. It would be wise for your church to have some cameras that could view your parking lots. At least you could see any suspicious people like you saw last week. You are seeing churches burned down, so this could be a warning. Pray that you could find out who did this arson."
Jesus said: "My son, St. Joseph's Church in Phoenix, Arizona was one of the churches that you were trying to speak in along with Fr. Michel. On St. Joseph's day this church was burned to the ground. This burning of churches will be a part of the coming persecution. You will see Christians persecuted and more churches will be burned down. In other countries you are seeing terrorists burning down churches and killing Christians. When your lives are in danger, I will call you to come to My refuges of protection. Only My faithful with crosses on their foreheads will be allowed into My refuges."
Jesus said: "My son, you were instrumental in gathering these theology books from Fr. Fraat's house, and you gave them to Fr. Michel for his English library. Your priest friend could use this English library to help his seminarians in teaching theology in English. Fr. Michel will be with you in his attempts to get enough money to build his second monastery. Pray that his second monastery could get started soon, because you are approaching the tribulation."
Jesus said: "My people, I will be calling My faithful to My refuges before the tribulation time. My refuges will be at My Blessed Mother's apparition sites, places that have been consecrated by a priest, shrines, places that have adored My Blessed Sacrament for years, monasteries, and even caves. In the vision you are seeing some faithful living at the entrance of a cave. If necessary, My angels will provide them tents, blankets, food, water, and fuels for the winter. Do not have any fear of the evil ones because My angels will provide for your protection and all that you will need for your survival."
Jesus said: "My people, your opposition party candidates are struggling to decide what issues they will support. So far their ideas about Medicare for all, the 'Green' plan, and other programs appear to be very expensive and not very realistic. Continue to pray that your people do not fall victim to voting in the socialist communists."
Jesus said: "My people, your weather events are about to turn more serious as you will be seeing more storms coming near your country. Pray for any victims that may encounter such storms. This is another reason why I want you to continue your reparation Masses for those people who could be killed suddenly from natural disasters."
Jesus said: "My people, you may be called on to help support some missionary priests as Fr. Moreta, Fr. Boniface, and Fr. Michel. They need your prayers as well as your financial aid. So be prepared to help them when you have the opportunity to do so."
Friday, August 2, 2019: (St. Eusebius)
Jesus said: "My people, you can see in the vision how plans for the second monastery were about to be fulfilled. The money for the materials has been donated, and the procedures for building it are being worked on. It is part of this plan to obtain the materials for the monastery, as you are seeing in the vision. If this second monastery is to be built during the tribulation, then the people who come to this refuge and My angels will be needed to finish the construction. Give praise and thanks to Me for all I am doing to help Fr. Michel prepare the priests for the end times."
Jesus said: "My son, I am happy that you had a water well put in, and you were blessed to have soft water, which is unusual. You need drinkable fresh water for your refuge people. It has a little iron, but you have a cylinder to oxidize the soluble iron to rust. Your well is 47 feet down and you have a five gallon/minute rate for your water. You still put a little clorox into the well to keep any coliform out. You also are able to pump the water to your sinks and toilets. You have your smaller solar panels to run your electric water pump even in the winter, when you clear the snow off of your first floor panels. Be thankful for your water source, because you need fresh water to live."
Saturday, August 3, 2019:
Jesus said: "My people, in the first reading you read about the Jewish Jubilee celebration of 50 years, and how the land was valued by how many crops it could produce. As you think about the harvest of crops, you could see some reductions in your food supply this fall, because of all the rain you had this year in muddy fields. Pray that your farmers can maximize their yield from the crops that were planted. You have been blessed with fertile land, so be thankful that you can produce enough food for your people to eat. Be thankful also for all of your hard working farmers who have to take risks in growing their crops."
Jesus said: "My people, I told you that you would see one event after another. Now you are seeing shooting events in addition to your natural disasters. These shooters are picking soft targets and areas that are restricting weapons. Your first responders are doing the best they can, but with rapid fire guns, many people are shot before the gunman can be stopped. It is hard to defend against terrorists, but their houses are showing the radical character of these shooters in their writings. Since some people are using social websites, there may be some means to spot such shooters before they can kill someone. Pray that your people can be protected as much as possible."
Sunday, August 4, 2019:
Jesus said: "My people, you had a missionary priest give a talk at your Mass, and he was sharing the faith with the people in South Korea. My son, you also are like a missionary, but you have a mission of preparing the people for the end times. You also are preaching to save souls, but your mission has an urgency to prepare people before the tribulation comes. I have talked to you also about a mission to have a refuge at your house. This will be for people to have a safe haven from the evil ones who want to kill you. You just saw twenty people killed by a gunman in El Paso, Texas. Now, you just heard on your news of nine killed by another gunman in Dayton, Ohio which is close to Columbus where you will be speaking in a week or so. These mass killings are becoming more frequent, but it is hard to know the reason for the action of these shooters. Some of these people are acting irrational, and should not have access to these rapid fire guns. Pray that you can find ways to limit these kinds of mass killers."
Jesus said: "My people, you are seeing so many mass killings, that you were wondering if they were connected with each other. There is a master plan to use these mass killings as a means to take away your guns. You know how your various agencies have the means and the knowledge of how to make someone want to kill a lot of people in a crowded place. You know of putting chips in people to control their minds. You also know of people who were hypnotized that can be following someone's direction of their will. Some people also have psychological problems, and drugs can drive them to do these killings. When there are so many incidents, it is true that they are being directed by a group who wants total control of your country. Pray that these groups of evil ones can be controlled, so you know when and where they will strike next."
Monday, August 5, 2019:(Dedication of the Basilica of Mary Major)
Jesus said: "My people, 'I am the Bread of Life. If anyone eats of this Bread, he shall live forever; and the Bread that I will give is My Flesh for the life of the world.' (Jn 6:48-52) You are seeing a thread of how important My Eucharistic Bread is in today's readings. The first sign is the manna that I rained down on Moses' people in the desert. The second sign is the multiplication of the loaves and fish that I gave to the 5,000 men and later to the 4,000 men. The third sign is My Blessed Sacrament that I have given you in the first Mass at the Last Supper. My consecrated Host is given to you now at every Mass, and you receive My Real Presence when you receive Me worthily in Holy Communion. Treasure My intimate Presence with you every time you receive Me worthily in Holy Communion. This is My gift of My very Self to you at every Mass."
The Holy Spirit said: "I am the Spirit of love that unites the Father and the Son. When you call on Me, I will give you the graces to speak the words to the people for converting them. I help give the words also in writing your messages for the people. You can pray to Me when you pray the 'Glory Be' prayer. This is why the Lord asked you to pray the 24 Glory Be prayers to St. Therese, because you are invoking My Name in each prayer. When you go out to your talks, you have been asked to pray the long form of the St. Michael prayer, and to pray the 24 'Glory Be' prayers to St. Therese. This will be your protection from the evil ones, and a help in your driving to your destination safely. Be prepared to share your messages from Jesus as you instruct the people."
Tuesday, August 6, 2019: (The Transfiguration of Jesus)
Jesus said: "My people, My Transfiguration was a preview of My Resurrection, as I appeared to My apostles radiant in My Glorified Body. I also appeared with Moses on one side and Elijah on the other side. During that moment God the Father spoke from heaven: 'This is My Beloved Son in whom I am well pleased, hear Him.' (Matt. 17:5) I told St. Peter, St. John, and St. James not to speak about what they had seen until after My Resurrection from the dead. My son, you remember when you were on Mount Tabor, and you saw the Church of the Transfiguration. It had a chapel to Elijah on one side and a chapel to Moses on the other side. In the church near the altar, you could see an opening to the rock on which I was transfigured. There were beautiful angels painted on the walls. This is a beautiful church to mark this glorious event."
Jesus said: "My son, you and many other faithful are working quickly to get your refuges ready to receive many people. You have stored some food, some water, some beds and cots, as well as your fuels for the winter. You also have a chapel with an altar, chairs, and vessels and vestments for Mass. You have a monstrance for your perpetual Adoration, when you will assign hours for people to be constantly praying before My consecrated Host. You have a Lectionary and a Roman Missal for offering Mass, along with hosts and wine. You will have daily Holy Communion at your refuges from a priest or My angels. My angels will protect you with an invisible shield, and they will help multiply what you need, and provide any needed buildings. Have faith in My protection at My refuges, and be prepared to live as a faith community with making meals and places to sleep. You will have assigned jobs for cooking, washing things, and providing latrines. You may want to have one more refuge practice run to refresh your memory on how to prepare your foods and use your water and fuels in the cold weather. Living at your refuges will be your purgatory on earth during the tribulation. Remember to work hard on converting your family and friends during the six weeks after the Warning. Only My believers will receive a cross on their foreheads from My angels. This cross will be necessary to have on your forehead in order to enter My refuges. Call on Me and your guardian angels to lead you to the nearest refuge, when I call you to come to My refuges."
Wednesday, August 7, 2019:
Jesus said: "My people, in the Book of Numbers you read how the princes of the Hebrews scouted the Promised Land, but some of them were fearful of the Anakim giants. Because of their reluctance to enter the Promised Land, the Hebrews were punished for forty years before they could enter. There was a lack of faith in the power of the Father, and for this they were punished. You remember how David slewed Goliath as a sign of My help against the giants. Even today, you face many trials that may seem impossible to overcome. But with Me, all things are possible, so you need to call on Me, and I will find a solution for your problems. I am looking for your trust and faith in My power, and then I will help you through your impossible trials. When you want Me to multiply your food in the tribulation, it will be this deep faith and trust that you must have for Me to provide for your needs."
Jesus said: "My people, there is very little justice in your world for how much people should pay in taxes. Some people pay less taxes because they can use legal deductions from tax laws that are not easy to determine. Many people want to tax the rich up to 70%, but the current Federal law is placed at about 39%. When you add in State income tax, Social Security Tax, land taxes, and sales taxes, your taxes for a middle income earner can reach 40% to 50%. Most of your taxes do come from the middle class. Another complaint is that some corporations do not pay their fair share. Part of that is because many localities offer corporations tax breaks to bring jobs to their areas. It is this corporate welfare that lowers corporate taxes. The bigger problem is that your government is allowed to spend more money than it brings in with taxes. It is these deficits that will bring down your finances. Pray for a just tax system that will be fair to all levels of income."
Thursday, August 8, 2019: (St. Dominic)
Jesus said: "My people, the Father and I both had to scold Moses and St. Peter for their lack of faith. The Hebrews in the desert complained that they had no water. So I had Moses call the people together, and I told him to strike the rock once with his staff to have water. But Moses appeared to doubt My word, because he struck the rock twice instead of only once. For this I told Moses he could not go with his people into the Promised Land. In the Gospel I was telling My apostles how the Scribes and Pharisees would have Me crucified, but I would rise from the dead on the third day. St. Peter said that this should not happen to Me, so I called St. Peter to be Satan, and to get behind Me. I told St. Peter that he was thinking as human beings do, and not as God does. Dying on the cross for all of mankind's sins, was the very reason why I came into this world, because I am your promised Savior and Redeemer. So I ask all of My faithful to follow My Will for your missions, and follow My Commandments to show you believe in Me for your soul's salvation. Do not be weak in faith as Moses and St. Peter, but always follow Me in faith."
Prayer Group:
Jesus said: "My people, the hate in your country has gotten out of hand, that some people did not want your President to even visit El Paso, Texas or Dayton, Ohio. The candidates for President even accused your President for causing these shootings. Your country needs to mourn the loss of those killed, and stop making these incidents into political opportunities to criticize your President. Pray for peace and less hate in your country."
Jesus said: "My people, your President is trying to level the playing field in your trade with China. Because China is not changing their agreed to faults, your President is using tariffs to try and bring them to a trade deal. It appears that a trade war is occurring that could be hurting both of your economies. Pray that both countries can reach an honest trade deal, or the tariffs could affect other countries as well."
Jesus said: "My people, as both China and the US look for other trade options, your farmers may lose some markets in China. Even your own companies may seek other suppliers of your imports than China. This trade issue will have an effect on your currencies and sourcing that will affect your import prices. Pray for a fair trading agreement, but China may not choose to do it."
Jesus said: "My people, with so many uncertainties with your China trade war, your businesses may pull back their production, which could push prices up if your goods are in short supply. There is a recession possible and a possible shortage in your fall harvest. Pray that your economy will continue without being affected by the latest problems you are facing."
Jesus said: "My people, some areas of your country are dry, while other areas are receiving too much rain. You are still seeing tornadoes, and some hurricanes that will threaten your cities. Keep offering up your Reparation Masses for those victims who could die from storms and your shootings. Those people, who die suddenly, need this grace at their judgments."
Jesus said: "My people, a few months ago you had some severe earthquakes of 6.6 and 7.1 in the southern part of California. These earthquakes were the strongest in several decades. Many people in this area were frightened by such strong earthquakes. Your coming Conference with the Gospa prayer house in California is needed to calm any fears, and prepare the people for the coming Warning and tribulation. When your people receive My word to come to a safe haven, you will be thankful for the refuges that I have inspired people to prepare for this time."
Jesus said: "My son, you have been called to share some important missions with Fr. Michel in several places this fall. Your time for speaking is getting short before events may lead to My calling you to the safety of My refuges. I told you how evil your society is getting, and I will be separating the good people in My refuges from the bad people. Once you are at My refuges, I will bring My punishment down on the evil people to destroy them, and cast them into hell. After My Warning you will have six weeks to convert your families to the faith. Those people, who believe in Me, will have My angels place crosses on their foreheads. Only those people with a cross on their forehead will be allowed into My refuges."
Friday, August 9, 2019: (St. Teresa Benedicta, Edith Stein)
Jesus said: "My people, in World War II you saw the evil of Satan in how he directed Hitler to kill millions of Jews because they were hated and criticized. In today's world you are seeing this hate again spewed by your media and liberal thinking people toward anyone who does not think as they do. This is the devil demonizing anyone who thinks conservative, or who supports your President. You can see that this hate could lead to a civil war of the liberals vs the conservatives. Because Satan is leading this hate, you can see how the atheistic communists will also focus their hate against all Christians who believe in Me. Many forget that the religious people, as priests and nuns, were also killed along with the Jews by Hitler. Today, the persecution and killing of Christians is also occurring because of the devil's hate of Me. This is why I will be calling My faithful to come to the protection of My refuges. My angels will shield you from the evil ones who will try to kill you. In the Gospel I want you to take notice of the original translation of Matt. 16:26: 'For what does it profit a man, if he gains the whole world, but suffers the loss of his own soul?' The loss of your soul is for all eternity. But the loss of your life, as in the current translation, is only temporary. It is a greater loss to lose your soul than to lose your life. This is why such changes in your translations change the whole meaning of the Scriptures. Follow the original translation you were given."
Jesus said: "My people, when you come to Me at your judgment, I will not judge you on how much money you have, or how many possessions you have. Instead, you will be judged on how much you loved Me, and how much you loved your neighbors in your good deeds. Your treasure in heaven will balance off some of the punishment due for your sins. So focus your life around Me, and strive to save as many souls as possible. Do not be seeking more wealth than you need, but be more concerned about your eternal destination with Me. Also be willing to help many people at your refuge for their protection, and to provide for their needs both physically and spiritually."
Saturday, August 10, 2019: (St. Lawrence)
Jesus said: "My people, I have bestowed many graces, and even a good income on those people who follow Me in love. Those people, who love Me, are the same people who love their families and people in need of help. If you have been blessed with some excess wealth, then you can afford to share your money with family and those in need. My Church needs your regular support as well as some family members. When you share your money with others, this is your way of thanking Me for giving you a good income. When you give to My Church and others, do not just give token donations, but give substantial donations that you can afford. In addition to financial donations, you can share your prayers, and even reach out to save souls by encouraging them to attend Sunday Mass. You know how I love a cheerful giver, so share what you can to help those in need."
Sunday, August 11, 2019:
Jesus said: "My people, in the Gospel there are two great quotations to ponder in your heart. The first is: (Lk 12:12) 'For where your treasure is, there also will your heart be.' If your treasure is being in front of My consecrated Host at Adoration, or if your treasure is helping people with good deeds or donations, then your heart is present with Me. If your treasure is how much money or possessions you could acquire, then your heart is cold to Me, as you love worldly things more than Me. The second quotation is: (Lk 12:48) 'Much will be required of the person entrusted with much, and still more will be demanded of the person entrusted with more.' So if you inherited a lot of money, you will be expected to share that money with people. And if you received a gift of strong faith, you would be expected to share your faith with others as well. As for the vision of My coming Judgment, My people need to be prepared to meet Me at any hour of any day. The best way to be prepared for the Warning and My judgment is to keep your soul clean all the time with frequent Confession, daily Mass, Holy Communion, and daily prayers. If you make Me the center of your life, then you will have no worries, because you know I will give you your reward in heaven."
Monday, August 12, 2019: (St. Jane Frances de Chantal)
Jesus said: "My people, it is your duty to help support My Church, so you can help the priest with the expenses of maintaining your church. You know how you have to pay for your heat and your lights at your home. So the church has even more to pay. You also have to pay to keep your roof, your heater, and even your driveway maintained, but your church also pays for such maintenance. So when you give your donation, do not just give a token amount, but give a substantial donation. You also pay land taxes to your town and your schools. You may also have to help support your Catholic schools. The churches for now, do not pay land taxes, but this could change in the future. In that case you may have to increase your donations. Once your churches are persecuted, you may not be able to go to a church in public, but you may have to have Masses underground, or in hidden places like your refuges. Be thankful for what you have today, because during the coming tribulation, you will be living a harder life of isolation. Trust in Me because My angels will protect you and provide for your needs."
Tuesday, August 13, 2019:
Jesus said: "My people, this swirling vortex, like a whirlpool, is another sign of My Warning, and it is very close. I am seeing how evil this world is, and how the devil is doing everything to lead the people away from Me. Your schools and colleges are brainwashing your children and young adults to take Me out of their lives. This is why it is hard to get your youth to come to Sunday Mass. This is also why the young people have little respect for authority in obeying your civil laws and My Commandments. The parents need to teach their children about how I love them, and how I died for their sins. You need to teach your children their prayers, and how important it is to have Me lead their lives. With many single parent households, it is difficult for the mother to work, and teach her kids about love of Me and their neighbor. Bringing up your children in the Catholic faith is needed in all families, and the parents need to show love for their children. Call on Me to help your children to know their prayers, and for them to love Me."
Source: John Leary
The truth about the Coronavirus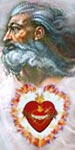 May 1, 2020 - God the Father says: "Today, I invite you to realize that this virus - the coronavirus - is no ordinary disease. It has been created from human ingenuity to specifically target the elderly and physically challenged. This is the plan of future generations to purify the human race around the world. It was released into the general population ahead of schedule - by accident. Those in charge were waiting for less capable government officials in your country (USA) to be in office. Nevertheless, proposed harm is being unleashed on the whole human race."
"I tell you these things to help you to realize the underlying evil at work and hidden in hearts these days. You cannot be confounded by any turn of events. Over all situations, I am in Dominion. No one will be given power over you that is more powerful than your Eternal Father. Therefore, be emboldened with this knowledge. If you persevere in Truth, you have loaded your weapons against what seems to be and discharged them with Truth." (Source: Holy Love)
Help the Lord spread His voice, time is running out
Please help spread these messages of faith, hope, salvation,
defense
against evil (by email, printing, Facebook, Twitter, and other media) to your loved ones, your friends, and all the people you may meet, who seek salvation or who are in danger of being eternally lost. The Lord gives great graces and blessings to those of goodwill who, according to their own possibilities, collaborate with His Plan of Salvation.
Who helps the Lord save a soul predestine his own
, independently from the outcome.