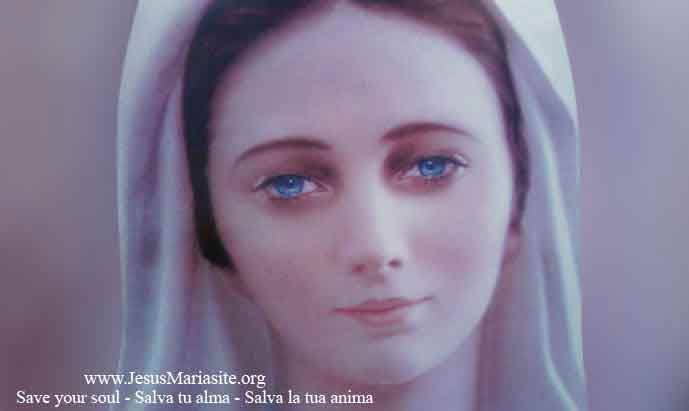 Your "Fiat"
Maria says: (Maria Mother and Teacher, Vol. 1) "My children, here I am: I am here to instruct you and to give you courage.
Today, in which the Church recalls my "fiat", I wish to talk to you about the power of this word which seems almost insignificant. God uttered it for the first time, and it served to create the world and all that is contained in it.
"Let there be light, let there be earth, let there be stars and let there be animals and the fish and the birds", and everything took life from that word which expressed an act of his will.
Then came, in the fullness of time, the moment to redeem man and to save humanity by means of the Son of God made man. And it was asked of me if I accepted to be his mother. Nothing made me foresee that I would have had from God such a big responsibility.
My littleness, my virginity clearly said to me that all the other Hebrew women. could have been called to motherhood, but not I who had voluntarily renounced it. The Lord, who in order to accomplish the most grandiose works always chooses the most inept instruments, having had from me my "fiat", He used it to accomplish the most marvelous work, the Incarnation of the Word, so that, He having become like us, would be able to help all to ascend to Heaven.
I said my "fiat", with humility and with perfect adherence to the divine will, aware of all that to which I was going up against.
These were the two most important "fiats" for God and for the world and from them derived the creation and the redemption. But there is a "fiat" which every Christian must utter, if he wishes to arrive at sanctity.
All those who reach Paradise ought to make of it a programme and a law. Whoever rebels against the will of God, wastes his time, wastes his life and if he is not converted is precluded entry into the Eternal Kingdom.
My children, it is only in the will of God that man reaches perfection, in that saying of yes, like the saints, to the failures, to the adversities and to all that mixture of sufferings that human nature brings with itself or which the demon and men so often procure.
To say "fiat" does not mean accepting evil passively, but to combat it in yourself and in the world by example, by prayer and with the good word said at the right time and with goodness.
It means also resigning oneself to what unpleasantness one can encounter, without losing that peace which is the mist important requisite for a faithful soul.
Remember, my children, the most salient stages of my life which, in its simplicity, presented itself with difficulties that seemed insurmountable. In addition, remember that even if my only begotten Son was the best of children, I have suffered for all your children what you mothers suffer, by making your concerns mine.
Children, I urge you, do so that by means of this "fiat" of yours, recited with great faith and trust, you may be able to realize in yourselves that incarnation of the Son of Gad that will render you truly mothers of his. Did not my
Jesus say to you: 'My mother, my sister, is whoever does the will of God (Mt 12:50)." Learn to accept the little and great sufferings as the little and great joys: you shall transform your families into true grottoes of Bethlehem or houses of Nazareth, where the angels will be able to sing: "Peace on earth to men of good will (Lk 2:14)."
I bless you, children, with a Mother's heart and I wait for you to give you my Child Jesus for a warm and affectionate kiss."
The thoughts, the reflections and the meditations in this booklet, were inspired by Our Mother Maria, Mother of Jesus, to Carmela Negri Carabelli. They are, however, addressed to all those souls, who, desirous to love the Lord, seek to put into practice his teachings and to live the Christian life more perfectly. May Jesus bless these pages and those who read them with the desire to improve themselves, granting the help of his grace.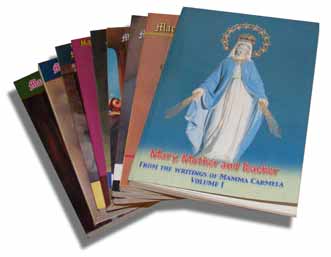 For more information about these magnificent teachings, for any spiritual assistance you may need or to participate and spread throughout the world the cenacles of prayer and the apostolate of the Divine Mercy, please contact:
"CENACOLO DELLA DIVINA MISERICORDIA",
Viale Lunigiana 30, 20125 Milano, Italy
Nihil Obstat: Reverend Gerard Diamond MA (Oxon), LSS,
D. Theol, Diocesan Censor
Imprimatur: Rev. Monsignor Les Tomlinson, Vicar General
Date: 20th July 2007
The Nihil Obstat and Imprimatur are official declarations that a book or pamphlet is free of doctrinal or moral error. No implication is contained therein that those who have granted the Nihil Obstat and Imprimatur agree with the contents, opinions or statements expressed. They do not necessarily signify that the work is approved as a basic text for catechetical instruction.
Catholic Archdiocese of Melbourne