Thursday, February 23, 2017: (St. Polycarp)
Jesus said: "My people, in the first reading from Sirach (5:1-8), it is telling people not to depend on deceitful wealth, and not to depend on your strength. This applies to individuals and to nations alike. Some people accumulate wealth for themselves, but I could bring bankruptcy upon them, and where would they be? Some people rely on their physical strength, but if they have accidents or sickness, they are brought down to nothing. Instead, you should rely on My help, and life will seem easy for you.
You have communist countries relying on their oil wealth and their weapons, but the price of oil could go down, and their weapons could become rusty and obsolete. You have Russia, China, and North Korea all following atheistic communism without them praising Me. In America you also have wealth and weapons, but you have Me helping you. So whether you are an individual or a nation, it is better to rely on My help, and on My strength, than on your own wealth and strength. Pray for peace and My direction, and work to follow My Will for your life, and you will have your eternal reward in heaven."
Prayer Group:
Jesus said: "My people, many of My refuges are in rural areas on dirt roads. Even if refuges are located in the suburbs, where they are close to other houses, My angels will hide them with an invisible shield. I have asked My refuge builders to have everything in place, but now they have been given some extra time, because of your President's miraculous win. Do not squander this time, but you can use this time to finish up any jobs that were left undone. It would be a good time to check all of your fuel burners to make sure they are in working order. Check your batteries and oil lamps that they are available and working. Trust in My help and My angels to keep you safe and supplied with food."
Jesus said: "My people, I do not want My people to lose hope, and do not be concerned that the time for the tribulation has had an intervention of My hand. The tribulation is still coming, and you will see My Warning at a time of turmoil. My faithful still need to be ready to leave their homes when I call you to come to My refuges. You are just seeing the beginning of a movement by the one world people to try and overthrow your President. Pray for My protection in the chaos that is coming."
Jesus said: "My people, I have called many of My faithful to rise up in protest against abortion and many other evils of your society. When you are called to battle the evil ones, you do not know what I will ask you to do out of love for Me. You have participated in the Right to Life March in Washington, D.C. which was a long trip for some of My faithful. You have also on occasion marched in front of abortion clinics such as Planned Parenthood and some hospitals. You need to stand up for the unborn babies who are being killed every year. My faithful will need to join forces, against the funding of abortions."
Jesus said: "My people, your new Administration wants to arrest and remove all criminal elements that are hiding among other immigrants who are law abiding. There is also an intention to vet immigrants from some terrorist countries. The first ban is tied up in the courts, but visa holders and other citizens will have a new protection in another approach. This immigration situation needs a compromise which has not been fully resolved to keep terrorists out of your country."
Jesus said: "My people, both your health care and tax reform will be debated soon in your Congress. Both of these issues may take awhile to be resolved, especially in the Senate. Your health plan was having problems with high premiums and high deductibles. You need to pray for your leaders to present a better plan that can be implemented quickly. An easier tax code with lower rates could help individuals and businesses. Trust in Me to help your new Administration to carry out these issues to stop some of the current injustices."
Jesus said: "My people, next Wednesday is Ash Wednesday, and the beginning of your fasting for Lent. I mentioned before to start making some plans now so you could fast between meals and not eat meat on Fridays and Ash Wednesday. Lent is a good time to work on your bad habits and removing any occasions of sin. Some people have given up watching TV or not eating desserts and sweets. You need to make some physical sacrifices, and you could help the poor with your almsgiving in donations of money and time. Try to go to Confession more frequently when possible. Lent should help strengthen your spiritual lives if you are faithful to your intentions."
Jesus said: "My people, you have seen protests before of various Administrations, but not on the scale that you are seeing in this transition. I just gave you My answer to love your enemies and persecutors in a recent Gospel, but your people today are full of anger and hate. People need more love of neighbor in trying to help each other, and not people who do not want any compromise. Pray for peace and love among your people so you can work together with My help."
Wednesday, February 22, 2017:
Jesus said: "My people, some years back you had an arms race and a cold war using a mutually assured destruction thinking. Today, you are seeing four nations building new extensive armies, navies, and missiles for delivering nuclear weapons.
You have Iran testing missiles and delivering weapons to their client states. You have North Korea also testing missiles and threatening an EMP attack.
You have China developing new missiles, a navy expansion, and trying to declare the South China Sea as their territory.
You have Russia expanding its navy, missiles, and conventional weapons, as they are trying to take over the Ukraine and Syria.
Your military is stretched thin in Iraq, Afghanistan, and many places where your navy is being challenged.
My people need to pray for peace as your defense forces are expanding as well with your new President.
It would only take one miscalculation to set off a possible world war that could leave your country without electricity in an EMP attack."
Source: John Leary
The truth about the Coronavirus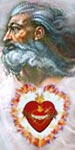 May 1, 2020 - God the Father says: "Today, I invite you to realize that this virus - the coronavirus - is no ordinary disease. It has been created from human ingenuity to specifically target the elderly and physically challenged. This is the plan of future generations to purify the human race around the world. It was released into the general population ahead of schedule - by accident. Those in charge were waiting for less capable government officials in your country (USA) to be in office. Nevertheless, proposed harm is being unleashed on the whole human race."
"I tell you these things to help you to realize the underlying evil at work and hidden in hearts these days. You cannot be confounded by any turn of events. Over all situations, I am in Dominion. No one will be given power over you that is more powerful than your Eternal Father. Therefore, be emboldened with this knowledge. If you persevere in Truth, you have loaded your weapons against what seems to be and discharged them with Truth." (Source: Holy Love)
Help the Lord spread His voice, time is running out
Please help spread these messages of faith, hope, salvation,
defense
against evil (by email, printing, Facebook, Twitter, and other media) to your loved ones, your friends, and all the people you may meet, who seek salvation or who are in danger of being eternally lost. The Lord gives great graces and blessings to those of goodwill who, according to their own possibilities, collaborate with His Plan of Salvation.
Who helps the Lord save a soul predestine his own
, independently from the outcome.