In your world of today you are seeing signs of evil all over in your abortions, euthanasia, wars, mass killings, pornography, and many sexual sins of prostitution, fornication, adultery, and homosexual acts
Monday, November 20, 2017:
Jesus said: "My people, you read in the Gospel how I asked the blind man, Bartimaeus, what I could do for him. He asked that he could see. Then I healed him so he could see, and he rejoiced, and gave praise to God. He then followed Me and witnessed to his healing. There are many people, who are blind to seeking Me in faith. Some people wish to remain in their sin, and are blind to Me as their Lord. Those people, who love Me and see Me clearly in faith, are on the right path to heaven. Those people, who ignore Me, or reject Me, are on a broad path to hell. The Israelites worshiped false gods, and I punished them with all kinds of destruction. When your people of today worship false gods of pride, possessions, and fame, then you will see many natural disasters as a punishment for violating My First Commandment. You are to worship only Me, and you will suffer for worshiping things that will pass away. See your Lord first, for I am eternal, and if you are faithful, you can rest with Me in heaven for all eternity after this life. Seek My Light and avoid your blindness of sin in the darkness of evil."
Jesus said: "My son, you are starting to get a few inches of snow, even as you are seeing icicles and snow in your vision. The leaves have been slow to fall because you had a warm fall. You will be fortunate to rake up your leaves before the snow will stay on the ground. As fall comes to a close in another month, your next season of winter is coming upon you. You may want to put some insulation around the outside of your house to help preserve the heat you generate. Be always prepared to use your backup heaters, if your power is out for longer than a week. You have wood and kerosene for your heaters, as well as your propane generator. You have seen people putting in natural gas generators for backups, as long as natural gas is available. All of My refuge builders also need to have backup heaters and fuels to keep warm this winter. If you have time for a winter practice run, you can see how warm you will be if you turn off your natural gas heater, and use your alternate heaters. Trust in Me to provide for your heat and fuels, as well as your water and food."
Sunday, November 19, 2017:
Jesus said: "My people, when you come into the world as an infant, you are baptized into the faith that will mature later in life. You have an opportunity to train in college for whatever profession that you desire. If you get married, you can use your physical talents to support your spouse and your children. You can also use your gift of faith to bring your children up in the faith, and help save souls from hell. You can also share your talents and donations with those people in need. The more talents you are given, the more that will be expected of you at your judgment. In the Gospel you saw the one person ,who was given five talents, was able to earn five more. But do not be like the third person, who buried his master's money, because those people who do not use their talents, will answer to Me. If they refuse to believe in Me and refuse to love Me, then they are on a path to judgment in hell. Use your talents and faith well, and you will have My reward in heaven."
Jesus said: "My people, I have given you several messages of an earthquake along the San Andreas fault line. What is new about this vision, is the immediate destruction along this fault. You have not seen much activity in this area, and it is overdue for a major earthquake. Such a large event could trigger a martial law because of the damage. I have also shown you in past messages that such a severe earthquake could trigger a possible eruption of the super volcano under Yellowstone National Park. Such an eruption could kill thousands of people and ruin your crops with much dust, that could even change your weather. You have been praying your Reparation Masses for the souls who will die suddenly without preparation for their judgment. Continue to pray for such souls for all the disasters all over the world. Trust in My protection during the coming tribulation. You will see many disasters, and the evil ones killing people, but I will protect My faithful at My refuges."
Saturday, November 18, 2017: (Dedication of St. Peter and St. Paul Basilicas)
Jesus said: "My people, in the Gospel I said: 'When I return, will I find any faith on the earth?' In your world of today you are seeing signs of evil all over in your abortions, euthanasia, wars, mass killings, pornography, and many sexual sins of prostitution, fornication, adultery, and homosexual acts. The worst sign is how fewer people are coming to Mass on Sunday, and fewer people are coming to Confession also. You will see the faith of people declining with churches closing, and a division in My Church between a schismatic church and My faithful remnant. Heresies and New Age teachings will come into the churches, and My faithful remnant will eventually have to have Masses with the proper words of Consecration offered in the homes by a faithful priest. Later, you will need to come to My refuges for protection from the evil ones by My angels. You will see an increase in the persecution of Christians, and some people will be martyred for My sake. Trust in My protection, as your guardian angels will lead you to My refuges at the proper time. This is the end times, and you need to keep the faith amidst all the temptations of the demons and evil people."
Friday, November 17, 2017:
Jesus said: "My son, when you look at the length of time you live on the earth, it is a very short time. You have lived for seventy-five years, and it is hard to say where all the time went. You are married and have children, and now you are seeing them bring up their own children. You worked for over thirty-five years, and now you have spent over twenty-four years working on My mission of saving souls. You are seeing how important it is to save souls from hell. Your prayers also are important when you pray for sinners, the souls in purgatory, the stoppage of abortions, and for peace in the world. Coming to Mass in the morning, adoring Me at night, and praying your three rosaries and your Divine Mercy Chaplet are your daily Presence with Me. I wish everyone could be so faithful. People need to work on loving Me, and loving their neighbors with their good deeds. You can help people physically with any of your skills. You can pray for them, or give them donations. Try to do everything out of love for Me, and you will gain more merits in heaven. As you look at your life, you can thank Me for all of My gifts, graces, and all the opportunities to help people. I thank you also for all that you have accomplished with the gift of time that I have given you. Continue to pray for your relatives and friends, and keep striving for your perfection with My help. I am interested in following all of your lives every day. Keep Me close in your heart, and keep your souls pure with frequent Confession."
Thursday, November 16, 2017: (St. Margaret of Scotland)
Jesus said: "My people, My apostles asked Me about the Kingdom of heaven, and when I would return. I told them the Kingdom of heaven was upon them in My Presence. Once I died on the cross and resurrected, I lifted the bonds of sin, and I opened the gates to heaven. Now, you have My Real Presence in My Host at the Mass, and I am always with you sacramentally in My tabernacle. You are temples of the Holy Spirit, who keeps you alive, but We are Present with you in your spirit and soul. Your soul's light of grace is not present in mortal sin, so confess your sins to renew your soul's grace. At the end of time, you will see My return with Light in the sky, as I will come in spirit on the clouds, just as I left My apostles in My Ascension into heaven. Do not look for Me sooner, because the devil and the Antichrist will try to imitate My coming. Be prepared for My return with a pure soul from frequent Confession. You do not know when I will return, and you do not know the day nor the hour. Be like the wise virgins who had extra oil for their lamps, and not like the foolish virgins who were locked out of My wedding banquet."
Prayer Group:
Jesus said: "My son, today you had to use your own monstrance to hold My consecrated Host. This was because the old monstrance is being upgraded, and it was not present. Seeing My Host in your monstrance, is a forerunner for when you will have perpetual Adoration in your refuge. Then you will be allowed to have My consecrated Host in your chapel. During your practice run, you had people praying every hour, but without My Host. Your refuge people will have daily Holy Communion either from a priest or from My angels. Rejoice in your Adoration hour to be united with Me."
Jesus said: "My son, for many years your daughter, Jeanette, and her family have driven to your house for Thanksgiving Day dinner. Now, you are going to her house for a change. When her children have grown up, it is hard to get them to come together with college and work schedules. Pray for safe travel, and enjoy being with your daughter and family."
Jesus said: "My people, you are seeing many shootings with near automatic weapons. Now five more people are dead in California. In many of these cases such people should not be able to purchase weapons with their violent history. Even when the police were warned about this man firing many rounds at his house, they should have searched the house, and they should not be stopped at just a closed door. People with violent histories should be checked more when neighbors and others are threatened."
Jesus said: "My people, you just saw the House of Representatives pass their version of tax reform for businesses and individuals. The Senate's tax reform bill is somewhat different, and there are some Republicans voicing their opposition. You have not had any tax reform legislation since President Reagan. If the Republicans cannot push such tax reform through the Congress, then their party could lose power to voters who are frustrated without them passing any meaningful legislation to the President. Pray that a better tax code could be found to help your individuals and your businesses."
Jesus said: "My people, many people will be traveling for Thanksgiving week all over your country. In the Northeast you are seeing some forecasts of lake effect snow, and some windy conditions. My son, you need to pray for safe travel and keep an eye out for bad snow storms on your return. Many people will be on the roads that could cause some accidents in bad weather. Pray your long form of the St. Michael prayer both going and returning home from your daughter's house."
Jesus said: "My people of America, you have a lot to be thankful for in your jobs and your many possessions. You also should thank Me for having your beautiful families. When you have so much, you need to share your prayers and donations with those people who are less fortunate. You have been giving many donations to all the hurricane victims in Texas, Florida, and Puerto Rico. The poor also need your help, especially at your local food shelves. Do not forget to share what you can for the poor this Thanksgiving."
Jesus said: "My people, your shopkeepers are preparing for another Christmas shopping season. Some of you also need to make preparations for winter weather with hats, gloves, boots, and good coats. You may have to get new things if you cannot find last year's clothes. Advent season is also a good time for Confession in addition to preparing your gifts. You soon will be getting out your Christmas decorations, and I love those families who present My Nativity Scene, which is the reason for your season. Keep focused on the coming end time readings as you approach the beginning of Advent."
Wednesday, November 15, 2017: (St. Albert the Great)
Jesus said: "My people, today's Gospel is all about healing in faith, but also about giving thanks to God for all of your blessings. Many people pray for healing of themselves or others. You may also pray to get a job or some financial help. You are very sincere in your prayer requests, and your prayers could be answered because of your faith in Me. But once you receive what you have been praying for, only a few remember to come to Me in thanksgiving. This is true when the ten lepers were healed, and only a Samaritan returned to give Me thanks. You need to be just as sincere in your thanks, as you are in your prayer requests. There are many things that I bless you with which you did not ask for, but you need to thank Me for all the good things in your life. There are even trials that I send you that change your life, or help other people. Thank Me for all that I send you, both good and bad."
Jesus said: "My son, you have been warned that from now on, you need to discern if it is safe to travel or not. You also will be tested more by the evil ones who want to keep you from giving your talks. I have told you to pray your long form of the St. Michael prayer, especially on route to your talks. You forgot this prayer on your last trip, but your rosaries protected you. The souls in purgatory were most appreciable for your extra rosaries. You had a long flight time, and you even had more time for some rosaries. Remember not to waste your time on frivolous activities. When you are traveling in your van, it is easier to remember your prayer in the glove compartment. Even when you are not traveling to a talk, you could still pray for safe travel. You have My angels with you, so you could invite them to protect you, and guide you on to the right roads. Take your time and drive carefully. When you rush too much, you make mistakes. You have seen many severe accidents on the road, so try to avoid any accidents around you. The evil ones are trying to attack you, and this is why I am giving you all of these precautions."
Source: John Leary
The truth about the Coronavirus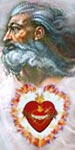 May 1, 2020 - God the Father says: "Today, I invite you to realize that this virus - the coronavirus - is no ordinary disease. It has been created from human ingenuity to specifically target the elderly and physically challenged. This is the plan of future generations to purify the human race around the world. It was released into the general population ahead of schedule - by accident. Those in charge were waiting for less capable government officials in your country (USA) to be in office. Nevertheless, proposed harm is being unleashed on the whole human race."
"I tell you these things to help you to realize the underlying evil at work and hidden in hearts these days. You cannot be confounded by any turn of events. Over all situations, I am in Dominion. No one will be given power over you that is more powerful than your Eternal Father. Therefore, be emboldened with this knowledge. If you persevere in Truth, you have loaded your weapons against what seems to be and discharged them with Truth." (Source: Holy Love)
Help the Lord spread His voice, time is running out
Please help spread these messages of faith, hope, salvation,
defense
against evil (by email, printing, Facebook, Twitter, and other media) to your loved ones, your friends, and all the people you may meet, who seek salvation or who are in danger of being eternally lost. The Lord gives great graces and blessings to those of goodwill who, according to their own possibilities, collaborate with His Plan of Salvation.
Who helps the Lord save a soul predestine his own
, independently from the outcome.