Wednesday, June 5, 2019: (St. Boniface)
Jesus said: "My people, I am the center of your life, and you should do everything out of love for Me. Even when you help others, you are doing it out of love for Me. You remember how St. Therese did everything for Me in her 'little way', and it gained her sainthood. Your feast day is for another martyr of the faith in St. Boniface. My faithful are evangelizing in the world, but you are not of the world. The worldly seek worldly things, but these things will pass away. It is better to seek heavenly things, as good works, because they can be stored in heaven without passing away. When you are preaching My Gospel and My Good News, you will meet with persecution from the worldly people. Do not be afraid, but keep on evangelizing, even if people threaten you harm. You are called to suffer for My Name's sake, even as I had to suffer persecution."
Jesus said: "My people, you have been watching all the rain storms, and now record flooding. What you are not hearing is how the farmers' fields are too wet to plant their crops in some places. If your crop yield decreases dramatically, you could have the beginning of a possible famine. If other countries are seeing weather problems, this could contribute to a world famine. You could stock up on some more dried foods, and you could order more dried eggs and meats. Dried foods would have less weight, and you have your well water to reconstitute them. My refuges need to have plenty of food for a possible famine. During the tribulation I will multiply your food, water, and fuels for your survival. If necessary, My angels will multiply your buildings, or build more floors onto your house. Trust in Me to protect you and provide for your needs. Pray that your family members can be converted after the Warning, so they can enter your refuge. Those people, who do not have a cross on their foreheads, will not be allowed by My angels to enter My refuges."
Thursday, June 6, 2019: (St. Norbert)
Jesus said: "My people, you know how I had to suffer at the hands of the religious leaders of My time, because they could not accept that I was truly the Son of God. Now in the readings about St. Paul, he was being persecuted in Jerusalem for speaking about My Resurrection from the dead, and how all of My faithful will be resurrected from the dead as well. He also suffered prison in Jerusalem and Rome, and eventually he was martyred for My Name's sake. When you proclaim My Good News as a Christian, My followers will also suffer persecution from the worldly evil people. When you talk about the end times and the coming tribulation, you are being criticized even in some churches, who do not want to hear My messages. Even talk about refuges is hard for people to understand. But when the tribulation of the Antichrist comes, people will see why I am having My faithful prepare refuges of safety from the evil ones. Keep proclaiming My messages, even if you will face persecution as I did."
Prayer Group:
Jesus said: "My people, I want you to pray for your priests, since there are fewer priests being ordained than are dying. Pray for more vocations to the priesthood so you can have Mass and the sacraments. You also need to support priests and churches with enough donations to keep your churches open. My priest sons bring you to Me in Holy Communion, which is your Bread of Life. Treasure My sacraments from the priests at Baptisms, Marriages, and Funerals."
Jesus said: "My people, World War II veterans are being honored on this June 6th which is the 75th anniversary of the storming of the Normandy beaches. Many brave soldiers had to die in order to take back Europe from the German troops. In France the leaders thanked America and England for standing up to Hitler's war machine. This D-Day was just the beginning of overturning the Axis control that caused World War II. Pray to stop wars that kill many people."
Jesus said: "My people, I have warned your people that you will be tested by many natural disasters because of your million abortions every year, and your abortion laws. You are seeing some states restricting abortions, and some states making it easier for abortions up to birth. This abortion issue will be sent to the Supreme Court. Your farmers are only able to plant half their soybeans and only 2/3rds of their corn because of their wet fields. The floods also have caused a lot of flooded homes and some deaths from drowning. Pray that your farmers can supply enough food, or you could see a coming famine.
This is another reason to stock up on some more dried food for your refuges."
Jesus said: "My people, I told My apostles to wait for the Advocate, or the Holy Spirit to come upon them. My apostles had tongues of fire over them when they received the gifts of the Holy Spirit. This is the last big feast to end your Easter Season at fifty days after Easter. After Pentecost Sunday you will return to Ordinary Time or the many Sundays after Pentecost. Rejoice in this feast of the Holy Spirit, as He will bring His gifts on all of you."
Jesus said: "My people, your President is making some bold moves with his tariffs on imports to try and even the playing field for your trade deficits. China has been cheating on their trade with America with cheap labor, stealing manufacturing secrets, and taxing your imports to China. Your trade deficit with China is huge, and it needs addressing by your leaders. Pray that your countries can reach an agreement, or there will be a long trade war with China."
Jesus said: "My people, you are seeing a lot of rain storms, but your floods have polluted water. Your fresh water sources are becoming strained, especially in cities in the West. Wells are being overused, and surface fresh water is scarce in Western cities. The Great Lakes have a large portion of the world's fresh water. I have encouraged you and other refuge builders to have water wells put in the ground for your needed water supply. You cannot live without fresh water, so this is an important issue for all of your people."
Jesus said: "My people, a lot of your politicians have been talking about global warming and reducing all sources of burning fossil fuels that produce carbon dioxide, which is a 'greenhouse' gas. A sudden stoppage of burning fossil fuels is not very practical because you cannot make enough energy without using such fuels. Water power, nuclear power, solar power, and wind power cannot replace your fuels and supply enough energy for your needs. You have researched the decrease in the strength of your magnetosphere around the earth which is causing more global warming than carbon dioxide. The poles of the earth are changing, as your magnetic North pole is moving 40 miles a year toward Russia. During this polar shift, the strength of your magnetosphere will decrease, and it is decreasing 5% every ten years. This is a big story which overshadows all of your attempts to stop burning fossil fuels. The carbon credits are a hoax to control nations. Let the people research this magnetism decrease on their own, and they will see why the sun is heating up the earth more, which overshadows any 'Green' plan."
Friday, June 7, 2019:
Jesus said: "My people, I love the little children who are so lovable and innocent. I have told My faithful how unless they become like loving children, they cannot enter heaven. You saw how the pre-schoolers made hand prints in plaster with a picture of themselves imbedded in the plaster. This was one of their gifts for their fathers for Father's Day. It is sad that fathers are not always faithful to their children, either from abuse or divorce. Many single parent families leave the mother to work and take care of her children. Pray for the children of broken families that they can find love with their parents and Me."
Jesus said: "My people, in a previous message I advised you to stock up on some more dried foods because of a possible famine from all the wet fields of the farmers. I thank you and your friends for making a trip to get some more dried food for your refuges today. I also recommended buying some more protein with dried meats and dried eggs. These are appropriate because dried foods do not require refrigeration, and they will last longer. Some people have responded to My call to stock up on at least one year's supply of food for each member of your household. A good majority do not see the need to buy food because they do not realize how your stores could be shut down very quickly. Your stores only have three days supply of food. If a disaster hits and the trucks cannot deliver the food, you would see empty shelves in a day. People need to understand that an EMP (electromagnetic pulse) attack would stop your vehicles, your banks, and your food. So be prepared, or you risk starving to death."
Saturday, June 8, 2019:
Jesus said: "My people, there is a right way to live and a wrong way to live. It all starts with whether you will allow Me to run your life, or you are foolish enough to run your own life without My help. If you are praying each day and honoring Me at Sunday worship, then I can help you through life's trials. Your first plan is to get some education so you can have a job that can pay your bills. If you desire to have a relationship with the opposite sex, it should be in a marriage and not just living together in fornication. You need monthly Confession as a part of your spiritual life. Getting a job or two is necessary to pay for your transportation and a place to live. These things are all big life decisions that need the right choices, or your lives are going to be full of troubles that are hard to repair. You can always start over, if you make mistakes, but you need to have your souls right with Me in following My Commandments. There are people in your family to help you, but do not abuse them for your own selfish pleasures. These are lessons in life that people can learn the normal way, or the hard way. The main course of life is to follow Me, or you will have more hardships."
Jesus said: "My people, you have seen many movies about World War II and how many lives were lost because of the aggression from Germany, Japan, and Italy. It was your country's Armed Forces that helped turn the tide against the Axis war machine. Since that time, you have many nations who have nuclear weapons, and many other weapons and biological weapons that can kill many people. All of your wars have not helped anyone, but they have caused destruction and great loss of life. Pray for a stoppage of your wars, and a return to peace."
Sunday, June 9, 2019: (Pentecost Sunday)
The Holy Spirit said: "I am the Spirit of life, and I bring My gifts upon all of you. My seven gifts are wisdom, understanding, counsel, fortitude, knowledge, piety, and fear of the Lord. My son, you know of My other gifts in prophecy, helping you with writing messages, and giving your talks. When Jesus said not to worry what to say when you are evangelizing, He meant that I would give you the words to speak at the proper time. I am always available with My gifts to help you in your trials of life. I am the Spirit of love that emanates from the union of God the Father, and God the Son, because we are always Three Persons in One God of the Blessed Trinity. Remember Me every time you make the Sign of the Cross, and when you pray the 'Glory Be' prayer."
Monday, June 10, 2019: (Blessed Mother)
Jesus said: "My people, this is a new feast commemorating My Blessed Mother as Mother of the Church. On the first Pentecost My Blessed Mother was present, and she also had a tongue of fire over her from the Holy Spirit. You read from the Book of Genesis about the first Eve who sinned by eating the forbidden fruit. Now in the Gospel you are hearing about the new Eve without sin, so she was worthy to carry Me in her body. At the foot of the cross I gave My Blessed Mother over to the whole Church and to St. John the apostle. Last month she gave you a message on Mother's Day, but now she has a special feast to honor her motherhood of all the Church. Rejoice because she surely looks over all of you with her mantle of protection, especially for those who pray her rosary."
Jesus said: "My son, I have mentioned before about two requirements to have a refuge. You need to have a priest consecrate the buildings and the land, and you need to have a source of fresh water. This could be a stream, a pond, a river, a lake, or a water well. Once you find a proper place on the property, then you can have a well put in. You know about all the other requirements of food, and fuels for heating your house in the winter, and for cooking. When you pray in faith, I will multiply your water, food, and fuels. Having solar power is an extra for most refuges. You have some good rechargeable batteries to provide power for your lanterns. Remember to order some more meats and eggs for your protein source. Trust that I can provide for all of your needs when you have sufficient faith."
Tuesday, June 11, 2019: (St. Barnabas)
Jesus said: "My people, I am showing you people who are gambling at a casino because I do not want to see you gambling with the destination of your soul. If you desire to come to heaven, then avoid occasions of sin, and try to keep your souls clean with frequent Confession. Do not take chances on being in mortal sin, but follow My Commandments of love. The more sin you have, the easier it is for the devil to lead you into more sin. Make time to examine your conscience so you can avoid sinful addictions and sinful bad habits. You may have to change your lifestyle, if you are living in fornication or in homosexual sins. I love all of My people, but if you love Me, you should show Me by avoiding sin in your lives by your actions and good deeds. You can help yourselves to live a better life by daily prayers, daily Mass, and Adoration when you can. For My prophets and evangelists, they need daily prayer to keep their gifts. When you do everything for Me, and consecrate your actions to Me every day, then you will be on the right road to heaven."
Jesus said: "My son, last year I had you put in a water well that you did not know you could do. This water well that you have is adequate for your present water needs, and I will multiply your water if you have more people come than you expected. I want to underline the necessity of having a source of fresh water on your refuge. You cannot live without fresh water. Besides water for drinking, you use a lot of water for cooking, washing things, and for toilets, if they are operating with your well water. You started out storing 55 gallon barrels of water, but after seeing how much water you used for 25 people in a day with your practice refuge run, you realized the necessity for a water well. You are fortunate that you have soft water with only a small amount of iron in it. You have a device that oxidizes soluble iron to solid rust which is flushed out. This is needed so you do not stain your clothes with iron. For all of your fellow refuge builders, you need to advise them of the necessity for having a water well, because your water line into your house could be shut off. Keep trusting in Me to provide for all of your needs at My refuges."
Wednesday, June 12, 2019:
Jesus said: "My people, I know you like to see beautiful sunny days, but rainy days are My gift of fresh water for you. Some people even use rain barrels from your roof for a source of fresh water. The rain waters your crops in the field to give you your food. For the farmers, rain is a necessity for their crops. Sometimes the rainstorms cause too much flooding, or they can bring damaging winds. It is your floods that have been causing problems to plant your crops. During the summer months some farmers need irrigation to keep their crops watered when there is little rain. Getting a source of water for farming relies on aquifers and rivers. There is a competition for drinking water for the people and water for the farmer's fields. Without sufficient water, many crops would dry out. So pray that you can have enough rain for your needs."
Jesus said: "My people, I am showing you a building run by the deep state, and they are planning ways to impeach your President, or manipulate the elections to defeat him in the 2020 election. He is holding back the globalist plans for taking over your country. If they defeat your President, they will take over your government, and give it over to the Antichrist. This would begin the tribulation, but the Warning will come before the Antichrist declares himself ruler of the world. There will be chaos before and during the tribulation right after the six weeks of conversion which happens after the Warning. As your country will be taken over, your lives will be in danger, so I will call My faithful to My refuges for protection. My faithful will be at My refuges during the takeover of your country, and the tribulation. Trust in My angel power to protect you and multiply what you need to survive at My refuges. Be prepared for the coming Warning with your frequent Confessions."
Thursday, June 13, 2019: (Funeral Mass for Russ Dilorenzo)
Russ said: "Please assure Jeanette that I am fine with Jesus. I had a little pain at the end. I love my wife so much, and I did not want to leave, but the Lord was calling Me to come because it was my time. I thank everyone for coming to my funeral. You know how I suffered much at the end, but I was always looking forward to receiving Holy Communion. I did my purgatory on earth, and now I am happy to be with the Lord. I want all of my family to pray the rosary every day, and keep close to Jesus. Thank you for the beautiful readings. Give my love to everyone."
Prayer Group:
Jesus said: "My people, severe sanctions have been placed on Iran, and your President pulled out of a nuclear arms deal made by your previous President. You saw several smaller attacks on four oil tankers and an attack on Saudi Arabian pipelines several months ago. This caused your President to send a carrier task force and B-52 bombers to the Middle East. Today, two more tankers were heavily damaged and the crews had to be picked up by one of your ships. These incidents on international shipping could lead to some retaliation for this damage. Pray that a war does not result."
Jesus said: "My people, your President threatened tariffs on Mexican imports if they did not stop so many Central American immigrants from traveling through their country into your country. Your President made a deal with Mexico to stop the tariffs, if they stopped the Central Americans from crossing your border. It remains to be seen if this threat changes the border crisis. Otherwise the tariffs may be applied. Pray for less problems at the border."
Jesus said: "My people, you are seeing the House demanding contempt of Congress on various parts of your current Administration. There is a battle over Executive privilege in this matter. Your Administration is starting their own investigation of the beginning of the Mueller report. There is a continuing conflict between your parties, but you need to pray for less hate and more peace."
St. Anthony said: "Dear people of God, I am happy to hear your prayers to find your lost objects. I take your petitions to Jesus and he sends his angels to help you. Many of you are happy to find your lost objects, but you need to pray some prayers of thanksgiving after finding things. I bless all of you for knowing to pray to Me for lost things."
Jesus said: "My people, you are seeing a continuous amount of rainstorms over the same area in the middle of your country. You have seen many floods all along the Mississippi River and its tributaries. With more rain, it is hard to dry out these areas. You are starting to see hotter temperatures, so you need to be prepared for a hot summer that could cause some fires, as you see in the West every year. Pray that there is less arson in starting huge fires as last year. All of your destructive natural disasters will continue to worsen if you do not change your abortions and your bad abortion laws. Still pray for all the victims who have lost lives and homes in your recent floods."
Jesus said: "My son, remember to pray your long form of the St. Michael prayer as you start out and return on your trip to Puerto Rico. I have also warned you that you may face more evil resistance to your mission. The evil ones will be fighting any good that you are trying to accomplish. Pray your novena to St. Therese on every trip you take this year for your extra protection. If you face any strong evil, remember to call on Me and I will send you My legion of angels to protect you. I thank you for reaching out to spread My Good News."
Jesus said: "My people, you are seeing signs of the end times coming with these two problems mentioned in your vision. It is true people are getting more lax in the profession of their faith. It starts when people stop praying to Me, and when they stop coming to Sunday Mass. When you leave Me out of your lives, you will have to face your trials without My help. Do not be spiritually lazy, and wake up from your spiritual slumber because I should be at the center of all of your lives, if you want to come to heaven. Your other problem will be an increasing persecution of Christians. You see this in your media when you are attacked for fighting against abortion and even your freedom to worship Me without political or government interference. The devil will be getting stronger in the end times, and you will see stronger persecution of those people who follow My Commandments. You can only stay strong in your faith by daily prayer, frequent Mass, and frequent Confession. Trust in Me and My sacraments to give you the grace to stand up for your beliefs in Me no matter how much you will be criticized or persecuted."
Friday, June 14, 2019:
Jesus said: "My people, in today's Gospel I warned the people not to commit adultery, or in today's language, not to have affairs with married people. Under the Sixth Commandment you are not to live together in fornication either. I even mentioned if you have lust in your heart for someone of the opposite sex, you have already committed that sin. Another warning was not to marry divorced people unless they had annulments. Most all sexual sins are mortal sins, and you need to get to Confession to have them forgiven. You have noticed how the priests avoid this subject because they do not want to offend someone and lose donations. I remind you of this sin because it is a threat to your soul and your eternal life. Pray that you avoid the sexual sins to keep your souls clean."
Jesus said: "My people, you have been killing My babies, and I have warned you, if you do not stop killing My babies, I will stop you through your natural disasters. I have been warning you many times to stop killing My babies, so now you will be brought to your knees with violent natural disasters. You will finally learn the connection between your sins and My punishments. You have seen more tornadoes than usual, and many floods. These disasters will continue to get worse in the summer. You will see heat, fires, earthquakes, and hurricanes take their toll on your country. When you are crying out for mercy, then you will realize that it is your abortions that are bringing these disasters upon you. Wake up America and stop your abortions, or you will face worse disasters."
Saturday, June 15, 2019:
Jesus said: "My people, I reach out to all of My faithful with kindness and forgiveness. You all start out with child-like faith at Baptism, but as you grow older, you are tested by the comfortable ways of the world. The worldly people do not want any restrictions, as the loving ways of My Ten Commandments. These laws are My guides to a happy life with Me out of love. You are seeing the influence of hate by the devil's ways that are all about greed and power over people. I want My people to be kind to each other, and be willing to forgive people, as I forgive you of your sins. My ways are not your ways, because everything I do, I do out of love. If you can love like a little child, then you will be ready for heaven."
(4:00 p.m. Mass, Holy Trinity Sunday, Father's day)
God the Father said: "I AM WHO AM comes to you on this Father's Day because I am the Father of all creation, and I love all of you so much. I know it is hard for man to comprehend Three Persons in One God-God the Father, God the Son, and God the Holy Spirit. It is good to look at Us in symbols of the Bible, as I appeared as a burning bush to Moses. You see pictures of Me as an older man as you think of a human father, but it is beyond your human comprehension to truly know an infinite, loving God. The image of your vision of an infinite universe, is just an example of how hard it is to know Me. I gave Moses My Ten Commandments and I guided the Hebrews out of Egypt eventually into their promised land of Israel. If you truly love Me, you can follow My Commandments and come to frequent Confession at least once a month. You can call on Me to help lead you to heaven with your love of Me and neighbor in your good deeds. Spread the Good News of My Son's Resurrection, as He died for your sins to bring you salvation. God bless all of you in your love for Us."
Sunday, June 16, 2019: (Holy Trinity Sunday, Father's Day)
My father, Ed Leary said: "John, I am happy you are carrying on the family tradition of coming to Mass at St. John the Evangelist. Your family has spread into your eight grandchildren. I love all of you boys: John, Mike, and Chuck. Say hello to your brothers for me." Carol's father, Camille Remacle said: "Hello, John, it is unusual to have a word with you on Father's day, but you know me, I am always happy to talk with you. I love you and Carol, and I am watching over Sharon and Vic. Keep all the family in your prayers. Vic needs the most help, since his health is not good. When you have your party today, remember us fathers in your celebration. We are looking down on you all the time. We love all of you so much."
Monday, June 17, 2019:
Jesus said: "My people, you remember how the Early Christians had to hide from the Romans to avoid being killed for their faith in Me. In Rome there were catacombs where people hid, and where they buried the dead. This idea of hiding from people, who want to kill you, will be needed again in the coming tribulation. This is why I am having My faithful build refuges that will be protected by My angels. These refuge angels will place an invisible shield over My faithful at My refuges. Trust in Me that you will be led to My refuges at the proper time by your guardian angels. The refuges will be the means of separating My faithful from the evil ones. Only people with crosses on their foreheads will be allowed to enter My refuges. My refuge angels will prevent all other people from entering the refuges."
Jesus said: "My people, I will be giving all of the people a chance to change their lives after they view their life review in the Warning. There are many sinners who could be on their way to hell as a final destination for their souls. All those souls, who are headed to hell by their evil actions and no love for Me, will see themselves on a road to hell. I will allow them to see what it is like to be burning in hell's flames and have the demons torture them. Having this experience will scare some people, because they do not want to spend eternity burning in hell, and turning ugly like the souls there. All of you will be given a second chance to change your lives so you can avoid hell, and choose to come to heaven. Some souls, who see hell, will be converted, but others will not choose heaven. Those souls, who go to hell, choose it by their own free will. Pray for the souls, who see hell in their life review, to wake up and love Me before it is too late. I love all of you, but only the souls, who choose to love Me, will be saved."
Tuesday, June 18, 2019:
Jesus said: "My people, you have certain people in the world who want to control things, and when they are blocked, they develop hate for the person stopping them. This is why you have so many people hating your President because they cannot control people like they want to. The devil thrives on hate, greed, and controlling people. The difficult problem in today's Gospel, is that I want you to love everyone, even the people who hate you for your beliefs in My love. If you only love those people who love you, there is no merit in that, because even non-believers love each other. I love everyone, even the worst sinner. It is My way of loving everyone that will lead you closer to perfection. So love one another, even your enemies and persecutors."
Jesus said: "My people, I am showing you a dark portal to hell where demons are coming up out of hell to stir up evil and hate among your people. You have been noticing a decline in your numbers at Mass on Sunday. Some people are getting lazy, and they stop coming to Mass. Others are leaving to go to Protestant churches. The demons are becoming more active, and they are tempting people with all their comforts to take the people away from the Roman Catholic churches. Most of your local churches are seeing less attendance and more deficits in their budgets. This is another sign of the end times when fewer people are coming to Sunday Mass. America is following in the footsteps of other countries where less than 5% of the people attend Mass. Pray for your people to keep their faith, and come to Sunday Mass."
Source: John Leary
Fr. Michel Rodrigue explaines The Events of the End Times
Do you want a quick overview of the end times? Then read "The great events of purification will begin this fall". If you want all the details of the unfolding events, then go to "Virtual Spiritual Retreat with Fr. Michel Rodrigue about the End Times".
Messages of Holy Love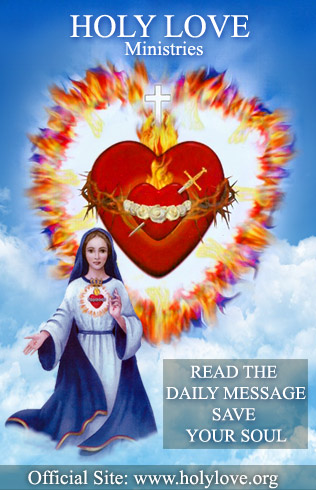 Read the daily messages
Catholics, we have entered the Pre-Tribulation, observe the Commandments, go to Confession; receive the Holy Eucharist; pray at least 3 Rosaries a day to keep your faith and save your loved ones. Prepare for the events that will devastate our planet: plagues, famine, WW3, cataclysms, antichrist's World Order