You will be taken over and given to the Antichrist
"America, as a nation, is being called to renounce your corrupt laws and repent of your sins. Without a changing of your evil lifestyles, you are calling down My wrath on you in all manners of destruction. Your choice is to love Me or not, but you will suffer the consequences of your evil actions."
Tuesday, November 14, 2017:
Jesus said: "My people, you are seeing the same misty spirit that you see standing next to the caskets at people's funerals. Their bodies are cold like the winter snow, because there is no more life in their body. You will still feel alive after death, but your spirit will be separated from your body. After the spirit stays around the body a few days, it is called before Me for its particular judgment. It is then that each person will see their death's life review, and you will receive a fair judgment to purgatory, heaven, or hell. My faithful may have to be purified in purgatory, because more is expected from those people who have received more gifts and graces. Over time My faithful will all join Me in heaven. Those people, who live through the tribulation at My refuges, will have their purgatory on earth. You will then be rewarded in My Era of Peace, and later in heaven. The evil people will be judged to the eternal flames of hell, where the demons will torment these souls forever. Keep praying for your relatives and friends so they can be saved from hell. Trust in Me to guide you on the right path to heaven."
Monday, November 13, 2017: (St. Frances Xavier Cabrini)
Jesus said: "My people, today you are celebrating the feast day of St. Mother Cabrini, who is a patroness of immigrants. You are aware of how she set up orphanages and schools for the immigrants of New York City. She also founded the Missionary Sisters of the Sacred Heart of Jesus. I have asked My faithful to imitate the lives of My saints. You see how she had a great love to help people, and share her love of Me with others. So My faithful can also reach out in love to welcome people, and share their love of Me with others as well. You are going to face people who are angry, and hard to love, but you need to love everyone, and see Me in every soul. This is not easy to live My love for even your enemies and persecutors, but I am asking you to strive for perfection by loving everyone as I do. I am all love and this is why I love you, and why I want you to love your neighbors as yourselves. My Commandments are all about love of Me and love of neighbor. So even if people do not love you in return, you still need to reach out and love people."
Sunday, November 12, 2017:
Jesus said: "My people, I instituted the sacrament of Baptism so people could enter into My Church, and so everyone could be cleansed of the original sin of Adam and Eve. You had a flashback of when you took a trip to Israel, and you went to the Jordan River where St. John the Baptist had baptized people. Your vision of St. John the Baptist baptizing Me is one of the few times in Scripture when the Holy Trinity was present. You saw Me in the water, a Dove representing the Holy Spirit in the air, and God the Father said: 'This is My Beloved Son, listen to Him.' This is why you recite the Sign of the Cross when you are baptizing someone. It is the gift of Baptism that calls you to convert souls to the faith so they can be saved from hell. Your soul is pure and clean after your Baptism. You renew this pure soul at every Confession, when your sins are cleansed by the absolution of My priest sons. You can be baptized at any age, and all the saints and angels rejoice over one soul who repents, and is converted to faith in Me. Rejoice at receiving any sacrament, because you have My grace shining in your soul. By keeping close to Me in frequent Confession and Holy Communion, you are on a path to My eternal Presence in heaven."
Jesus said: "My people, when you have the priest for Mass, he brings Me to you in My Blessed Sacrament in Holy Communion. I am the center of your life in your prayer communication with Me. You look forward to receiving Me at daily Mass, and I come into your soul and heart for an intimate union to share My love with you. You have read from St. John the apostle in his Gospel in the sixth chapter: 'Unless you eat the Flesh of the Son of Man, and drink His Blood, you shall not have life in you. He who eats My Flesh and drinks My Blood has life everlasting, and I will raise him up on the last day.' (Jn 6:54,55) When you receive Me worthily in Holy Communion, this is a unique sacrament when you have My Real Presence in the consecrated Host. Not everyone believes in My Real Presence, so I have allowed Eucharistic miracles for people to see My physical Body and Blood on the Host. At Lanciano, Italy you saw such a miracle where the Host was changed into the myocardial tissue of the heart without any rigor mortis. You saw the wine changed into My Blood that was even analyzed as AB blood type. These miracles were to help non-believers believe that I am truly Present in My Eucharist. Those faithful, who love Me so much, not only seek Me at Mass, but they long to take time to adore Me at Adoration of My Host in the monstrance, or in My tabernacle. My adorers are My special lovers who hold Me close in all of their activities. I love everyone as My created souls, but those people, who show Me such love, are My favorite souls who will have a special place in heaven. Keep close to Me in your prayers and daily Mass,and I will be blessing you in all that you do each day."
Saturday, November 11, 2017:
Jesus said: "My people, many of My refuges are found in rural areas away from the cities. It is difficult to have refuges in the cities or suburbs, but with Me, all things are possible. Every refuge will have an angel for protection. This angel may also be the protector of prayer groups as well. My refuges will be safe havens of protection during the tribulation. My faithful will be led to My refuges by their guardian angels. You will look on My luminous crosses, and you will be healed of your ailments. My angels will put a shield of invisibility all around My refuges, and no one will harm you. The angels will only allow people with crosses on their foreheads to enter. Those people without crosses, will not be allowed into the refuge. This is why My faithful need to bring their relatives into the faith, so they can have crosses on their foreheads and be allowed to enter My refuges. My faithful need to keep praying persistently for their families so they can be saved from hell. Give praise and thanks to Me so My faithful will have a place of protection during the tribulation."
(Sunday anticipation Mass)
Jesus said: "My people, when someone commits a crime in your society, you put them in jail to pay for their crime. Even in your family, you sometimes have to use tough love in punishments for your children to teach them a lesson. It is similar how I treat souls for their sins as well. I am always willing to forgive repentant sinners, but there is still the reparation due for their sins. When these sinners die, they face Me at My judgment seat. This is why many souls have to be purified in purgatory to make up for all of their sins. This is similar to various prison sentences, only some souls suffer in flames for years, while others need a few Masses and prayers to be released from purgatory. Suffering in purgatory is difficult because these souls are suffering outside of time, and these souls have no way of telling how long they have suffered, nor how much longer they will be in purgatory. These souls are dependent on your prayers and Masses to move up and out of purgatory. So remember to pray for the souls in purgatory, especially for your own relatives. Those souls, who you have helped get out of purgatory, will be indebted to you, and they will pray for your soul. You all will receive a fair and just judgment, but you can store up treasure in heaven with your good deeds."
Friday, November 10, 2017: (St. Leo the Great)
Jesus said: "My people, I give everyone an opportunity to search for Me in your life. Your soul is always seeking to find Me and love Me. It is My peace that your soul is searching for. You always have a choice to love Me or not. I do not force My love on anyone. I want you to love Me by your own free will. Once a person truly believes in Me all the time, My angels will place an invisible cross on the forehead of that person. As time draws near to the time of the tribulation, you will be faced with another choice between following a schismatic church, or coming to My faithful remnant at My refuges. I will be separating the non-believers from My true believers. My faithful will be directed to come to My refuges for protection from the Antichrist and his followers. This information will be given to My faithful in their Warning experience. Some people may have a difficulty in seeing the need to come to My refuges, but they will soon learn that this will be for their protection for their body and their soul. My refuge builders are preparing to accept people into their homes. With the Lord's help, they will be providing all the supplies that will be needed to survive independently from all of your present services. Trust in My help to make the right decisions for your souls to be saved in heaven."
Thursday, November 9, 2017: (The dedication of Lateran Basilica)
Jesus said: "My people, it is good to recognize your body as the house for your soul and spirit. The human person is made up of body, soul, and spirit. Just as the angels are spirits without bodies, you are also spirits contained in an earthly body. I have given you this lesson before, but you need to remember how all three make up a human person. The spirit is how you are conscious of Me, and it is seen as intuition, conscience, and communion with God. The soul is how you are conscious of self, and it is seen in the mind, emotions, free will, and the intellect. The body is how you are conscious of the world through all of your senses. This is why you can think of the body as a holy temple. You all need to respect this life in every person, whether you are poor or rich, and whether you are young or old. This is why you need to protect life in the womb of the unborn child from abortion, and protect the elderly from euthanasia. Your laws and court decisions are against My Commandments that say you shall not kill another. Your killing is still a mortal sin, whether it is legal in your laws or not. It is always better to obey My laws before man's evil and corrupt laws. Life is too precious to kill, and you need to stand up for My Will before man. Pray to stop abortion and euthanasia."
Prayer Group:
Jesus said: "My people, after a few lost governorships in Virginia and New Jersey, the Republicans are being pressed to make progress on their tax reform bill. It appears that it will take longer to get some compromises, and bring it to a vote. Even the word about taking longer on tax reform caused your markets to falter. Pray that your Congress can pass some form of tax code that will help individuals and your corporations."
Jesus said: "My people, this crime was so evil because this man intended to kill all the people in the church. He fired thirty clips of bullets in less than seven minutes at point blank range. He had a record that should have not allowed him to buy weapons, but the Air Force did not report him. He was an atheist and had a dislike of his in-laws at that church. Because he was shot, he stopped his killing, but died later when he shot himself. Keep praying for the deceased and their families."
Jesus said: "My son, your research showed that radiation is still being poured into the Pacific Ocean, as there has been no attempt to fully stop this pollution. The amount of radiation in the Pacific Ocean is getting worse and it is spreading. Marine life is being affected, and it could be dangerous to eat contaminated fish. The UN and other nations should try to force a meaningful repair to stop this continuing radiation contamination from entering the Pacific Ocean. If something is not done, this ocean will become too contaminated to eat the fish. Pray for a solution to this problem."
Jesus said: "My people, your President has made many enemies in your establishment and among the one world people. Even your Congress is struggling to pass any legislation that would make him look good. Now you are hearing reports of some people who want to kill your President. These people are being examined, but I am sending My angels to protect him. You have had earlier messages that such attempts on the President's life would be coming. Pray for your President's protection from harm."
Jesus said: "My people, there have been many threats by North Korea and the U.S. that could precipitate a possible nuclear war. Keep praying to stop this war that could kill millions of people. There has been little activity recently, but both sides are on a heightened alert for a war. Your President has tried to have China influence North Korea to subdue their missile tests. Trust in My protection of all of My refuges."
Jesus said: "My people, your freedom requires defending at times in various wars with dictators and communist regimes. You have had to fight communists in Korea and Viet Nam. You have had wars in the Middle East and Afghanistan to fight ISIS and Al Qaeda. If you do not resist these fighters, more will be attacking Europe and America. Support your military people who are fighting your battles, and give them respect on Veterans Day. Keep praying also to minimize wars and the death of your troops."
Jesus said: "My people, you have seen an unusual amount of rain and wind in your Northeast area. These weather patterns are continuing to be turbulent as you have picked up a lot of tree limbs. Some areas have had power outages, so be prepared with your backups for electricity and heating. You also need to be ready for a cold and windy winter. This is one reason to see if your weather could restrict your traveling. Do not be surprised if you have to cancel some trips because of the severe weather. You have been warned to discern any of your travel plans. Trust in My protection from such weather problems."
Wednesday, November 8, 2017:
Jesus said: "My people, there are some people who block Me out of their lives, like this large black wall in the vision. Unless you take down this wall, and open your hearts, how can I come into your lives with My love? You are the ones who can open the door of your heart from the inside to greet your Lord. By loving Me and allowing Me to lead you in life, then I can help you fulfill the mission I have planned for your life. You need to be quiet in prayer, so I can speak to your heart what I want you to do. This involves loving Me and your neighbor by following My Commandments. It is not easy to give up your life and your will over to My Will. By letting Me be the center of your life, you can accomplish great things with My help. You have to count the cost to give everything over to Me. So when you have achieved great things, remember to thank Me and give Me the glory for what you have done. Do not let possessions control you, because I will provide for all of your needs. I know what you need for your survival before you ask, so I will give you the talents you need to do your work. Be not afraid, but trust in Me for everything, both in your physical and spiritual lives."
Jesus said: "My people, when you are in the darkness of night, it is hard to find your way without a point of reference. I am the Light of the world, and I disperse the darkness that can represent evil. As you approach the winter solstice of December 21, your nights are longer and it gets worse as you go further north. I have asked My refuge builders to secure enough wind-up LED flashlights for each person at your refuge. This was very helpful in your practice run without electricity, or they can be useful in power outages. Even your bright battery powered lanterns were also helpful. These lanterns were better and safer than your oil lamps. Your oil lamps also had trouble keeping the wicks burning. You needed your flashlights to see your way to the bathroom at night, and when you had two people at Adoration during the night. Be thankful that I give you the light of the sun for some warmth as well as light. You also use fuels to heat your houses during the winter, and if you burn wood, you get light from the fire. You are just entering the cold weather, and it is good to have alternate sources for heat, if you lose your electricity. You have wood and kerosene, and the appropriate burners to keep you warm. You could use these heaters for your winter practice run. Be sure to store some extra amount of batteries to power your LED lanterns. Trust in Me to multiply your fuels and batteries during the tribulation."
Tuesday, November 7, 2017: (Election Day)
Jesus said: "My people, today is election day and you are voting for your local offices and propositions. You should be thankful that you are living in a democratic republic where your people can elect their office holders. In the Gospel I am calling out to people to come to My banquet in heaven, but many are giving various excuses not to come. I then called everyone to make a choice to love Me, or the world. Many were called to My banquet, but only a few are found worthy to enter. Only those people, who love Me and repent of their sins, will be allowed into My final banquet in heaven. Others are called, but they rejected Me, or their sins blocked them from entering. You need to give your will over to Me, and let Me lead you to heaven. You also are called to bear fruit in good deeds for your neighbor. I also need faithful souls to evangelize people to faith in Me. Other faithful are being called to set up refuges for My people during the tribulation. America, as a nation, is being called to renounce your corrupt laws and repent of your sins. Without a changing of your evil lifestyles, you are calling down My wrath on you in all manners of destruction. Your choice is to love Me or not, but you will suffer the consequences of your evil actions."
Jesus said: "My people, I am calling all of My children to pick up your individual crosses and carry them as you unite your sufferings with Me on My cross. I lived a human life on earth in a different time, but I know what you are going through with the restrictions of the body. You have physical needs of food, water, and a place to call home. You need to earn money from your job to pay for your house, your car, and to help your spouse and children if you are married. You need to take care of yourselves with doctors when you are sick or need operations. You share your money and your faith with your neighbors in need. Your lives are constantly changing, but when you pray and come to Mass, I give you the strength you need to bear all the burdens of your life on earth. It is this spiritual life of your soul that needs care, just as your body needs care. You cleanse your soul with Confession, and you have a taste of heaven when you receive Me worthily in Holy Communion. My Body and Blood are your spiritual food to satisfy your soul, and I am the only One to give you peace of mind. I am always at your side to help you in your daily needs and troubles, so call on Me at any time. Trust in Me for all that I do for you, and share your gifts with others."
Monday, November 6, 2017:
Jesus said: "My people, I am giving you further visions to ponder the end of your life, as you are coming to the end of the year. Your first thought is how you will face Me at your judgment, as you think of all the things you did in your life, both good and bad. When you go through your life review at the end of your life, I will weigh all of your good deeds against your sins. If you have been faithful to Me, you will avoid hell, and only suffer some time in purgatory. Those people, who have done evil and were not faithful, are on their path to hell. Only if people were praying for such souls, could they be saved. Once you die and you are in your casket, you are relying on your relatives and friends to pray for you, and have Masses said for your soul. You may want to put a request for Masses in your will, to insure Masses will be offered up for your soul. This will help you in getting released from purgatory at an earlier time. You also can pray for a plenary indulgence on Mercy Sunday to remove the reparation due for your sins. Thinking about your destination with Me after your death, is the best plan you could make to be with Me in heaven for all eternity. You also need to make a good friendship with Me now, because only My friends will be invited to My banquet in heaven."
Jesus said: "My people, you have just witnessed another mass killing in Sutherland Springs, Texas by a deranged gunman who was killing young children. He was chased down and died in his car. This is the third mass killing incident in a short time. You saw a false flag staged mass killing in Las Vegas where many died and were wounded. You also saw an ISIS terrorist kill and maim more people in New York City with a rented truck. Now you have another deranged gunman who killed people in a church service. The focus has been on guns, but it should be on how ISIS people are not followed, and how mental people need to be treated. There are a lot of questions around how these people acquired their weapons and ammunition. It is difficult to prevent attacks on what are called 'soft' targets. You can see that these gunmen are all seeking crowds to kill more people and gain notoriety. These events are being caused on purpose to cause fear and divide your society. Pray for the souls of those killed, and comfort the families of the deceased. Pray for peace and less division in your country."
Sunday, November 5, 2017:
Jesus said: "My people, in the first reading of Malachi, you are seeing a curse put on the people of Israel because they refused to follow the ways of God. America also is being cursed for your abortions and sexual sins against the Fifth and Sixth Commandments. Your laws are against My laws, and this has brought a curse on your nation. Unless America repents and changes its sinful laws, you will continue to see disasters, and your nation will be taken away from you, as the Jews were punished with the Babylonian Exile. You will be taken over and given to the Antichrist, as you will soon face the tribulation. Be prepared to come to My refuges so you will be protected from the evil ones who want to kill you. This evil reign will be brief, when I will bring My victory over evil, and you will have your reward in My Era of Peace."
Jesus said: "My people, you will soon be preparing to celebrate your Thanksgiving Dinner with your relatives. As your children have girlfriends and boyfriends, your family is expanding. You make many preparations for your meal by buying your food. You even share food with the poor people. In the vision you are seeing even more preparations for meals as you are stocking up food for your refuges. I have told you to initially prepare for forty people at your refuge. I will multiply what you will need, and I will have My angels build more buildings when more people come. Be thankful that My angels will protect My faithful at My refuges from the evil ones during the tribulation. As you see more events occurring, you are sensing how close you are to the tribulation. Be not afraid, and give thanks for all the people who have prepared refuges for My people."
Source: John Leary
Fr. Michel Rodrigue explaines The Events of the End Times
Do you want a quick overview of the end times? Then read "The great events of purification will begin this fall". If you want all the details of the unfolding events, then go to "Virtual Spiritual Retreat with Fr. Michel Rodrigue about the End Times".
The Pope's approval of homosexuality
Beware of the 'New World Order'
The Rosary is the weapon of these times
The truth about the Coronavirus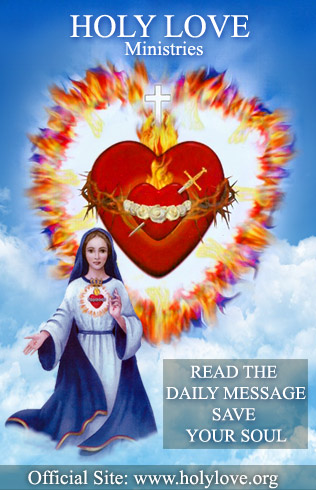 Read the daily messages
Catholics, we have entered the Pre-Tribulation, observe the Commandments, go to Confession; receive the Holy Eucharist; pray at least 3 Rosaries a day to keep your faith and save your loved ones. Prepare for the events that will devastate our planet: plagues, famine, WW3, cataclysms, antichrist's World Order