You shall not take My Name in vain

(CEV) "The Poem of the Man-God,", Vol. 1, p. 639
Jesus says: "It is said: "You shall not take My Name in vain".
When does one take it in vain? Only when one curses it? No. Also when one utters it without making oneself worthy of God.
Can a son say: "I love and honor my father" if he does the very opposite to what his father wants from him?
One does not love his father by saying: "father, father". One does not love God, by saying: "God, God".
[..] There are so many idols in the secrecy of hearts, there is also a hypocritical praise to God, to which the deeds of the praisers do not correspond. There is also a trend [..]: they find so many sins in exterior things and do not want to find them where they really are, in interior things. In Israel there is also a silly pride, an anti-human and anti-spiritual habit: the Name of our God uttered by pagan lips is considered swearing and the Gentiles are forbidden to go near the true God, because that is considered a sacrilege. That was the situation so far. But it is no longer so…
The God of Israel is the same God Who created all men. Why prevent creatures from feeling the attraction of their Creator?
Do you think that heathens do not feel something in the bottom of their hearts, something unsatisfied, that shouts, stirs, seeks? Whom? What? The unknown God.
And do you think that if a pagan moves towards the altar of the unknown God, to the incorporeal altar which is the soul in which there is always the remembrance of its Creator, the soul which expects to be possessed by the glory of God, like the Tabernacle erected by Moses according to the order given to him, the soul that weeps until such possession does not take place, do you think that God will reject the pagan's offer as one rejects a profanation? And do you consider a sin the action caused by the honest desire of a soul that aroused by celestial summons says: "I am coming" to God Who says to it: "Come", while you consider holiness the corrupted cult of an Israelite who offers to the Temple what is left over from his pleasures, and goes into the presence of God and mentions the name of the Most Pure one, with body and soul polluted by countless foul sins?
No. I solemnly tell you that the perfect sacrilege is committed by the [person] who with his impure soul takes the Name of the Lord in vain. His Name is taken in vain, when you are aware, and you are not fools, that you pronounce it in vain because of the state of your souls. Oh! I see the indignant face of God which disgusted turns elsewhere when a hypocrite calls Him or an unrepentant soul mentions Him! And I am terrified although I do not deserve the divine wrath.
I read in many of your hearts this thought: "Well, with the exception of children, no one can mention God's name, because in all men there is impurity and sin". No. Do not say that. That Name is to be invoked by sinners. It is to be invoked by those who feel they are choked by Satan and want to free themselves from sin and from the Seducer.
It is said in Genesis that the Serpent tempted Eve when the Lord was not walking in Eden. If God had been in Eden, Satan could not have been there. If Eve had invoked God, Satan would have fled. Always have that thought in your hearts. And call the Lord with sincerity. That Name is salvation. Many of you wish to descend into the river to be purified. Purify your hearts, unceasingly, writing upon them, by means of love, the word: God. No false prayers. No habitual practices. But say that Name: God, with your hearts, your thoughts, your deeds, with your whole selves. Repeat it that you may not be alone. Repeat it to be supported. Repeat it to be forgiven..
Understand the meaning of the word of the God of Sinai: the name of God is taken "in vain" when saying "God" does not imply a change for the better. Then it is a sin.
It is not taken "in vain", when, like the beating of your hearts, every minute of your day, every honest deed, need, temptation, sorrow bring to your lips the filial word of love: "Come, my God!" Then, truly, you do not sin mentioning the holy Name of God."
Maria Valtorta: The Poem of The Man-God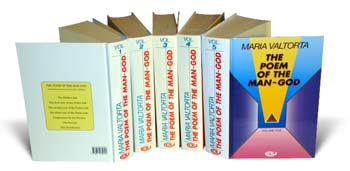 Evaluation of the Work of Maria Valtorta by Padre Livio Fanzaga, Catholic priest (Radio Maria):"So I would say just that, dear friends, because I read The Poem of the Man-God, three times, 5 volumes ( CEV, ed), and then I am able to evaluate it in its complexity and its value, I feel like saying, dear friends, I do not know any more commentary on the Gospel more orthodox, more uplifting, more stimulating than this, and I would like, dear friends, that all of you would accept the invitation from the Virgin Mary to read this books because it's all true (They do not contain errors against faith and morals of the Catholic Church…) . Then read these books, my dear friends, because we would surely gain great benefits for your souls. It is not difficult to get them, and they do not cost a lot, 5 books that can be for you an indispensable spiritual nourishment "
Content taken from the works of Maria Valtorta with the permission of the "Centro Editoriale Valtortiano Srl"- Viale Piscicelli, 89/91 – 03036 Isola del Liri, (FR – Italy),
www.mariavaltorta.com
, which has all the rights upon Valtorta's Works.
Fr. Michel Rodrigue explaines The Events of the End Times
Do you want a quick overview of the end times? Then read "The great events of purification will begin this fall". If you want all the details of the unfolding events, then go to "Virtual Spiritual Retreat with Fr. Michel Rodrigue about the End Times".
Messages of Holy Love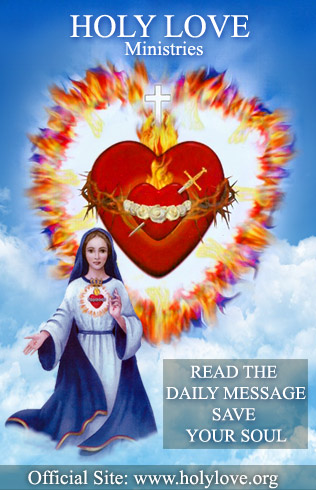 Read the daily messages
Catholics, we have entered the Pre-Tribulation, observe the Commandments, go to Confession; receive the Holy Eucharist; pray at least 3 Rosaries a day to keep your faith and save your loved ones. Prepare for the events that will devastate our planet: plagues, famine, WW3, cataclysms, antichrist's World Order