You shall not covet your neighbor's wife

(CEV) "The Poem of the Man-God,", Vol. 1, p. 692
Jesus says: "ou shall not covet your neighbor's wife" is linked to "You shall not commit adultery". Lust always precedes deeds. Man is too weak to be able to crave for something without consuming his desire. And, what is exceedingly sad, man is not capable of behaving in the same way with regard to his honest desires.
In evil man wishes and then fulfills his wish. In good he wishes and then stops, if he does not retreat.
Since sinful desires are widely spread like couch grass which spreads by itself, I will repeat to you all, what I said to him: are you little babies who do know know that that temptation is poisonous and is to be avoided? "I was tempted". The old excuse! But since it is also an old example, man ought to remember its consequences and thus say: "No". Our history does not lack examples of chaste people who persevered as such notwithstanding all the allurements of sex and the threats of violent people.
Is temptation evil? It is not. It is the work of the Evil One. But who overcomes it, turns it into glory.
A husband who makes love with other women, is a murderer of his wife, of his children and of himself. Who enters his neighbor's abode to commit adultery is a thief, and one of the most cowardly. Like a cuckoo, he enjoys somebody else's nest, without any expense. Who deceives the good faith of a friend, is a forger, because he simulates a friendship which in fact he does not have. Who behaves thus, dishonors himself and his parents. Thus, can God be with him?
Maria Valtorta: The Poem of The Man-God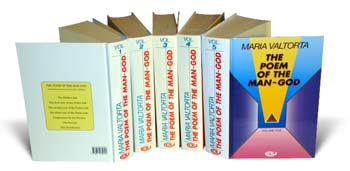 Evaluation of the Work of Maria Valtorta by Padre Livio Fanzaga, Catholic priest (Radio Maria):
"So I would say just that, dear friends, because I read The Poem of the Man-God, three times, 5 volumes ( CEV, ed), and then I am able to evaluate it in its complexity and its value, I feel like saying, dear friends, I do not know any more commentary on the Gospel more orthodox, more uplifting, more stimulating than this, and I would like, dear friends, that all of you would accept the invitation from the Virgin Mary to read this books because it's all true (They do not contain errors against faith and morals of the Catholic Church…) . Then read these books, my dear friends, because we would surely gain great benefits for your souls. It is not difficult to get them, and they do not cost a lot, 5 books that can be for you an indispensable spiritual nourishment "
Content taken from the works of Maria Valtorta with the permission of the "Centro Editoriale Valtortiano Srl"- Viale Piscicelli, 89/91 – 03036 Isola del Liri, (FR – Italy), www.mariavaltorta.com, which has all the rights upon Valtorta's Works.