Wednesday, September 20, 2017: (St. Andrew Kim & companions)
Jesus said: "My people, you are seeing people in all kinds of living conditions. As you traveled through some big cities, you saw houses and tall buildings close together. Some poor people were selling things to pedestrians, and the rich were in their penthouses. I am calling people to pick up their crosses in life and carry it in faith for My sake. You have some people who are being persecuted for believing in Me in communist or Arab countries. Even now you are also seeing people suffering from hurricanes that are destroying homes and flooding other homes. You are also seeing people being killed in storms and now earthquakes in Mexico. People are being affected all over America with higher gas and fruit prices. Much of the storm damage will be affecting your overall economy. Pray for people all over the world who are suffering from natural disasters or from persecution of their faith. These are hard crosses to carry when your homes are lost, or damaged, and people are dying as well."
Thursday, September 21, 2017: (St. Matthew)
Prayer Group:
Jesus said: "My people, you still have some earthly kings, and they rule over their people sometimes with a heavy hand. I am more of a spiritual King, and My rule is all over the universe. I love all of you enough to die to save your souls. I call all of you to love Me and your neighbor. Those people, who follow Me and My Commandments, will have an eternal reward with Me in heaven."
Jesus said: "My people, you have seen severe damage in the Caribbean Islands, especially Puerto Rico. Some lives have been lost as well. Many of these islands are tourist places, but it will be difficult to recover. Texas and Florida are still trying to recover from Hurricanes Harvey and Irma. These hurricanes have caused so much destruction, that it will be difficult to find enough money for the repairs and rebuilding. Pray for the victims' survival, and that they can find a home. Pray for the dead with your Chaplet of Divine Mercy and your St. Michael prayer."
Jesus said: "My people, you are seeing many buildings that collapsed, and buried almost 300 people who died in Mexico. The authorities are still trying to rescue those people who are trapped under the rubble. These people will also need medical attention, food, and water. Two major earthquakes in a short time is testing the endurance of the Mexican people. Pray for these victims, and send any aid that you can afford."
Jesus said: "My people, your people are hurting financially where the hurricanes have destroyed homes and businesses. Your government needs to step forward to offer low interest loans for your small businesses and homeowners to get back into another home. Many military vehicles could help remove the water damaged things. Pray that your people will help each other to get back to normal. Trust in Me that I am looking out for every family to survive."
Jesus said: "My people, you are seeing a war of words going on between your President and the leader of North Korea. My people need to pray hard to avoid any war on the Korean Peninsula. Both sides have demonstrated that they each have nuclear missiles that could endanger the lives of many people if a war should start. Pray that these leaders will not start a nuclear war that could endanger many lives."
Jesus said: "My people, many people are weeping at the funerals of those people who died in your latest storms. There is another concern that you have had over the last few messages which have seen plots to attempt to assassinate your President. You continue to have evil people who want to take over your country. Your President has stood in the breach to confront the one world people. He has been protected by Me, but eventually the evil ones will have their hour because their time is running out. Continue to pray for the safety of your President because there are many evil forces who want to remove him from power."
Jesus said: "My people, some of your astronomers are noting some great signs in the constellations of the stars for September 23. You saw an eclipse of the sun by the moon as well. These are dire signs of coming problems for the people on earth. You will continue to see natural disasters, but the evil of the coming Antichrist in the tribulation will be an evil that you have yet to see. I will allow a brief reign of the evil one before I will bring My victory over all the evil ones. Have faith in My protection at My refuges, but you will all be tested dearly. Be patient during this trial, because I will soon bring My faithful into My Era of Peace."
Friday, September 22, 2017:
Jesus said: "My people, you heard in the first reading of St. Paul to Timothy how money is the root of all evil. Love of money or a sin of avarice can control people's lives, if they allow it to be a god for them. Some money is needed to pay bills and to buy food for survival. When you desire money for buying things that you do not really need, or you accumulate money as a miser, or for power, then money will control you. In the beginning of the reading, it said that you came into this world without anything, and you will die, and leave this world without your money. There is another problem with money and power, where the rich people try to control people and governments with their wealth. Even money itself is manipulated in debts and interest. In your stock markets there is much greed, and swindling of the stockholders. You have seen how 'debt' money is made up in bonds and currency for control of your country's finances through the bankers 'Federal Reserve'. This is not part of your U.S. Treasury. When you had 'free' money not tied to debts, your country thrived even more. There are evil forces controlling your money, and people kill for money and steal money for their own gain. Trust in Me that I will provide for your needs, and do not worry about needing more money than is necessary."
Jesus said: "My son, you are asking a difficult question, because I give everyone free will to choose to love Me or not. In the first place the youth of today have many distractions with their electronic devices. They are searching for love and peace from their soul, but they allow their addictions to hold them only at a worldly level. Your soul will only find true peace in Me, but many youth of today substitute a love of things in place of loving Me. A person first has to love themself and hold themself in high esteem. Then you are able to love others and possibly find a spouse to get married. Your love can then expand into the spiritual world in a desire to find love in Me. You need to be seeking My love to find Me, and when you do, you will find true peace. I have a mission for every soul, but until you are ready to give your life over to Me, it will be hard to fulfill My mission. Each soul must understand the need to want to know, love, and serve Me. Once you have a working love relationship with Me, then I can use you to spread My Gospel message to convert souls to the faith. The youth today can be led to Mass, but as they get older, they have to make a personal commitment to know and love Me. Your children need your persistent prayers to help save their souls. Give them your good example of Mass and prayers often. They need to see how you love them, and you are willing to help them in things of life, and encourage them to pray and come to Mass. Many souls are being lost because no one is praying for them. Tell your children that you love them so much that you are praying for them every day to save their souls. I hear your prayers and I will give your children every opportunity to be saved."
Saturday, September 23, 2017: (St. Padre Pio)
Jesus said: "My people, the Mass is the most complete prayer of My Catholic Church. You have been talking about prayer and its meaning, so remember that the Mass truly is a prayer of worship. In the vision of the priest consecrating the Host, it is important to remember that you believe that the bread and wine are transubstantiated into My Body and Blood. When you receive Me worthily without mortal sin on your soul, you are receiving Me intimately into your mind, body, soul, and spirit. Treasure this moment because for a short time you are experiencing heaven on earth with Me. This is a taste of heaven and a special moment when you can be one with Me, as I help you through the day's trials. This intimate union is how you love Me so much, so I can be a part of your life. Listen to My Word in your hearts and literally take My Gospel to heart. You are the good seed in fertile soil, and your fruit is to go out to evangelize souls to the faith. The more souls you can bring to Me, you are adding to My greater glory. Give praise and thanks to me all day long in all that you are offering up to Me."
Jesus said: "My people, it is not easy at times to help your children and grandchildren with your financial generosity as best you can. But I love it when parents realize their need to pray for all the souls in the family to be healed in their hearts and souls to know and love Me. Parents are responsible for the souls of their children and grandchildren. I know they all have free will to choose to love Me or not, but your persistent prayers can go a long way toward saving their souls from hell. If parents pray together as a family every day, you can bring many blessings and graces upon all of your family members. Continue to pray your long form of the St. Michael Prayer for your family, and place a cross of holy water on all of their pictures. You can also pray your rosaries for your general intentions of all sinners, the souls in purgatory, stoppage of abortion, and peace from wars. You are still praying your Chaplet of Divine Mercy for all the souls who are dying from natural disasters, and there have been many. I want My faithful to also reach out with donations to help people in distress, and evangelize as many souls to the faith as you can. When you come to Me with your hands full of good deeds, I will tell you, well done My good and faithful servant. Enter into the glory of your Master in heaven, so you can join Me in love with all of My saints and angels."
Sunday, September 24, 2017:
Jesus said: "My people, this vision is a sign of how I send My gifts to a few missionaries and priests, and then they reach out to save others. I also call on My prophets and lay people to spread My message of My Word in the Gospels to all the people around them. There are two kinds of people who are represented in the Gospel reading. People are called to believe in Me in faith at various ages of their lives. There are others who have a higher calling as the religious in priests, nuns, and brothers. Even still I also call My prophets and evangelists into My vineyard. You have heard Me say how the harvest of souls is great, but the laborers are few. Call on Me to send more laborers into My vineyard for the harvest of souls. It is the special souls that I call on to go out to evangelize as many souls as they can. Those souls, who bring souls to Me, will have the same wage as all of My followers who will receive their reward in heaven. The souls, who have been saved, or released from purgatory, will be very grateful to those who converted them, or prayed for their souls. This gratitude will be a further reward for My evangelists. My good servants will get to see all the souls that they helped to come to heaven. I thank all of the souls who were instrumental in bringing souls to Me. If you are still alive on earth, you have further work to do in My vineyard to help save souls."
Monday, September 25, 2017:
Jesus said: 'My people, a war with North Korea is about to break out, and North Korea's intent is to take out the electric grids in Japan, and America. They know America could overwhelm North Korea with nuclear weapons, so their best chance to defeat you, is to take down your electric grid with an EMP attack. You have not protected your grid, and if your anti-missiles do not take out multiple missiles, you could be devastated without electricity. There is also a possibility that your forces could try a pre-emptive EMP attack against North Korea before they could launch their missiles. The aggressive talk from both of your countries will result in a war, and your people should be ready for an attack of some kind. There could be a spread of war if China and Russia come into this conflict. You have been weakened with hurricanes, but war could take many more lives. Keep praying to stop any war with North Korea, but the forces of evil are preparing for war. Trust in Me to protect My people, even if you are called to the safety of My refuges."
Jesus said: "My son, you have seen many hurricane attacks and serious earthquakes in Mexico, and many lives have been taken in these natural disasters. You have yet to see the big event that I told you would come this year. You could see a major earthquake, a volcanic eruption, or some serious bombing from a war with North Korea. Any man-made event will be a free will decision by either side. Be prepared if such an event will trigger a martial law. If a national martial law is called, My faithful will need to come to My refuges for your protection. Fear not any of these events, because My angels will be protecting all of My refuges from any harm. Be ready to leave for My refuges when I warn you, and when your lives will be in danger. Trust in My protection, no matter what the evil ones are planning."
Tuesday, September 26, 2017: (St. Cosmas & St. Damian)
Camille said: "Hello everybody, I am still here to comment on your world in chaos. Your priest had some trouble pronouncing my name. I am happy everything is settled with the house, and it was good to see that big tree come down. It is too bad they are not using my garden space. You have been seeing unusually strong hurricanes and earthquakes. Your events are getting more serious with a possible war. You are getting your place ready for people to come, and the family should get back to church and Confession before the Warning comes. Lydia and I say hello also to Sharon, Vic, and Carol. We love you. Thank you, John."
Jesus said: "My people, on Good Friday you can see an empty tabernacle when the consecrated Hosts are kept in a special tabernacle. This vision of an empty tabernacle has a different meaning. This is a sign that a time is coming when the schismatic church will not be pronouncing the proper words of Consecration over the bread and wine. There is a new Canon law that is going into effect on October 1st that will allow bishops in their own country to change the liturgy of the Mass. Once the words of Consecration are changed, I will no longer be Present in the Host. Even if they put hosts in the tabernacle, I will no longer be present in the schismatic churches. This means My faithful will need to come to a home Mass where a faithful priest will pray the correct words of Consecration. You will then soon come to My refuges when your lives and souls will be in danger."
Wednesday, September 27, 2017: (St. Vincent de Paul)
Jesus said: "My people, this month you are being called on to help your bishop's fund, and those people in Puerto Rico who were devastated by Hurricane Maria. Today's St. Vincent de Paul also helped the poor of his time. You have many demands on your funds to run your family's expenses, but some causes demand your attention to help those people who are less fortunate without a home. Give some thought to helping the storm victims with your prayers and donations. Those people, who you help, will be grateful, and you will gain more valuable treasure in heaven."
Jesus said: "My people, you have choices in life as to what is most important in your life. Some people are more worldly than others, so they measure success by how much money and possessions they have. Those people, who are more spiritual, are content to have only enough money to get by, and they prefer more time for prayer and good deeds. By letting Me direct your life, you will be better able to fulfill My mission for you. Do not be so focused on accumulating as much wealth as you can. You only need a bare minimum to survive, and it is better to rely on My help, than on your own wealth. I measure your success on your prayer life, and how many good deeds you can accomplish. I have told you that money cannot buy you into heaven. You cannot take any money past the grave, but you will leave it to your heirs. So focus more on following My Will, and you will be richer in heaven with what is truly more valuable."
Thursday, September 28, 2017: (St. Wenceslaus)
Jesus said: "My people, ever since your President was put in office, the one world people have been trying to undermine and stifle all of his plans to improve your country. This latest attempt to repeal your current Health Plan is another example of the one world people stopping this effort. Your President has been so frustrated trying to get his party moving on the issues, that he has resorted to talking with the opposition party to get votes for his legislation. He is even using Executive Orders to get what is needed. Because the one world people control the media, the media people have also been harassing your President, even with fake news. Your President is now trying to move forward with tax reform, and you will see how the one world people will react to that also. These evil people know that if little is accomplished, they will control his changes of any real effect on their takeover plans. The evil people want the North American Union, and your President is opposed to this plan. You will soon see which side will win out. Keep praying for your leaders to do the right thing for your people, rather than following the wrong plan of the evil one world people."
Prayer Group:
Jesus said: "My people, you may have had a knee injury, or you know of someone who has knee pain. You, My son, had a knee sprain, and it still gives you a minor pain. Some people take calcium pills or other means to ease the pain. When you have bone on bone, some people have had artificial knee replacements. If you have a choice, it may be better to have the operation than suffer many years of pain. Pray for a healing to relieve your pain."
Jesus said: "My people, you are seeing your President and Congress proposing some new tax reform. Your President is already inviting bi-partisan support to change your complicated tax forms with all of its deductions. The initial plan is to make your tax return less complicated, and to try and cut your high corporate taxes. It is hard to find a fair compromise because different options have their own lobbies to protect their deduction. It will also be difficult to not build up more deficits. Pray for less taxes that are fair to all segments of your people."
Jesus said: "My son, the man, who called you from Puerto Rico, was calling to have you say prayers for the hardships of the people without water, food, and gasoline. He did store some food and water when he listened to your talk. For that he was grateful. You may be able to help this man and his neighbors if you could get supplies to him. You have a contact who may be able to help him. You could ask for some donations, once you could contact him."
Jesus said: "My people, it is easier to get supplies to Texas and Florida over land. It is more difficult to get supplies to Puerto Rico, and even harder to get supplies to the interior parts of the island. Help is coming by ships, and a hospital ship is planned. Do some research to see a good trustworthy group to get needed supplies to Puerto Rico. Their economy was already in trouble, and they will need even more financial help than the affected states. Continue to pray and send regular donations to trusted groups."
Jesus said: "My people, your people see a great need to send vehicles and supplies using your military and ships to carry them to help hurricane victims. This is why some funds have been made available for various agencies to carry out the aid to the people of Puerto Rico. This has been a year of great destruction, and it is not possible to pay for all the damage. Basic infrastructure needs are needed for electricity, and survival food and water. Instead of complaining about what was not done on time, it is better to provide what help is available. Pray that these hurricane victims can find what they need to survive."
Jesus said: "My son, you have put out many books to your publisher, Queenship Publishing. You should still make your Glory Be novenas for the success of this book. Your prayers to St. Therese have helped your previous books as well. It is difficult to know how many more books you will have time to get published. So treat each book as if this is going to be your last book. Be thankful that you have been allowed a long time to have people read My messages to you."
Jesus said: "My people, you love to receive or even look at a pretty bouquet of flowers in a vase with water. They look beautiful for awhile, but soon they wilt and have to be discarded. This story of the life cycle of flowers is a little like your lives. You first spring up with youth as flowers in spring. You then mature over time, and just as the flowers wilt, you also grow old, and you are less active. My faithful need to shine and use your time to share your faith while you are still alive. You all have to die, but you can prepare yourselves with frequent Mass and Confession. Be thankful for your life while you are living, and do everything to make the best use of your time to save souls and pray for the souls in purgatory. As your year comes to a close, you need to think more of how to prepare your soul for your judgment."
Friday, September 29, 2017: (St. Michael, St. Gabriel, St. Raphael)
St. Michael said: "I am Michael and I stand before God. I do all the Lord's bidding, and I am protecting your country. You call on me every day to protect you and your family from the attacks of the devil. You also call on my protection when you go out to give talks. You know how the evil one attacks those people who try to spread the Lord's Gospel. I am there for you in all of your work to help save souls. You have given out my long form prayer of deliverance to those people who suffer from the evil one. My prayer is also helpful in breaking addictions by removing the demons attached to these addictions. Trust in my help and the Lord's direction, and you will be saved along with your family members."
Jesus said: "My son, watching your 'War Room' movie has given you some better insights in how to pray. You are seeing first how you need to surrender all of your life over to Me. You need to trust Me more in how I am leading you through life. You should pray more with your wife, and make time for prayer together. You are faithful to Me in your daily prayer, but there is more power in prayer when you pray together. You have a beautiful and blessed chapel, so pray more together. Try to pray your St. Michael prayer for your family every day. This is his feast day, so you can remember this request. Keep praying your Stations of the Cross on Friday, and your novena prayers to St. Therese for your next book. I love how you carry out My requests, so continue to do so, and I love you and your family so much."
Saturday, September 30, 2017: (St. Jerome)
Jesus said: "My people, this boat of St. Peter represents the Church in how I have protected it throughout the centuries. You will see My Church traveling into rough waters. Today, this boat represents My faithful remnant that will be protected from the evil ones, when you will see a split away from a schismatic church. This coming division in My Church will separate the lukewarm who will go with the schismatic church which will teach New Age, and that the sexual sins are no longer mortal sins. This schismatic church will discard many traditions, and could even mislead some of My elect with their many heresies and denials of My Divinity. Follow My faithful remnant who will follow the teachings of My apostles. My remnant church will follow the true faith described in the Catechism of the Catholic Church. You may eventually have to leave the false churches for your home Masses and prayer groups. Later, you will be coming to My refuges during the tribulation. I will be with you in daily Holy Communion from a faithful priest or My angels. You will be adoring Me in perpetual Adoration at My refuges. Trust in My protection both for your bodies and your souls, until I will bring you into My Era of Peace, and later into heaven."
(4:00 p.m. Mass) Jesus said: "My people, in the Gospel the father gave the same order to both sons to go out into the field to work. One son chose to follow his father's order, but the other son did not go out. You all have the same opportunity to follow My Commandments, but it is your obedience that will put you on the right path to heaven. Sometimes you may falter in your sins, but I will forgive you, if you seek My forgiveness. Try to learn from your mistakes, so you do not repeat your offenses. Be more willing to obey My laws from the start, and do not lie about your bad intentions, because I can read the intentions in your heart for all of your actions. You also need to give a good example to others, so they can see you are sincere in living a good Christian life. By struggling to do the right thing, My Father will reward you in heaven."
Sunday, October 1, 2017: (Respect Life Sunday)
Jesus said: "My people, I thank your people for honoring all of My creations of man and woman made in My image with free will. You should treat all lives with respect from those formed in the womb until those who die. You are killing a million babies in the womb every year by abortion. This is denying the right to life to these defenseless little ones. The guardian angels of the aborted children come before Me to testify to their deaths. It is this sin of abortion that has brought My wrath down upon America. At the other end of your lives, you have some states that allow euthanasia. Even when you have laws that allow such taking of life, these killings are still mortal sins in My eyes. My people need to respect life in all of the various countries, and pray for a stoppage of abortion and euthanasia. Your lives are all equal to Me, so treat every life as precious in your eyes."
Jesus said: "My people, there are evil people who want to bring down your country, and they know how vulnerable your electric grid is. This power grid failure in the Northeast will be a result of a terrorist attack, or an EMP attack on your Niagara Falls power station. You had one of these power outages before, but it did not last long. This coming power outage will be a lot longer, and you will know what it is to be without power like the people in Puerto Rico. This is why I have asked people to have solar power with batteries, as well as backup generators. Many people are not prepared with food and water. Without electricity, you could see a famine that could cause many deaths. This is another warning to store food and water for more disasters that could shut down your electric grid. This could also precipitate a martial law, that could send My faithful to the protection of My refuges. Trust in Me to provide for your needs, even during the tribulation."
Monday, October 2, 2017: (Guardian Angel feast day)
Jesus said: "My people, you have been listening all morning about a lone gunman who killed fifty or more people, and wounded over four hundred people in Las Vegas, Nevada. He was high in a tall hotel shooting down on a crowd of over twenty thousand people at a concert. There were a lot of concert people who helped the wounded to get to a hospital. Some people were badly wounded, so the death toll could rise. Your announcers are already claiming that this was the most deadly shooting in recent American history. There is a lot of evil going on all over the world, but this was a horrific crime with the shooter firing multiple weapons toward the backs of the concert goers. Pray your Chaplet of Divine Mercy for the dead and seriously wounded people. This presents a threat to outside concert crowds."
Jesus said: "My people, you are seeing one event after another, as serious events have happened in Texas, Florida, and now Puerto Rico. Now, you just had the most people killed and injured in a recent shooting than ever before. I have also warned you about the possibility of more severe earthquakes and volcanoes, especially along the Ring of Fire. I am showing you a vision of lava flowing down a volcano. Be alert for more natural disasters that could occur at any time. Keep praying for all the souls that are dying from any number of causes."
(Guardian angel feast day) Mark said: "I am Mark, and I stand before God, while I watch over you. Your spiritual director was concerned about your health, as you are traveling to your talks. You have seen a few people with messages being told to stay close to home by the end of this month. I will help you in discerning if it is safe to travel after this month. If you are seeing serious events that could endanger your life, it may be wise to stay home at your refuge. I am protecting you, but do not take any trips that could be the time for major events to start. Trust in My direction and discernment for your future travel plans."
Tuesday, October 3, 2017:
Jesus said: "My people, at times the evil of the people in the world gets you down, and it appears that evil is winning. No matter how evil the people get with all their killings, I am still with you like the sun to give you rays of hope. Even if it appears that evil is winning, this is only for a short time, before I will bring My victory and vindicate My faithful people. So do not despair or get despondent, because I will be with you to raise you up with My grace. The evil ones will have their hour, but in the end My Sacred Heart will be victorious over all those people who refuse to love Me. Be faithful to Me during this tribulation, and you will have your reward in My Era of Peace, and later in heaven. Pray for strength today, so you can endure all that you will be suffering now amidst the evil of your day.
Source: John Leary
Fr. Michel Rodrigue explaines The Events of the End Times
Do you want a quick overview of the end times? Then read "The great events of purification will begin this fall". If you want all the details of the unfolding events, then go to "Virtual Spiritual Retreat with Fr. Michel Rodrigue about the End Times".
Messages of Holy Love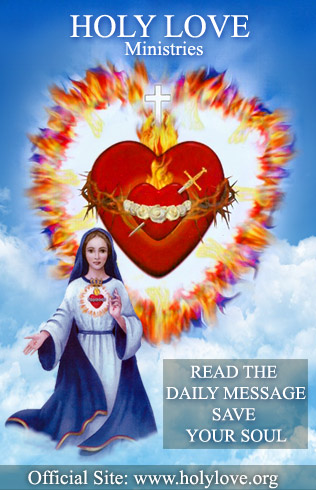 Read the daily messages
Catholics, we have entered the Pre-Tribulation, observe the Commandments, go to Confession; receive the Holy Eucharist; pray at least 3 Rosaries a day to keep your faith and save your loved ones. Prepare for the events that will devastate our planet: plagues, famine, WW3, cataclysms, antichrist's World Order