You Cannot Serve Two Masters
Jesus says: (Gesù Our Teacher, Vol. 1) – "My children, I am amongst you with the abundance of my graces and with the immensity of my love. I love you, children, with a love that knows no bounds. I love you because of my goodness not because of your merits and I love you in spite of your imperfections.
I accept your commitment and goodwill with which you adhere to my desires of good and I praise you for the collaboration that you give to my work of salvation.
You see how evil goes continually widening itself like an immense oil stain which, stretching itself, touches all areas of human society. You see immorality making way for itself everywhere and reaching even into the holy places and to holy persons. So also error.
How can you help Me to stern that powerful diabolical current which threatens to overthrow everything that is morally and spiritually sound?
There are some Christians and also many of my ministers who think they can vanquish evil by adapting themselves to whoever errs. There are some Christians who deny meeting them halfway and bringing them to the true faith by accepting their errors.
There are some Christians who, in order to defend Me, think of taking away from the Church devotion, respect and recourse to my Mother. There are others who deny the influence of my Mother, her apparitions and her intercessory strength.
Well then, to such senseless people, that have understood nothing about Me, but who, despising my Mother mortally wound the Son. They are joined by others who believe in justifying this behavior, renewing most bitter wounds in my heart.
Can you perhaps love the Son and not his Mother? Can perhaps the convergence of the Most Holy Trinity in accomplishing that wonderful work of the conception and sanctification of my Mother be annulled to make a few ungrateful children happy?
Of this refusal the Church suffers, in which, as in a family in which the mother is missing, there is less order and heresy enters.
You wonder then after having denied Mary the honor due to her, papal infallibility is denied and they would like to vulgarly place the Priesthood on a common level and not on the level of privilege in which I placed it? Children, it has been well put: "Pray so that the salt does not become insipid."
But I turn myself also to you, who could perhaps in some moments of your life think that it is better to go with the flow: fashion, for example, could be an incentive and a bait. But, it's said, everyone does it.
Perhaps the new generations grown up with so much freedom could not feel remorse of any kind even though committing all sorts of obscenities?
My children, that body, which was given to you and which is the temple of the Holy Spirit, is it not the sacred depositary which must collaborate with the soul to do the admirable works of God?
And concupiscence, isn't it perhaps the sad legacy of sin? Or will not the body, indulged in everything and exposed to everyone's eyes, be the means to do evil and to lead others to sin?
That's why I invite you to be true instruments of the Lord in the diffusion of truth, in the defense of morality, not adapting yourselves to what others do but fighting with the example of a blameless life and keeping sound those principles which are not unknown to you, since they are continually brought to your mind.
Be faithful to your principles like those hinges on which truth is based and do not let yourselves be flattered by the thought that, by indulging the worldly in their demands, you may be able to bring them to good. It will be much easier instead, imbued with their errors, for you to end up losing your faith and morals.
With this 1 don't want to say to you that you must bring tension and disorder into your families. I want to repeat to you, however, what in the Gospel has been said to you: "You cannot serve two masters".
Children, I bless you all, one by one."
Jesus Our Teacher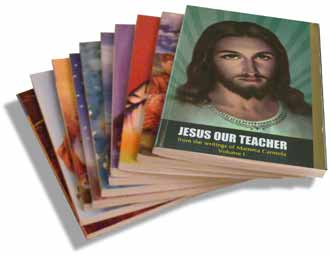 The thoughts, the reflections and the meditations in this booklet, were inspired by Our Lord Jesus to Carmela Negri Carabelli. They are, however, addressed to all those souls, who, desirous to love the Lord, seek to put into practice his teachings and to live the Christian life more perfectly. May Jesus bless these pages and those who read them with the desire to improve themselves, granting the help of his grace.
For more information about these magnificent teachings, for any spiritual assistance you may need or to participate and spread throughout the world the cenacles of prayer and the apostolate of the Divine Mercy, please contact: "CENACOLO DELLA DIVINA MISERICORDIA", Viale Lunigiana 30, 20125 Milano, Italy –
www.cenacolodivinamisericordia.it
Nihil Obstat: Reverend Gerard Diamond MA (Oxon), LSS, D. Theol, Diocesan Censor Imprimatur: Rev. Monsignor Les Tomlinson, Vicar General, Date: 20th July 2007 – The Nihil Obstat and Imprimatur are official declarations that a book or pamphlet is free of doctrinal or moral error. No implication is contained therein that those who have granted the Nihil Obstat and Imprimatur agree with the contents, opinions or statements expressed. They do not necessarily signify that the work is approved as a basic text for catechetical instruction. Catholic Archdiocese of Melbourne
Fr. Michel Rodrigue explaines The Events of the End Times
Do you want a quick overview of the end times? Then read "The great events of purification will begin this fall". If you want all the details of the unfolding events, then go to "Virtual Spiritual Retreat with Fr. Michel Rodrigue about the End Times".
The Rosary is the weapon of these times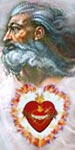 God the Father: "Children, the best way to change the conscience of the world and this country (U.S.A.) in particular is much prayer and many sacrifices. You may not see the effects of your efforts but persevere and do not be discouraged. Use your Rosaries as the mighty weapons that they are. A Rosary said from the heart is more powerful than any weapon of mass destruction. The Rosary is the weapon of these times. Do not let the daily news frighten you. Often, what you hear is not the Truth and only meant to influence your opinions..." (Read more..)
The truth about the Coronavirus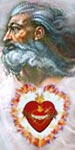 May 1, 2020 - God the Father says: "Today, I invite you to realize that this virus - the coronavirus - is no ordinary disease. It has been created from human ingenuity to specifically target the elderly and physically challenged. This is the plan of future generations to purify the human race around the world. It was released into the general population ahead of schedule - by accident. Those in charge were waiting for less capable government officials in your country (USA) to be in office. Nevertheless, proposed harm is being unleashed on the whole human race." (Read more...)
Help the Lord spread His voice, time is running out
Please help spread these messages of faith, hope, salvation,
defense
against evil (by email, printing, Facebook, Twitter, and other media) to your loved ones, your friends, and all the people you may meet, who seek salvation or who are in danger of being eternally lost. The Lord gives great graces and blessings to those of goodwill who, according to their own possibilities, collaborate with His Plan of Salvation.
Who helps the Lord save a soul predestine his own
, independently from the outcome.