Monday, March 13, 2017:
Jesus said: "My people, I have shown you the dome of My picture as a just Judge when I judge your people. In the reading from Daniel, he spoke of the many sins in his time that needed repenting and forgiveness. In your world today, you are seeing rampant sin all over, that is even worse and perverted. Your sins of abortion, fornication, adultery, homosexual acts, and euthanasia are all calling out for My justice. You are seeing continuous disasters as punishment for your sins. In the Gospel I am telling you not to judge people, because that is My responsibility, and not yours. You can advise people how to live a proper life without sin. Do not judge people because you do not know what is in their heart's intentions, nor do you know the events in their lives that influenced their decisions. It is enough for each of you to take care of your own problems. In the Gospel I told you to take out the beam of wood in your own eye before looking to take out the splinter in your neighbor's eye. Sometimes when you judge or criticize others, you are doing the same things or worse. You all are weak sinners, and in need of frequent Confession to keep your souls pure through My forgiveness of your sins."
Jesus said: "My people, those people, who did not lose power, or have their power back on, should pray prayers of thanksgiving. You also need to pray for the people who still do not have their power on. You have seen some bad winds, but at least your homes are intact. Be thankful also that you do not normally see tornadoes that can rip your homes into shreds. This reminder of giving thanks after your power has been restored, is because some people are like the nine of ten cured lepers who did not return to thank Me for their healing. When your prayer requests are answered, you need to thank Me also. You are about to have another storm, so you can pray your storm prayer again."
Sunday, March 12, 2017:
God the Father said: "I AM WHO AM is here to ask you to listen to My Son, Jesus because He brings you My Word. At times Jesus is even considered the Word as He teaches you all about My Commandments and how to live a good Christian life of love. You have visited My priest son, Fr. Bill, at his place that honors Me, and I am pleased with his work. You, My son, have also honored Me in your prayer group name and the name of your chapel after Me. The people pray to Me in the Sign of the Cross, the Our Father, and the Glory Be prayers. I love all of you so much that I have sent My Beloved Son to die for your sins, and offer you salvation. When you pray to One of Us Persons in the Blessed Trinity, you are praying to all Three of Us in Myself, Jesus, and the Holy Spirit. You also receive all Three of Us in Holy Communion as well. Sunday is My day of rest and I desire that all of you give Me praise and honor Me by refraining from work as much as possible on Sunday. I give you all good gifts for what you need every day to accomplish your mission and provide for your needs. I desire that you love Me of your own free will, as I love all of you. Go forth and make disciples of Jesus to bring My Word to everyone."
Saturday, March 11, 2017:
Jesus said: "My people, I want you to receive My Word of Light and love into your hearts. When you accept My Word, I want you to act on it by loving Me and your neighbor in My Ten Commandments. I am love and I want all of you to do everything for Me out of love. This means you are to share your money and your faith with all the people who you meet. You are all being called to journal My Words of love, so you can read them later, and share them with others. Do not put My Light and My Word under a bushel basket, but you are to shout My Word from the rooftops. I love all of you and I am sharing My words with you. My faithful need to have open minds and hearts so you can hear My Word and act on it. When you listen to My Word only, then it just stays with you. You need to act on My Word to put it into your everyday life and live in My Light. Follow Me as you evangelize souls. You are My arms and legs that I depend on to touch other souls with My Word."
For Fr. Bill McCarthy: Jesus said: "My son, you have been faithful to Me for many years in your work here. My angels are blessing and protecting these grounds as a refuge for My faithful remnant during the tribulation. Trust in Me that My angels will provide what is needed for the people to survive who come here."
Friday, March 10, 2017:
Jesus said: "My people, people have a hard time holding their temper when people hit you, or when bad things happen. At times people may be tempted to swear in a moment of anger. It is not easy to control your emotions in such situations. Some people are better than others in restraining their anger. This is one area to work on during Lent, so you can stop your swearing, and do not hit things or people in a moment of rage. You may also need to restrain yourself when you meet bad drivers on the road, when you are driving your car. During each day you may be tested with your emotions, but keep them under control, and stay calm during life's difficult situations. With a good daily prayer life, this will help you to control any anger and swearing. Trust in My help in all that you have to deal with."
Jesus said: "My people, I am showing you a monk praying his prayers in silence, because Lent is a time of prayer. The monks spend their days in prayer throughout the day. My faithful, who live in the world, do not pray as much as the monks, because they have family and work obligations to provide for their needs. My son, I know you are faithful in praying your rosaries, your Divine Mercy Chaplet, and coming to daily Mass and daily Adoration. Your prayers convey your love for Me, but I love your personal informal prayers the most, since they come from your heart. When you come to adore Me at Adoration, I ask you to spend 5-10 minutes in silence so you can listen for My words in contemplative prayer. You ask Me many things, but you need to listen in silence so I can answer you, and help you in discerning how you could work on your problems. It is how you pray from your heart, and listen for My words, that most pleases Me. Trust in Me every day in faith, and I will satisfy your needs."
Source: John Leary
Fr. Michel Rodrigue explaines The Events of the End Times
Do you want a quick overview of the end times? Then read "The great events of purification will begin this fall". If you want all the details of the unfolding events, then go to "Virtual Spiritual Retreat with Fr. Michel Rodrigue about the End Times".
Messages of Holy Love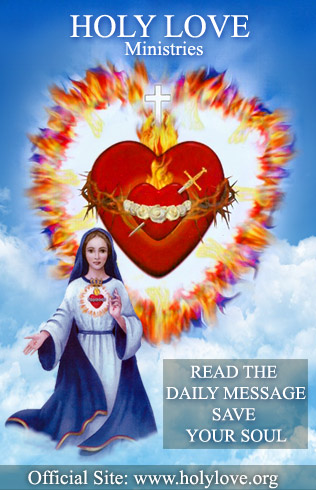 Read the daily messages
Catholics, we have entered the Pre-Tribulation, observe the Commandments, go to Confession; receive the Holy Eucharist; pray at least 3 Rosaries a day to keep your faith and save your loved ones. Prepare for the events that will devastate our planet: plagues, famine, WW3, cataclysms, antichrist's World Order