You are calling down My justice
(Please read all from begin to end)
Thursday, June 21, 2018: (St. Aloysius Gonzaga)

Jesus said: "My people, the Bible is a gathering of books that were inspired by the Holy Spirit for the authors. It is a history of the Jewish people, and My Word in the Gospels. All of My words are true, and they will remain forever, and will not be changed for a better hearing. Anyone, who tries to change My words, is a heretic, and should not be followed. I have set My laws before you, and they are all wrapped up in love of Me, and love of neighbor as yourself. Your society is getting out of control when living in fornication and adultery is accepted as normal. Using birth control, vasectomies, tubal ligations, and abortion are also accepted, but all of these things are mortal sins, and require Confession before Holy Communion. People who abide by My laws are criticized, and My prophets who speak against these sinful actions are persecuted for being righteous. If you learn anything in the biblical accounts, you will see that unrepentant people are punished. Those people, who follow My laws, may see persecution, but they have a heavenly reward awaiting them. You all make decisions in your actions every day that are either with Me, or against My laws. Your actions speak louder than your words, so do not be hypocrites, and practice what you preach as good examples. I love all of you, and I will forgive the repentant sinner. I desire that you love Me in return in all that you do every day."
Prayer Group:


Jesus said: "My people, you have a divided society along party lines, and those people who are against your President are criticizing him for separating families at the border. Your President signed an Executive Order to stop separating children from their parents at the border. The double standard is that your previous President did the same thing, but the media did not criticize him. People should be focused more on loving neighbors instead of causing division."
Jesus said: "My people, the threat of a nuclear war has grown worse as more nations are producing new missiles and large nuclear weapons. North Korea and Iran are still nuclear threats, and they are growing more hostile, despite all the treaties they have violated. The peace accord to denuclearize North Korea needs to be confirmed to verify they are following what they agreed to. My people need to keep praying for peace to stop any nuclear war that could kill many people."

Jesus said: "My people, I told you that America would be facing continuous natural disasters as a punishment for your abortions and grievous sexual sins. You are calling down My justice, and these events will become more serious, if your country does not repent and change your sinful lifestyles. You are seeing continuous earthquakes almost daily with lava flows in Hawaii that are setting records. In Texas you are seeing unusually heavy rains and flooding that has caused some evacuations and displaced people from their homes. Even in Puerto Rico the people are still having power outages and food shortages from last year's hurricane."

Jesus said: "My people, your scientists have noticed some unusual auroral borealis in various places that could be linked to pole shifts and the HAARP machine. Some people also are hearing unusual trumpet sounds of unknown sources. You are also seeing many accounts of sink holes in various places. These things are more signs of the end times that you are entering. Have no fear, but trust in My protection when you will come to My refuges."

Jesus said: "My people, you are starting out on another hot summer when your people will be putting more demands on your electric grid as you turn on your air conditioners. Your grid is already vulnerable to power outages, and any added strains could test your people. Your people are so used to having electricity, but your needs are expanding beyond your addition of new power stations. Pray that you do not have power outages, but be prepared with some water, batteries, and extra food."

Jesus said: "My people, you have seen some pictures of how I am constantly knocking on the doors to many hearts of the people on earth. Some people ignore Me or reject Me, and they will not open their hearts to Me. These cold hearts are on a path to hell, if they do not let Me in. Other people open their hearts to Me in My Sacred Heart, and they are rewarded with My graces. Stay close to Me in your prayers and frequent Confession, and you will be on the right road to heaven."

Jesus said: "My people, I have told you before that it is only for God the Father to know the date of the Warning. I have told you also that the signs of the times and the more frequent Warning messages are signs of the Warning getting closer. Those people, who desire My Warning to come, do not know what they are asking. The Warning will be a judgment for all souls, and it will be My last chance to change sinners from their sinful lifestyles. The Warning is a preparation for people to repent so they could convert their lives to Me, and have a cross placed on their foreheads. This will be needed to enter My refuges when I call you to My safe havens. Trust in My protection, but you must have faith in Me to be saved."
Wednesday, June 20, 2018:

Jesus said: "My people, in today's reading (4Kings 2:1-14) you read how Elijah first used his mantle to separate the waters of the Jordan River to walk on dry land. Then he was taken up in a fiery chariot with the help of My angels. His mantle fell down for Elisha to use. Elisha had asked for a double portion of Elijah's spirit, and Elisha received it when he saw Elijah enter heaven. Elisha tested the use of the mantle, and the Jordan River separated again. This was a passing of spiritual power from one older prophet to a younger prophet. In the Gospel I told My apostles to pray in private without showing others, and My Father in heaven would reward them. The same is true when you are giving alms. Do not brag or tell others what you are giving, and you will have treasure in heaven. Those people, who broadcast their good deeds, have already received their reward. When you fast, you also need to dress as normal, without showing others how you are suffering in your penance. Some people do all these things to be noticed as religious, but whatever you do in secret, My Father will see it, and reward you with treasure in heaven."

Jesus said: "My people, I am showing you what it would be like when I call on you to come to My refuges. You will take your backpack, which contains food and hygiene items, in your car and leave immediately. As you leave your home, your guardian angel will lead you with a flame to the nearest refuge. My angel will put an invisible shield over you to protect you from the evil ones who will want to kill you. Once you arrive at My refuge, you will see a luminous cross in the sky. When people look on this cross, they will be healed of all of their ailments. You will not return to your home, and none of your cell phones, etc. will work at My refuges. You will be confined to the borders of that refuge. You will be living as a Christian community, and I will see that you have food, water, and fuels to survive. By seeing this event actually being carried out in the vision, this is another sign that this is coming close in your time. Do not be afraid of the evil ones because My angels will protect you. Only My faithful, who believe in Me and wear a cross on their foreheads, will be allowed into My refuges. My refuge will protect you from bombs, viruses, and even comets. You will have daily Holy Communion, and you will have perpetual Adoration at all of My refuges. I will be with you all the time in My Real Presence, so have no fear."
Tuesday, June 19, 2018: (St. Romuald)

Jesus said: "My people, in this account of Ahab and Naboth (3Kings21:17-29) you read how Jezebel had Naboth killed by false letters with the king's seal. Just as Ahab was about to take possession of Naboth's vineyard, Elijah gave a judgment from God against King Ahab and his wife, Jezebel. Elijah said how both of them would be killed by dogs, or birds in the field. On hearing God's judgment against Ahab, he tore his garments, and then fasted in sackcloth. The king humbled himself before Me, so I did not kill him, but the punishment would fall on his son. Because Jezebel did not repent, she was immediately killed by the dogs for her evil deeds. There is a lesson here for all sinners. If you repent and are sorry for your sins, no matter how grievous, I will forgive you. But woe to the sinner who does not repent and does not seek My forgiveness, because that sinner is on a road to the eternal flames in hell. This is why My faithful need to come to Me in Confession at least once a month, so you can show Me you are like King Ahab when you repent and humble yourself before Me."

Jesus said: "My people, you are seeing a near tropical storm bring a lot of rain into Texas that has already caused some flooding. You are also seeing some heavy rains in Illinois that are causing floods. Hail is falling in Colorado, and frequent 5.4 earthquakes are causing a constant lava flow which is causing a loss of homes in Hawaii. Flood damage is increasing this year. Volcanoes are also becoming more active. Do some research to see comparisons of floods and active volcanoes over the last five years. You can see how pole shifts and the HAARP machine are affecting your weather, earthquakes, and volcanoes."
Monday, June 18, 2018:

Jesus said: "My people, you are faced with many events, and you can react with kindness, or with a selfish intent. This is the contrast in today's readings. In the first reading King Ahab wanted to have Naboth's vineyard, but he was willing to give Naboth money for it, or another vineyard. Naboth did not want to give up his ancestral heritage. It was Jezebel, Ahab's wife, who chose an evil way of having Naboth killed, so the king could have Naboth's vineyard. There are times in life when you do not always get your way, but you do not kill people just to have something you like. In the Gospel I have given you a more loving approach even to those people who may persecute you. If someone slaps you on one cheek, then turn the other cheek, instead of seeking revenge. The Jewish law allowed equal retaliation, but I am preaching a new law of love that does not seek harming your neighbor. This kind of love does not come easy to man's sense of justice. If you are going to imitate My way of love, then you can see how I desire that you love everyone, even your persecutors. I am merciful and loving, but I am also just in how I deal with My people. I am always willing to forgive a repentant sinner, but those people, who worship idols and kill others, will face My punishment."

Jesus said: "My people, you are seeing some severe thunderstorms in your area and heavy rains in Texas on the coast. Other flooding is occurring in the Midwest. You are continuing to see earthquakes and volcanic eruptions in Hawaii, as the lava flow has destroyed many homes, and it ends in the ocean. Other volcanoes have become more active, and you had a 6.1 earthquake in Japan. I told you that you will have more of these natural disasters one after another. You have been planning to get a smaller off-grid solar panel kit so you could pull the snow off the panels in the winter from the first floor. In the tribulation time, this could give you some solar power to run your sump and water pumps between December and March. It is difficult for your on-grid system to work when you have snow on the panels on the second floor. Now, your new kit has arrived, and you will be scheduling a time to install your 12 panels and 12 batteries with an inverter and controller. You have continued to prepare your refuge for the faithful people who will be coming. My angels will continue to help you in getting your refuge ready for the tribulation."
Sunday, June 17, 2018: (Father's Day)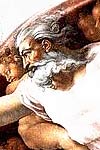 God the Father said: "I AM WHO AM, is with you to celebrate father's day for all the husbands who have brought forth children. It is the women who bear the children, but it is I who places the life giving souls in the bodies. So I am truly the spiritual Father of all the souls who will live forever in heaven, or in hell. Your souls are eternal, and they will never disappear. Keep praying for all the souls in your family so they can be in heaven forever. Give praise and thanks to Me for your faith, and your very life in the body and the soul. Continue to pray to Me every day in your 'Our Fathers', 'Glory Bes', and the 'Sign of the Cross.'"
Saturday, June 16, 2018:

Jesus said: "My people, I am showing you a stairway to heaven as your goal for life. You do not want to go down into the abyss of hell with its flames. For those people, who desire to love Me and be with Me for all eternity, it is a long hard road to reach heaven. Your life on earth has a finite number of days, so every day brings you one step closer to your death, and your entry into heaven. It is by your daily prayers and good deeds that you will store up treasure for your judgment. Strive to obey My Commandments of love, and follow My Will for your mission in life. Even when you falter in sin, I am always willing to forgive a repentant sinner. You are always under attack by the devil and his temptations, so call on Me and My angels to help you every day to keep on this path to heaven."

(4:00 p.m. Mass) Jesus said: "My people, some people love life and appreciate My creation more than others. It is a miracle how plants grow from seed to produce your food. Children and young animals mature over more years. You can even see how your spiritual life grows and matures as well. As you age and are more settled, you can ponder your faith in Me, and see how without Me, you can do nothing. Your faith in Me is one of your greatest gifts. Guard your faith in frequent Confession, so My graces will protect you."

Jesus said: "My people, at the time of the flood, you see another example of how I removed the few good people, and I then killed all the unrepentant sinners with the flood. There was a second creation after the flood. There will be more people killed in the tribulation, once I protect My faithful at My refuges. After the tribulation and My victory over the evil ones, there will be another new creation of a new heaven and a new earth in My Era of Peace with no evil. My Era of Peace is how I intended My creation before the devil interfered with the Garden of Eden and Adam and Eve. Give praise and thanks to Me because I will reward all of My faithful in My Era of Peace."
Friday, June 15, 2018:

Jesus said: "My son, all throughout history the people have criticized and even killed My prophets, because they did not want to hear them speak of repenting and following My laws. I have given everyone free will in My image, and I do not force people to love Me. I have given the Ten Commandments to love Me and your neighbor. These laws are My guidelines on how to live your lives in this time on earth. Some people want to do their own things, and they do not want to accept that they were created to know, love and serve Me. Many people are weak to sin, but they do not want to repent, or seek My forgiveness in Confession. It is this rejection of Me by man that has caused My prophets to be persecuted. Just as Elijah was persecuted, all of My prophets even today, are facing persecution. The evil people and the Antichrist will seek out My prophets and My faithful to kill them. This is why caves and refuges will be provided to protect My prophets from harm. As time goes on, you My son, will see increasing persecution and you will call on My angels for your protection. Some of My faithful will be martyred during the tribulation, but have no fear, because martyrs will become instant saints in heaven. My faithful will be rewarded in My Era of Peace and later in heaven."

Jesus said: "My people, in the vision you are seeing My good angels taking up their battle stations in preparation for the last battle with the Antichrist. My people will need My angel power to wage battle with the evil ones. You do not know how severe this battle will be. Just as more evil angels are coming up out of your active volcanoes, so I am sending My faithful legions of good angels for your protection. You will see a major battle between good and evil in the Battle of Armageddon. When I will call My faithful to come to My refuges, call on Me, and I will have your guardian angel lead you with a flame to your nearest refuge. Your angel will put a shield of invisibility around you, so you will be protected from any evil ones. Trust in My angels to protect you, and provide what you need during the tribulation."
Source: John Leary
Fr. Michel Rodrigue explaines The Events of the End Times
Do you want a quick overview of the end times? Then read "The great events of purification will begin this fall". If you want all the details of the unfolding events, then go to "Virtual Spiritual Retreat with Fr. Michel Rodrigue about the End Times".
Messages of Holy Love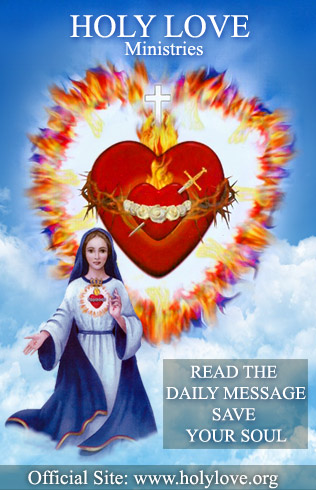 Read the daily messages
Catholics, we have entered the Pre-Tribulation, observe the Commandments, go to Confession; receive the Holy Eucharist; pray at least 3 Rosaries a day to keep your faith and save your loved ones. Prepare for the events that will devastate our planet: plagues, famine, WW3, cataclysms, antichrist's World Order