June 01 2020
Call from God the Father to humanity. Message to Enoch.
With the Warning my Mercy will end
"My Peace, be with you, my People, my Inheritance.
Listen Israel:
The time of the Great Tribulation for humanity is about to arrive; poor children of mine, who still turn their backs on Me and not their faces, because my Divine Justice will catch you away from ME! Great events that will change the destiny of humanity, are about to come. What is coming to humanity is: Tribulation, Tribulation, as never seen before in the creation!
Once again I say unto you: wake up, wake up, inhabitants of the earth, for the Angel of my Justice is already near; do not continue in your crazy race for debauchery and sin, because time has already begun its countdown and what is missing is very little, so that everything is consumed in its entirety! With the Warning my Mercy will end, and this great event is knocking at the door of your soul.
Understand sinful humanity, that if the Warning catches you in mortal sin, you run the risk of being lost in your passage through eternity! Reconsider and make your walk straight before my Warning arrives; for to continue as you go, sinning and sinning, what awaits you in eternity is the fire of hell from which many will no longer return!
I am your Father, and I am more a Father, than a Judge; Therefore, I do not want you to know my Justice, because I know my creatures and I know how fragile and weak you are. My desire is that you will live eternally; welcome these last bells of Mercy, before my Warning comes, because I only want you to live and not to die eternally. Again I make these last calls to you: prostitutes, homosexuals, adulterers, lustful, you who fornicate, you who live a bad life, and the sexual impure ones in general; alcoholics, drug addicts, thieves, fraudsters, liars, envious, proud, idolatrous, greedy, murderers, sorcerers and the other sinners who walk through this world without God and without Law. None of you who keep on sinning will inherit the Kingdom of Heaven. (Ephesians 5, 5) (Revelation 22, 15) (1 Corinthians 6. 9.10)
Run then, foolish ones, to put your accounts in order; cut once and for all with sin, and welcome Me, your Father, so that tomorrow you may have Eternal Life ! Remember: The greater the sin, the greater is my Mercy, if you turn to Me, with a contrite and humiliated heart. A contrite and humiliated heart, never I, your Father, despise. (Psalm 51, 17) The day is ending and the night is coming; hurry up sinful humanity; wake up from your spiritual lethargy and sin no more. I am waiting for you with my open arms to embrace you, forgive you and pour out my Mercy upon you.
Your Father, Yahweh, Lord of Nations.
Make my messages known to all mankind, my People, My Inheritance."
Source: mensajesdelbuenpastor
The truth about the Coronavirus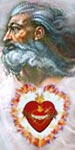 May 1, 2020 - God the Father says: "Today, I invite you to realize that this virus - the coronavirus - is no ordinary disease. It has been created from human ingenuity to specifically target the elderly and physically challenged. This is the plan of future generations to purify the human race around the world. It was released into the general population ahead of schedule - by accident. Those in charge were waiting for less capable government officials in your country (USA) to be in office. Nevertheless, proposed harm is being unleashed on the whole human race."
"I tell you these things to help you to realize the underlying evil at work and hidden in hearts these days. You cannot be confounded by any turn of events. Over all situations, I am in Dominion. No one will be given power over you that is more powerful than your Eternal Father. Therefore, be emboldened with this knowledge. If you persevere in Truth, you have loaded your weapons against what seems to be and discharged them with Truth." (Source: Holy Love)
Help the Lord spread His voice, time is running out
Please help spread these messages of faith, hope, salvation,
defense
against evil (by email, printing, Facebook, Twitter, and other media) to your loved ones, your friends, and all the people you may meet, who seek salvation or who are in danger of being eternally lost. The Lord gives great graces and blessings to those of goodwill who, according to their own possibilities, collaborate with His Plan of Salvation.
Who helps the Lord save a soul predestine his own
, independently from the outcome.