November 27 2017
Urgent Call of Sanctifying Mary to humanity
 With My Father's Warning, the time of Mercy will be ending
"Little Children of My Heart, the Peace of My Lord, be with all of you.
My children, the last moments of mercy are being exhausted, humanity will soon pass through eternity.
With My Father's Warning, the time of Mercy will be ending.
I am making an urgent call to all humanity, without distinction of races, creeds, or religions, so you are prepared for the great event that will transform you spiritually.
It is already days away that the Mercy of God in your world is going to be exhausted in Its totality; in the middle of the Schism, the war and the economic crisis, My Father's Warning will come.
Little children, Heaven is very sad because of the bad behavior of this humanity, many for their wickedness and sin, will not be able to resist the judgment they will receive in the eternity and will be lost eternally.
We are exhausting all the resources, looking for ways to awake this humanity from its spiritual lethargy; but no, every day sin and wickedness intensify more. Many souls are being lost and many more will be lost when the Warning arrives.
We are very sad to see that this humanity does not want to receive the calls of Heaven.
As Mother of humanity, I ask you my faithful little children, to make the messages of Heaven be known to all your brothers, especially to those who are more apart from God.
Do not remain idle; remember that you are all missionaries because of the baptism.
Take advantage of the technology of this world and put it at the service of Heaven, so that through it, you evangelize all those children who do not know, and who have no idea of the arrival of the Warning.
It is urgent that you  evangelize on this issue, so that my little ones wake up, become aware and be prepared, for the arrival of this great event. Little children, many souls if they are not evangelized in time, will be lost because of their lack of knowledge.
I ask you my predilect ones to pay attention to the messages from Heaven and to speak about them to the people of God; the vast majority of humanity needs to turn away from the evil path and to prepare spiritually, so that it can find in its passage through eternity, the mercy that liberates you from perdition eternally.
Little children be prepared, for the Holy Spirit of God will soon touch the door of your soul, to take you to eternity.
Again I say unto you, make good confessions of life, receive as much as you can the Body and the Blood of My Son; be alert and vigilant with your lamps lit with prayer, so that when My Son arrives, He finds you awake, that you open Him the door and you dine with Him.
Little children, the Supreme Tribunal is awaiting you in eternity; then put your accounts in order, so that when you arrive, you can be justified.
Your Mother, Sanctifying Mary, loves you.
Let my messages be known to all humanity, little children of My Heart."
Source: mensajesdelbuenpastorenoc.org
The truth about the Coronavirus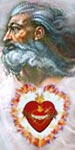 May 1, 2020 - God the Father says: "Today, I invite you to realize that this virus - the coronavirus - is no ordinary disease. It has been created from human ingenuity to specifically target the elderly and physically challenged. This is the plan of future generations to purify the human race around the world. It was released into the general population ahead of schedule - by accident. Those in charge were waiting for less capable government officials in your country (USA) to be in office. Nevertheless, proposed harm is being unleashed on the whole human race."
"I tell you these things to help you to realize the underlying evil at work and hidden in hearts these days. You cannot be confounded by any turn of events. Over all situations, I am in Dominion. No one will be given power over you that is more powerful than your Eternal Father. Therefore, be emboldened with this knowledge. If you persevere in Truth, you have loaded your weapons against what seems to be and discharged them with Truth." (Source: Holy Love)
Help the Lord spread His voice, time is running out
Please help spread these messages of faith, hope, salvation,
defense
against evil (by email, printing, Facebook, Twitter, and other media) to your loved ones, your friends, and all the people you may meet, who seek salvation or who are in danger of being eternally lost. The Lord gives great graces and blessings to those of goodwill who, according to their own possibilities, collaborate with His Plan of Salvation.
Who helps the Lord save a soul predestine his own
, independently from the outcome.