Wednesday, September 13, 2017: (St. John Chrysostom)
Jesus said: "My people, you are seeing Me separating the goats from the sheep at the first, or particular judgment when you die. The goats represent the evil people who had all that they wanted in this life. The sheep are the people who suffered persecution and abuse in this life for My sake. The evil ones are judged to hell, while the good people are purified in purgatory, and then come to heaven. The last judgment is when My faithful will be resurrected with their glorified bodies in heaven. The evil ones will be joined with their earthly bodies in the resurrection to hell. Strive to love Me and your neighbors while you are living a good Christian life, and you will be rewarded by being with Me in heaven."
Jesus said: "My people, you are seeing two major addictions that some people are misled by the devil. It is desirable for some to live in comfort for the body, and you know it takes money to live such a life. Some people worship money as a god. They are violating My First Commandment, which states that you are to worship only Me, and you shall have no other gods before Me. There is another addiction to sex when some people are craving to look at pornographic pictures or movies. This has broken up families when such viewing perverts one's morals. When you see people addicted to money or sex, you need to pray for them, and try to show them that these things are sinful actions against Me and My Commandments. It is better to love Me and their families, than ruin their lives with selfish addictions. Pray deliverance prayers for such addicts to break them free from the demons who are controlling them."
Tuesday, September 12, 2017: (Most Holy Name of Mary)
Jesus said: "My people, you have just heard Pope Francis give out a new Canon Law that would allow bishops to make changes in the liturgy of the Mass to go into effect on October 1st. I gave you a message about the same time that said when you see changes made to the words of Consecration, then you need to leave that church. Once the words of Consecration are changed from what I gave My apostles, then I will no longer be Present in that Host and Wine. It is very important to keep this tradition of My words of Consecration. This change will be about the time that you will need to come to home Masses, and eventually Masses at My refuges. These changes are more signs that My Warning is coming soon, and the tribulation will follow after. Put your trust and hope in Me that I will never leave you. You will receive daily Holy Communion at My refuges, and you will adore Me in My Real Presence as well."
Jesus said: "My people, you have been viewing the damage from Hurricane Irma after it passed over the Carribean Islands and Florida. You saw some interviews of people who had lost their homes, but they were determined to clean up and start building another home. Many did not have flood insurance, but they were hoping to get distress home loans from the government, or the banks. It will be difficult to clear all the debris and start over, but the people have determination to find another home. Your churches and many charity organizations are asking for people to donate what they could to help rebuild the lives of the hurricane victims. Pray for these victims that they will be able to return to a normal life."
Monday, September 11, 2017:
Jesus said: "My people, the division in My Church will start before the Warning experience comes. I am concerned that many of My faithful could be deceived by a schismatic church that will be teaching heresies and New Age doctrines. My faithful remnant will split away from this schismatic church. When you see heresies about hell is not eternal, or when the priests say you can receive Holy Communion without Confession of sexual sins, then you need to leave that church. When the priest does not use the proper words of Consecration, I will not be present in that Host, and leave that church. You need to have a copy of the Catechism of the Catholic Church by St. John Paul II. This contains all the proper teachings of My Church, so you can discern any heresies being taught in your churches. Eventually, you will not find a proper teaching church, and you will need to come to your homes or prayer groups for a proper Mass from a faithful priest. As the persecution of My faithful endangers your lives, then I will have your guardian angels lead you to My refuges that will be protected by My angels of the refuges. Do not be deceived by clergy who do not teach My proper Word, or who teach heresies, or New Age teachings. My faithful need to be alert to what is taught in the churches. In the end times I will allow the evil ones to take over the churches, but My faithful will be led to My refuges. Trust in Me to be with you in daily Holy Communion at My refuges. This message is to be put out so My faithful are not deceived."
Jesus said: "My people of America, you are witnesses of all the destruction and loss of life in your recent Hurricanes Harvey and Irma. Today, you have the anniversary of your Twin Tower tragedy in New York City where there was much loss of life and destruction of your buildings. The current tragedy came from natural disasters, while the 2001 tragedy came from men's evil actions. In both cases they were directed on you as a form of punishment for all of your sins. They also are calling your country to repent of your sins, and seek My forgiveness. In 2001 your people were frightened and a good number of people returned to church. Once their fear was over in about a month, they returned to their former ways of sin. You may see this now after your hurricanes. I want My people to come to Me in love all of the time, not just when you are frightened in bad times, but also in good times without any fear. You need to trust in Me all of the time, because you are about to see a great evil that you have never seen before in the tribulation. The demons will test your faith when even some of My elect will reach a breaking point. Fear not, because I will never test you beyond your endurance. I will give you sufficient graces to endure the tribulation, but you must choose by your own free will to remain faithful to My Divine Will. I love all of you, and I wish to save as many souls who will choose to love Me."
Sunday, September 10, 2017:
Jesus said: "My son, I am calling you and My other faithful to defend the faith, and reach out to evangelize souls wherever you are sent. I know you are praying to save all the souls of your family, and you have been persistent in praying for them. You could speak out to warn them that they do not have much time left, and they need to see My Light and get close to Me before the Warning comes. Today's Gospel of going to help someone who is astray, reminds you of your experience with a priest who mentioned three times in his homily that hell was not eternal. You went back to see why he said this, and he said that God's mercy is greater than hell's punishment. He also said hell would eventually disappear with all the souls. I pointed you to the Catechism of the Catholic Church where it says that hell is eternal, and I told you to show this to the priest. At another time St. Michael the archangel explained to you that before man was created, he placed Satan and the demons into hell for all eternity. You told the priest again and showed him the Catechism quote, but he refused to change his story. You then were told in a message to go to a higher authority, and you reported this heresy to the local bishop of the Church. My faithful need to speak out against all heresies, no matter who says them. You first go to your brother or sister to correct them one on one, and if they refuse to change, then you go to a higher authority in the Church. This is your duty, and you will save your soul for correcting people. If your brother listens and changes his thinking, then you have won him over to save his soul. If he does not convert, then he will answer to My justice, and he could be lost. Pray for him to change so his soul could be saved. This heresy of hell is not eternal, has some great consequences, because there would be no punishment for sin, and there would have been no need for My death to save your souls from your sins. This heresy is serious, and do not ever believe that hell is not eternal, because hell will always be eternal for those judged to hell."
Jesus said: "My people, I am showing you a gambling wheel that you would see in a casino. Be careful not to gamble with your physical life nor your spiritual life. You are risking your physical life if you allow your body to be taken in by any addictions such as: drugs, drinking, pornography, smoking, sports, gambling, computers, cell phones, or television. Many demons control people through addictions, so do not allow the demons to control your lives. You are called to follow My plan for your life, so do not waste a lot of your time on selfish addictions. When you use up your time with too many activities, you do not allow enough time for your prayers, which is your love and communication with your Lord. Do not gamble with your soul either in your spiritual life. You have only one soul and one lifetime, so make the best use of your lives for love of Me, and love of neighbor in your prayers and good deeds. You have free will to choose Me in heaven or reject Me in hell. I desire to save all souls, and I give you every opportunity to be saved by My grace. But it is by your free will that you choose your final destination. Choose life if you want to be with Me for all eternity. Do not gamble on coming to Me later in life, but come to Me now, because you may not be alive tomorrow."
Source: John Leary
The truth about the Coronavirus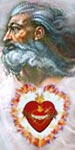 May 1, 2020 - God the Father says: "Today, I invite you to realize that this virus - the coronavirus - is no ordinary disease. It has been created from human ingenuity to specifically target the elderly and physically challenged. This is the plan of future generations to purify the human race around the world. It was released into the general population ahead of schedule - by accident. Those in charge were waiting for less capable government officials in your country (USA) to be in office. Nevertheless, proposed harm is being unleashed on the whole human race."
"I tell you these things to help you to realize the underlying evil at work and hidden in hearts these days. You cannot be confounded by any turn of events. Over all situations, I am in Dominion. No one will be given power over you that is more powerful than your Eternal Father. Therefore, be emboldened with this knowledge. If you persevere in Truth, you have loaded your weapons against what seems to be and discharged them with Truth." (Source: Holy Love)
Help the Lord spread His voice, time is running out
Please help spread these messages of faith, hope, salvation,
defense
against evil (by email, printing, Facebook, Twitter, and other media) to your loved ones, your friends, and all the people you may meet, who seek salvation or who are in danger of being eternally lost. The Lord gives great graces and blessings to those of goodwill who, according to their own possibilities, collaborate with His Plan of Salvation.
Who helps the Lord save a soul predestine his own
, independently from the outcome.