Tuesday, November 28, 2017:
Jesus said: "My people, a time is coming when all the leaders of the nations will be seated at a round table with the Antichrist, and they will be smoking cigars and proud of themselves. Then the Antichrist will betray all of them, and they will be killed, so he can assign his own leaders. You are about to see an evil that you have never seen before. When the Antichrist declares himself and the tribulation begins, most of My faithful will already be at their refuges of protection. The Antichrist will have all believers in Me killed, if they did not reach their refuges. Those people, who do not serve this evil one, will also be killed. Be thankful that My angels will shield My refuges from harm, and they will finish any buildings, and provide food and daily Holy Communion to My faithful."
Monday, November 27, 2017:
Jesus said: "My people, when I will come on the clouds, you will see Me as Christ the King, and the angels will be singing My praises at that time. You are getting close to the end of the Church Year, and you are reading the end time readings. Next week begins Advent, and you will be preparing for Christmas with all of your Christmas songs. Already your shop keepers are having continuous Black Friday sales to draw people into their stores. There is more to Christmas than buying gifts for your family and friends. You can also pray for the saving of souls in your families. It is a nice gesture to send gifts and Christmas cards to share your love with family and friends who live at a distance. Rejoice on these feast days when you are singing many beautiful hymns."
Jesus said: "My people, at certain points in your younger life you desired to have the newest and best electronic devices that you could buy. After you bought your devices, there was a big let down, because they did not really give you the joy that was anticipated. It was the craving before your purchase that kept your interest. Now you see that such earthly cravings never really satisfy your needs. Your old devices work just as well, and you really did not need the newest device to get your work done. Your spiritual cravings to be with Me are always satisfied in your soul in Holy Communion. I satisfy your desires much better than any earthly object. It is My love for your soul that you enjoy the most. Earthly objects are cold, and they are not capable of loving you. You can always trust Me that I will always love you, and I will give you the grace to accomplish your mission. You are never frustrated with Me, as you may be frustrated by your friends or your physical things. You can depend on My love, but human love can fail you at times. So cling to Me in all that you do, and I will get you through your problems. When you love Me and seek My forgiveness of your sins, you will see My reward in your lives. You may be tested at times, but you will learn from your mistakes. Seek Me first, and everything else will be given to you."
Sunday, November 26, 2017: (Christ the King)
Jesus said: "My people, this feast of My Kingship shows you My power over all of creation, including the devil and his evil angels. Today's Gospel is a preparation for My coming in the end times. All of you will be judged, and you need to see if you are My sheep, or one of the goats. This means whether you love Me and your neighbor, or you ignore Me and refuse to love Me and your neighbor. If you want to come to heaven, you need to do more than just call Me: 'Lord, Lord.' You need to show Me your love in your actions, and come to Me every day in prayer to acknowledge Me as Lord of your life. Make friends with Me now, because you do not want to hear Me tell you: 'I do not know you,' since those people will be sent to hell. You also need to show Me how you loved your neighbor. You could love them by providing food and water to the victims of your hurricanes. You could help your less fortunate neighbors by supporting your local food shelves of soup suppers as you feed the poor. You could share your old clothes to clothe the naked. You could also share your faith in teaching children in your CCD programs, or help new converts in your RCIA programs. You could help the homeless find shelters. You may even have to help your family and friends financially when they lose their jobs or they are sick. When I see how you love people with good deeds, you are helping Me in them. These loving souls will have their reward in heaven. Woe to those people who ignore loving Me, or who refuse to help their neighbors, because these people are on their way to hell. My faithful need to be ready by loving Me and others with your daily actions. Then at the judgment, I will welcome you into My great wedding banquet in heaven."
Jesus said: "My people, I thank all of you for praying the rosary, even in this cold weather, as you celebrate My feast of Christ the King. In the vision you see how My Blessed Mother leads you to Me through the rosary. The Mysteries of the rosary are all about the major events in both My life and that of My Blessed Mother. I thank all of you who pray all the 15 Mysteries every day. My Kingship is a foreshadowing of My coming judgment. I will cleanse the earth of all the evil ones. Evil may appear to be winning for a while, but I am allowing this time to test My faithful. In the end you will see My victory, as My power is greater than any creature. Rejoice in My Kingship over the universe, and keep your focus on Me on your path to heaven."
Saturday November 25, 2017:
Jesus said: "My people, the Pharisees and Sadducees did not believe that I was the Son of God and the Second Person of the Blessed Trinity. The Pharisees believed in the Resurrection, but the Sadducees did not believe in the Resurrection. The question of which of the seven brothers would be the woman's husband in the next life, would only have meaning for the Pharisees. I told them that they were badly mistaken, because the faithful, who become saints in heaven, are like angels, and they would no longer get married. You will be giving Me praise and glory in heaven, and you will thank Me for being in heaven by My death and Resurrection. I have offered you My sacrament of forgiveness in Confession, and I have opened the gates of heaven. So keep your souls pure and holy by frequent Confession, so you can come to heaven with Me for all eternity. After the end of time, and at My last judgment, then all of My faithful will be resurrected with a glorified body. Rejoice to live after your death, because I am building your mansions in heaven."
Friday, November 24, 2017: (St. Andrew-dung Lac)
Jesus said: "My people, in the Gospel you heard how My zeal for the Lord's house consumes Me, when I turned over the tables of the money changers in the Temple. At that incident the Jewish leaders wanted to kill Me, but the people were attentive to My words and My healings. You are about to see another evil come into My churches, when New Age teachings and heresies will be dividing My Church. These evil ones will be in line with the Antichrist, so My people will need to have secret Masses in the homes. Later, as My faithful remnant will be persecuted for believing in Me, they will need to come to My refuges for the safety of body and soul. Trust in My protection during the tribulation."
(Black Friday) Jesus said: "My people, your country is known for having many shoppers with expensive tastes on a low budget. Most people, when they shop for gifts, are trying to get the most value for their money. Materialism is running rampant, especially around Christmas. Many of the ads and business people are trying to entice you to buy many things that you do not need, but you are attracted to the newest things that many people are buying. If you take away the lights and excitement of buying something new, you may see deep down, you do not have to have the latest new gadgets. Do not be controlled by new things, and only buy what you truly need. You also need to buy only those things that you can afford. You should see that loving Me is much more satisfying for your soul, because I offer you eternal life, while the devil only offers you temporary pleasures. When you realize how new things quickly become outdated and need constant repair, then you see how they have a false facade to attract you. So do not make gods out of your money or material things, because you depend on Me for everything. Trust in Me, and I will provide you with what is needed for your survival."
Thursday, November 23, 2017: (Thanksgiving Day)
Jesus said: "My son, as you think about all of your blessings, you have a lot to thank Me for, just as the healed leper thanked Me. You have a wonderful family of your wife, your children, your grandchildren, and even your great grandchildren. You have many friends in your neighbors and your prayer group. You have been blessed with a gift of faith, your mission in My messages, and now your refuge. You were blessed with a good job and several inheritances. You also are blessed with good health and a healthy spouse. You are blessed again with living in a free country. You have everything you need, and you have been generous is sharing your faith, time, and donations with others. Your prayer life is a wonderful gift to Me, as well as your 'yes' to My missions. Keep praising and thanking Me for all of your blessings. Continue your prayers for yourself and your family."
Jesus said: "My people, I am showing you My planned wedding banquet in heaven where My feast will be better than any of your feasts on earth. You think you have a great feast at your Thanksgiving Dinner, but it does not compare to heaven. Only purified faithful souls are allowed through the gates of heaven. Life here on earth is passing away, but life with Me is forever glorious in heaven. Do not be attracted to things of the earth, because they have no value in heaven. Only your good deeds and a holy life will have value in heaven. Your life here is very short compared to eternity, so make the most out of your life while you still have time. You all will meet Me at your judgment when you die, so keep your soul pure with frequent Confession. I love all of you, and I desire to save all of you, but I cannot force your free will to love Me. You need to confess your sins, and ask My forgiveness in order to come to My eternal banquet."
Wednesday, November 22, 2017: (St. Cecilia)
Jesus said: "My people, in the Book of Maccabees you read how seven brothers and the mother were martyred for their Jewish customs and beliefs. They believed in God, and they preferred to be killed rather than give up their traditional beliefs. St. Cecilia was also martyred for her faith in Me. As you approach the end times, you will be persecuted for your belief in Me. You need to ask yourself if you are ready to die for your faith, if you were forced to decide between believing in Me, or living in an evil world. This will test how strong you believe in Me, and love Me. I will provide protection for My faithful at My refuges, so I will not leave you as orphans. Trust in Me, and you will have your reward with Me in heaven."
Jesus said: "My people, your President has won his office, but the Republicans cannot keep together to push legislation through the Senate. They have control of the House and Senate, but there are enough establishment people to block any serious legislation. If a single party cannot pass tax reform, your President may try reaching out to the Democrats to pass some compromised tax reform. I mentioned before that your President will have difficulties getting his legislation through Congress. Compromising with the Democrats, may be his only chance to pass tax reform. If there is no sign of passing tax reform legislation, your markets may come under downward pressure. If the markets drop 20% or more, you may see your legislators move faster to protect your economy by passing some form of tax reform. Your markets are patient, but they will not wait forever. Some of the rise in your markets has come from expecting a change in your tax code. If there is no reform, there will be consequences. There may be more changes in these bills, because the rich corporations stand to gain more than individuals. Some see the rich getting more favored treatment, so individuals may need more help than your corporate gains. Pray for a fair treatment of your middle income people, who are paying most of the taxes."
Tuesday,November 21, 2017:(Presentation of the Blessed Virgin Mary)
Jesus said: "My people, in the Gospel you read the story of the rich man, Zacchaeus, who climbed a sycamore tree to see Me. I told him that I would stay at his house tonight, and he changed his life in converting to the faith in Me. When I was on the earth, I healed people, and I converted many people to believe in My way of love. I sent My apostles out to evangelize souls, and I am sending out My faithful of today to work on converting souls. In the vision you could see the flames of hell at the bottom of a chimney. You do not want to see any soul lost in hell, so you need to share your faith with as many people as possible. By reaching out to save souls, you can keep them from being lost forever in the flames of hell. Call on My help and My angels to save as many souls from hell as you can."
Prayer Group:
Jesus said: "My people, this is still the month of November when you honor all the veterans of your wars. It is not easy to go into combat where you could be killed in war. Thank those people who died, and those soldiers who survived their wounds. You still have troops fighting in Iraq and Afghanistan. You also have troops stationed in South Korea. Pray that there is no war with North Korea."
Jesus said: "My people, you need to pray for your Congress people and your Senators that they are able to find a compromise to pass some major legislation that is needed for your tax reform and other budgets to keep your government running. I am showing you the President signing a major bill that is needed for your country's prosperity. Pray for all of your government people to do their jobs properly."
Jesus said: "My people, at all of My final refuges, you will see a Byzantine shaped cross in the sky that is giving light by itself. When My faithful come to My refuges, and look upon this luminous cross in the sky, they will be healed of all of their ailments. In the vision you are seeing a man healed of an injured foot. Give praise and thanks to Me for any healing that you receive."
Jesus said: "My people, on Thanksgiving Day many of your relatives come together to celebrate a meal and enjoy each other's company. You have many things to be thankful for in your health and when prayers have been answered. Remember to give thanks to Me when I answer your requests. Be like the Samaritan leper, who was healed, and returned to thank Me for a healing. You can thank Me for your faith, and all the things I have given you."
Jesus said: "My people, those refuge builders, who had enough money to start and finish their refuges, need to give Me thanks that they could build what is needed for people to come to a safe place. My builders are given the inspiration and finances to carry out My call to set up a refuge. Every refuge requires planning and materials to build what is needed. I send you angels and the project ideas how to build what is needed for the people who will come. Even if your projects are not completed, I will have My angels finish them for the people to use them."
Jesus said: "My people, you may have to leave for your refuges in less than twenty minutes. This is why My faithful will need to pack a bag for your journey to the nearest refuge. Keep it handy so you can put it in your vehicle and leave quickly. When you hear My inner locution to leave, you must leave immediately. Call on Me and I will have your guardian angel lead you with a small flame to the nearest refuge. The angel will put an invisible shield over you so you will be protected from the evil ones, both on your way and at your refuge."
Jesus said: "My people, you are so fortunate to live in a country that has a democratic government of three branches: Executive, Legislative, and Judicial. You have freedoms under your Bill of Rights that is much better than atheistic communist countries. You can vote for your leaders, and you also have freedom of religion. As you remember things to be thankful for, you can be thankful that you live in a free country founded by your forefathers who gave you your Constitution and Declaration of Independence from England. You also can thank Me for protecting you from any persecution."
Source: John Leary
The truth about the Coronavirus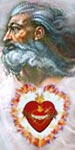 May 1, 2020 - God the Father says: "Today, I invite you to realize that this virus - the coronavirus - is no ordinary disease. It has been created from human ingenuity to specifically target the elderly and physically challenged. This is the plan of future generations to purify the human race around the world. It was released into the general population ahead of schedule - by accident. Those in charge were waiting for less capable government officials in your country (USA) to be in office. Nevertheless, proposed harm is being unleashed on the whole human race."
"I tell you these things to help you to realize the underlying evil at work and hidden in hearts these days. You cannot be confounded by any turn of events. Over all situations, I am in Dominion. No one will be given power over you that is more powerful than your Eternal Father. Therefore, be emboldened with this knowledge. If you persevere in Truth, you have loaded your weapons against what seems to be and discharged them with Truth." (Source: Holy Love)
Help the Lord spread His voice, time is running out
Please help spread these messages of faith, hope, salvation,
defense
against evil (by email, printing, Facebook, Twitter, and other media) to your loved ones, your friends, and all the people you may meet, who seek salvation or who are in danger of being eternally lost. The Lord gives great graces and blessings to those of goodwill who, according to their own possibilities, collaborate with His Plan of Salvation.
Who helps the Lord save a soul predestine his own
, independently from the outcome.