August 10, 2015
Urgent call from Jesus the Good Shepherd to His flock
Very soon in the sky images projected as holograms
"Sheep of My flock, peace be with you.
My flock, the days of my next coming are close, but before of that you My sheep have to be purified so that you can live in my New Creation y you can stay Me.
I know you and I have you written in the Book of Life; I look after you and none of you I will allow to be lost because I love you, if I had to die again I would gladly do it, even if it was for just one of you My beloved sheep.
Do not be afraid My sheep, days of suffering are approaching, but if you remain loyal to Me, I assure you that none of you will be lost. I am the door through which you will enter and there you will be safe in the days that are coming.
Sheep of My flock, the days of the wolf's reign are close. Do not get scared, do not be panicking, as I will be with you.
The deceit will be so clear that you, My sheep, will know that it is the wolf disguised as sheep, who will make himself known.
The show has already been prepared and planned. Before my adversary makes his universal declaration, his emissaries will announce it via all media. The event of his appearance will be spread throughout all creation.
The children of the darkness will announce rejoicing the manifestation of their messiah; they will claim that the cosmic chirst is about to appear so that humanity is prepared to welcome him. The false messiah will speak of peace, unity, solidarity and love and this will make many believe in him and adore him as the awaited god.
Sheep of My flock, be very cautious of sects, because many of them work for my adversary and they are already announcing his coming. They present themselves as sheep, but they are wolfs looking for to deceive you in order to steal your soul.  Do not listen to them, seal yourselves with my Blood, because you will know them by their fruits, they are emissaries at the service of My adversary and they serve his interests.
They go knocking door-by-door seeking people to deceive, and in their words there is only blasphemy and lie. Be careful about them, do not accept anything from them, they are wolfs disguised as sheep who are preparing the way for the manifestation of the false messiah.
My flock, very soon in the sky you will see images projected as holograms; these images are holograms created by the science of men at the service My adversary.
All is part of the show of deception with which my adversary wants to deceive this humanity. Depending on the predominant religion in each nation, thus will be the image being projected in the sky.
If in the nation Catholicism is predominant, an image that represents me will appear; if the nation is Buddhist, Buddha will appear and if it is Muslim, an image of Mohammad will appear.
All the images will speak and will have movement and many will believe it; low frequency waves with subliminal messages will be sent to the brain of all those who give worship to these images and will feel inside themselves as if it was call from god to their souls.
For a period of time, these images will be projected to indoctrinate the foolish and the men of weak faith. Later all images will merge into a single one allowing the appearing the Maitreya, the cosmic christ, the great instructor and architect of the universe, as he wants himself to be called by all of his followers.
Many nations will prostrate themselves at his feet and the ones that will refuse to worship him, will be subdued and enslaved. Then he will physically appear and will establish on earth the New World Order that will be his government. My people will be enslaved and will walk through the desert of purification.
Be therefore prepared my sheep for the deception that is approaching, do not fall into this trap, neither watch the holograms nor pay attention to these lies; because all this is a trap that may make you lose your soul. Remain in My Love, follow the instructions I am sending you through the prophets of these end times, so that you may remain firm in faith and nobody or nothing can separate you from My path. 
My peace I leave you, My peace I give you. Repent and convert that the kingdom of God is at hand.
Your Eternal Shepherd, Jesus of Nazareth.
Let My messages be known to all humanity."
Source: mensajesdelbuenpastorenoc.org
The truth about the Coronavirus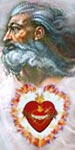 May 1, 2020 - God the Father says: "Today, I invite you to realize that this virus - the coronavirus - is no ordinary disease. It has been created from human ingenuity to specifically target the elderly and physically challenged. This is the plan of future generations to purify the human race around the world. It was released into the general population ahead of schedule - by accident. Those in charge were waiting for less capable government officials in your country (USA) to be in office. Nevertheless, proposed harm is being unleashed on the whole human race."
"I tell you these things to help you to realize the underlying evil at work and hidden in hearts these days. You cannot be confounded by any turn of events. Over all situations, I am in Dominion. No one will be given power over you that is more powerful than your Eternal Father. Therefore, be emboldened with this knowledge. If you persevere in Truth, you have loaded your weapons against what seems to be and discharged them with Truth." (Source: Holy Love)
Help the Lord spread His voice, time is running out
Please help spread these messages of faith, hope, salvation,
defense
against evil (by email, printing, Facebook, Twitter, and other media) to your loved ones, your friends, and all the people you may meet, who seek salvation or who are in danger of being eternally lost. The Lord gives great graces and blessings to those of goodwill who, according to their own possibilities, collaborate with His Plan of Salvation.
Who helps the Lord save a soul predestine his own
, independently from the outcome.