This vision of a ship sinking represents America
(Please read all from begin to end)
Tuesday, May 1, 2018: (St. Joseph the worker)

Jesus said: "My people, your society today is more focused on their own working, without caring too much for others. It would only be a generous soul that would see to a dead man in the street's burial, and have respect for another person's body. Even once you are dead and buried, people will soon forget you. This is why many people at their funerals give you a word about keeping their pictures in view so others can remember to pray for them. There are many souls languishing in purgatory with no one to pray for them, or offer up Masses for them. This is why I ask My faithful to pray for the souls in purgatory, and especially for your deceased family members. You may want to put it in your will to have Masses offered up for your soul. Once you pass from this life, you still need purification for the reparation due for your sins. Many souls need purification because they are not pure enough to enter heaven. So continue to pray for the souls in purgatory, especially for the souls who do not have anyone to pray for them."
Monday, April 30, 2018: (St. Pius V)

Jesus said: "My son, I am showing you this vortex of a powerful tornado to indicate the coming of My Warning, which will be a blessing for all sinners. In previous messages about the Warning, I have shown you circling events in people's lives like a near death experience. This violent circling of events is how I will speed up events in your lives, and you will be seeing more Warning messages to indicate the nearness of My Warning experience. My people need to prepare themselves with frequent Confession so you do not have to experience any visions or feelings of what hell is like. You will receive a mini-judgment in your Warning experience. Those people, who are judged to hell, will see and feel what the flames of hell are all about, and realize this would be forever after death. Now is the time to get your life ready for your final destination, so you can be saved in heaven, or be lost in the eternal flames of hell. If you desire heaven, then you need to obey My Commandments and repent of your sins in Confession. I love all of you, and I do not want to lose one soul. It is up to everyone's free will to choose My love, or the hate of Satan forever. Pray for your families to convert their lives, and you will need to direct them to Me after My Warning. If they still refuse to love Me, then they are choosing the eternal flames of hell. Pray constantly to help save the souls of your family, or they could be lost forever if no one is praying for them."
Jesus said: "My people, you sometimes get forecasts of how many named hurricanes that you will have this season. Last year you had three major hurricanes: one in Texas, one in Florida, and one in Puerto Rico. You will have several hurricanes, and a few will be at category 5 by the HAARP machine, with one hitting the mainland. You have been seeing unusual weather with much snow (120 inches), more cold than usual, and up and down temperatures. You also have been seeing more clouds and less sun this year. Keep working on your lower solar panels so you can remove the snow during the winter. Trust in Me to protect you, no matter how the devil tries to stop you from giving your talks. Remember to pray your long form of the St. Michael prayer both coming and going to your talks."
Sunday, April 29, 2018:

Jesus said: "My son, this vision of a ship sinking represents America when your country will be taken over by the one world people, in preparation for the Antichrist to take over the world. My people, you need to be prepared that America will have to be taken over in order for the Antichrist to takeover. Again, I am mentioning how you will find yourself in a major battle that could involve a missile attack on your country. Be prepared if your power could get taken out by an attack on your electrical grid. If your lives are in danger, I will be calling you to My refuges of protection. Trust in Me to provide for you during the coming trials."
Saturday, April 28, 2018:

Jesus said: "My people, in today's Gospel I emphasized to St. Philip that the Father and I are One with the Holy Spirit, Three Persons in One God, and We cannot be separated. I have mentioned before how I was sent by the Father, and I was in union with the Father in all that I did on earth. I did not have to show My apostles the Father because the Father is in Me. Many of the miracles I performed, including My rising from the dead, are examples of My Divine Powers. These miracles were signs to My apostles to believe in Me as God the Son, and the Messiah. St. John's Gospel is focused more on My Divinity than the other Gospels. Know that I am with you always, and I will answer your requests."
Jesus said: "My people, when you are living at My refuges during the tribulation, you will have a challenge to provide for your food, water, and fuels for heating. You physically have food for forty people that will last at least a year or more. I could multiply your food when you need it. You could even survive on My daily Eucharist for your only food. For water you have your seventeen 55 gallon barrels full of water that would last a short time just for drinking. You may have water from you sump pumps and your water well. You could collect rain water or melt some snow for other sources of water. For heating you may have enough kerosene and cut wood for a winter. You could cut down some trees with your saw for more wood. When you get low on food or fuels, you could pray that I multiply them for your survival. Do not have any fear because I will see that your people will survive. You will all have to help each other for your needs, and you will be praying around the clock for your protection. Trust in Me, and I will bring you through this evil time into My Era of Peace."
Friday, April 27, 2018:

Jesus said: "My people, you heard today's Gospel read at many funerals, because it talks of the many mansions in heaven. (Jn 14:1-6) I am comforting My faithful when I said: 'Let not your heart be troubled.' When you trust in Me by faith, you know I will provide for your needs. I am truly preparing places for all of you in the seven levels of heaven according to your faith and love for Me. Many of you will need some purification in purgatory, so you may not come directly to heaven after your death. But do not be afraid of death, because your soul lives on forever. Those souls, who repent of their sins and accept Me in love as their Savior, will be with Me in heaven one day. This is why I have encouraged you to pray that the souls of your family could be saved from hell. When I told My apostles that they knew the way to follow Me after death, St. Thomas asked Me how would they know the way? It was then that I told him 'I am the way, and the truth, and the life. No one comes to the Father but through Me.' This is why you need a loving relationship with Me through My sacraments. When you give your will over to My Will, and follow My commandments, you will be on the right road to heaven. Love Me and offer up all that you do for Me every day, so you can store up your treasure in heaven. By being My servant, you will gain eternal life with Me in heaven."
Jesus said: "My people, for those people who are building a refuge, you need to have some water, food, and fuels that I could multiply. It is better to have a well, or a large source as a river or a lake. If this is not available, then store some jugs or barrels of water that I could multiply. In the same way, you need a pantry of food that could be multiplied also. In the Northern climates, you will need alternative fuels as wood, kerosene, or propane for heating and cooking. These fuels could be multiplied to keep you warm, if you could not use your natural gas lines. You will need the proper burners for each alternative fuel. I will help My refuge builders, but you need to have something available so My angels could multiply it. You could even survive on just the daily Holy Communion that My angels will bring you. During this coming tribulation of the Antichrist, you need to have things ready to endure a few years at your refuges. People, who will come to My refuges, also need to have their backpacks loaded with their physical and spiritual needs."
Thursday, April 26, 2018:

Jesus said: "My people, this vision is very foreboding because you are seeing My angels blowing the trumpets, just as it is written in the Book of Revelation. You will also see the evil ones mocking Me with a similar display of trumpets to announce the coming of the Antichrist. My people, you need to read about the seven trumpets announced in the Book of Revelation, because you are about to witness these events.(Rev 8:6) 'And the seven angels who had the seven trumpets prepared themselves to sound the trumpet.' In the first trumpets, fire came over the earth in various places. Then a great star fell from the heaven called Wormwood. This would cause a darkness over the earth. Then a plague of scorpions would attack all of those evil people without a cross on the forehead. This was followed by the Battle of Armageddon. Later, the trumpets announce the beginning of the tribulation of the Antichrist that will reign for 42 months or 1260 days. Before these things happen, I will bring My Warning to give all sinners one last chance to be converted to the faith. Those people, who convert and repent of their sins, will have a cross placed on their foreheads by My angels. Only those people with a cross on their foreheads, will be allowed into My refuges. (Ezekiel 9:4) 'Pass through Jerusalem and mark an X on the foreheads of those who moan and groan over all the abominations that are practiced within it.'"
Prayer Group:
Jesus said: "My son, I am glad that you are asking Me if it is all right to proceed with your plan for more solar power at a lower level on your addition. I understand your frustration for not having hardly any power during the winter because of snow on your higher roof panels. At a lower level it would be safer to be able to remove the snow from your new panels. This would give you more power for your two sump pumps and your water pump. So yes it would be prudent to carry out your winter plan for more power. Otherwise during the tribulation, you would be bailing out your sump pumps that run constantly from February on."
Jesus said: "My son, you have an electric pump to bring water throughout your house for your toilets, washing, and drinking. You also have a mechanical hand pump, but it would take a lot of pumping by hand to bring water into the house. This is another reason to have more power in the winter to operate your electric water pump. Trust in Me to provide what you need."
Jesus said: "My people, I am using My messengers to bring My Word of faith to all the people who are eager to learn about My Word and My love for people. Continue to pray for the safety of My messengers who travel to share My messages. Pray also to fight the devil's attempts to cancel your talks, or put roadblocks in your path. By praying and trusting in Me, I will clear away all the devil's attempts to stop your talks."
Jesus said: "My people, I have told you that the best preparation for the Warning, is to come to frequent Confession to have your sins cleansed from your souls. I do not tell you the date of the Warning, nor do I want you to speculate on such a date. It is only for My Father to know the date. I can say events will be happening soon that will bring the need for My Warning. Sinners are getting worse in offending Me, and I need to give sinners one last chance to be saved. Use this time after the Warning to bring your families back to the faith so they could receive a cross on their foreheads, so they could be saved."
Jesus said: "My people, when you read of the signs of the coming tribulation, you will see famine, pestilence, wars, and earthquakes that will be causing stress among the people. (Matt. 24:7) 'For nations will rise against nations, and kingdom against kingdom; and there will be pestilences and famines and earthquakes in various places.' When you see these things happening, know that I will lead you to My refuges for your protection. The Antichrist will have less than 3½ years to try My people, but then I will bring My Comet of Chastisement that will bring My victory over all of the evil ones. Have patience and trust in My Word, as I will cast all the evil ones into hell."
Jesus said: "My people, I am calling you to not be afraid of the evil ones, because I will protect My faithful at My refuges with My angels. Evil may appear to be winning for a short time, but have no fear because I am more powerful, and I will protect you from the Antichrist. Remember that after the Warning, you are to get rid of your cell phones, TVs, computers, and any devices connected to the internet. This is so you do not look at the Antichrist, who could hypnotize you to worship him. All of these devices will not work at My refuges, so do not bring them to My refuges. My angels will put a shield over My refuges so you will not see or hear the words of the Antichrist. Trust in My protection, especially during the tribulation."
Jesus said: "My people, some people have been preparing their refuges for a good number of years. Others have only started working on their refuges. My angels will help all refuges to get ready by finishing the projects the people have started. Some refuges may be sent more people than you were expecting. In these cases My angels will build more buildings to accommodate the greater number. My angels will also multiply your food, water, and fuels, so you all can survive this trial of the tribulation. Be patient, for the day is coming soon when I will defeat the evil ones, and bring you into My Era of Peace and later into heaven."
Wednesday, April 25, 2018: (St. Mark)

Jesus said: "My people, there are many portals through which the demons come forth to try and steal souls from Me. Some people do evil things, or occult services to call the demons to worship them. I have even shown you how in the end times, the demons are coming up through active volcanoes from hell. In the vision I am showing My power, when I will force all the demons back into hell, and I will close all of the portals of entry. In the final days, all of the evil people, who reject Me and do not love Me, will also be cast into hell. Then I will renew the earth, and My faithful will be brought down into My Era of Peace with a new heavens and a new earth. This will be a glorious day to behold, and I will show you My Spirit as I am. Trust in Me and obey My Commandments, and you will be saved in heaven."
Jesus said: "My people, the devil is running out of time, and he will be behind a larger war that will break out in the Middle East. You will be defending one of your allies against Russia and Iran. China and North Korea could also have some attacks on your ships in the Pacific Ocean. You have had a short time of peace, but soon the devil will be instigating another major war. Be prepared for any attacks on your cities that will be more devastating than on your Twin Towers. The Antichrist is planning with the one world people to neutralize your defenses. Taking over America is one of his goals, because you are blocking his takeover of the rest of the world. If your lives are in danger, I will call My faithful to My refuges with an inner locution. Trust in My protection, because events are going to be more serious with missiles being used."
Tuesday, April 24, 2018:

Jesus said: "My people, this large cup of wine represents the consecrated wine of My Blood that I am sharing with all of My faithful at every Mass. This wine was in the middle of a daisy with gold metal petals. I love all of you so much, and I do not want you to be afraid of the coming tribulation. You will be seeing Christians persecuted severely, and some may be martyred for their faith. But I am having some faithful prepare refuges for the tribulation time. It will be difficult to set up a refuge, but I will help you, and My angels will help you finish any projects at your refuge. It is enough to give Me your 'yes' and give your will over to My Will, and you will see miraculous things happen. It is My refuges that will protect you during the tribulation. When this evil time comes, I will give you extra grace to have full trust in My words and My promises to protect you. The Antichrist will have his hour, but after the Warning, My people need to get rid of your cell phones, computers, TVs, and any device connected to the internet. This is so you do not look at the Antichrist because he could hypnotize you to worship him. My power is greater than all of the evil ones, so have no fear and trust in Me."
Jesus said: "My people, I am showing you an earthquake that caused a bridge to collapse. Such an earthquake can happen along the Ring of Fire, or it could be perpetrated by the one world people using the HAARP machine. Earthquakes can cause a lot of damage, and even kill people suddenly, which is why you are doing your Masses of reparation for souls who die quickly. Earthquakes can also occur at sea which can cause tsunamis. Trust in My protection at all times, and you will be saved."
Source: John Leary
The truth about the Coronavirus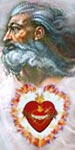 May 1, 2020 - God the Father says: "Today, I invite you to realize that this virus - the coronavirus - is no ordinary disease. It has been created from human ingenuity to specifically target the elderly and physically challenged. This is the plan of future generations to purify the human race around the world. It was released into the general population ahead of schedule - by accident. Those in charge were waiting for less capable government officials in your country (USA) to be in office. Nevertheless, proposed harm is being unleashed on the whole human race."
"I tell you these things to help you to realize the underlying evil at work and hidden in hearts these days. You cannot be confounded by any turn of events. Over all situations, I am in Dominion. No one will be given power over you that is more powerful than your Eternal Father. Therefore, be emboldened with this knowledge. If you persevere in Truth, you have loaded your weapons against what seems to be and discharged them with Truth." (Source: Holy Love)
Help the Lord spread His voice, time is running out
Please help spread these messages of faith, hope, salvation,
defense
against evil (by email, printing, Facebook, Twitter, and other media) to your loved ones, your friends, and all the people you may meet, who seek salvation or who are in danger of being eternally lost. The Lord gives great graces and blessings to those of goodwill who, according to their own possibilities, collaborate with His Plan of Salvation.
Who helps the Lord save a soul predestine his own
, independently from the outcome.