Please read from begin to end, please prepare for what is coming…
Tuesday, June 16, 2020:
Jesus said: "My son, I am showing you a time line that leads into the tribulation. I told you that you would live to see the tribulation, so you know it is close. My Warning will come before you are called to My refuges for your safety. This fall you will see a worse virus that will cause another shutdown, but I will call My faithful to My refuges so you will not be infected. As you look on My luminous cross, you will be healed of all of your health problems. Give praise and thanks to Me that My angels will shield you from the evil mobs. Only My believers will be saved at My refuges. Pray for your family to be converted, or they could be lost. This time line is being sped up as you will stay at My refuge throughout the tribulation. Have no fear because My angels will defend you and multiply your needs."
Jesus said: "My people, seeing new babies in the family is a blessing of new life. It is hard to imagine why some mothers want to kill their babies in the womb by abortion. I have asked My faithful to pray for the stoppage of abortion. Even during this first virus attack, your people still considered abortion as an essential service. I told you that if you did not stop your abortions, then I would do it for you. You will see a deadlier virus in the fall that will be so severe that it will be almost impossible for doctors to perform abortions. These virus attacks are your punishment for your abortions. When this next virus comes in the fall, you will first face your Warning experience, and then My faithful will be called to My refuges, so they will not die of the virus. Trust in My protection from the evil ones at My refuges."
Note. Jocelyn had a baby boy on Wednesday, June 17, 2020.
Wednesday, June 17, 2020:
Jesus said: "My people, you are all so happy that your churches are finally opening this weekend. You have been opening in phases, so now you have freedom to worship Me again in person. You have been seeing a decline in Mass attendance over the years, so it will be interesting to see how many people actually come to Sunday Mass. Maybe your people will finally wake up to see that you are being persecuted by your governors, who did not want to open My churches. You may still be wearing masks and distancing, but your churches are big enough to accommodate your restrictions. I love all of you, and I am happy for you to be able to receive Me again in Holy Communion. Pray that you can take advantage of this time, because you may have more restrictions from a new fall virus."
Jesus said: "My people, you all are mortal and you all will die one day. It is just a matter of time. You all will be facing this door to your own death at some age. It is important to always have your soul clean by frequent Confession, so you are ready to meet Me at your judgment. Not every soul is perfect, so be prepared to do some time in purgatory to purify your soul. Once you pass through this door of your new life, you will have no more physical pain, and you will only have your spirit body. The more good deeds you had in life, will help compensate for the reparation due for your sins. In other words the more good deeds you have, it will lessen your time in purgatory. You could put some Masses for yourself in your Will for your family to carry out. Keep praying for the souls in purgatory so when they come to heaven, they will pray for you in return. Live every day as if it was your last day, so you can pray and help people while you can. Do not waste your precious time while you have life."
Thursday, June 18, 2020:
Jesus said: "My people, in the Gospel I taught My apostles how to pray the Our Father. Many of My faithful pray the rosary and the Divine Mercy Chaplet. Even the Mass is the greatest prayer you can offer. You have many intentions to pray for. I am showing you your governor and your President who need your prayers during this virus plague. Pray for Jocelyn and her new baby, and for the souls of your family. Pray for the unemployed people to find jobs and receive their benefits. Pray for the sick and those with chronic problems. Pray for those suffering from cancer. Pray for the souls in purgatory. Remember for yourself to pray your morning offering, your daily consecration, your rosaries, your Divine Mercy Chaplet, and evening prayers. By having a good prayer life, you can stay close to Me, and be ready to meet Me at your judgment."
Prayer Group:
Jesus said: "My people, you need to pray to counteract the Luciferian March for a One World Government that will occur in nine cities on June 21. You have seen some violent protests, but now you are seeing a truly evil group that is promoting an overthrow of your government to establish a New World Order. They are using the summer solstice and an annular eclipse to promote their evil plot. It is the plan of Satan and the left protests to take over your government and prepare the New World Order to be given over to the Antichrist. Have no fear because I will protect My faithful at My refuges."
Jesus said: "My people, you have been praying that your Masses could be attended in person at your churches. Now this weekend you will see a phased in opening that you had to even register to show you were coming. Now you can receive Me in person at Holy Communion. You have been praying and watching Mass on TV and the internet with only spiritual Communion. Give praise and thanks to Me that you can receive Me again in Holy Communion."
Jesus said: "My people, I am showing you My Sacred Heart because I love all of you so much that I died on the cross to save all of mankind. Unite your hearts with My Heart, and unite your suffering with My suffering on the cross. I am with you to lead all of My faithful on a road to heaven. Many of you have pictures of My Sacred Heart, so now is a good time to pray to Me in front of your picture. My love for you is everlasting and in heaven you will be adoring Me for all eternity."
Jesus said: "My people, I want to prepare you for My coming Warning by coming to Confession to cleanse your souls. You will be taken out of your body and out of time as you come to Me through a tunnel to My Light. You will then have a life review of all the good and bad things you did in your life. You will see a mini-judgment of where you would go if you were to die then. Every sinner will be given a choice to love Me or the world of evil. You will visit the place of your judgment. Those souls, who choose to come to Me, will see a need to come to My refuges and deny taking the mark of the beast. After the Warning, you will return to your body and you will have six weeks to convert your family without the devil's influence. Pray that your family will choose to be believers in Me so they can enter into My refuges."
Jesus said: "My people, you are seeing the first wave of the corona virus that is killing many people all over the world. You are seeing constant violent protests, and now even Satan's followers want to bring in the New World Order. These events will lead up to the start of the Antichrist's tribulation. When the lives of My faithful are in danger, I will call you to My refuges as your guardian angels will lead you to the nearest refuge. Rejoice because My angels will put an invisible shield over you as you come to a refuge. You will be healed of any virus or health problems at My refuges. My angels will also multiply your food, water, and fuels so you can survive. My angels will build large buildings to house My faithful at every refuge. You will adore My Blessed Host around the clock at every refuge."
Jesus said: "My son, there is always joy on earth and in heaven when a new life comes into the world. This new boy needs to be baptized, and your family can reach out to pray for a healthy boy, and help this family in any way that you can. Choose godparents to guide this child. Give praise and thanks to Me for every soul that is gifted to you."
Jesus said: "My people, I see how you are all anxious to be back in church with My Mass. I wish that you could have opened your churches sooner, but soon you will be with Me in My Blessed Sacrament. All of heaven is rejoicing with you as you will celebrate Sunday Mass together. I told you before that the graces of your Masses go out to all your neighborhoods so you could have My peace. Trust in Me to protect you and provide for your needs at My refuges all the way through the coming tribulation."
Friday, June 19, 2020:(Solemnity of the Most Sacred Heart of Jesus)
Jesus said: "My people, today starts the first celebration of the Two Hearts of My Blessed Mother and Myself. You have a perfect picture of our Two Hearts in your library. In the picture of My Sacred Heart you see an eternal flame of love with a crown of thorns. My Heart is aching to love all of you, even the ones who reject My love. From St. John you read how I AM all Love, as I love all of My creatures. I long to save all souls, but I do not force My love on anyone. I want people to love Me of their own free will. If you truly love Me, then you will show your love for Me in your daily prayers. I am the center of your lives because I am your Creator, your Redeemer, and your God. I give you peace and rest for being faithful to Me."
Jesus said: "My people, every refuge has an angel protecting it from harm. All of My refuge builders have accepted their mission for Me, and many have spent a lot of money preparing for the coming tribulation. In order to have My refuges ready, I have given one angel to guard each refuge from any evil ones trying to come on the refuge property. Even before I will call people to the refuges, My angels are already protecting the refuges. My refuge builders have to trust in Me to protect them at all times. At the refuge time, by faith I will multiply what you need, and My angels will see that all of you have enough food, water, and fuels for your survival. You will have Holy Communion every day from a priest or My angels. This will allow each refuge to have perpetual Adoration around the clock. So have no fear of the evil ones because My angels will always be watching over you.
Saturday, June 20, 2020: (Immaculate Heart of Mary)
Jesus said: "My people, you are continuing to see more virus cases in addition to more protest marches that are upsetting people's peace. I have told you that the devil's time is running out. This is why the evil ones are doing everything they can to upset your government. These evil ones are trying to stir up a race riot to divide your country. Do not be surprised to see more violent protests and shootings. These Black Lives Matter groups will try and carry their protests into the surrounding towns. Eventually, people will be tired of the false protests, and you could have a backlash protest where opposing groups could clash with more violence. You could see places that may require local emergencies where the National Guard may enforce a partial martial law. You will see attempts by these radicals to take over local governments, but the fighting could get out of hand. When guns are used, I will need to call My faithful to My refuges."
Jesus said: "My people, your President put all of the recent events in perspective when he called out the looters and arsonists that are ruining your cities. He pointed out how ruthless it is to defund the police and burn police stations. The Democrat officials in their states are allowing these anarchists to take over their cities. There is freedom of speech, but looting and burning people's properties is a crime, and these anarchists need to be in jail. They should not be bailed out by the rich liberals who are paying the anarchists to cause trouble. Tearing down historical statues is another way that the left is trying to destroy your history and culture to replace it with socialist communist ideas. You can see how the left influence on your media and education has brain-washed people against loving Me, and replacing it with communist atheist ideas. You can see why I allowed your President to win because he talks against abortion and infanticide. He also mentions Me in his talks, but the left do not. Pray for your country to focus more on Me, or you will see more punishments."
Sunday, June 21, 2020:
Jesus said: "My people, this is the first time you have been to Mass at your own church in three months. You are all happy to see Me in Holy Communion, and your friends. You have limited numbers at some churches, but you are happy to be home in church for Sunday Mass. You still may have a few virus cases, but your priests have finally opened their doors. In the Gospel I told the people not to have any fear, but to trust in My protection. The devil uses fear and anxieties to keep you fearful of viruses, and he wants to keep you from coming to Me at Mass in church. You have been denied My sacraments by this evil laboratory created virus. You will have a lull in the summer, but be ready when a second wave of the virus will return in the fall. This second virus will be worse than the first. When your lives are in danger, I will call you to the safety of My refuges. At My refuges you will be healed of any health problems by looking upon My luminous cross in the sky or from My healing spring waters. Have no fear and trust that My angels will provide for your needs."
Monday, June 22, 2020: (St. John Fisher)
Jesus said: "My people, I share your joy that you have freedom again to come to Mass and Holy Communion at your local churches. You are witnessing the evil of the people who spread this virus to reduce your population, and keep you from coming to My sacraments. I love all of you, and I am closest to you when you can receive Me in person. You are experiencing the lull in your virus cases in your area, but other parts of your country are still having virus outbreaks. Beware of your chemtrails because this is one method the evil ones can use to spread the flu and this virus. You can tell this is a laboratory created sickness because the seasonal flu does not continue into the summer heat. It is also a problem when your false news does not give you the true numbers of deaths from the corona virus. Enjoy this brief freedom for now because there will be a worse virus in the fall. It is then that I will call My faithful to the safety of My refuges."
Jesus said: "My people, I told you how I would call My faithful to My refuges before the second virus attack. This next virus attack will be much deadlier than the first virus, because the evil ones will be spreading thick chemtrails containing the new virus. In the vision I could see the planes spreading the virus laden chemtrails. Within hours you could see many bodies dying from the virus. My angels will put a shield over those people in My refuges so they will not be infected. I will warn My people not to look outside at all the carnage of dead bodies. In the vision I am showing you how the evil ones will try to reduce the population with a deadly and highly contagious virus. This virus will be spread the worst in America. This virus will come in the fall and there will be so much death and confusion, that your election will be canceled. There will be chaos and food shortages all over because many people did not heed My warning of saving up some food. My believers will remain in My refuges throughout the whole tribulation of the Antichrist. My angels will provide for your needs, and you will adore My Blessed Sacrament in the monstrance in perpetual Adoration. I will be with you to protect you, so trust in Me always to multiply your food, water, and fuels. Pray for the sinners to be saved after the Warning."
Tuesday, June 23, 2020:
Jesus said: "My people, in the vision you came out of a dark cave into My Light of freedom as you came back to your second parish in a long time. Rejoice in My love and My sacraments. In the first reading the King of Israel prayed for My protection from the Assyrians who were ready to attack Jerusalem. My prophet foretold of My protection, and one of My angels went among the Assyrian soldiers and the angel slew 185,000 men in one quick attack. This sent the Assyrians in confusion and they were forced to return home. My son, you have used this passage (4 Kings 19:35) many times to relate to the people about the power of even one of My angels. So fear not about the evil ones, because My angel of the refuge will protect you as the angel slew the enemies of Israel. Your refuge angel will shield you from any virus, bombs, or any other threat to My people. These same angels will provide buildings and multiply your food, water, and fuels for your people. In the Gospel I warned My people to enter heaven through the narrow gate, and do not follow the broad road into hell. At the Warning I will give every sinner a second chance to come to Me in faith as a new convert to repent of their sins. Only believers in My Word will be allowed by My angel to enter My refuges. This is why after the Warning, you need to convert your family and friends to Me, or they could be lost in hell. Pray to convert as many souls as you can, because you have seen the coming plagues on those people who will reject Me."
Source: John Leary
Fr. Michel Rodrigue explaines The Events of the End Times
Do you want a quick overview of the end times? Then read "The great events of purification will begin this fall". If you want all the details of the unfolding events, then go to "Virtual Spiritual Retreat with Fr. Michel Rodrigue about the End Times".
The truth about the Coronavirus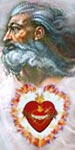 May 1, 2020 - God the Father says: "Today, I invite you to realize that this virus - the coronavirus - is no ordinary disease. It has been created from human ingenuity to specifically target the elderly and physically challenged. This is the plan of future generations to purify the human race around the world. It was released into the general population ahead of schedule - by accident. Those in charge were waiting for less capable government officials in your country (USA) to be in office. Nevertheless, proposed harm is being unleashed on the whole human race."
"I tell you these things to help you to realize the underlying evil at work and hidden in hearts these days. You cannot be confounded by any turn of events. Over all situations, I am in Dominion. No one will be given power over you that is more powerful than your Eternal Father. Therefore, be emboldened with this knowledge. If you persevere in Truth, you have loaded your weapons against what seems to be and discharged them with Truth." (Source: Holy Love)
Help the Lord spread His voice, time is running out
Please help spread these messages of faith, hope, salvation,
defense
against evil (by email, printing, Facebook, Twitter, and other media) to your loved ones, your friends, and all the people you may meet, who seek salvation or who are in danger of being eternally lost. The Lord gives great graces and blessings to those of goodwill who, according to their own possibilities, collaborate with His Plan of Salvation.
Who helps the Lord save a soul predestine his own
, independently from the outcome.