This burning of Notre Dame is not the beginning of the tribulation
(Please read all from begin to end – From April 3 to April 17, 2019)
Wednesday, April 3, 2019:
Jesus said: "My people, I have said in the Scriptures how My apostles would be fishers of men. This vision shows you a shark eating the fish. This represents how the demons are not only attacking the people, but they are also attacking My priest sons. Your priests are My servants who give you the Mass every day, and the sacraments, especially Holy Communion and Confession. They are also present for Baptism and Confirmation. A few of your priests are being attacked in your newspapers for abuse of children, but this could discourage some people from coming to Sunday Mass. Pray for your priests and support your churches, because your parishes are struggling for collections to pay the bills. Your numbers are diminishing because the younger people are not replacing the older faithful who are dying. This is part of your demographics of a decreasing population from abortion, and a decrease in your fertility rate."
Jesus said: "My people, I have told you before that a crash of the stock market could precipitate a financial crisis like you had in 2008. If this crisis is severe enough, it could also cause a martial law to be declared. You have seen an unusual rise in the stock market with very little pull back. You have heard from various news why the market has gone so high. You have many corporations buying back their stock which puts buying pressure on the price of stocks to rise. Other speculators are borrowing money at low interest to buy stocks on margin. This also raises the stock prices. You are seeing an inversion in your interest rates where short term interest rates are equal to longer term interest rates. This makes it hard for banks to make money on long term loans. If this buying pressure was stopped, and people shorted the stocks down as in 2008, you would have a market collapse worse than before. This is a plan by the one world people to make your President look bad before the election. If the Federal Reserve bankers crash your money because of not enough money to support your National Debt, this also would cause chaos in the streets. When you see a danger for your lives, I will call My faithful to come to My refuges for their protection. Have no fear of the evil ones because My angels will protect you, and the evil ones will be eventually thrown into hell."
Thursday, April 4, 2019: (St. Isidore)
Jesus said: "My people, it is only for the sake of My faithful that I have not brought destruction down upon your people. There are many depraved and stiff-necked people who ignore Me, and who kill their children by abortion. You also are killing your older people by euthanasia, and both of these killings are done for money. You have many corrupt people who only think about money as their only god. In the end your corrupt money will fall, and many who sought money, will be left bankrupt when your stock market and money fall. I will separate the evil people from My faithful at My refuges. Then the evil ones will go down into the pit of hell for their punishment. My faithful need to give praise and thanks to Me for all that I do for them."
Prayer Group:
Jesus said: "My people, you are seeing a big push by the opposition party to do away with your Electoral College that was set up in your Constitution to give equal weight to the states with less population. The whole US Senate gives two senators to each state. To have an election by popular vote would give too much power to just a few well populated states. This was set up by your founding Fathers, and pray that their intention for fairness is upheld."
Jesus said: "My people, many people have seen the 'Unplanned' movie and it has become more popular. This movie is about a director of a Planned Parenthood building that did many abortions. This lady decided to leave her position when she was asked to participate in an abortion. It is a little graphic, but people need to see how they are killing My babies at Planned Parenthood. This is a big business of billions of dollars. Pray to stop abortion and keep protesting at these places with your rosaries to help save My babies."
Jesus said: "My people, those people who are protesting at the Planned Parenthood abortion clinics, are praying to defend the lives of My babies from being killed. The doctors are making huge amounts of money by killing babies. The mothers are denying their babies from seeing life, which they were meant to see. This is killing against My Fifth Commandment, and the doctors, mothers, and supporters will pay dearly for their crimes. Try to give time to protest for the babies, and you could possibly help save some babies from being murdered."
Jesus said: "My people, this latest effort by the opposition party to investigate your President, has found no collusion with Russia. The Mueller Report was backed by a dossier paid for by the opposition party on false pretenses, and it deserves an investigation of its own. All the members of this report were on one side, and its results are very biased. Once the report is released, you will see it was intended to remove your President based on false claims. This venture has only served to divide your country. Pray for your country to have peace, without all the hate of the opposition party."
Jesus said: "My people, many of you are aware that the Medicare program was meant to help people over 65 with their health care costs. You have Medicaid and welfare programs to help the poor. By tearing down the fabric of Medicare, this is another tactic to try and overwhelm your government with a cost that could ruin your whole health care program. There are some people who want to take over your government, and they think that by overspending your National Budget, they can bring down your government for a communist takeover."
Jesus said: "My people, Satan and the demons are bringing hate and division into all parts of your society. You can see this hate in your politics, and in the persecution of Christians who are voicing peace and love. Pray for peace in your society and let My love overcome Satan's message of hate. I even asked My faithful to love your enemies, which takes an extra grace. Do not continue dividing people, but reach out to bring My love to everyone."
Jesus said: "My people, in every life you can see the effect of sin on your life and on the lives around you. This is why it is important to come to Confession to put your life back in My good graces, so you can live the holy lives that I desire for you. The more you sin without repenting, the deeper Satan will lead you away from Me. I love you, and I want you to love Me, but sin drives a wedge between us. Do not let Satan keep you from coming to Confession where your soul can be replenished with My sanctifying grace. You need to have a clean soul from sin to help your love relationship with Me grow. By daily prayer and obedience to My laws, you can grow in My love. You need to seek heaven by giving your will over to Me, so you can be focused on your goal of being with Me for all eternity."
Friday, April 5, 2019:
Jesus said: "My people, in the Gospel you read how I slipped into Jerusalem secretly because the Jews wanted to kill Me. I did not have any fear because I knew that it was not My hour. This is why I spoke openly in the synagogue. This is an example of how I want My faithful to speak out about My Good News, even if you are criticized. The people need to hear My Word, even if the authorities and religious people do not want to hear it. My son, your messages of the end times and My refuges need to be heard, so the people can be prepared to come to My refuges. Even if some priests do not want you to speak, find places where you can freely spread My messages. Some of My priests do not want to risk losing their collections, but they will lose them anyway with your decreasing numbers. People need to know about the takeover of your country by the socialist communists. They also need to know of the coming division in My Church between the schismatic church and the faithful remnant. The Antichrist is about to have his time of control, and My faithful will be called to the protection of My refuges. My people need to have full faith in Me in order to have My angels put a cross on your forehead. The angels of the refuges will only allow believers with a cross on the forehead to enter My refuges. Pray for your family members to be converted after the Warning, or they may not be allowed into My refuges."
Jesus said: "My people, you have seen floods in the Midwest, but the forecasts show more rain in this same area. Without a dry spell, it is going to be difficult for farmers to plant their crops. If you have problems growing crops, you may see a significant food shortage. I have been warning people to have a year's supply of food for just such an event as a famine or food shortage. Those people, who have food stored, will be thankful for My warning, so they will have food to eat, while others will be near starvation. If a food shortage strikes, you will see empty shelves in your stores. If people start fighting over food in the streets, then I will call you to My refuges for protection. I will multiply your food, My Hosts, water, and fuels so you can survive this tribulation. Trust in Me to feed you what you need."
Saturday, April 6, 2019:
Jesus said: "My people, in today's Gospel you have read about one of the confusions of the Pharisees, who did not know of My earthly origins when I was incarnated as a God-man. My Blessed Mother conceived Me by the power of the Holy Spirit at Nazareth when she gave her fiat to St. Gabriel. At one point there was a census by Caesar that everyone had to register at their line of heritage. This was Bethlehem for both St. Joseph and My Blessed Mother because they were from the house of David. This is why I was born in Bethlehem according to the Scriptures. My parents took Me to Egypt to avoid Herod's call to kill the babies in Bethlehem. Then we returned to Nazareth where I grew up. This is why the Pharisees did not want to believe in My claim as a prophet because I came from Galilee. You are seeing the beginning of how the Pharisees wanted to kill Me because My miracles were causing people to follow Me. In the next few weeks you will be preparing for Holy Week, which starts with Palm Sunday or Passion Sunday. You will be understanding why I was born, so I could offer My life for the salvation of all souls who accept Me as their Savior."
(Requiem Mass for Pamela Gilfus) Pamela said: "I thank everyone for coming to My funeral, and I thank Fr. Bonsignore for an excellent Latin Requiem Mass in his black vestments. He gave some nice words about Me. I know at the wake you saw me shrunk down from what you used to see Me, but I am nicer looking in my soul body. I thank you folks for coming to see my wake, even if it took some time in the traffic. I remember all of my Blue Army friends, and I ask you to pray for me and have some Masses said, since I will spend a short time in purgatory. It was good to see all of you one last time."
Sunday, April 7, 2019:
Jesus said: "My people, I have been urging your people to change your laws and stop your abortions. Your lawmakers are only making your laws worse in allowing the killing of babies up to birth, and some even after. Your lives of fornication can result in unwanted pregnancies outside of marriage, and you saw all of the young girls going in for abortions at the Planned Parenthood clinic. I told you if you did not stop your abortions, that I will stop them for you. You are seeing some of your punishment in severe natural disasters. You will see further punishment when your country will be taken over by the socialist communists in preparation for the Antichrist's tribulation. Only My faithful believers will be protected at My refuges, and the rest will suffer from the evil ones, and My Comet of Chastisement. Soon I will separate the evil ones into hell and My faithful into My Era of Peace. Pray to save as many souls as you can from going to hell."
Monday, April 8, 2019:
Jesus said: "My people, in this world of yours, you do not always see justice carried out, as many people get away with their crimes undetected. But I see all that is happening and I know all the circumstances. At the judgment you all will be held accountable for all of your sins and crimes. In the first reading from the Book of Daniel, you saw how the two elders plotted to have unlawful relations with Susanna. She refused their attempts, even when they threatened her with a false adultery claim. It was Daniel's wisdom that saved Susanna's life when the two elders perjured themselves with conflicting stories of finding them under a mastic or an oak tree. Justice was served that day. You are seeing many people living together in fornication without marriage. The morals of your country have been degraded, and this is why you have many family problems. The children are suffering without a proper marriage environment. This is another case where the sins of some are affecting your whole society, when the children are not always loved, and they may be abused in babysitting. At the judgment all of your dark sins in secret will be revealed in the Light, and My true justice will be carried out."
Jesus said: "My people, you are approaching Holy Week beginning this Sunday with Palm Sunday. You will be reading about My Passion, and how I suffered to bring salvation to all of mankind, if you would accept My gift. You remember when St. John the Baptist baptized Me in the Jordan River. Once I died, I brought you a new Baptism in the Name of the Father, the Son, and the Holy Spirit. You saw the wave of water in the vision. So now when you are baptized with water, you are joined with Me in the beginning of your faith life. You are now prince, prophet, and king, so My faithful can go out and spread the Good News of My Resurrection to everyone. It is hard for all of you to suffer your Good Friday, but it is glorious to celebrate My Easter Resurrection. I bring you new life in the Spirit as you celebrate the weeks of Easter. You remember Me telling you that all of heaven is rejoicing even more on Easter Morning of My Resurrection. It is then that you realize why I had to come to earth and die for all of your sins. This is why it is important to have all of your babies baptized into the faith, so they can grow up and experience My love in their lives. When you attend a Baptism, you repeat the truths of the faith in your Apostles' Creed. All of My faithful are called by their Baptism to go out to all the nations and evangelize souls to come to Me. You are experiencing the Living Water of the Holy Spirit at every Mass."
Tuesday, April 9, 2019:
Jesus said: "My people, when Moses was with his people in the desert, they complained about their wretched food in the manna. The people did not appreciate My miracle of the manna, and because of their ungratefulness, I sent them seraph serpents that killed some of their number. Then the people begged Moses to help them. I then instructed Moses to mount a bronze serpent on a pole. Those people, who were bitten and looked on the bronze serpent, were healed. This bronze serpent on a pole is a forerunner of the image of Me on the cross. When people pray to Me on a crucifix, you could also be healed by looking on Me in faith. During the tribulation you will come to My refuges and look on the luminous cross in the sky, and you will be healed of all of your ailments. You can come to Me in Confession, especially in Lent, to have your sins absolved by My priest sons. Once your soul is purified, then you can receive My new Manna which is My Real Presence in My Body and Blood of Holy Communion. This Host is unleavened, similar to the bread of haste that was eaten at the Seder Supper of deliverance from Egypt. Prepare for My remembrance of My Crucifixion in Holy Week, as I am a sacrifice on My cross for the sins of all humanity."
Jesus said: "My son, you saw a 'bomb' cyclone form in the Midwest that could cause a few feet of snow to fall. This name 'bomb' means the low pressure drops significantly in 24 hours causing a strong storm to form. This is being aided by the HAARP machine to grow so violently. This microwave machine is altering your weather and causing floods in this same area. There also was an unusual 5.0 earthquake in Idaho, not far from Yellowstone. This snow storm is unusual when it comes in the beginning of spring. Much of your storm damage is part of a punishment for your abortions and sexual sins. You should pray your storm prayer so you are not harmed in your travel to Denver."
Wednesday, April 10, 2019:
Jesus said: "My people, I mentioned before how you are seeing the second unusual storm in about a month. Both of these storms were caused by the HAARP machine. The purpose of these storms is to add moisture to the ongoing floods in the Midwest. The one world people who control this machine have an evil intention of trying to cause a famine by keeping your farmers from growing their wheat, corn, and soybeans. You saw in another year how the cherry and apple trees started to bloom, and then you had a late frost that killed these buds. That year you did not have apples or cherries as a result. Your plants and trees are delicate, and by controlling the weather, people can ruin your crops. Pray for your farmers that they will be able to grow your crops, or you could see the beginning of a perpetrated famine on your people. I keep reminding you to store one year's supply of food for each member of your family for just such occasions that could cause a famine. Pray for all the people who will be suffering on account of this storm. I protected you on your flight when you prayed your storm prayer."
Thursday, April 11, 2019: (St. Stanislaus)
Jesus said: "My people, in St. John's Gospel I told the Jews that before Abraham came to be, I AM. You read in the first reading how I changed Abram's name to Abraham because I was making him a father of nations, and his descendants will be as numerous as the stars of the heavens. I existed for all time before Creation because the Father, the Son, and the Holy Spirit created the universe and all that is on the earth. It is hard for man to comprehend how I could create an infinite universe. It is even harder to understand how I could make Myself into a God-man. When Adam and Eve sinned, all of humanity inherited original sin, and a punishment of death. I promised mankind through My prophets that I would come as a Redeemer to save you from your sins. The Jews knew of a promised Messiah, but they did not want to believe that I am the author of all life. They knew I AM represented the Name of God, and they wanted to stone Me for blasphemy. You are about to witness My Crucifixion and death on the cross in Holy Week. I suffered death in reparation for your sins, and I resurrected to heaven because I conquered death and sin. I also have left My Real Presence in My Eucharist so you can receive My Body and Blood at every Mass, because I AM is present to you for all time."
Jesus said: "My people, every day you have to choose between loving Me or not. Some people offer their will over to Me out of love, and they will be satisfied with Me in heaven. Other people are selfish in running their own lives, and they ignore Me or reject Me outright. Those people, who do not love Me, and do not seek Me for the forgiveness of their sins, are on the wrong road to hell. It is sad when people ignore My love, and do not seek My love. These people are the lukewarm who choose the love of the world over Me. You read the Scriptures about how much I love you, that I even died for your sins. It is true love when a person gives up his or her life for another person. If you truly love Me, then you need to prove it by your actions and good deeds. When you pray daily, visit Me in Adoration, and come to Mass often, you are showing Me that you really care for Me, and love Me."
Friday, April 12, 2019:
Jesus said: "My people, these young children are My most precious little ones, and I do not want to see any abuse of them. I call all of them to be with Me, and anyone who misleads them or abuses them, should have a millstone put around their necks and be thrown into the sea. I do not want to see any abuse either of the unborn in abortion, or of euthanasia of the elderly. Life is too precious to kill, and each person, who has life, has a soul, and is made in My image. I call you to respect life at any age. Each person is at a different progress in their faith, so do not criticize or look down on those people who may not have a strong faith. Faith is a gift from Me, but My people need to be open to receive Me into their hearts and souls. By loving Me with your whole heart, your whole mind, and your whole soul, you are on the right path to your sainthood. Every day you should strive for a more perfect faith, and Lent is an excellent time to take stock of your spiritual life. See if you are getting better, staying the same, or getting worse. If you keep struggling to improve your faith and love of Me, then you are following Me as I called you. Reach out with your gift of faith to share it with others as an evangelist, and you will have your reward in heaven. Keep praying persistently for your family members to be saved from hell."
Jesus said: "My people, I want you to have respect for My Real Presence in My tabernacle in church, and in front of My consecrated Host at Adoration. You hear many times in church how the priest is asking you not to use your cell phones at Mass for texting or talking. Unless you are a doctor on call, you should not have your cell phone turned on, so it does not ring at Mass or at Adoration. You saw how disturbing it was for a lady to have her phone ring twice during Adoration of My Blessed Sacrament last night. It may seem important for some people to have cell phones turned on, but it is irreverent to Me to have cell phones ringing in church, let alone talking on cell phones in church. You come to adore Me in silence, and others are praying, and do not want to be disturbed by ringing cell phones. Have consideration for Me and consideration for people praying in church. So keep your cell phones turned off in church and at Adoration. You can answer your calls later out of reverence to keep it quiet in church."
Saturday, April 13, 2019: (St. Martin I)
Jesus said: "My people, tomorrow you will be starting Holy Week with Palm Sunday and a reading of My Passion. Yesterday, you did a beautiful Stations of the Cross with your personal feelings of each station that pleased Me very much. As you hear My Passion, you will hear of My scourging, My trial, My walk with My cross to Calvary, and My Crucifixion on the cross for all humanity. This suffering and death on the cross, is My gift to all of you out of love, as I offered My life to save all souls who accept Me and love Me. This holiest week of the year is the culmination of your own Lenten sacrifices and devotions. Your fasting, prayers, and what you gave up, is your own little Calvary which helps to renew your faith in Me. You appreciate more how special My sacrifice is, as you share your pains and troubles with Me on My cross. I want you to make an effort to come to all of the Triduum services, and especially your joy in My Resurrection.
I want to wish your brother Mike and your sister-in-law Joanne a happy 50th anniversary of marriage as they will be renewing their vows of marriage today. I thank them for their dedication to keeping their marriage sacred through the years, and their dedication to loving Me and My Blessed Mother as well. We love Mike and Joanne and all the faithful who are helping to spread My Good News of My Resurrection. This rising from the dead is My greatest miracle, and I am an example of how all of My faithful will also rise from the dead on the last day of judgment."
(Palm Sunday 4:30 p.m.) Jesus said: "My people, today you have read My Passion in the Gospel. Because I was performing unusual signs as feeding thousands of people, raising people from the dead, walking on water, and healing people, the Jews thought I was a threat to them. Many people were coming to hear My sermons, and I claimed to be God's Son. This is why the Jews wanted to kill Me. They had a mock trial, and the people were inspired by their leaders to have Me crucified. Judas became the traitor to showing the Pharisees where I could be found. He handed Me over to the Pharisees for thirty pieces of silver. I suffered much to bring salvation to all of mankind. Give praise and thanks to Me for offering up My life, so My faithful could be justified in heaven."
Sunday, April 14, 2019:
Jesus said: "My people, when I was at My Last Supper, I offered the first sacrifice of the Mass. I shared My bread as My Body, and the wine as My Blood. My sacrifice was completed when I died on the cross, but I died outside of time, so you can still unite your suffering and troubles with Me on My cross. I have left My Eucharist with you as the priest can repeat My sacrifice in an unbloody manner, as he consecrates the bread and wine into My very Body and Blood. When you receive Me worthily in Holy Communion, you have My Real Presence with you for at least 15 minutes. So be reverent to My Presence for that time, and do not rush out, but let Me talk to your heart and soul. At My death and burial, people were mourning for Me. This mourning was brief because I resurrected in My glorious Body in three days by the power of God the Father, and the Holy Spirit. Death had no hold on Me, and My Resurrection is My Good News of salvation for all sinners who love Me and repent of their sins. Remember to receive Me worthily in Holy Communion with no mortal sin on your soul. You do not want to commit a sin of sacrilege against My Holy Eucharist. I love all of you and I want you to obey My Commandments at all times."
Monday, April 15, 2019:
Jesus said: "My people, in the psalm it speaks of not being afraid, but have trust in Me always. Your hope is to be with Me forever in heaven. By giving your will over to Me, you can share what you have with others, both in donations of money, and in sharing your faith with others. You remember another time when Martha complained about her sister Mary not helping her to share in the things of hospitality. I told Martha that Mary has chosen the better part of listening to My Word, and it will not be taken from her. In today's Gospel Mary washed My feet with her tears and dried My feet with her hair. She then poured precious oil over My feet which was a sign for My burial. This time I reprimanded Judas who wanted the oil to be sold to give the money to the poor. I told him that you always have the poor with you, but you do not always have Me with you in the flesh. Judas only wanted money for himself, but Mary would not be denied her favor of anointing Me. You remember when I washed the feet of My apostles as an example for all of you to be a servant to others. You are here on earth to know, love, and serve Me. Learn from these readings how to have no fear, and go forward and spread My Good News of My Resurrection. Bringing souls to Me out of love, is your most important task, so more souls can love Me and be saved from hell. To come to heaven you must repent of your sins, and deny your life by letting your will follow My Will in all that you do. Bring yourself to Me with good deeds in your hands, and you will have your reward in heaven."
Mother Cabrini said: "My dear children, I am happy to be present among you through the eyes of my statue. You are calling on me in your 'yes' to watch over your children, your grandchildren, and your great grandchildren. I will guide them and pray for them in heaven. I know you have one of my statues in your bedroom. I would appreciate it if you could bring my statue down into your chapel, and place one of my fabric relics under it. When you call on me to help people, I will deliver your request to My Jesus. Thank you for coming to my shrine, and remember to pray to me every day for your intentions."
Tuesday, April 16, 2019:
Jesus said: "My son, this burning of Notre Dame Church is not the beginning of the tribulation, but it is a punishment I allowed that Satan was behind. This fire has suspicious reasons for such a quick blaze. Very few people in France come to church on Sunday, and they treat Notre Dame Church more as a tourist attraction, than My place of My Real Presence. This is an allowed punishment and a wake-up call for the people to come back to church. Your fires in California are also allowed because of the sinful behavior in that state. Some fires are a result from arson because the fires were so intense and hotter than normal fires. These fires are also a symbol to see that the wages of sin are death in the eternal flames of hell."
Wednesday, April 17, 2019:
Jesus said: "My people, you need to have open hearts to love Me every day. When you awaken, you need to pray your morning offering and consecrate all of your actions to Me for the day. Do not be like Judas who betrayed Me. If you ignore My love in the morning, you are like the people who struck Me. It is the lukewarm whom I detest, because they are neither hot nor cold. Remember to love Me every moment of your lives, and let Me be a part of your lives. You can call on My help in all of your troubles. Call on Me to guide you and give you My plan for what to do for Me every day. It is My ways that are more perfect than your ways. By being humble, you can give your will over to My Will. I love you all so much that I suffered and died for your sins on the cross, and to bring you salvation. If you repent of your sins, and show Me your love and respect in your prayers and actions, then you will be assured of a place in heaven for all eternity. Go out to all the nations and spread My Good News of My Resurrection, so you can help save as many souls as you can from the flames of hell. I am all love, and I want you to love Me and all of your neighbors, even your enemies."
Jesus said: "My son, you have had some difficulty in getting some places to speak because some people do not want to hear you talk about the end times. People are comfortable about keeping things unchanged, and they do not want to leave their homes, let alone store food for the coming famine. I am showing you a man who is opening a door for you. This is a sign that I will find places for you to give your talks, despite those who are trying to block you. My prophets are being protected for a time, so they can get My message of love and protection out to the people. As your lives will be threatened, people will realize the need for hiding in a safe haven. Your messages from Me about going to refuges are important to enable My faithful to be separated from the evil ones. Trust in Me and I will enable My faithful to come to My Era of Peace, even if some are martyred for their faith in Me."
Source: John Leary
Fr. Michel Rodrigue explaines The Events of the End Times
Do you want a quick overview of the end times? Then read "The great events of purification will begin this fall". If you want all the details of the unfolding events, then go to "Virtual Spiritual Retreat with Fr. Michel Rodrigue about the End Times".
The Pope's approval of homosexuality
Beware of the 'New World Order'
The Rosary is the weapon of these times
The truth about the Coronavirus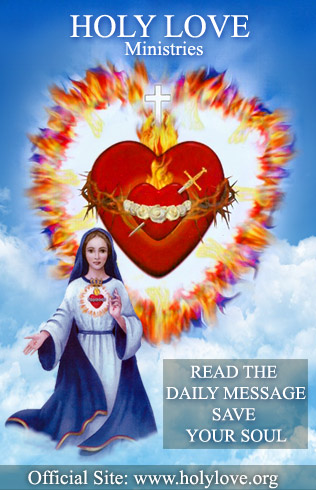 Read the daily messages
Catholics, we have entered the Pre-Tribulation, observe the Commandments, go to Confession; receive the Holy Eucharist; pray at least 3 Rosaries a day to keep your faith and save your loved ones. Prepare for the events that will devastate our planet: plagues, famine, WW3, cataclysms, antichrist's World Order