The World has now reached the point of no return
April 2, 2016 – Our Lady of Light
My dear son,
I ask all of you as my children –  and as well, as my brothers and sisters – that you now devote your journey to the return to your heavenly home through the Divine Mercy of your Lord and Saviour, My Son, the Redeemer of all humanity, for it is only through the Son of the Father that eternal happiness will be fulfilled.
The world has now reached the point of no return from the End Times events that have been prophesied to humanity since the ancient times. Just as my Son had to come to all of you in those times, he now comes to humanity to intervene in the affairs of mankind, because the enemy of all that is good has so corrupted mankind that only the direct intervention of the Father in Heaven through the Son, as Redeemer, can now save mankind from your own destruction.
Surely it is apparent to all of you now that you are deep within the End Times events as prophesied that indicates to you that the end of the darkness of the evil one as well as the beginning of the New Era for mankind is now near at hand.
This is a time for mankind that calls for the Divine Mercy of My Son, your Lord and Saviour, for all of you who seek the Kingdom of Heaven. Let me say once again that it is only through My Son that the promise of Heaven is yours, if you remain a faithful follower of your Saviour and Redeemer. Thanks be to God!
Know then that you can no longer rely on the promises of mere mortals, who pretend to be your leaders in this secular world, as well as in the spiritual world, for the evil one's demonic slaves and minions are now waging the final war in both worlds to capture souls for the dark one's plan, which is to destroy all of God's chosen ones.
I must reiterate then that you must turn only to Jesus Christ, as your Lord and Saviour in these End Times. No mere mortals should now stand in your way to turn yourselves over to the Divine Mercy of your Lord and Saviour, for only He can provide the mercy and the spiritual gifts that you will require to make the journey to return to the Heavenly Paradise that the Father in Heaven always intended as your eternal home.
Do not deter from your journey by following your world leaders or dispensing your energy, seeking newly elected leaders to change the course of events for mankind. Mere mortal leaders have always disappointed you in the past and they will disappoint you in the future, for the times of the secular leaders to make a difference in your world has come and gone.
The world leaders who turned themselves away from your Lord and Saviour through their hubris and greed for power will no longer have their way with humanity, for now all of humanity will awaken from the deep sleep imposed upon you by satan and his minions.
Now is the time that the Light of the Saviour will shine upon mankind and expose the dark ones and his minions to the followers of my Son, Jesus Christ. When the Truth becomes truly known to all of you, you will recognize that only through My Son's Divine Mercy for His children will all of you be saved from the evil one.
If you do as I say, your journey will be fulfilled through the power of the Holy Spirit and eternal happiness in Heaven shall be your reward.
Thanks be to God!
Message ended 8:50am
Ned Dougherty's Near-Death Experience and His Visions of the Future
In his mid-thirties, Ned Dougherty (an Irish name, pronounced "Dock-erty") had everything: money, women, property, prestige, and power. He was a real estate broker for twenty-six years owning popular nightclubs in Palm Beach, Florida, and the Hampton's, Long Island's exclusive playground for the rich and famous. He lived in the fast lane every hour of the day, pursuing every pleasure money could buy. Despite his religious upbringing as a Roman Catholic, he had no interest in a spiritual life because he didn't believe in an afterlife.
He was too busy searching for a good time to be bothered with such things. This all changed on July 2, 1984 when he had a near-death experience (NDE) resulting from a heart attack after a heated – almost murderous – fist fight with a business associate.
Dougherty's NDE caused him to undergo a radical life transformation in which he gave up his nightclub business and party lifestyle and embraced his hitherto neglected Catholic religion. His NDE gave him a conscious awareness of his mission in life which was to embark upon charitable and missionary work. During his NDE, a wonderful "Lady of Light" (whom he identified as the Virgin Mary) revealed to him future global catastrophes many of which have already occurred which you will read in this article.
Today, Dougherty is a featured speaker, a former director and media spokesperson for the International Association for Near-Death Studies (www.iands.org). He also founded a spiritual center as revealed in his NDE called the Mission of Angels Foundation (www.fastlanetoheaven.com) through which he speaks on life-after-death issues, NDEs, Marian apparitions, and other spiritual matters.
He also hosts End Times Daily (www.endtimesdaily.com) – a Catholic news site focusing on eschatology – where he publishes interior locutions he has been receiving on a monthly basis since 2005.
Book: Fast Lane to Heaven: Celestial Encounters that Changed My Life
Published in March of 2001. This book documents his amazing NDE and visions of Earth's future.
Ned Dougherty's End of Days Website:
Urgent call of Jesus the Eternal High Priest
August 9th 2020 from 12:00 am to 6:00 pm - Worldwide day of fasting and of prayer to the Heavenly Father for the protection of Catholic Temples, Shrines and Holy Places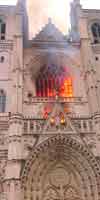 "I make an urgent call to the whole Catholic world for a day of fasting and of prayer to be held worldwide on August 9th with the prayer of the Rosary of my Most Precious Blood and with the prayer of the Exorcism of St. Michael, from 12:00 am to 6:00 pm, asking the Heavenly Father for the protection of my Temples, Shrines and Holy Places, which are being destroyed and desecrated by the forces of evil of this world. I'm counting on you, my Flock." —Jesus the Eternal High Priest
The truth about the Coronavirus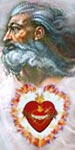 May 1, 2020 - God the Father says: "Today, I invite you to realize that this virus - the coronavirus - is no ordinary disease. It has been created from human ingenuity to specifically target the elderly and physically challenged. This is the plan of future generations to purify the human race around the world. It was released into the general population ahead of schedule - by accident. Those in charge were waiting for less capable government officials in your country (USA) to be in office. Nevertheless, proposed harm is being unleashed on the whole human race."
"I tell you these things to help you to realize the underlying evil at work and hidden in hearts these days. You cannot be confounded by any turn of events. Over all situations, I am in Dominion. No one will be given power over you that is more powerful than your Eternal Father. Therefore, be emboldened with this knowledge. If you persevere in Truth, you have loaded your weapons against what seems to be and discharged them with Truth." (Source: Holy Love)
Help the Lord spread His voice, time is running out
Please help spread these messages of faith, hope, salvation,
defense
against evil (by email, printing, Facebook, Twitter, and other media) to your loved ones, your friends, and all the people you may meet, who seek salvation or who are in danger of being eternally lost. The Lord gives great graces and blessings to those of goodwill who, according to their own possibilities, collaborate with His Plan of Salvation.
Who helps the Lord save a soul predestine his own
, independently from the outcome.