The Way, The Truth and the Life
Jesus says: (Gesù Our Teacher, Vol. 1)  – "My children, I am your Jesus of Mercy. I am the Way, the Truth and the Life, because I am the Son of the Living God. Today you call Me, you tell Me of your love, you want my Word, and I am here all for you. I want to show you my ways, point out to you my paths. I want to uncover to you may secrets, point out Heaven to you.
I have said to you that I am the Way since I have given you an example of how you must live. The way of my follower must be an upright life, because, based on my example, he must translate my teachings into practice.
The observance of the Law of God belongs to all men, even pagans, but Christians are held to observe them with perfection.
The Law is given by the Commandments, which many maintain they observe but of which, often, they observe only those parts that they find in conformance to their ways of seeing and to their will inclined to evil. But dividing the Law, and observing it only in part, is the same as betraying the Law itself.
Imitate Me. children, and do so that by seeing you they can discover Me. Is it so difficult to put in your lives so much charity, so much humility? And yet, if you put on these two virtues, you are already at a good point.
I am the Truth, I have said to you. Love truth, take it in and defend it. Be in the truth, and to possess it get in the habit of saying the truth always. Even if prudence must always accompany you, do not let yourselves be won over by human respect which makes you fear being ridiculed or derided.Call a spade a spade and have the courage to unmask error.
Let St. John the Baptist be your teacher and make you capable of pronouncing your "non licet", especially when an immoral conduct, disguised as false piety, can bring spiritual harm to the whole community. Defend morality, defend your Creed and mine, defend the Sacraments – channels and means of grace – so that they do not become that double edged blade which can mortally wound whoever uses it.
Be truthful and strong, and in order to be it, try to resemble Me in everything. Take away from your conduct everything that is bad or that can be a bad example; then use even the strap also, in the moral sense, against those who bargain with the faith and my religion.
I am the Life! Life comes from God; the natural life that your parents gave you is confirmed by the life of the soul which God gave you and gives continuously. But this life of the soul is continuously fed with a divine food. I have made myself Food; therefore I can call myself Life.
Taking advantage of this food: receiving it with desire and love means to grow in the life of the soul. Everything becomes possible, you can realize everything with my help; since that God who scrutinizes the hearts of men, sees also the desires of which they are animated.
I see persons who, lovers of the Truth, would like to spread it right up to very distant lands. I see souls, in love with the Eucharist, make of this precious food the sigh of their hearts, and who would like, of this their anxiety, to render all men partakers. Well then, children, your God loves the man of great desires: I assure you that you will find humble persons, who, never having left their countries, will be rewarded in Paradise as pioneers of Christianity.
Come on, courage! If the seed that you throw momentarily does not fruit, don't torment yourselves. Transform your lives always more in Me, until I'm able to operate in you, and let Me do it. Children, after the frightening thunder and fearful pelting down of water, the rainbow appears many times. Do so that the humiliations accepted well may correspond to that part that the Lord saves for you as a contribution to my work, and await with trust the rainbow on your days full of worries and woes.
I bless you all and love you so much."
Jesus Our Teacher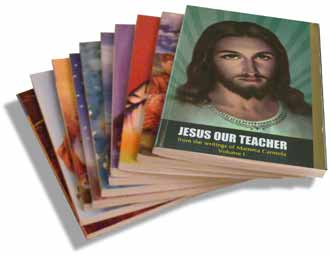 The thoughts, the reflections and the meditations in this booklet, were inspired by Our Lord Jesus to Carmela Negri Carabelli. They are, however, addressed to all those souls, who, desirous to love the Lord, seek to put into practice his teachings and to live the Christian life more perfectly. May Jesus bless these pages and those who read them with the desire to improve themselves, granting the help of his grace.
For more information about these magnificent teachings, for any spiritual assistance you may need or to participate and spread throughout the world the cenacles of prayer and the apostolate of the Divine Mercy, please contact: "CENACOLO DELLA DIVINA MISERICORDIA", Viale Lunigiana 30, 20125 Milano, Italy –
www.cenacolodivinamisericordia.it
Nihil Obstat: Reverend Gerard Diamond MA (Oxon), LSS, D. Theol, Diocesan Censor Imprimatur: Rev. Monsignor Les Tomlinson, Vicar General, Date: 20th July 2007 – The Nihil Obstat and Imprimatur are official declarations that a book or pamphlet is free of doctrinal or moral error. No implication is contained therein that those who have granted the Nihil Obstat and Imprimatur agree with the contents, opinions or statements expressed. They do not necessarily signify that the work is approved as a basic text for catechetical instruction. Catholic Archdiocese of Melbourne
Fr. Michel Rodrigue explaines The Events of the End Times
Do you want a quick overview of the end times? Then read "The great events of purification will begin this fall". If you want all the details of the unfolding events, then go to "Virtual Spiritual Retreat with Fr. Michel Rodrigue about the End Times".
The Rosary is the weapon of these times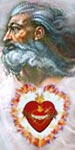 God the Father: "Children, the best way to change the conscience of the world and this country (U.S.A.) in particular is much prayer and many sacrifices. You may not see the effects of your efforts but persevere and do not be discouraged. Use your Rosaries as the mighty weapons that they are. A Rosary said from the heart is more powerful than any weapon of mass destruction. The Rosary is the weapon of these times. Do not let the daily news frighten you. Often, what you hear is not the Truth and only meant to influence your opinions..." (Read more..)
The truth about the Coronavirus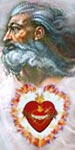 May 1, 2020 - God the Father says: "Today, I invite you to realize that this virus - the coronavirus - is no ordinary disease. It has been created from human ingenuity to specifically target the elderly and physically challenged. This is the plan of future generations to purify the human race around the world. It was released into the general population ahead of schedule - by accident. Those in charge were waiting for less capable government officials in your country (USA) to be in office. Nevertheless, proposed harm is being unleashed on the whole human race." (Read more...)
Help the Lord spread His voice, time is running out
Please help spread these messages of faith, hope, salvation,
defense
against evil (by email, printing, Facebook, Twitter, and other media) to your loved ones, your friends, and all the people you may meet, who seek salvation or who are in danger of being eternally lost. The Lord gives great graces and blessings to those of goodwill who, according to their own possibilities, collaborate with His Plan of Salvation.
Who helps the Lord save a soul predestine his own
, independently from the outcome.