MESSAGE FROM OUR LORD JESUS ​​CHRIST
TO HIS BELOVED DAUGHTER LUZ DE MARIA
JUNE 16, 2018
The waters of the sea will be cause for alarm
"My Beloved People:
HOW I LOVE YOU, HOW I LOVE YOU: SO MUCH THAT WHEN I SEE YOU WALKING AWAY, MY HANDS AND MY FEET ARE PIERCED BY NEW NAILS!
My People:
IF EVERY CHILD OF MINE WOULD ALLOW THEMSELVES AN INSTANT IN SILENCE AND SPEAK TO ME WITH CONFIDENCE EVERY DAY AND SEEK ME, THEY WOULD REALIZE THAT I STAY WITH MY OWN AND THEY WOULD FIND ME AT ALL INSTANTS IN EVERYTHING BY WHICH I MAKE MYSELF PRESENT.
But you are unable to feel My Presence because silence makes you afraid, it is something unknown to a great number of My children.
You fear silence and love deafening noise…
You feel well being disoriented by the repulsive melodies to which young people listen…
You feel pleasure staying within what I call "technology of death": that which, misused, causes the soul to be lost …
YOU HAVE BEEN INSTRUCTED BY THE GIANTS OF THE WORLD, AMONG THEM UNIVERSALLY ACCEPTED CINEMA, from which the antichrist's wicked tentacles have developed as with television, videogames, music with all the subliminal elements contained within it for turning man into a zombie following satan.
CHILDREN: MAN'S BIGGEST EVIL HAS BEEN TELEVISION!
What is modernism, My children?
Nothing other than the plan that the great multinationals have established with the aim of awakening base instincts in man so that he rebels against everything that is order, obedience, peace, fraternity, fulfillment, faith, and rebel against Me and against everything that represents Me, since I call to fulfillment, obedience and true Love…
My People, how you have ignored My Mother! How much has She called you so that you do not let the serpent of communism deceive you!
YOU SUFFER AS A RESULT OF DISOBEDIENCE THROUGH HAVING ACCEPTED FALSE IDEOLOGIES AND NOT LISTENING TO THE WARNINGS OF MY MOTHER.
The innocent suffer atrocities in countries that you do not imagine. My Mother announced the horror of communism to you and you did not listen, children, IT IS BEING SCATTERED OVER THE EARTH BY STEALTH AND MY PEOPLE DO NOT FEEL THE POISON SPREADING OVER THEM.
My People are immersed in the games involving the world; meanwhile evil continues its advance without stopping to think, applying impiety and every ruse of hell itself.
CHILDREN, SORROW OVERWHELMS MY HEART ON SEEING THE EFFORT, THE DEDICATION, THE ENERGY WITH WHICH YOU DEVOTE YOURSELVES TO WATCHING OR PARTICIPATING IN THE COMPETITIONS OF WORLD SPORT AND HOW AT THE SAME TIME YOU IGNORE MY WORDS, THOSE THAT I ADDRESS TO EACH ONE OF YOU WHO ARE FORTUNATE TO KNOW THE COURSE OF HUMANITY AND MY WILL.
Humanity does not believe in what is coming, you do not believe that you participate in evil, you do not believe that you are helping evil to spread across the Earth and win souls, causing them to commit serious sins, without repentance.
Good grows when My children increase their actions and works on behalf of good, and evil grows when My children act and work on behalf of evil. Do not be blind, Humanity is burning with sins! For this reason I call My Own to redouble their good actions so that while the world is consumed in what is worldly, My People, with prayer and the practice of prayer, may draw blessings towards Humanity.
Pray My children, pray for Nicaragua, this People suffers from the oppression of communism.
Pray My children, pray for Russia, Humanity is scattered as an example of what will happen to man because of this nation.
Pray My children, pray for Ecuador, it shakes through its volcanoes that will burn.
Pray My children, pray for Mexico, its volcanoes cause man fear.
Pray My children, pray, the waters of the sea will be cause for alarm.
MY PEOPLE, YOU WILL SUFFER AND MY SIDE SHALL OPEN, AND FROM IT PURIFICATION WILL SPRING FORTH: THAT WHICH YOU HAVE CULTIVATED AGAINST MY WILL.
Pray, My children, Argentina takes wrong steps and suffers.
CHILDREN, I CALL YOU, I SPEAK TO YOU WITH THE CURRENT WORD OF THIS INSTANT SO THAT YOU UNDERSTAND; I DO NOT SPEAK TO YOU AS IN THE PAST, BUT WITH THE LANGUAGE NECESSARY FOR YOU TO FEEL ME CLOSE BY.
You are misusing the freedom that you have as My children and you act against Me, without realizing that you are acting against yourselves.
HEAR MY CRY, MY CHILDREN!…
I do not want pain to consume you; change your behavior, do not encourage one another to sin and to the denial of My Warnings and those of My Mother.
MY PEOPLE WILL NOT LIVE FOREVER IN THE SLAVERY OF SIN, THEREFORE MY ANGELS WILL SEPARATE THE WHEAT FROM THE CHAFF NOW! (Cf. Mt 13,24-30).
I give you relief, children, do not waver in the Faith, maintain Hope. My People will be freed from the captivity of sin.
I bless you, children, WAKE UP!
Your Jesus."
HAIL MARY MOST PURE, CONCEIVED WITHOUT SIN
HAIL MARY MOST PURE, CONCEIVED WITHOUT SIN
HAIL MARY MOST PURE, CONCEIVED WITHOUT SIN
Source: Revelaciones Marianas
The truth about the Coronavirus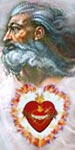 May 1, 2020 - God the Father says: "Today, I invite you to realize that this virus - the coronavirus - is no ordinary disease. It has been created from human ingenuity to specifically target the elderly and physically challenged. This is the plan of future generations to purify the human race around the world. It was released into the general population ahead of schedule - by accident. Those in charge were waiting for less capable government officials in your country (USA) to be in office. Nevertheless, proposed harm is being unleashed on the whole human race."
"I tell you these things to help you to realize the underlying evil at work and hidden in hearts these days. You cannot be confounded by any turn of events. Over all situations, I am in Dominion. No one will be given power over you that is more powerful than your Eternal Father. Therefore, be emboldened with this knowledge. If you persevere in Truth, you have loaded your weapons against what seems to be and discharged them with Truth." (Source: Holy Love)
Help the Lord spread His voice, time is running out
Please help spread these messages of faith, hope, salvation,
defense
against evil (by email, printing, Facebook, Twitter, and other media) to your loved ones, your friends, and all the people you may meet, who seek salvation or who are in danger of being eternally lost. The Lord gives great graces and blessings to those of goodwill who, according to their own possibilities, collaborate with His Plan of Salvation.
Who helps the Lord save a soul predestine his own
, independently from the outcome.