September 2, 2019
Urgent call from St. Michael to the People of God.
Message to Enoch.
The tribulations will purify and strengthen you
Who's like God? No one like God!
"Glory to God in Heaven and peace on the Earth to men of Goodwill.
Seed of my Father, the day is approaching when your soul will go through eternity, there, you will be shown the spiritual state in which you are and in Love and Service, you will be judged. Depending on what you have loved and served, it will also be the place where you will be taken in eternity. A judgment will be cast upon you as it happens to every soul when he comes to eternity and, according to your works, your judgment will be: Heaven, Purgatory or Hell.
The Most High will show you the state of your soul and you will realize how you have tarnished and soiled it with your sin. You will feel sorrow for having offended God through your brethren; you are going to see yourselves with all your misery and you will feel disgust about yourselves by all the sin and evil you have committed in this world. My Father will give you the Grace of Repentance, if you ask Him; not everyone will repent, because not everyone is written in the Book of Life. To other sinners and lukewarm souls, they will be given the opportunity to convert during the time of the Miracle. After this time has ended, only the Children of God and the children of Darkness will remain on the earth.
Do not fear People of God, because in your passage through eternity, you will be sealed with the Blood of the Lamb on your forehead and you will be given charisma and gifts you may need for the great spiritual battle. You will walk in this world through the desert of the tribulation, but the Grace and the Spirit of God will be with you. The tribulations will purify and strengthen you, if with faith and love, you offer God the setbacks of each day. Do not be afraid brethren, the Warning will be a Pentecost for the People of God; in coming back you will no longer feel fear nor you will be afraid, like the first disciples of Jesus, you will also announce in this world that the Kingdom of God is near.
You will be the Militant Army that together with the Celestial Armies, will march victorious. Our Lady and Queen Mary and Your Mother will accompany us and all united in unison, we will say:
Who's like God? No one like God!
That will be our battle cry that will give us victory over the forces of evil. I want, Militant Army, for you to make a replica of my Banner that you will carry in every spiritual battle, together with the Marian one. My Banner must carry an image that represents me, stepping on the dragon's head over your world and instead of the sword, a spear, my Armor in gold color with a light blue background and white like the sky; above in red letters, representing the Blood of the Lamb, it should say: MILITANT ARMY BATTLE FLAG: MIGUEL ARCANGEL. In the middle of the world in red letters: WHO'S LIKE GOD? NO ONE LIKE GOD! The Marian Battle Flag and mine One on a smaller scale, together with the Rosary, must be worn on your neck, properly blessed or exorcized. This Armor will be a Protective Shield that will free you of the attacks and the incendiary darts of the evil one and his hosts of evil.
May the Peace of the Most High remain in you, People of God.
Your Brother and Servant, Michael the Archangel.
Let my messages be known to all mankind, Seed of my Father."
Source:  mensajesdelbuenpastor
The truth about the Coronavirus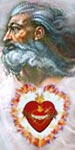 May 1, 2020 - God the Father says: "Today, I invite you to realize that this virus - the coronavirus - is no ordinary disease. It has been created from human ingenuity to specifically target the elderly and physically challenged. This is the plan of future generations to purify the human race around the world. It was released into the general population ahead of schedule - by accident. Those in charge were waiting for less capable government officials in your country (USA) to be in office. Nevertheless, proposed harm is being unleashed on the whole human race."
"I tell you these things to help you to realize the underlying evil at work and hidden in hearts these days. You cannot be confounded by any turn of events. Over all situations, I am in Dominion. No one will be given power over you that is more powerful than your Eternal Father. Therefore, be emboldened with this knowledge. If you persevere in Truth, you have loaded your weapons against what seems to be and discharged them with Truth." (Source: Holy Love)
Help the Lord spread His voice, time is running out
Please help spread these messages of faith, hope, salvation,
defense
against evil (by email, printing, Facebook, Twitter, and other media) to your loved ones, your friends, and all the people you may meet, who seek salvation or who are in danger of being eternally lost. The Lord gives great graces and blessings to those of goodwill who, according to their own possibilities, collaborate with His Plan of Salvation.
Who helps the Lord save a soul predestine his own
, independently from the outcome.