"I am your immaculate Mother. I appeared on earth, in the poor grotto of Massabielle, in order to point out to you the road you must walk in these difficult times.
It is my road: that of purity, of grace, of prayer, of penance.
It is the road which my Son Jesus has already pointed out to you, to lead you all to the Father in his Spirit of Love. You have within you his own Spirit which causes you to cry out to God as Father because He has shared his divine nature with you.
Walk the road of love. Make place within you for the Spirit of Love which is bringing you, in life, to be more and more united.
Love one another as Jesus has loved you, and you will become truly one. Unity is the perfection of love.
And so Jesus has desired that his Church be one, to make of her the sacrament of God's love for men.
Today my Immaculate Heart trembles and is anguished to see the division within the Church.
This division, which has penetrated the Church, is the third sign which indicates to you with certainty that the final moment of her painful purification has come.
If, in the course of the centuries, the Church has many times been torn by division which has led many of my children to separate themselves from her, I nevertheless obtained from Jesus the singular privilege of her interior unity.
But in these times, my Adversary has, with his smoke, succeeded in darkening even the light of this divine prerogative of the Church.
This interior division is manifesting itself even among the faithful who often set themselves one against the other, in an attempt to defend and better promote the truth. Thus the truth is betrayed by even them, as the Gospel of my Son cannot be divided.
This interior division sometimes even leads priests to set themselves against priests, bishops against bishops, and cardinals against cardinals, for never before as in these times has Satan so succeeded in finding his way into their midst, rending asunder the precious bond of their mutual love.
This interior division is expressed by the tendency to leave to himself and to abandon, so to speak, the very Vicar of Jesus, the Pope, who is a son particularly loved and enlightened by me.
My motherly Heart is wounded to see how the silence and neglect of my children often envelop the words and actions of the Holy Father, while he is increasingly struck and impeded by his adversaries.
Because of this interior division, his very ministry is not sufficiently supported and furthered by the whole Church whom Jesus has wanted to be united about the successor of Peter.
My motherly Heart grieves to see how even some pastors refuse to let themselves be guided by his enlightening and trustworthy words.
The first way of being separated from the Pope is that of open rebellion. But there is also another way, more subtle and dangerous. It is that of proclaiming one's unity openly, but of dissenting from him interiorly, letting his teaching fall into a void and, in practice, doing the contrary of what he says.
Oh, Church, Mystical Body of my Jesus, in your painful journey to Calvary, you have reached the eleventh station, and you see yourself wrenched and torn in your members, which are again nailed to the Cross!
What must you do, my sons, apostles of my Immaculate and Sorrowful Heart? You must become a hidden seed, ready even to die for the internal unity of the Church.
And so I am leading you each day to a very great love for, and fidelity to, the Pope and the Church united to him. For this reason I am now letting you share in the anxiety of my motherly Heart; for this reason I am forming you in the heroism of sanctity and leading you with me up Calvary. Through you also, I will be able to help the Church emerge from her painful purification, so that in her all the splendor of her restored unity may be manifest to the world."
Act of Consecration to the Immaculate Heart of Mary
(For Religious & Laity)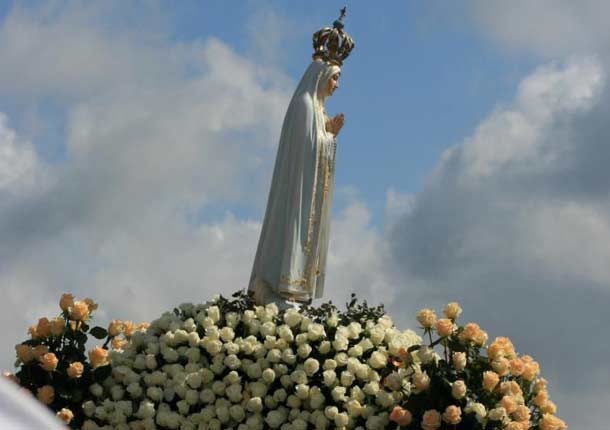 "To everyone who consecrates himself to me I again promise salvation: safety from error in this world and eternal salvation"
Virgin of Fatima, Mother of Mercy, Queen of Heaven and Earth, Refuge of Sinners, we who belong to the Marian Movement of Priests consecrate ourselves in a very special way to your Immaculate Heart.
By this act of consecration we intend to live, with you and through you, all the obligations assumed by our baptismal consecration. We further pledge to bring about in ourselves that interior conversion so urgently demanded by the Gospel, a conversion that will free us of every attachment to ourselves and to easy compromises with the world so that, like you, we may be available only to do always the Will of the Father.
And as we resolve to entrust to you, O Mother most sweet and merciful, our life and vocation as Christians, that you may dispose of it according to your designs of salvation in this hour of decision that weighs upon the world, we pledge to live it according to your desires, especially as it pertains to a renewed spirit of prayer and penance, the fervent participation in the celebration of the Eucharist and in the works of the apostolate, the daily recitation of the holy rosary, and an austere manner of life in keeping with the Gospel, that shall be to all a good example of the observance of the Law of God and the practice of the Christian virtues, especially that of purity.
We further promise you to be united with the Holy Father, with the hierarchy and with our priests, in order thus to set up a barrier to the growing confrontation directed against the Magisterium, that threatens the very foundation of the Church.
Under your protection, we want moreover to be apostles of this sorely needed unity of prayer and love for the Pope, on whom we invoke your special protection. And lastly, insofar as is possible, we promise to lead those souls with whom we come in contact to a renewed devotion to you.
Mindful that atheism has caused shipwreck in the faith to a great number of the faithful, that desecration has entered into the holy temple of God, and that evil and sin are spreading more and more throughout the world, we make so bold as to lift our eyes trustingly to you, O Mother of Jesus and our merciful and powerful Mother, and we invoke again today and await from you the salvation of all your children, O clement, O loving, O sweet Virgin Mary.
(with ecclesiastical approval)
History of the Marian Movement of Priests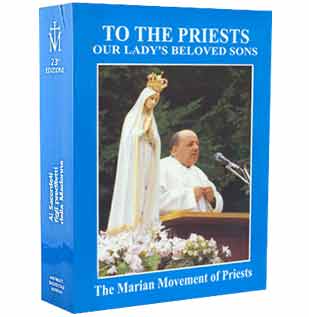 On the 8th of May, 1972, Father Stefano Gobbi, a priest from Milan, Italy, was taking part in a pilgrimage to Fatima. While praying in the Chapel of the Apparitions for some priests who, besides having given up their own vocations, were attempting to form an association in rebellion against the authority of the Roman Catholic Church, an interior voice urged Fr. Gobbi to have confidence in the Immaculate Heart of Mary.
What Fr. Gobbi had just experienced was an interior locution. It is not an apparition or other communication perceived by the human senses, but a spiritual phenomenon present in the life of the Church and described in manuals of Catholic theology. The messages (interior locutions) are the gift by which God wishes to make something known to humanity, in Fr. Gobbi's particular case by means of the Blessed Virgin Mary.
In July 1973, Fr. Gobbi began to write down these interior locutions which he was receiving. The messages, dating from July 1973 to December 1997, are published in the book, "To the Priests, Our Lady's Beloved Sons."
Get a copy of the Book: "To the Priests, Our Lady's Beloved Sons" Book Containing Messages 1973-1997
The Marian Movement of Priests National Headquarters P.O. Box 8 St. Francis, ME 04774 The Marian Movement of Priests, Inc. is a non-profit religious organization
Help the Lord spread His voice, time is running out
Please help spread these messages of faith, hope, salvation, defense against evil (by email, printing, Facebook, Twitter, and other media) to your loved ones, your friends, and all the people you may meet, who seek salvation or who are in danger of being eternally lost. The Lord gives great graces and blessings to those of goodwill who, according to their own possibilities, collaborate with His Plan of Salvation. Who helps the Lord save a soul predestine his own, independently from the outcome.
The truth about the Coronavirus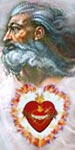 May 1, 2020 - God the Father says: "Today, I invite you to realize that this virus - the coronavirus - is no ordinary disease. It has been created from human ingenuity to specifically target the elderly and physically challenged. This is the plan of future generations to purify the human race around the world. It was released into the general population ahead of schedule - by accident. Those in charge were waiting for less capable government officials in your country (USA) to be in office. Nevertheless, proposed harm is being unleashed on the whole human race."
"I tell you these things to help you to realize the underlying evil at work and hidden in hearts these days. You cannot be confounded by any turn of events. Over all situations, I am in Dominion. No one will be given power over you that is more powerful than your Eternal Father. Therefore, be emboldened with this knowledge. If you persevere in Truth, you have loaded your weapons against what seems to be and discharged them with Truth." (Source: Holy Love)