March 19 2018
Urgent call of Jesus the Good Shepherd to His Flock
The Sun is no longer going to benefit life on your planet
"My peace be with you, Flock of Mine.
My Prophet, all the elements of the universe are in transformation, I tell you that the Sun star is one of those that more changes is suffering. Be careful about its rays, because these are charged with a lot of fire and are entering directly the earth; if you are not careful, it will burn you and you will suffer skin cancer.
The sun is already no longer the same, changes within its core are no longer going to benefit life on your planet; every day the solar explosions are stronger and their flares charged with fire are entering the earth, producing changes in temperature that will make unlivable due to waves of heat, many places on your planet. The Sun has begun to fade and the time will come when it will already be a star without light.
Very soon, my children, the communications in your world will collapse and all your technology will disappear. Take advantage now to store and keep the information of heaven, so that tomorrow you can evangelize your brothers. Because I really tell you, the day will come when your technology will disappear and humanity will return to its first beginnings.
Do not treasure riches in this world, for very soon they will pass away; treasure rather for heaven that there, nothing will be lost to you. Do charity works; do not accumulate wealth, because all that you see will soon cease to be. What you today call money, tomorrow it will be garbage; take advantage of it, now that it has value and take away the hunger from the widow and the orphan, help the helpless, feed the hungry and quench the thirst of the thirsty. And I assure you that if you do so, a place in heaven will be waiting for you.
Greedy, give up accumulating riches, because with them you do not buy your salvation. Do not put your faith and trust in the things of this world, because you well know that this world is ephemeral and will soon pass away. Rather put your trust and security in Me, and in return, you will receive the joy of Eternal Life.
I am your security, your strength and your salvation; if you want to go after Me, and have a treasure in Heaven, you must get rid of all attachment and riches of this world and follow Me; I assure you that I will not let you down; in return you will receive the treasure of Eternal Life.
I am the Good Shepherd speaking to you, listen to My voice and abandon yourself to Me, and I assure you that a home beyond the Sun will be waiting for you. Come, do not be afraid, I am the Source that calms your thirst; I am Living Water, I am Green Meadow; follow Me Flock of Mine, do not falter, because there is little (time) left.
A little longer and you arrive at the door of My New Heavens and My New Earth, where I will be waiting for you. My Heavenly Jerusalem is already prepared and adorned, with all Its Glory, to welcome you. I am waiting for you, the Glory of God awaits My Faithful Flock. My Peace I leave with you, My peace I give you.
Repent and convert, because the Kingdom of God is near.
Your Teacher, Jesus the Good Shepherd.
Let My messages be known to all mankind, sheep of My flock."
Source: mensajesdelbuenpastor
Urgent call of Jesus the Eternal High Priest
August 9th 2020 from 12:00 am to 6:00 pm - Worldwide day of fasting and of prayer to the Heavenly Father for the protection of Catholic Temples, Shrines and Holy Places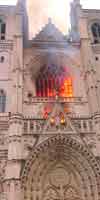 "I make an urgent call to the whole Catholic world for a day of fasting and of prayer to be held worldwide on August 9th with the prayer of the Rosary of my Most Precious Blood and with the prayer of the Exorcism of St. Michael, from 12:00 am to 6:00 pm, asking the Heavenly Father for the protection of my Temples, Shrines and Holy Places, which are being destroyed and desecrated by the forces of evil of this world. I'm counting on you, my Flock." —Jesus the Eternal High Priest
The truth about the Coronavirus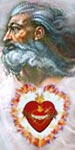 May 1, 2020 - God the Father says: "Today, I invite you to realize that this virus - the coronavirus - is no ordinary disease. It has been created from human ingenuity to specifically target the elderly and physically challenged. This is the plan of future generations to purify the human race around the world. It was released into the general population ahead of schedule - by accident. Those in charge were waiting for less capable government officials in your country (USA) to be in office. Nevertheless, proposed harm is being unleashed on the whole human race."
"I tell you these things to help you to realize the underlying evil at work and hidden in hearts these days. You cannot be confounded by any turn of events. Over all situations, I am in Dominion. No one will be given power over you that is more powerful than your Eternal Father. Therefore, be emboldened with this knowledge. If you persevere in Truth, you have loaded your weapons against what seems to be and discharged them with Truth." (Source: Holy Love)
Help the Lord spread His voice, time is running out
Please help spread these messages of faith, hope, salvation,
defense
against evil (by email, printing, Facebook, Twitter, and other media) to your loved ones, your friends, and all the people you may meet, who seek salvation or who are in danger of being eternally lost. The Lord gives great graces and blessings to those of goodwill who, according to their own possibilities, collaborate with His Plan of Salvation.
Who helps the Lord save a soul predestine his own
, independently from the outcome.