7 January 2014
Call of Mary the Mystical Rose to the children of God.
The scourge of war will soon whip humanity
"Little children of My Heart, the peace of God be with you.
The scourge of war very soon will whip humanity, days of purification are approaching; what a sadness my heart of Mother feels in seeing the ingratitude of many.
The vast majority of humanity is in spiritual lethargy, the days of tribulation are about to come, and there will be many who will be lost.
I make an urgent call to the whole people of God to be spiritually prepared, because when the least you thing about, all will break loose. Consecrate, consecrate yourselves to My Immaculate Heart, I ask you, do it as soon as possible; for those who have already made My Consecration, do it again.
The Consecration to My Immaculate Heart is the spiritual fortress for God's children. I, your Mother, need you to do the Consecration to My Immaculate Heart before everything breaks out, so that you can be written in My Heart and My Maternal Protection can cover you.
You well know that I will take care of all of the people of God, but those who are consecrated to My Immaculate Heart will be twice protected and My adversary and his host of evil cannot hurt you. Without the Consecration to My Immaculate Heart, you will be very vulnerable to my adversary's attacks.
It is for this reason, My little children, that I am making this appeal so that you can do the Consecration or to renew it.  The Consecration to My Immaculate Heart should be done by you, little children of God, in order for you to be spiritually strengthened so to repel my enemy's attacks. 
Little children, there are many emissaries of evil in disguise, pay close attention and ask for a lot of discernment to the Holy Spirit of God.
Be very cautious with those people who approach you and offer you friendship, because many of them are at the service of My adversary and what they are looking for, is to gain your confidence so that, afterwards, to make you lost.
Keep well in mind what I am telling you and do not open your heart to anyone so that you are not going to have unpleasant surprises.
My adversary, through his instruments, is looking for, by all means, to make greatest number of souls be lost. Get to know and analyze very well each person who approaches you to establish a friendship; do not pay attention to what they say to you: the Lord is here, or there, come to see Him and verify his Miracles.
Be careful, My little children, you very well know that My Son will not come into this world physically.  My Son comes spiritually as King of kings with all His Glory and Splendor to reign in the New Heavens and in the New Earth to his faithful people.
I am warning you about this so that you are not deceived, because when My adversary makes his appearance there will be many who will follow the false messiah, and they will be lost.
Be prepared because he is about to announce his appearance; you already know that you cannot see him or listen to him for he is the being of iniquity who comes to seduce mankind with his deceptions and to steal souls of those who are spiritually walking in lukewarmness or far away from God.
Have thus ready your spiritual weapons, raise my Marian Banner in your homes; pray my Holy Rosary and take refuge in our Two Hearts and do not be afraid; I, your Mother, will take care My Son's flock, for I am the Eternal Shepherdess; I will shepherd you and lead you to the gates of the Celestial Jerusalem, where the Eternal Shepherd will be waiting for you.
May the Love of God and My Maternal Protection remain in you.
Your Queen and Lady, Mary, the Mystical Rose.                      
Make my messages be know little children of My Heart."
Source: mensajesdelbuenpastorenoc.org
The truth about the Coronavirus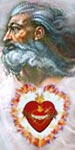 May 1, 2020 - God the Father says: "Today, I invite you to realize that this virus - the coronavirus - is no ordinary disease. It has been created from human ingenuity to specifically target the elderly and physically challenged. This is the plan of future generations to purify the human race around the world. It was released into the general population ahead of schedule - by accident. Those in charge were waiting for less capable government officials in your country (USA) to be in office. Nevertheless, proposed harm is being unleashed on the whole human race."
"I tell you these things to help you to realize the underlying evil at work and hidden in hearts these days. You cannot be confounded by any turn of events. Over all situations, I am in Dominion. No one will be given power over you that is more powerful than your Eternal Father. Therefore, be emboldened with this knowledge. If you persevere in Truth, you have loaded your weapons against what seems to be and discharged them with Truth." (Source: Holy Love)
Help the Lord spread His voice, time is running out
Please help spread these messages of faith, hope, salvation,
defense
against evil (by email, printing, Facebook, Twitter, and other media) to your loved ones, your friends, and all the people you may meet, who seek salvation or who are in danger of being eternally lost. The Lord gives great graces and blessings to those of goodwill who, according to their own possibilities, collaborate with His Plan of Salvation.
Who helps the Lord save a soul predestine his own
, independently from the outcome.