April 16 2018
Urgent call from Jesus The Good Shepherd to His Flock
The riders of plague and famine are approaching
"Sheep of My Flock, peace to you.
The riders of plague and famine are approaching; viruses of diseases and plagues are ready to be spread in the airspace of nations called third world by the elites. Millions of human beings are going to die because of the silent death.
The Illuminati elites that guide the destiny of humanity in their secret meetings have already agreed to decimate through the war and through the virus of diseases, a third of the world population.
Diseases never seen before will appear, bacteria that eat meat and viruses of all kinds are already ready; they are only waiting for the war to begin, to set in motion this macabre plan.
Be careful flock of Mine, with the genetic modified food, because this is the cause of many illnesses! All the genetically engineered food products are bad for health; be careful in eating genetically modified foods, because at the time of famine they will be commercialized in quantity and sent to the poorest nations. They want to reduce the population of these nations, in order to have control over them and thus be able to enslave them so that they serve the interests of the New World Order.
I again remind you, flock of mine: beware of vaccines! When you hear about vaccination campaigns worldwide during the time of the war, pay attention and find out about everything, because many of these campaigns will aim to decimate the children population, the elderly and to sterilize men and women so that there is no more population increase. These campaigns will be carried out especially in the nations called third world.
My flock, the days of tribulation await you, I feel great sadness in knowing that the immense majority of this humanity is going to be lost, for not wanting to accept Our calls.
Many for lack of knowledge will be lost too; only My faithful flock that listens to My voice and puts into practice My Words, will be the only one who will be able to overcome these hard trials. When war breaks out worldwide, famine will appear and with it the rider of death.
Be prepared sheep of My Flock, because the final stage of your purification is about to begin. Dark days are about to come, only those who pray and trust, will be able to get past the trials. Remember: If you remain united to Me, like the branch to the vine, you do not have to fear.
I will be with you and I will be your food, your Shepherd, nothing will be lacking, it is enough for you to have faith and trust and everything else will come to you in addition. Learn Psalm 23 by memory, so that in those days of scarcity and famine, pray with It and so you can receive the Manna of each day. Remain in My love, flock of Mine, do not fear, I will be with you until the end of time.
Your Shepherd, Jesus of Nazareth, loves you.
Let My messages be known to all mankind, sheep of My flock."
Source: mensajesdelbuenpastor
Psalm 23
The LORD is my shepherd;
there is nothing I lack.
In green pastures he makes me lie down;
to still waters he leads me;
He restores my soul.
He guides me along right paths*
for the sake of his name.
Even though I walk through the valley of the shadow of death,
I will fear no evil, for you are with me;
your rod and your staff comfort me.
You set a table before me
in front of my enemies;
You anoint my head with oil;
my cup overflows.
Indeed, goodness and mercy will pursue me
all the days of my life;
I will dwell in the house of the LORD
for endless days.
The truth about the Coronavirus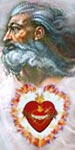 May 1, 2020 - God the Father says: "Today, I invite you to realize that this virus - the coronavirus - is no ordinary disease. It has been created from human ingenuity to specifically target the elderly and physically challenged. This is the plan of future generations to purify the human race around the world. It was released into the general population ahead of schedule - by accident. Those in charge were waiting for less capable government officials in your country (USA) to be in office. Nevertheless, proposed harm is being unleashed on the whole human race."
"I tell you these things to help you to realize the underlying evil at work and hidden in hearts these days. You cannot be confounded by any turn of events. Over all situations, I am in Dominion. No one will be given power over you that is more powerful than your Eternal Father. Therefore, be emboldened with this knowledge. If you persevere in Truth, you have loaded your weapons against what seems to be and discharged them with Truth." (Source: Holy Love)
Help the Lord spread His voice, time is running out
Please help spread these messages of faith, hope, salvation,
defense
against evil (by email, printing, Facebook, Twitter, and other media) to your loved ones, your friends, and all the people you may meet, who seek salvation or who are in danger of being eternally lost. The Lord gives great graces and blessings to those of goodwill who, according to their own possibilities, collaborate with His Plan of Salvation.
Who helps the Lord save a soul predestine his own
, independently from the outcome.