The Mission to Be Creators with the Father

(CEV) "The Notebooks 1943", p. 334
Jesus says: "In my Gospel you have read about the degradation of the prodigal son, who squandered the wealth he had received from his father on vices and lowered himself to the level of a swineherd. But do you think that this is the maximum form of abjection?
In truth I tell you that if it were granted to you to rise to my presence with your bodies and your clothing, and one of you were to rise, as a result of death's taking him there, with his most filthy clothing as a swineherd who had fallen, when dying, in the middle of the stable covered with filth, he would not cause so much repugnance among the celestial inhabitants of my Kingdom and would not prompt my disdain as much as the appearance of the soul of someone corrupted by carnal vices would.
The former would have grime which perishes and is not judged severely -the result of his unpleasant work, it indeed draws divine blessing down upon the honest herdsman. The latter is filth which does not perish: a leprosy of the soul has covered this one with foul smelling gangrene which has corroded it, without any limit in time. Forever and ever the impenitent debauched person has a soul worthy of Satan.
And when I say 'debauched,' I am not referring only to certain forms of vice which you yourselves deem to be such. You deem them such and practice them all the same because you are fools who are unable to react against the stimuli of evil. You do not have my Faith in yourselves. If you had it, you would overcome the flesh. But you don't have it, and the senses prevail over the soul. When I say 'debauched,' I am also referring to your hidden sensual sins, whereby you turn marriage into prostitution and destroy the reason for which it was created.
God did not make male and female so that they would reach the point of exhaustion and nausea in their vices. He made them for a most lofty reason. When He said, 'Let us make man in our image and likeness and give him a help so that he will not be alone,' with his divine Thought He implicitly understood that in addition to the spiritual and intellectual part, which makes you similar to God, you would be like Him in creating other lives. But do you consider what a sublime likeness God has given you? That of creating other creatures: you, too, are creators, O men and women who marry one another -creators of men, like God Eternal.
Well then, what have you done with such a mission? You, women, inveigh against Eve's sin when you suffer; you, men, curse Adam's sin when you labor. But isn't the Serpent still in your midst, inside your houses, and with his creeping, slavering embrace and hiss, doesn't he teach you the immorality which makes you repudiators of your creative mission? And isn't this clinging to the senses to the point of nausea and refusing fatherhood and motherhood a vice?
Be continent if you are afraid you will not have clothing and food for those to be born. Chastity is not the monopoly of virgins. Virginity is the super essence of chastity, and it is deposited in the hearts of those chosen to follow the Lamb and to speak a language granted to them alone.
But if the whiteness of the virgins is tinged with the splendor emitted by the Word of God and the most pure Mother of the Word, the stole of the holy spouses who were able to be chaste takes on a golden hue with the light emanating from the most chaste and good and holy of spouses: my putative father, who is the example for all the conjugal virtues.
Be chaste inside your homes and outside them. Consider that nothing is hidden to God. Leave certain hidden misdeeds to the children of Satan. Don't be inferior to the beasts, who understand the beauty of procreating and are able to impose a rein on themselves when an adverse season would deny nourishment to their young.
Love one another and love Me, thinking not of the little day here below, but of the eternal day up above, and make it be one of full Light for you.
O spouses who are able to be holy and live in my Law, you are blessed from the present moment on. The angels take their seat in your homes and do not refuse to watch over your rest, for nothing about you offends these luminous spirits who see my face and, blessed in its light, cannot look at what is absolutely opposed to the Light.
And you, spouses who are not such, come back to the straight way. It is not by denying creation to a life that you will increase your wealth. Wealth, as if from a bottomless sieve, will flee in a thousand rivulets, for other vices and sins will assault your possessions, and you will be poor in the world and in Heaven through your own fault.
"Remember my commandments and my words. God provides for those who live in God."
Maria Valtorta: The Notebooks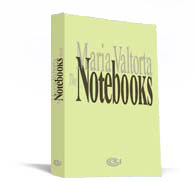 "These Notebooks belong to a category of mystical literature which the Catholic Church has long been familiar with: that of so-called "private revelations." A private revelation is not binding for the faith of Christians, but its value is to be measured by its capacity to instruct and inflame souls, spurring them to love God more and apply divine teachings to their everyday lives. In the confidence—and the conviction—that this work superabounds in these inspired qualities, we offer it for the spiritual nourishment of readers. —David Murray
Content taken from the works of Maria Valtorta with the permission of the "Centro Editoriale Valtortiano Srl"- Viale Piscicelli, 89/91 – 03036 Isola del Liri, (FR – Italy), www.mariavaltorta.com, which has all the rights upon Valtorta's Works.