MESSAGE OF THE BLESSED VIRGIN MARY
TO HER BELOVED DAUGHTER LUZ DE MARIA
FEBRUARY 17, 2018
The great metropolises will be deserted
"Beloved children of My Immaculate Heart:
MY WOMB IS THE ARK OF SALVATION.
My Son calls you to remain within His Will so that you do not turn away from Him.
Beloved children, the events that you see happening day by day in one country and another are becoming customary for man, as they are daily events. This becoming accustomed is derived from the lack of love for God, His Creation and the Gift of life.
IN THE SAME WAY, THE HUMAN CREATURE THAT ALLOWS IT WITH INDIFFERENCE IS JUST GUILTY AS THE ONE THAT COMMITS AN ACT OF AGGRESSION AGAINST THEIR NEIGHBOR.
Violence has gained ground, man sees nothing wrong in reacting with violence. If My children were aware of the instant in which man allows violence within himself, they would know that it is an indication of the presence of an ally of satan who at that instant is trying to subvert what good the human creature has in order to cause division. This is the aggression caused by Humanity's disobedience, indifference and lack of values ​​which My Son wants to be restored in His People.
There are so many evils approaching for Humanity that you, My children, must believe that evil will not last.
The moon will cause surprises for man and the sun will generate more radiation and powerful solar flares that, through the solar wind, will interrupt communications, electrical services and every kind of technology on Earth.
But knowing this should not alarm you; on the contrary, you must be aware of these changes in the sun and in the Universe, AND AS A RESULT OF WHAT YOU WILL COME TO SUFFER, YOU NEED TO TURN AWAY FROM EVIL AND TO BE MORE SPIRITUAL SO THAT YOU ACT CONTRARY TO THOSE WHO DO NOT HAVE FAITH IN DIVINE PROTECTION AND VIEW THIS "TRUTH" AS A FALSEHOOD ISSUED BY EVIL.
MY SON WILL NOT ABANDON HIS PEOPLE, BUT WILL LOOK UPON THEM AS THE APPLE OF HIS EYE (Ps 17,8), AND I AM WITH YOU, MY CHILDREN.
There are so many who say: "nothing has happened, nothing will happen"…
What a pity that My children have such a precarious way of reasoning!
My children from other nations are suffering from Nature's fury, they will tell you that the elements are not behaving as before and that they have indeed experienced what Heaven has warned you about.
YOU, MY BELOVEDS, AS CHILDREN OF GOD MOST HIGH, MUST THINK ABOUT EQUIPPING YOURSELVES MINIMALLY IN ORDER TO SURVIVE; GOD WILL SUPPLY THE REST.
The great metropolises will be deserted, due to the inactivity into which they will be plunged.
My Priests will be needed in the communities where the People of God gather in order to help them. You, little children, keep at hand the Holy Scripture, the Gospel for each day so that you may meditate upon it, in addition to sacramentals and a small altar, prayer books because you will need them, you will not have them by this medium. This at the same time will lead you to stay prepared facing some vicissitudes that are being prepared in various countries in order to cause social upheavals.
You are well aware through these Calls that the elements will be increasingly altered, telluric movements will be violent, and these will arise from one end of the Earth to another, going hand in hand. The inversion of the poles will be among the final events that this generation will experience.
Hence Heaven's insistence that you as Humanity be cautious and prudent with your senses, so that these are not a reason for perdition. Purify yourselves, be attentive in your deeds and actions, unite as My Son's People; you need to unite, do not allow yourself to be deceived, do not be divided, remain under the protection of the Holy Spirit.
KEEP IN MIND THAT THE WITNESS OF MY SON'S LOVE WILL COME: THE ANGEL OF PEACE …(1) HE WILL NOT ARRIVE BEFORE THE ANTICHRIST(2) APPEARS SO THAT YOU DO NOT CONFUSE THEM.
Beloved children of My Immaculate Heart, Mexico suffers, evil has been accepted with complacency and the devil uses his allies against the innocent.
Colombia will be tested and shaken, faults contrary to the Divine Will are imposing themselves and My Son grieves over it. I intercede for this people.
Water is increasingly contaminated by man and his deliberate acts against Humanity itself. Man does not treasure water and yet this is the source of life.
The earth constantly receives human blood; this is a cause of its constant shaking.
Beloved children:
YOUR TRAVELLING COMPANIONS, YOUR GUARDIAN ANGELS, ARE FORGOTTEN BY THE GREAT MAJORITY OF MY CHILDREN.
CALL THEM, LOVE THEM, GIVE THANKS FOR THEM AND DO NOT PUT THEM ASIDE!
Be love for your brothers and sisters, do not be divided. When a door closes for My children, I open another; the People of My Son are a People of the practice of the Divine Word, they are not a People where social position prevails, they are not a People of the proud or arrogant or of those who think they are wise and impose themselves by force: the People of My Son do not rejoice in sin.
THEY ARE THE PEOPLE WHO WALK PROTECTED BY THE MOST HIGH (Ps 91,1), LABOURING CONSTANTLY IN ORDER NOT TO GO ASTRAY.
As Mother of Humanity, Star of the Morning, Health of the Sick, Refuge of Sinners, I call you to the path of conversion. My blessing is with you.
Mother Mary
HAIL MARY MOST PURE, CONCEIVED WITHOUT SIN
HAIL MARY MOST PURE, CONCEIVED WITHOUT SIN
HAIL MARY MOST PURE, CONCEIVED WITHOUT SIN
(1) Prophecies and Revelations about the Angel of Peace: read…
(2) The Antichrist, read…
Source: Revelaciones Marianas
Fr. Michel Rodrigue explaines The Events of the End Times
Do you want a quick overview of the end times? Then read "The great events of purification will begin this fall". If you want all the details of the unfolding events, then go to "Virtual Spiritual Retreat with Fr. Michel Rodrigue about the End Times".
The Rosary is the weapon of these times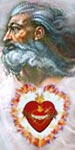 God the Father: "Children, the best way to change the conscience of the world and this country (U.S.A.) in particular is much prayer and many sacrifices. You may not see the effects of your efforts but persevere and do not be discouraged. Use your Rosaries as the mighty weapons that they are. A Rosary said from the heart is more powerful than any weapon of mass destruction. The Rosary is the weapon of these times. Do not let the daily news frighten you. Often, what you hear is not the Truth and only meant to influence your opinions..." (Read more..)
The truth about the Coronavirus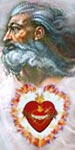 God the Father: "Today, I invite you to realize that this virus - the coronavirus - is no ordinary disease. It has been created from human ingenuity to specifically target the elderly and physically challenged. This is the plan of future generations to purify the human race around the world. It was released into the general population ahead of schedule - by accident. Those in charge were waiting for less capable government officials in your country (USA) to be in office. Nevertheless, proposed harm is being unleashed on the whole human race." (Read more...)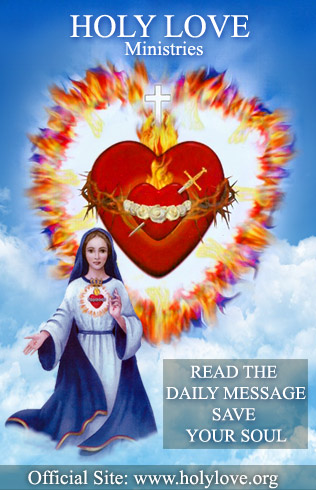 Read the daily messages
Help the Lord spread His voice, time is running out
Please help spread these messages of faith, hope, salvation, collaborate with God's Plan of Salvation. Who helps the Lord save a soul predestine his own, independently from the outcome.