"Remain, all of you, in the refuge of my Immaculate Heart, and you will find your peace and interior serenity.
My beloved sons, the storm which I foretold at Fatima has now unleashed its fury for the purification of the Church and all the world. This is the hour of the Father's mercy which, through the love of the Son's divine Heart, is made manifest at the moment when everyone's suffering is at its greatest.
The fourth sign, which indicates to you that the culminating period of the Church's painful purification has come, is persecution. The Church is in fact being persecuted in various ways.
She is being persecuted by the world in which she lives and journeys, pointing out to all the way to salvation. The real enemies of God are those who set themselves deliberately against God, in order to lead all humanity to live without Him; it is they who are persecuting the Church more and more.
Sometimes she is persecuted in an open and violent manner; she is despoiled of everything and prevented from preaching the Gospel of Jesus.
But in these times, the Church is often subjected to an even greater ordeal; she is persecuted in a subtle and painless manner, by being deprived bit by bit of the oxygen which she needs to live.
Then an attempt is made to bring her to compromise with the spirit of the world, which thus enters into her and affects and paralyzes her vitality.
Collaboration is often brought about through a most subtle form of persecution; an outward show of respect for her has become the surest way to strike her.
A new technique has been discovered by which she can be put to death with no outcry and without shedding blood.
The Church is being persecuted also from within, especially at the hands of those sons of hers who have reached a compromise with her Adversary. He has succeeded in seducing even some of her very pastors. Some of these are even knowingly collaborating in this plan of interior and hidden persecution of my Church.
My beloved sons are being called to the trial of finding themselves sometimes obstructed, pushed aside and persecuted by some of their own confreres, while those who are unfaithful have free scope for their action.
The same hours of suffering that my Son Jesus lived through are awaiting you too, beloved sons: the hours of Gethsemane, when He experienced the interior agony of being abandoned, betrayed and denied by his own…
If this is the road trodden by the Master, it is also the road which you too must tread, you his faithful disciples, as the purification of the entire Church becomes more painful.
Have confidence, beloved sons, apostles of my Immaculate Heart!
No other trial will serve so much to bring about the complete renewal of the Church as this interior persecution. In fact she will emerge from this suffering purer, more humble, more enlightened, stronger.
You must be ready to suffer more and more, the closer the final moment of purification comes. And so I have wished to prepare a safe refuge for you.
In my Immaculate Heart you will be consoled and formed in the virtue of fortitude, as you become more and more aware of the presence of your heavenly Mother at your side. She will gather up all your sufferings, as beneath the Cross she did those of Jesus, because she must now carry out once again for the Church her maternal function as Co-redemptrix, and lead back to the Father all the children who have gone astray."
Act of Consecration to the Immaculate Heart of Mary
(For Religious & Laity)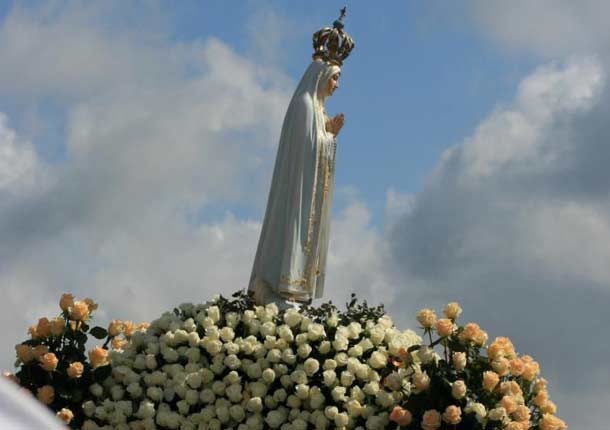 "To everyone who consecrates himself to me I again promise salvation: safety from error in this world and eternal salvation"
Virgin of Fatima, Mother of Mercy, Queen of Heaven and Earth, Refuge of Sinners, we who belong to the Marian Movement of Priests consecrate ourselves in a very special way to your Immaculate Heart.
By this act of consecration we intend to live, with you and through you, all the obligations assumed by our baptismal consecration. We further pledge to bring about in ourselves that interior conversion so urgently demanded by the Gospel, a conversion that will free us of every attachment to ourselves and to easy compromises with the world so that, like you, we may be available only to do always the Will of the Father.
And as we resolve to entrust to you, O Mother most sweet and merciful, our life and vocation as Christians, that you may dispose of it according to your designs of salvation in this hour of decision that weighs upon the world, we pledge to live it according to your desires, especially as it pertains to a renewed spirit of prayer and penance, the fervent participation in the celebration of the Eucharist and in the works of the apostolate, the daily recitation of the holy rosary, and an austere manner of life in keeping with the Gospel, that shall be to all a good example of the observance of the Law of God and the practice of the Christian virtues, especially that of purity.
We further promise you to be united with the Holy Father, with the hierarchy and with our priests, in order thus to set up a barrier to the growing confrontation directed against the Magisterium, that threatens the very foundation of the Church.
Under your protection, we want moreover to be apostles of this sorely needed unity of prayer and love for the Pope, on whom we invoke your special protection. And lastly, insofar as is possible, we promise to lead those souls with whom we come in contact to a renewed devotion to you.
Mindful that atheism has caused shipwreck in the faith to a great number of the faithful, that desecration has entered into the holy temple of God, and that evil and sin are spreading more and more throughout the world, we make so bold as to lift our eyes trustingly to you, O Mother of Jesus and our merciful and powerful Mother, and we invoke again today and await from you the salvation of all your children, O clement, O loving, O sweet Virgin Mary.
(with ecclesiastical approval)
History of the Marian Movement of Priests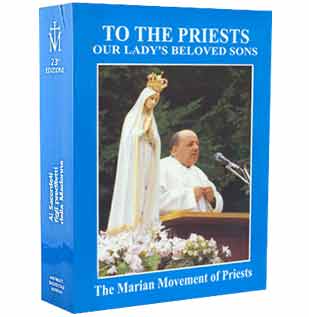 On the 8th of May, 1972, Father Stefano Gobbi, a priest from Milan, Italy, was taking part in a pilgrimage to Fatima. While praying in the Chapel of the Apparitions for some priests who, besides having given up their own vocations, were attempting to form an association in rebellion against the authority of the Roman Catholic Church, an interior voice urged Fr. Gobbi to have confidence in the Immaculate Heart of Mary.
What Fr. Gobbi had just experienced was an interior locution. It is not an apparition or other communication perceived by the human senses, but a spiritual phenomenon present in the life of the Church and described in manuals of Catholic theology. The messages (interior locutions) are the gift by which God wishes to make something known to humanity, in Fr. Gobbi's particular case by means of the Blessed Virgin Mary.
In July 1973, Fr. Gobbi began to write down these interior locutions which he was receiving. The messages, dating from July 1973 to December 1997, are published in the book, "To the Priests, Our Lady's Beloved Sons."
Get a copy of the Book: "To the Priests, Our Lady's Beloved Sons" Book Containing Messages 1973-1997
The Marian Movement of Priests National Headquarters P.O. Box 8 St. Francis, ME 04774 The Marian Movement of Priests, Inc. is a non-profit religious organization