June 23, 2015
Call of Jesus, the Good Shepherd to His flock
The days of my next coming are approaching
"Peace to you, sheep of my flock.
The days of my next coming are approaching. I will come in all my splendor and glory to reign in the midst of you in the New and Celestial Jerusalem.
I will come as King of Kings and Lord of Lords, and my kingdom will be of love, peace, joy and fullness.
Heaven will come down to the New Creation and all creatures will live in peace, love, and God's fullness.
As I said before, you will be spiritual beings in nature similar to that of my Angels.
In my new creation My Will will be done in Heaven and earth and the Bread of Life, that is me, will be given you in abundance.
You will live in total harmony with all the creatures and God's wisdom and knowledge will be given to you in plenitude.
You will share my New Creation with my Angels and blissful souls who will teach you to love and praise God as it is done in Heaven.
Nothing will be kept from you my sheep of my flock. You will know the spiritual world where there are no obstacles, barriers, nor anything that will keep you from achieving what you want. As my Angels you will transport yourselves to places in my New Creation where you please so be.
All will be possible and all will be given to you in the Divine Will.
My Celestial Jerusalem will shine with all the splendor of God's Glory and will be adorned with the most precious stones.
Your spiritual dwellings will be ornate palaces, clothed in gold, in the midst of gardens  and God's light will be your sun.
Nothing will be denied to you, everything you ask of the Father will be granted before you even ask. My Father's Love will be your greatest joy. I will be with you as good Shepherd who looks after his sheep.
You will see me face to face and will also see my mother, my beloved earthly father Joseph, my apostles and many of my blissful souls.
I tell you that you will also see many of your relatives. The light and wisdom of my Holy Spirit will be with you and we will all be one single family.
Be prepared my sheep as your encounter with the Eternal Shepherd is approaching.
The green pastures and springs of water on my New Creation are waiting for you my beloved sheep, your dwellings are ready, all that is pending is your purification so that you can enter in my Celestial Jerusalem, where you will rejoice in all the splendor and glory of God.
I am waiting for you with open arms, to welcome you to my New Creation. I love and Bless you, sheep of my flock.
Your Master, Jesus, the Good Shepard
Make my messages known to all humanity."
Source: mensajesdelbuenpastorenoc.org
The truth about the Coronavirus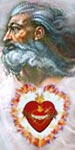 May 1, 2020 - God the Father says: "Today, I invite you to realize that this virus - the coronavirus - is no ordinary disease. It has been created from human ingenuity to specifically target the elderly and physically challenged. This is the plan of future generations to purify the human race around the world. It was released into the general population ahead of schedule - by accident. Those in charge were waiting for less capable government officials in your country (USA) to be in office. Nevertheless, proposed harm is being unleashed on the whole human race."
"I tell you these things to help you to realize the underlying evil at work and hidden in hearts these days. You cannot be confounded by any turn of events. Over all situations, I am in Dominion. No one will be given power over you that is more powerful than your Eternal Father. Therefore, be emboldened with this knowledge. If you persevere in Truth, you have loaded your weapons against what seems to be and discharged them with Truth." (Source: Holy Love)
Help the Lord spread His voice, time is running out
Please help spread these messages of faith, hope, salvation,
defense
against evil (by email, printing, Facebook, Twitter, and other media) to your loved ones, your friends, and all the people you may meet, who seek salvation or who are in danger of being eternally lost. The Lord gives great graces and blessings to those of goodwill who, according to their own possibilities, collaborate with His Plan of Salvation.
Who helps the Lord save a soul predestine his own
, independently from the outcome.