MESSAGE FROM OUR LORD JESUS ​​CHRIST
TO HIS BELOVED DAUGHTER LUZ DE MARIA
APRIL 8, 2018
FEAST OF DIVINE MERCY
The concept of Divine Justice has been deformed
"My Beloved People:
I BLESS YOU FROM MY INFINITE LOVE, WITHIN WHICH EACH ONE OF MY CHILDREN IS PRESENT.
I sacrificed myself for each one of you and in My Likeness I ask each one of you individually and voluntarily to accept the sacrifice that, for you represents denying what is worldly and embracing My Will.
Respect the Divine Law, My children, so that by being those who fulfill that Law you may walk on a safe path, without shortcuts that would make you fall into serious and great errors.
My Mother has already announced it:
"There will come times when My children, forgetting The Commandments, will accept new ideologies and give themselves over to mistaken ideas that will please men, causing them to fall into base instincts."
My People:
STAY ATTACHED TO MY WILL BEFORE YOU FORGET THAT LOVE ENTAILS JUSTICE, ALTHOUGH JUSTICE IS VIEWED POORLY BY SOME WHO WANT TO HINDER IT, WITH THE JUSTIFICATION THAT I AM NOT A GOD WHO PUNISHES, BUT A GOD OF LOVE WHO FORGIVES EVERYTHING.
The concept of "Divine Justice" has been deformed due to the wrong ideas and concepts that at this instant are being offered to My People in order that they turn away from Me.
MY PEOPLE, MY JUSTICE IS TRUTH, WITHOUT THE TRUTH THERE IS NO JUSTICE, AND WITHOUT DIVINE JUSTICE, THE DIVINE TRUTH IS CONVENIENTLY OVERSHADOWED BY WHAT SOME DESCRIBE AS MERCY.
For Humanity My Mercy must be the understanding of My Love and My Truth. On entering upon My Path (cf. Jn 14,6), man begins understanding what it is to comprehend Me and to maintain good judgment in order to understand and love Me going beyond sacrifice or offerings. Who loves Me becomes a soul in love with the Truth.
AT THE INSTANT I FIND SO MANY SELLERS OF MY MERCY WITH VARIOUS OFFERS IN ORDER THAT HUMANITY REPLACES MY TRUTH.
THEY OFFER YOU MY MERCY OUT OF DENIAL TO THE FULFILLMENT OF THE COMMANDMENTS AND SACRAMENTS, WITH INCOMPREHENSIBLE IDEAS OF A GOD WHO ALLOWS ALL SIN AND UNGODLINESS, ALL LICENTIOUSNESS, ALL DISRESPECT, EVERY LIE…
THEY TELL YOU ABOUT A GOD WHO DENIES HIMSELF, ANNULLING THE DECALOGUE IN ORDER TO OPEN HIMSELF TO THE ANTI-VALUES OF CURRENT SOCIETY. THAT, CHILDREN, IS NOT ME!
I Am Love (cf. I Jn 4,8) and My Love calls you to straighten the path on which you are walking if it is that of sin …
My People:
Why do you want to destroy My Cross?
Why do you insist on betraying Me and presenting Me as a God incapable of LOVING AND BEING JUST AT THE SAME TIME? (Prov. 3, 3-6).
My People, I call you to enter into My Love so that you are capable of differentiating between what comes from Me and what it is to nullify My Commandments.
MAN IS INCONSISTENT; HE HAS GOOD INTENTIONS AND FORGETS THEM IN AN INSTANT GOING BACK TO WEARING THE RAGS THAT HE WAS BEARING BEFOREHAND.
NO, CHILDREN! THIS INSTANT IS NOT ONLY THE INSTANT FOR DECISIONS, BUT THE INSTANT FOR SURRENDER TO MY LOVE SO THAT YOU ARE WORTHY OF MY MERCY!
Each one of My People must be willing to be born again so that obedience surpasses human whims, worldly work and action.
YOU MUST MAKE HASTE AND TAKE THE TRUE PATH, THAT IS, THE ONE THAT BEARS MY CROSS BEFORE IT.
DO NOT FEAR MY CROSS, MY CROSS IS GLORY AND MAJESTY, IT IS NOT THE ENSLAVING CROSS THAT IS BEING OFFERED TO YOU AT THIS INSTANT, IT IS NOT A CROSS AT EVERYONE'S CONVENIENCE … (cf. Lk 9,23-24).
MY CROSS IS TRUE FREEDOM, THE LIBERATION FOR THE OPPRESSED, THE REST FOR THE WEARY AND BURDENED, THE WATER FOR THE THIRSTY, THE STRENGTH FOR THOSE WHO FEEL WEAK, THE LIGHT IN THE DARKNESS…
The demons fear My Cross, it torments them, make them flee, so My children must stay within My Cross and surrender themselves in It out of Love.
Man does not recognize Love, therefore he despises it and does not accept it, he desires the instants offered to him by the enemy of the soul, even though this means turning away from Me.
I offer you My Mercy, I will not deny My Mercy to a creature who is repentant and has a firm purpose of amendment. My children's pain makes My Heart Bleed…
I NEED THE SINNER'S REPENTANCE IN ORDER TO BRING HIM/HER TO THE HEALING WATER OF MY MERCY (cf. Jn 7,37) AND TO STRENGTHEN HIM/HER SO THAT HE/SHE MAKES AMENDS AND SINS NO MORE.
It is imperative that My People do not deny Me; at this instant evil does not cease, and I do not want any of My children to be lost. So many social events and so many fallen democracies are making My People suffer. The events that are not stopping must make you meditate on what is happening and not stopping.
LET THOSE IN NEED OF MY LOVE COME TO ME, I WILL SATISFY THEM WITH MY MERCY. On this date, My House dresses festively for many repentant sinners.
Do not turn away from Me, enjoy being creatures of peace, love, forgiveness and conversion.
I BLESS YOU AND I BESEECH YOU TO IMMERSE YOURSELVES IN THE FOUNTAIN OF MY MERCY THAT REMAINS OPEN FOR ALL WHO DESIRE IT.
I BLESS YOU WITH ETERNAL LOVE. I WILL NEVER ABANDON MY PEOPLE.
Your Jesus
HAIL MARY MOST PURE, CONCEIVED WITHOUT SIN
HAIL MARY MOST PURE, CONCEIVED WITHOUT SIN
HAIL MARY MOST PURE, CONCEIVED WITHOUT SIN
Source: Revelaciones Marianas
Fr. Michel Rodrigue explaines The Events of the End Times
Do you want a quick overview of the end times? Then read "The great events of purification will begin this fall". If you want all the details of the unfolding events, then go to "Virtual Spiritual Retreat with Fr. Michel Rodrigue about the End Times".
The Pope's approval of homosexuality
Beware of the 'New World Order'
The Rosary is the weapon of these times
The truth about the Coronavirus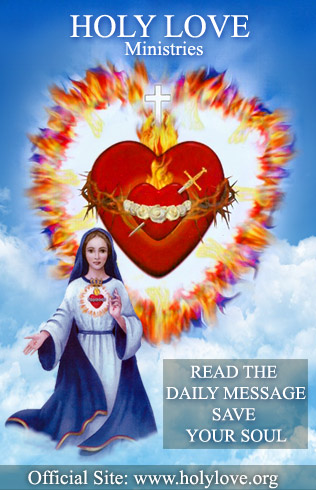 Read the daily messages
Catholics, we have entered the Pre-Tribulation, observe the Commandments, go to Confession; receive the Holy Eucharist; pray at least 3 Rosaries a day to keep your faith and save your loved ones. Prepare for the events that will devastate our planet: plagues, famine, WW3, cataclysms, antichrist's World Order