The Comet of Chastisement will strike the earth
(Please read all from begin to end – From Nov. 6 to Nov. 20)
Wednesday, November 7, 2018:
Jesus said: "My people, this scene of whale bones and a massive tsunami of water is a sign that many of your people will die from natural disasters. This scene was caused by a large earthquake on the floor of the sea. Because your people are not repenting of their sins, and they are not correcting their sinful lifestyles, your natural disasters will continue to get worse. America needs to understand the connection of your sins to your physical punishments, or none of your cities will remain standing. Pray for the conversion of sinners, especially in your own families."
Jesus said: "My people, I am showing you how I provide for all of your needs in My creation. Mankind has changed My creation with your GMO crops, which are making people sick. You have abused the earth with your pollution, and you are disobeying My laws in your spiritual life. You will see an evil time of tribulation by the evil one, but I will shorten this time for the sake of My elect. I will protect you at My refuges. I will then bring My Comet of Chastisement on the earth, and all the evil ones will be cast into hell. I will then renew the earth as My original creation with the Garden of Eden all over the earth. I will bring My faithful into My Era of Peace, and you will be prepared to be saints. When you die, I will bring you to heaven. Rejoice in My coming victory over sin and death. I will provide for your needs, and you will be rewarded for being faithful to Me in heaven."
Thursday, November 8, 2018:
Jesus said: "My people, every soul is valuable to Me, which is why I died on the cross to offer salvation to everyone. It is your free will choice to repent of your sins and accept Me as your Savior. I am all love, and I want you to love Me, but without being forced. It is sad that I reach out to save everyone, but the devil puts many earthly distractions in front of people, and they forget to love Me. I am the most important Person in your life, but many people refuse to focus on Me, and instead they focus on their pleasures and possessions. Remember that everything on this earth is passing away, and when you die, you cannot take anything with you, except your soul. You should be more concerned about your eternal destination of heaven or hell, than anything on earth. Do not put off getting your soul ready to meet Me at your judgment. You need to repent of your sins and seek My forgiveness, if you want to be with Me forever in heaven. Those souls, who show their love for Me and repent, will be saved. But those souls, who refuse to love Me, and refuse to repent, are on a path to eternal loss in the flames of hell. Choose to come to Me now while you have time, or you will be too late, and you could be lost in hell."
Prayer Group:
Jesus said: "My people, now after your elections, you will have a split Congress with the House of Representatives going to the opposition party. You saw record numbers coming to the polls for a mid term election. There is a hope that you will see more compromising, instead of a hard and fast bipartisan battle. Some people are talking about less fighting among your Congress people, but you will need to pray for political peace. Your Congress people should work together to make your government work without corruption and cheating."
Jesus said: "My people, it is always a tragedy to see so many lives lost. This man had warning signs of some post war trauma, but he was not treated for his illness. This may be a lesson to help your war veterans more with psychological problems. Pray for these souls with your Divine Mercy Chaplet so they could be saved."
Jesus said: "My people, even after your election, some of your media people were mean to your President in not sitting down, nor giving up the microphone. The same rude behavior continues to harass your President. Pray for your media to have better manners and be more civil in their behavior. There are different views, but you are seeing attacks even on the homes of your conservative announcers. Pray for less anger in your society, and treat such activity as crimes."
Jesus said: "My people, you are seeing caravans of Hondurans and others, who have suspicious origins that by some reports are being funded by the opposition party. There is a huge debate about claiming asylum when there are other intentions. If these caravans come against your troops, you could see some possible violence. Pray that no one is hurt, but your immigration laws are not protecting your citizens from abuse of asylum."
Jesus said: "My son, you have been invited to come to Mexico, even though there are some concerns about a new leader, and some caravans coming to Mexico City. I have told you to go where you are invited, and I will send My angels to protect you. You are coming to the Shrine of My Blessed Mother's Guadalupe appearance, so enjoy coming to this miraculous image. Trust in My power that is greater than the devil and the evil people. Pray your long form of the St. Michael prayer for your protection."
Jesus said: "My people, it is good that you are honoring all of those parishioners who have died in this last year. You just celebrated All Souls' Day, so you can have Masses offered up for the dead, and pray for them so they could gradually leave purgatory for heaven. Do not forget the deceased by having their pictures in front of you so you can remember to pray for them."
Jesus said: "My people, I keep warning you to repent and change your sinful lives, or you will face more natural disasters. Many of your people do not want to hear My words from My prophets for not obeying My laws. Your people need to come closer to Me in prayer, because your society is getting more evil every day. If you truly love Me, you need to evangelize sinners."
Saturday, November 10, 2018:
Jesus said: "My people, you are always in a battle between God and the devil. I have told you that you can only have allegiance to Me or your money. You can only have one Master. You will love one and hate the other. So put your faith and trust in Me because I love you, and I know what you need. I will find a way to support you and your family. I will find you a job and a shelter when you are in need. Your money will not help you, so it is better to trust in Me. I know your needs both physically and spiritually. Give praise and thanks to Me for helping you in all of your problems."
Sunday, November 11, 2018:
Jesus said: "My people, this vision refers to a Gospel reading when the Pharisees criticized Me and My apostles for not preparing for eating by the washing of hands and pots. I told them it is not what passes through your lips that condemns a man, but it is what comes forth out of your lips from the evil of one's heart that will condemn him. In the first reading you saw how Elijah called on God to multiply the flour and oil, so the widow, her son, and Elijah could survive the famine of that time. This is how I will multiply the water, the food, and the fuels at the refuges, but the people must have some food stored so I can multiply what you have. Trust in Me that I will help all of My people to survive the tribulation, except some who will be martyred."
Jesus said: "My son, I asked what would you ask if you had one wish to change the world? You answered to be able to stop all abortions. Your answer is near and dear to My Heart, because I too, am greatly offended by the mothers and doctors who are killing My little babies. The angels of these aborted children are coming in front of Me to testify to each death of an aborted baby. You have killed more babies than all of the soldiers who died in your wars. Your abortionists are so cruel in how they dispose of My babies. They use My babies for body parts and to make beauty creams, and flu shots. These evil ones do not even think about death certificates, but they treat My babies as human garbage. Some abortion people do not even want to accept that unborn babies are even human, which they are from conception. What am I to do with the mothers who kill their children, or the nations who have legalized the killing of My babies? I told you before, if you do not stop your abortions, then I will stop them with My punishment of natural disasters. Learn the connection between your severe sins and the increase in your natural disasters."
Monday, November 12, 2018:
The Holy Spirit said: "I am the flame of love in the heart of Jesus, and I give life to every soul. You are My Temple where I dwell until the end of your life. You know My seven gifts and how I inspire you to give your talks, and I help you to write down your messages. Every time you make the Sign of the Cross, you are invoking My power. I bring you the deep longing to be with all of Us, especially in the Real Presence of Jesus in His Eucharist. It is a shame that some priests do not recognize the Presence of the Holy Trinity in every Holy Communion. All Three of Us Persons of God are present in every Holy Communion, and We do demand reverence for our Presence. In the Bible it says how you all must kneel before Us, and give glory to Us. All the angels both good and evil, must bend their knee to their Creator at the Name of 'Jesus'. All humans must also bend their knee when you hear the Name 'Jesus'. I call on all of Our faithful to stand up for your belief in the Blessed Trinity and defend us against all heretics and heretical teachings. Even if you may be killed as a martyr, you must maintain your allegiance to Us every day."
Jesus said: "My people, you saw the widow's mite as she placed a few copper coins into the Treasury, but it was all she had to live on. Some people only put in a token amount in the Sunday collection, when they could donate more. My people should be willing to share 10% of their income to My Church, your food shelves, and other worthy charities. I love a cheerful giver. The more you share, the more graces you will be storing up in heaven for your judgment. So do not be selfish and be willing to share meaningful donations. When you share what you have, you are thanking Me for all the gifts that I have given you. When you give your donation, do not let your left hand know what your right hand is doing. In other words, give freely without holding back. Your wealth is temporary, and it will pass away, so use it to help people while you still can."
Tuesday, November 13, 2018:
Jesus said: "My people, when you think about your survival during the tribulation, you should be planning your storage of food, water, and fuels. Do not be concerned because I will multiply what you have in faith, so the people who come to your refuge will have enough food to eat. I will even send deer or other game to your refuge, and they will die so you can cut them up for your protein. For fuels you can cut down your trees for wood in your fires. The water is supplied from your well as you turn your pumps on. You may not have enough water for showers, but you will use sponge baths. You can grow crops in your garden, and I will multiply your dried foods, MRE's, and canned foods. I told you how many would die without electricity, but if they stored food, they will still survive. You can have solar panels that will provide power for your sump pumps, water pumps, and your lights. You will need your propane ovens and wood fires for cooking. You have provided enough beds and cots for the people to sleep, along with the needed pillows and blankets. You also have water to flush toilets, or an outhouse if the drains plug up. You can even remove some snow from your panels in the winter to supply power. Trust in Me to provide for your protection from the evil ones with My angels, and I will also provide for your other needs. Your people will not go out beyond your land perimeter where your angel will protect you. I have given you projects to help your people, and you will all need to work and get along with each other in prayer. You will have daily Holy Communion from the angels for your spiritual survival, and each of you will have an hour of daily Adoration. You will be praying more in the tribulation, as you will come closer to Me after the Warning."
Jesus said: "My people, I am showing you a cave carved out of a mountain, and this is a refuge or hiding place for My faithful remnant. A time is coming when the evil people will be trying to kill Christians and My prophets. This is why My refuge builders are building refuges for hiding that are stocked with food, water, and fuels for survival. When your lives are in danger, I will send an inner locution to all of My faithful that it is time to call on Me, and I will have your guardian angel lead you to the nearest refuge in twenty minutes. Your guardian angel will lead you with a flame and there will be an invisible shield placed over you as you leave your home. Once you arrive at My refuges, only those people who believe in Me, and have a cross on their foreheads will be allowed to enter. My angels are marking an invisible cross on the foreheads of My faithful, and converts after the Warning will also have crosses on their foreheads. The angel of the refuge will not allow any other people to enter if they do not have a cross on their foreheads. You will see a luminous cross in the sky over My refuges, and when you look upon it, you will be healed of all of your illnesses. You will stay at My refuges for less than 3½ years, and then you will be brought into My Era of Peace."
Wednesday, November 14, 2018:
Jesus said: "My people, today's Gospel about the healing of the ten lepers, is a lesson for all of you to be thankful for everything I do for you. Only one leper out of the ten returned to give thanks to Me for healing his leprosy. The other nine should have thanked Me as well. You remember how St. Therese thanked Me for every little thing in her life. So I want you to do the same, and thank Me for everything I did for you today. Thank Me for your safe plane flight, even if it was late. Thank Me for the wait and final return of your luggage. Thank Me even for the little trouble that you had as you eventually found Marissa and Jorje. Thank Me for getting you to this Mass today. Thank Me for receiving Me in Holy Communion. Thank Me that you could see this beautiful church and hear the beautiful choir. You can live your whole life thanking Me for all of My gifts, and I will say go, because your faith has saved you."
Thursday, November 15, 2018: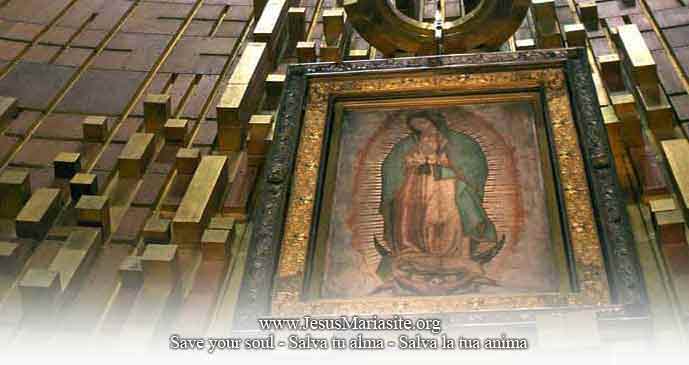 Our Lady said: "My dear children, I am happy to see all of you again at my Shrine of Guadalupe. I love all of you so much, and I lead you to my Son in prayer. You can see all of my beautiful Mexican people. Have no fear of any of your troubles, because my Son and I are watching over you. We will solve your problems, so do not lose your peace. Trust in my Son's help in all that you do. The devil will test you, but have faith, and we will protect you from his temptations, and any physical problems. We love you, so go forward to save souls by your evangelization efforts."
Friday, November 16, 2018: (St. Gertrude)
Jesus said: "My people, I am calling My people to enter heaven through the narrow gate. Do not be like the pagans who try to enter heaven by the broad road that leads to the devil and hell. Give your mind, soul, and spirit over to My Divine Will, and you will receive your heavenly reward in heaven. My people, as you approach the end of the Church Year, you are receiving the Gospels of the end times. In today's Gospel it speaks about how the good people were separated from the evil people. In Noah's time his family was separated in the ark, and the evil ones were killed by the flood. Lot and his family were taken out of Sodom, and the evil people were killed by fire and brimstone. Now in today's world, My faithful will be separated from the evil ones at My refuges during the tribulation. The Comet of Chastisement will strike the earth and during the three days of darkness, the evil ones will be killed and cast into hell. I will raise My faithful into the air, and I will renew the earth like the Garden of Eden all over the earth. I will then bring My faithful down into the Era of Peace where they will live a long time without evil. My faithful will then be taken up to heaven as saints when they die. Give praise and thanks to Me for all of My faithful who are written in the Book of Life, for they will be with Me in heaven for all eternity."
Saturday, November 17, 2018: (St. Elizabeth of Hungary)
Jesus said: "My people, you are reading about the unjust judge who finally gave a proper decision for a woman who was constantly requesting a just decision to settle her case. This persistence in prayer is what is required to help save souls who are away from Me. You know how your wife prayed many years for her father's conversion. He was kept alive until he could receive Confession, as he had a deathbed conversion. So it is with your family and friends who need conversion. You can save souls through your deliverance prayers, especially using the long form of the St. Michael prayer. My mercy is upon all repentant sinners and even those people who are away from Me. I will honor your prayers to save them. Give praise and thanks that I forgive you of your sins, and I will accept My faithful into heaven."
(7:00 p.m. Mass) Jesus said: "My people, in today's Gospel you are seeing the signs of My coming to the earth. When you see the fig tree putting forth shoots, you know summer is near. When you see a red sunset, you know the next day will be sunny. So it is with the signs of My coming. You will see the faith decreasing in the people, and I will ask: 'Will I find any faith in the people when I return.' My faithful will be protected at My refuges. You will see My Comet of Chastisement and the three days of darkness. I will be coming on the clouds to judge the people, and I will send the evil ones into hell. I will bring My faithful into My Era of Peace for their reward, and when you die, you will enter heaven with Me. Give praise and thanks to Me for being My chosen elect who are written in the Book of Life."
Sunday, November 18, 2018:
Jesus said: "My people, one of the end time signs is a decline in the number of faithful people who are coming to Sunday Mass. The faith is getting weak, and the parents are not encouraging their children enough to follow their good example. My older faithful are dying off, and they are not being replaced by young people who have a strong faith. When you look at the demographics of the Roman Catholic Churches, you are seeing a higher average age and the youth numbers are declining as well. The decreasing numbers at Sunday Mass is a sign of a declining number of faithful in general who are falling away from their original strong beliefs. This decline in numbers is also causing a decline in the money collected, which will result in a decreased budget to help the spiritual life of the parish. You need to encourage more youth to be strong in their faith, so less people will stop coming to Sunday Mass. To have a vibrant parish you need more new members and less people leaving. Bible study groups can help improve the faith of the people, but the people must have a desire to increase their faith. Call on Me in prayer to help increase your numbers."
Monday, November 19, 2018:
Jesus said: "My people, in the Responsorial Psalm (Psalm 1) it spoke of how My victorious people will be fed by the Tree of Life. This victory is when I will bring My Comet of Chastisement to end the reign of the Antichrist during the tribulation. All the evil people and the demons will be cast into hell. Then I will renew the earth all over, as in the Garden of Eden. There will be many Trees of Life all over the earth that will feed My people, and they will live a long time. This Tree of Life is also symbolic because it represents Me in how I feed you Myself in Holy Communion. I am the Vine and you are the branches. Without My graces you would have much difficulty in living a fruitful life. It is by My graces in the sacraments that I allow you to be strengthened to do your mission. Give praise and thanks to Me for all of My gifts to help you in this life, and in the life of the Era of Peace."
Jesus said: "My people, when I call you to My refuges, it will be a time of persecution of Christians, and your lives will be in danger. When you receive My inner locution, then it is time to come to My refuges. Call on Me and I will have your guardian angel lead you with a flame to the nearest refuge. Grab your backpack of your necessities and be ready to leave in twenty minutes. Your angel will put an invisible shield over you and your vehicle, as you leave your home from which you will not return. It may take some time to come to a refuge, so you could sleep overnight in your car or in your tent. Do not be afraid because you will not need a gun for protection. My angels will put an invisible cross on your forehead so you will be able to enter My refuges. When you enter a refuge, you will see the angel that is protecting that refuge. You will also see the luminous cross in the sky. When you look upon it, you will be healed of your infirmities."
Tuesday, November 20, 2018:
Jesus said: "My people, this vision of a large missile taking off, is a real possibility from several nuclear powers. North Korea and Iran are especially possible suspects who could launch a missile on America. It would only take a few missiles that could explode at high altitudes that could destroy your electric grid with an EMP attack. It is difficult to shoot down multiple missiles. Your people are unprepared to handle the loss of your electricity and chips. This again is why I have encouraged your people to have one year's supply of food for every member of your household. Some reports claim that if electricity was stopped for a long time, you could see 90% of your people die of food starvation. Many people do not store enough food for such a disaster. It does not cost that much money to buy freeze dried food or MREs. You want to buy food that does not require refrigeration. By having a food storage program at your home, you could endure various disasters where other people would not have enough food to survive. Even at My refuges, I will multiply the food for those who come. Trust in My providing for your needs, but you need to have some food that I could multiply."
Source: John Leary
Fr. Michel Rodrigue explaines The Events of the End Times
Do you want a quick overview of the end times? Then read "The great events of purification will begin this fall". If you want all the details of the unfolding events, then go to "Virtual Spiritual Retreat with Fr. Michel Rodrigue about the End Times".
The Rosary is the weapon of these times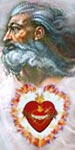 God the Father: "Children, the best way to change the conscience of the world and this country (U.S.A.) in particular is much prayer and many sacrifices. You may not see the effects of your efforts but persevere and do not be discouraged. Use your Rosaries as the mighty weapons that they are. A Rosary said from the heart is more powerful than any weapon of mass destruction. The Rosary is the weapon of these times. Do not let the daily news frighten you. Often, what you hear is not the Truth and only meant to influence your opinions..." (Read more..)
The truth about the Coronavirus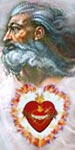 God the Father: "Today, I invite you to realize that this virus - the coronavirus - is no ordinary disease. It has been created from human ingenuity to specifically target the elderly and physically challenged. This is the plan of future generations to purify the human race around the world. It was released into the general population ahead of schedule - by accident. Those in charge were waiting for less capable government officials in your country (USA) to be in office. Nevertheless, proposed harm is being unleashed on the whole human race." (Read more...)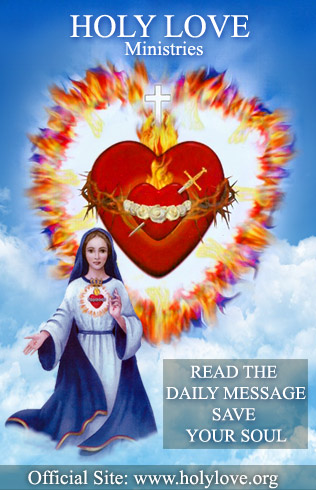 Read the daily messages
Help the Lord spread His voice, time is running out
Please help spread these messages of faith, hope, salvation, collaborate with God's Plan of Salvation. Who helps the Lord save a soul predestine his own, independently from the outcome.