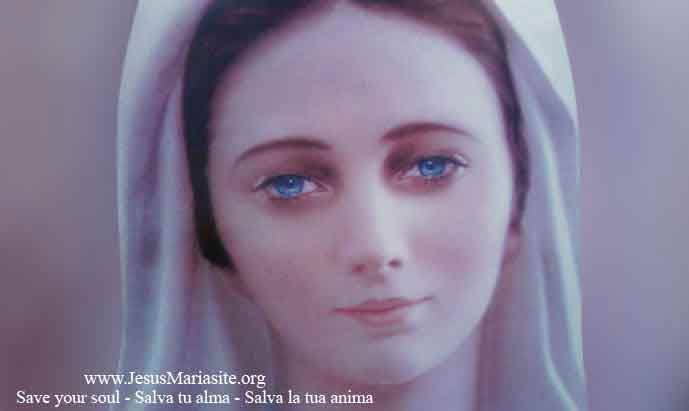 The Brief Day of Life
Maria says: (Maria Mother and Teacher, Vol. 1) " My children, the dawn comes, then the sun, then the afternoon and the evening. So is your life, a brief day that has just come out and already for many of you it draws to a close.
My Jesus teaches you to live well your day in the fulfillment of the will of God. In this way you will merit to hear said to you as the good thief: "Today you shall be with Me in Paradise (Lk 2343)"
Paradise, children, is so beautiful that, if to reach it you were to suffer all the sorrows of the world, it always will be worth the while.
My children, one thing alone you must do: avoid sin.
Today you are all beautiful, grace shines in your souls because, even if someone has some fault in the soul, already he detests it and has repented over it.
Well then, preserve the grace. My Jesus wants you pure as little children out of the baptismal font. Preserve this precious treasure. When the demon flatters you or exasperates you, invoke me. No hostile power can overcome my power. My strength comes from being full of grace, that is it depends from I being the dwelling of the living God. Have faith in me and do not fear.
If the demon tempts you, if he puts hatred and resentments in your hearts, if he invites you to commit evil actions, if he displays the good that you do with the help of God as if it were your own, invoke me.
I am the most attentive mother. Keep the peace. All that divides, that agitates, that disturbs, does not come from God. All that discourages, that demoralizes and which sees all things black does not come from God. Learn to watch.
Be serene, be disposed to forgiveness. The good resemble God. They bring Him into the world and make Him loved.
My children, whom I nourish, nurture and guard, receive my affectionate embrace.
Make yourselves consolers of all those who suffer, by prayer, by word and by your charity. Every time that you go to visit a sick one, I shall send my angels with you so that they may suggest to you the most sweet words to the comfort of whoever suffers.
Everything even the littlest that you do to the poor, my Jesus holds it as being done to himself, because everyone of them is a living and suffering member of his body.
Children, I bless you all."
Maria Mother and Teacher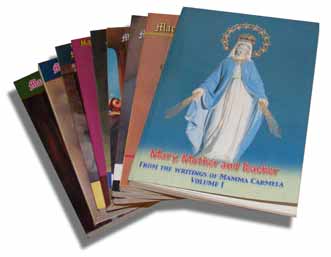 The thoughts, the reflections and the meditations in this booklet, were inspired by Our Mother Maria, Mother of Jesus, to Carmela Negri Carabelli. They are, however, addressed to all those souls, who, desirous to love the Lord, seek to put into practice his teachings and to live the Christian life more perfectly. May Jesus bless these pages and those who read them with the desire to improve themselves, granting the help of his grace.
For more information about these magnificent teachings, for any spiritual assistance you may need or to participate and spread throughout the world the cenacles of prayer and the apostolate of the Divine Mercy, please contact: "CENACOLO DELLA DIVINA MISERICORDIA", Viale Lunigiana 30, 20125 Milano, Italy –
www.cenacolodivinamisericordia.it
Nihil Obstat: Reverend Gerard Diamond MA (Oxon), LSS, D. Theol, Diocesan Censor Imprimatur: Rev. Monsignor Les Tomlinson, Vicar General, Date: 20th July 2007 – The Nihil Obstat and Imprimatur are official declarations that a book or pamphlet is free of doctrinal or moral error. No implication is contained therein that those who have granted the Nihil Obstat and Imprimatur agree with the contents, opinions or statements expressed. They do not necessarily signify that the work is approved as a basic text for catechetical instruction. Catholic Archdiocese of Melbourne
Fr. Michel Rodrigue explaines The Events of the End Times
Do you want a quick overview of the end times? Then read "The great events of purification will begin this fall". If you want all the details of the unfolding events, then go to "Virtual Spiritual Retreat with Fr. Michel Rodrigue about the End Times".
Messages of Holy Love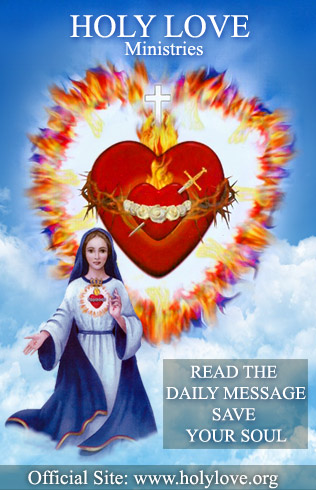 Read the daily messages
Catholics, we have entered the Pre-Tribulation, observe the Commandments, go to Confession; receive the Holy Eucharist; pray at least 3 Rosaries a day to keep your faith and save your loved ones. Prepare for the events that will devastate our planet: plagues, famine, WW3, cataclysms, antichrist's World Order