May 19, 2015
Call of Jesus the Good Shepherd to His stray sheep.
Message to Enoch.
The banquet is ready and your Father is waiting
"Peace to you, sheep of my fold.
As Good Shepherd, I say to you sheep gone astray: Heaven does not accept nor approves any marital relation between same sex couple. These relations are abominable, detestable and are an offense toward the Love and Mercy of my Father; all sodomy, all adultery, all lasciviousness and all sexual impurities lead to eternal death, if there is no repentance and reparation for it.
I do not want the death of the sinner, because I did not come to condemn the world, but to save it. Understand that my chastisement is against sin, not against man. Therefore, I do not judge the sodomite that seeks God, that lives a quiet life, that respects himself and respects others; I do condemn the sin of that sodomite who scandalizes and draws others to sin; to this one as my Word says: it would be better for him to have a mill stone tied to his neck and to be cast into the sea (Matthew 18:6). Remember that I am the Good Shepherd who lays down his life for his sheep and who has come into this world to rescue what was lost.
I want that my sheep gone astray to return to Me, repented and with a contrite and humbled heart; if they would do that so, I would pour over them the fountain of my Mercy and I would not remember their sin anymore. I do not judge or condemn the sinner who repents; remember my Word when I said to the adulteress: Where are your accusers? Neither do I condemn you, go in peace and sin no more. Today like yesterday, I say to the sinner of these end times: return to Me, and sin no more, that you may reach the joy of eternal life.
I am knocking at the door of the heart of all those wandering away from Me; I come as a Father to grant you my Mercy and forgiveness; I do not oblige you, but it is my desire that you are part of my flock. Do not be afraid, I do not come to condemn you; my arms are open in waiting for you to forgive you, if you return to me repentant. Pay attention to my calling and do not let this opportunity that I am giving you go lost; I do not want your death, because I am the God of life and life is what I want to give you in abundance. If you deny receiving me and you shut the door in my face, I will not reproach you; I will leave in silence and will hope trustingly that at least one would listen to my call.
I am waiting for you: prostitutes, homosexuals, adulterers, fornicators, lascivious and sexually impure ones; I am waiting for you: thieves, liars, alcoholics, envious, slanderers, sorcerers, idolaters, greedy ones, and the other rebellious sheep. My table is set, the banquet is ready and your Father is awaiting you; remember to come properly dressed so that you will be able to enter and not to be turned away. Your invitation card ought to be a contrite and humbled heart, and your attire ought to be that of repentance. I am waiting for you, do not be late, the doors are open; hurry before the night falls, because, as you well know that the night is the time of justice, and the doors will be closed and then should you knock, there will none to hear you.
My peace I leave you, my peace I give you.
Repent and convert, because the Reign of God is at hand.
Your Teacher, Jesus, the Good Shepherd.
Make my messages known to all humanity."
Source: mensajesdelbuenpastor
Fr. Michel Rodrigue explaines The Events of the End Times
Do you want a quick overview of the end times? Then read "The great events of purification will begin this fall". If you want all the details of the unfolding events, then go to "Virtual Spiritual Retreat with Fr. Michel Rodrigue about the End Times".
The Pope's approval of homosexuality
Beware of the 'New World Order'
The Rosary is the weapon of these times
The truth about the Coronavirus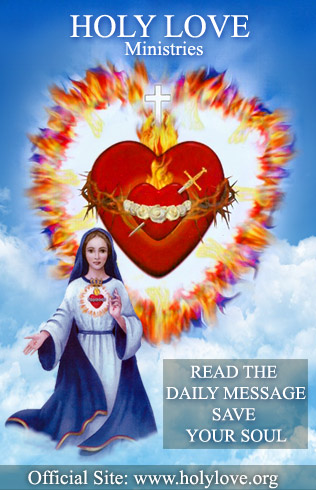 Read the daily messages
Catholics, we have entered the Pre-Tribulation, observe the Commandments, go to Confession; receive the Holy Eucharist; pray at least 3 Rosaries a day to keep your faith and save your loved ones. Prepare for the events that will devastate our planet: plagues, famine, WW3, cataclysms, antichrist's World Order