Maria says: (Maria Mother and Teacher, Vol. 1) "My beloved children, you have come to me in order to receive a word of comfort and advice, and how can I deny it to you? Am I not your Mother? Is it not I who inspires thoughts of goodness and good? Come on, therefore, listen to me.
In order to do good no one has need of approvals, since the Lord, who promotes it and guides it, is the responsible one and the remunerator. However, when in doing good you submit yourself to an authority, the Lord is doubly pleased with this good because it is enhanced by obedience, which always stands to indicate humility of heart and spirit.
If you are thwarted in the good, not because of this will you lose the merit, rather your good is confirmed by the desire and the suffering which the denial procures you.
However, you must not let everything pass by indifferently, but knowing what you desire, you must not give up at the first refusal and with goodness and with sweetness insist so that that liberty which God himself respects in individuals is left to you.
In the name of liberty men commit the evil of which they fill the earth. You also learn to defend this sacred right that no one can question you: the one that is, of raising your prayer to God so that He may use mercy on the world.
The battle which today is being waged against me, my virginity, against my divine maternity and against my Rosary, is a battle launched by the demon and it is ever so powerful. The task of the prayer groups is that of keeping alive the flame of my devotion and to keep high in the world the standard of the Rosary, behind which Christians maintain themselves such and with which they combat and beat their enemies.
Continue to spread the practice of the Rosary. Have no fear of making mistakes by turning many families into centres that call back the inhabitants of the housing blocks to rekindle their faith, returning to make the practice of the community prayer flourish in families.
I will assist you and I will help you. I shall transform the hearts of my ministers and I will illuminate their minds. You, on your part, accept the humiliations and the misunderstandings as a gift from Heaven, as a mark of certainty and be content. The good, when it costs little sacrifice, when it gives satisfaction and encounters the approval of all, is not always good because it can feed self love and pride.
Children, I bless you all."
The Fifteen Promises of the Holy Rosary
 To all those who shall recite my Rosary devoutly, I promise my special protection and very great graces.
Those who shall persevere in the recitation of my Rosary will receive some signal grace.
The Rosary will be a very powerful armor against hell; it will destroy vice, deliver from sin and dispel heresy.
The Rosary will make virtue and good works flourish, and will obtain for souls the most abundant divine mercies; it will substitute in hearts love of God for love of the world, and elevate them to desire heavenly and eternal goods. Would that souls would sanctify themselves by this means!
Those who trust themselves to me through the Rosary will not perish.
Those who shall recite my Rosary piously, considering its mysteries, will not be overwhelmed by misfortune, nor die a bad death. The sinner will be converted, the just will grow in grace and become worthy of eternal life.
Those truly devoted to my Rosary will not die with out the consolations of the Church, or without grace.
Those who shall recite my Rosary will find during their life and at their death the light of God, the fullness of His grace, and will share in the merits of the blessed.
I will deliver very promptly from purgatory the souls devoted to my Rosary.
 The true children of my Rosary will enjoy great glory in heaven.
What you shall ask through my Rosary you shall obtain.
 Those who propagate my Rosary will obtain through me aid in all their necessities.
I have obtained from my Son that all the members of the Rosary Confraternity shall have as their intercessors, in life and in death, the entire celestial court.
Those who recite my Rosary faithfully are my beloved children, the brothers and sisters of Jesus Christ.
Devotion to my Rosary is a special sign of predestination.
Maria Mother and Teacher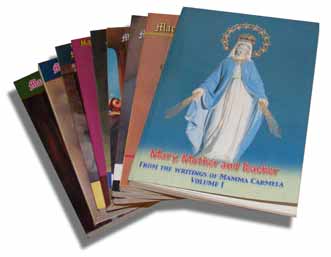 The thoughts, the reflections and the meditations in this booklet, were inspired by Our Mother Maria, Mother of Jesus, to Carmela Negri Carabelli. They are, however, addressed to all those souls, who, desirous to love the Lord, seek to put into practice his teachings and to live the Christian life more perfectly. May Jesus bless these pages and those who read them with the desire to improve themselves, granting the help of his grace.
For more information about these magnificent teachings, for any spiritual assistance you may need or to participate and spread throughout the world the cenacles of prayer and the apostolate of the Divine Mercy, please contact: "CENACOLO DELLA DIVINA MISERICORDIA", Viale Lunigiana 30, 20125 Milano, Italy –
www.cenacolodivinamisericordia.it
Nihil Obstat: Reverend Gerard Diamond MA (Oxon), LSS, D. Theol, Diocesan Censor Imprimatur: Rev. Monsignor Les Tomlinson, Vicar General, Date: 20th July 2007 – The Nihil Obstat and Imprimatur are official declarations that a book or pamphlet is free of doctrinal or moral error. No implication is contained therein that those who have granted the Nihil Obstat and Imprimatur agree with the contents, opinions or statements expressed. They do not necessarily signify that the work is approved as a basic text for catechetical instruction. Catholic Archdiocese of Melbourne
The truth about the Coronavirus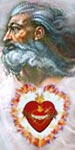 May 1, 2020 - God the Father says: "Today, I invite you to realize that this virus - the coronavirus - is no ordinary disease. It has been created from human ingenuity to specifically target the elderly and physically challenged. This is the plan of future generations to purify the human race around the world. It was released into the general population ahead of schedule - by accident. Those in charge were waiting for less capable government officials in your country (USA) to be in office. Nevertheless, proposed harm is being unleashed on the whole human race."
"I tell you these things to help you to realize the underlying evil at work and hidden in hearts these days. You cannot be confounded by any turn of events. Over all situations, I am in Dominion. No one will be given power over you that is more powerful than your Eternal Father. Therefore, be emboldened with this knowledge. If you persevere in Truth, you have loaded your weapons against what seems to be and discharged them with Truth." (Source: Holy Love)
Help the Lord spread His voice, time is running out
Please help spread these messages of faith, hope, salvation,
defense
against evil (by email, printing, Facebook, Twitter, and other media) to your loved ones, your friends, and all the people you may meet, who seek salvation or who are in danger of being eternally lost. The Lord gives great graces and blessings to those of goodwill who, according to their own possibilities, collaborate with His Plan of Salvation.
Who helps the Lord save a soul predestine his own
, independently from the outcome.