A Holy Life
Road to Sainthood
'I Thirst, I Quench'
The Mother Teresa I Knew
A Journey of Grace
The Saint of the Gutters
Mother Teresa was a force of nature and wholly unique. She was always her own person, startlingly independent, obedient, yet challenging some preconceived notions and expectations. Her own life story includes many illustrations of her willingness to listen to and follow her own conscience, even when it seemed to contradict what was expected.
This strong and independent woman was born Gonxha (Agnes) Bojaxhiu in Skopje, Yugoslavia, on August 27, 1910. Five children were born to Nikola and Dronda Bojaxhiu, yet only three survived. Gonxha was the youngest, with an older sister, Aga, and brother, Lazar. This brother describes the family's early years as "well-off," not the life of peasants reported inaccurately by some. "We lacked for nothing." In fact, the family lived in one of the two houses they owned.
Nikola was a contractor, working with a partner in a successful construction business. He was also heavily involved in the politics of the day. Lazar tells of his father's rather sudden and shocking death, which may have been due to poisoning because of his political involvement. With this event, life changed overnight as their mother assumed total responsibility for the family, Aga, only 14, Lazar, 9, and Gonxha, 7.
Though so much of her young life was centered in the Church, Mother Teresa later revealed that until she reached 18, she had never thought of being a nun. During her early years, however, she was fascinated with stories of missionary life and service. She could locate any number of missions on the map, and tell others of the service being given in each place.
Called to Religious Life
At 18, Gonxha decided to follow the path that seems to have been unconsciously unfolding throughout her life. She chose the Loreto Sisters of Dublin, missionaries and educators founded in the 17th century to educate young girls.
In 1928, the future Mother Teresa began her religious life in Ireland, far from her family and the life she'd known, never seeing her mother again in this life, speaking a language few understood. During this period a sister novice remembered her as "very small, quiet and shy," and another member of the congregation described her as "ordinary." Mother Teresa herself, even with the later decision to begin her own community of religious, continued to value her beginnings with the Loreto sisters and to maintain close ties. Unwavering commitment and self-discipline, always a part of her life and reinforced in her association with the Loreto sisters, seemed to stay with her throughout her life.
One year later, in 1929, Gonxha was sent to Darjeeling to the novitiate of the Sisters of Loreto. In 1931, she made her first vows there, choosing the name of Teresa, honoring both saints of the same name, Teresa of Avila and Therese of Lisieux. In keeping with the usual procedures of the congregation and her deepest desires, it was time for the new Sister Teresa to begin her years of service to God's people. She was sent to St. Mary's, a high school for girls in a district of Calcutta.
Here she began a career teaching history and geography, which she reportedly did with dedication and enjoyment for the next 15 years. It was in the protected environment of this school for the daughters of the wealthy that Teresa's new "vocation" developed and grew. This was the clear message, the invitation to her "second calling," that Teresa heard on that fateful day in 1946 when she traveled to Darjeeling for retreat.
The Streets of Calcutta
During the next two years, Teresa pursued every avenue to follow what she "never doubted" was the direction God was pointing her. She was "to give up even Loreto where I was very happy and to go out in the streets. I heard the call to give up all and follow Christ into the slums to serve him among the poorest of the poor."
Technicalities and practicalities abounded. She had to be released formally, not from her perpetual vows, but from living within the convents of the Sisters of Loreto. She had to confront the Church's resistance to forming new religious communities, and receive permission from the Archbishop of Calcutta to serve the poor openly on the streets. She had to figure out how to live and work on the streets, without the safety and comfort of the convent. As for clothing, Teresa decided she would set aside the habit she had worn during her years as a Loreto sister and wear the ordinary dress of an Indian woman: a plain white sari and sandals.
Teresa first went to Patna for a few months to prepare for her future work by taking a nursing course. In 1948 she received permission from Pius XII to leave her community and live as an independent nun. So back to Calcutta she went and found a small hovel to rent to begin her new undertaking.
Wisely, she thought to start by teaching the children of the slums, an endeavor she knew well. Though she had no proper equipment, she made use of what was available—writing in the dirt. She strove to make the children of the poor literate, to teach them basic hygiene. As they grew to know her, she gradually began visiting the poor and ill in their families and others all crowded together in the surrounding squalid shacks, inquiring about their needs.
Teresa found a never-ending stream of human needs in the poor she met, and frequently was exhausted. Despite the weariness of her days she never omitted her prayer, finding it the source of support, strength and blessing for all her ministry.
A Movement Begins
Teresa was not alone for long. Within a year, she found more help than she anticipated. Many seemed to have been waiting for her example to open their own floodgates of charity and compassion. Young women came to volunteer their services and later became the core of her Missionaries of Charity. Others offered food, clothing, the use of buildings, medical supplies and money. As support and assistance mushroomed, more and more services became possible to huge numbers of suffering people.
From their birth in Calcutta, nourished by the faith, compassion and commitment of Mother Teresa, the Missionaries of Charity have grown like the mustard seed of the Scriptures. New vocations continue to come from all parts of the world, serving those in great need wherever they are found. Homes for the dying, refuges for the care and teaching of orphans and abandoned children, treatment centers and hospitals for those suffering from leprosy, centers and refuges for alcoholics, the aged and street people—the list is endless.
Until her death in 1997, Mother Teresa continued her work among the poorest of the poor, depending on God for all of her needs. Honors too numerous to mention had come her way throughout the years, as the world stood astounded by her care for those usually deemed of little value. In her own eyes she was "God's pencil—a tiny bit of pencil with which he writes what he likes."
Despite years of strenuous physical, emotional and spiritual work, Mother Teresa seemed unstoppable. Though frail and bent, with numerous ailments, she always returned to her work, to those who received her compassionate care for more than 50 years. Only months before her death, when she became too weak to manage the administrative work, she relinquished the position of head of her Missionaries of Charity. She knew the work would go on.
Finally, on September 5, 1997, after finishing her dinner and prayers, her weakened heart gave her back to the God who was the very center of her life.
Scarcely two years after the death of Mother Teresa in September 1997, the Archbishop of Calcutta at the time, Monsignor Henry D'Souza, requested that Pope John Paul II dispense with the five-year waiting period required before beginning the process of beatification and canonization.
On March 9, 1999, Father Brian Kolodiejchuk, M.C., one of the Missionaries of Charity Fathers, was appointed postulator of Mother Teresa's cause. The first session of the process took place at St. Mary Parish, in Rippon Lane, Calcutta, a church Mother had attended on numerous occasions, as it was closest to the Missionaries of Charity's motherhouse.
At the conclusion of the first stage of the process in Calcutta on August 15, 2001, the second stage began, this time in Rome. Between 2001 and 2002, thirty-five thousand pages of documentation were collected, called the "Position." This, plus the approval in December 2002 of Monika Besra's miraculous cancer cure (which had occurred on the first anniversary of Mother Teresa's death), led to Mother Teresa's beatification at St. Peter Square on October 19, 2003 (World Missions Day).
Blessed Mother Teresa keenly felt Jesus' thirst for souls. Toward the very end of her life, she wrote a special message entitled "I Thirst" to the Missionaries of Charity Society. In it she wrote: "Only one secret: The closer we come to Jesus, the better we will know his thirst."
To quench Jesus' thirst was Mother Teresa's purpose in founding her religious society. She received this particular "call within a call" during the now famous train ride to Darjeeling on September 10, 1947. This day, known as Inspiration Day, is currently celebrated by the entire Missionaries of Charity Society.
The Missionary Sisters of Charity's constitutions state: "The general aim of the Society is to quench the thirst of Jesus Christ on the cross for love of souls."
The reason for our existence is to quench the thirst of Jesus
Christ. When he asked for water, the soldier gave him
vinegar to drink—but his thirst was for love, for souls, for
you and me.
This aim made Mother Teresa who she was and motivated her throughout her life to do the things she did. The morning of her death, September 5, 1997, in her last general letter, which she left unsigned, she wrote:
"September 10 is coming very close, and that is another beautiful chance for us to stand near Our Lady to listen to the thirst of Jesus and answer with our whole heart."
'Charity Begins at Home'

Since my first contact with Mother Teresa, I have had no other desire than to follow her footsteps as she followed Jesus. From my infancy, I had been longing to have an idea of the love one would feel in the presence of Mary, the Mother of Jesus. I felt this flow of loving goodness when I first glimpsed Mother Teresa in 1976 at her motherhouse in Calcutta. I was waiting in a small courtyard and saw her approaching between the gray buildings, with her bare feet and white sari with the blue border. She passed through a beam of light, and suddenly I understood; my longing was fulfilled.
I remember thinking to myself at that particular moment of grace, "How good it is to be good. I will do anything to have some of this goodness for my life." I knew that only a true master, possessing wisdom and holiness, is able to pass it on to his or her disciples, and I was eager to learn at Mother Teresa's school of charity.
Although I had not yet fully grasped it, my life at the time was hindered by a secret wound. At the beginning of my teen years, I had been molested by a priest at a school in Bologna, Italy; this episode left a deep sense of vulnerability entrenched in my life, leaving me totally powerless to help myself.
When I met Mother Teresa, I firmly believed that she would help me to find solutions to this problem and so recover and heal. She did not take the consequences of my abuse away, but by her words and example during my 21 years of association with her, she showed me the royal way of the cross.
Periodically she encouraged me to do heroic acts of total surrender, loving trust, and acceptance. I have not yet learned to do them with the childlike spontaneity and joy she wanted me to have, but I have persevered at her school. In spite of my resistance, she invited me again and again to abandonment to God and confidence in him. She strongly believed that Jesus' words in the Gospels were true, and she believed that if I remained open and willing, with faith, prayer, and penance, they would come to be realized in my life, too.
Undeniably, Mother Teresa's spiritual reality was one of an undivided love for Christ, consecrated by the evangelical counsels of poverty, chastity, obedience, and a special fourth vow of wholehearted free service to the poorest of the poor. Mother Teresa, in her desire to give glory to God for the good of any souls, would have wanted to offer her ideal of consecration to anyone ready to listen. The invitation to perfection in the Gospel is, "To anyone who has ears to hear, let him hear!" (Matthew 11:15).
Holiness is not the luxury of the few, but a simple duty for you and for me. So let us be holy as our Father in Heaven is holy. The more you are intimately in love with Jesus, the more holy you will become. The more holy you become, the more you will be a channel of his love, compassion, and presence to the poor. To follow Mother Teresa's example is a free choice that each individual has to make.
Let me conclude with a quote from Mother Teresa's letter of December 30, 1994:
The Gospel needs to be brought back to the countries falling away from Christianity. Bring the Word to the hungry and thirsting for God, starting with your own family. Charity begins at home.
Young people want to see more than to hear the Word of God. Words, to be true, must be followed by example. Bring yourself and your loved ones back to family prayer. Make your home another Nazareth, where Jesus, Mary, and Joseph can teach you how to live for God, how to belong to him.
The Family that Prays Together, Stays Together
Have a special place in your home for the Bible and a picture of the Holy Family. Gather together to pray and share the Word of God, in particular every Sunday. Invite your friends and neighbors whenever you pray together, and forgive each other' faults as God forgives us…. Keep in mind that the "family that prays together stays together." This is my missionary invitation to each one of you personally. Be the Holy Father's lay missionaries, and bring Jesus to each other and to the remotest corners of the earth where he is the least known. God is holy, and he calls you and me to share fully in his holiness.
The call to holiness guided Mother Teresa throughout her life. She said, "Every day I pray, please let my people grow in holiness. I need holy people to offer to God, I don't need numbers." That urgency for holiness was what she taught me, by example, by words, by silence.
It is not possible for those of us who claim to be her spiritual children to ignore the heroic promise she made to God: "I will give saints to Mother Church."
"I thirst, I quench"
+LDM
25 March, 1993
Varanasi
My Dearest Children—Sisters, Brothers, and Fathers,
This letter being very personal, I wanted to write in my own hand—by there are so many things to say. Even if not in Mother's hand, still it comes from Mother's heart. Jesus wants me to tell you again, especially in this Holy Week, how much love He has for each one of you—beyond all you can imagine. I worry some of you still have not really met Jesus—one to one—you and Jesus alone. We may spend time in chapel—but have you seen with the eyes of your soul how He looks at you with love? Do you really know the living Jesus—not from books but from being with Him in your heart? Have you heard the loving words He speaks to you? Ask for the grace, He is longing to give it. Until you can hear Jesus in the silence of your own heart, you will not be able to hear Him saying "I thirst" in the hearts of the poor. Never give up this daily intimate contact with Jesus as the real living person—not just the idea. How can we last even one day without hearing Jesus say "I love you"—impossible.
Our soul needs that as much as the body needs to breathe the air. If not, prayer is dead—meditation-only thinking. Jesus wants you each to hear Him—speaking in the silence of your heart. Be careful of all that can block that personal contact with the living Jesus. The devil may try to use the hurts of life, and sometimes our own mistakes—to make you feel it is impossible that Jesus really loves you, is really cleaving to you. This is a danger for all of us. And so sad, because it is completely opposite of what Jesus is really wanting, waiting to tell you. Not only that He loves you, but even more—He longs for you. He misses you when you don't come close.
He thirsts for you. He loves you always, even when you don't feel worthy. When not accepted by others, even by yourself sometimes—He is the one who always accepts you. My children, you don't have to be different for Jesus to love you.
Only believe—You are precious to Him. Bring all you are suffering to His feet—only open your heart to be loved by Him as your are. He will do the rest. You all know in your mind that Jesus loves you—but in this letter Mother wants to touch your heart instead. Jesus wants to stir up our hearts, so not to lose our early love, especially in the future after Mother leaves you. That is why
I ask you to read this letter before the Blessed Sacrament, the same place it was written, so Jesus himself can speak to you each one.
Why is Mother saying these things? After reading Holy Father's letter on "I thirst," I was struck so much—I cannot tell you what I felt. His letter made me realize more than ever how beautiful is our vocation. How great God's love for us in choosing our Society to satiate that thirst of Jesus, for love, for souls—giving us our special place in the Church. At the same time we are reminding the world of His thirst, something that was being forgotten.
I wrote Holy Father to thank him. Holy Father's letter is a sign for our whole society—to go more into this great thirst of Jesus for each one. It is also a sign for Mother, that the time has come for me to speak openly of the gift God gave Sept. 10—to explain as fully as I can what means for me the thirst of Jesus. For me Jesus's thirst is something so intimate—so I have felt shy until now to speak to you of Sept. 10—I wanted to do as Our Lady who "kept all these things in her heart."
That is why Mother hasn't spoken so much of I Thirst, especially outside. But still, Mother's letters and instructions always point to it—showing the means to satiate His thirst through prayer, intimacy with Jesus, living our vows—especially our 4th vow. For me it is so clear—everything in MC exists only to satiate Jesus. His words on the wall of every MC chapel, they are not from the past only, but alive here and now, spoken to you. Do you believe it? If so, you will hear, you will feel His presence. Let it become as intimate for each of you, just as for Mother—this is the greatest joy you could give me. Mother will try to help you understand—but Jesus himself must be the one to say to you "I Thirst." Hear you own name. Not just once. Every day. If you listen with your heart, you will hear, you will understand.
Why does Jesus say "I Thirst"? What does it mean? Something so heard to explain in words—if you remember anything from Mother's letter, remember this—"I thirst" is something much deeper than Jesus just saying "I love you." until you know deep inside that Jesus thirsts for you—you can't begin to know who He wants to be fore you. Or who He wants you to be for Him. The heart and soul of MC is only this—the thirst of Jesus's Heart, hidden in the poor. This is the source of every part of MC life. It gives us our Aim, our 4th vow, the Spirit of our Society. Satiating the living Jesus in our midst is the Society's only purpose for existing. Can we each say the same for ourselves—that it is our only reason for living? Ask yourself—would it make any difference in my vocation, in my relation to Jesus, in my work, if Jesus's thirst were no longer our Aim—no longer on the chapel wall? Would anything change in my life? Would I feel any loss? Ask yourself honestly, and let this be a test for each to see if His thirst is a reality, something alive—not just an idea. "I Thirst" and "You did it to me"—Remember always to connect the two, the means with the Aim. What God has joined together let no one split apart. Do not underestimate our practical means—the work for the poor; no matter how small or humble—that make our life something beautiful for God. They are the most precious gifts of God to our Society—Jesus's hidden presence so near, so able to touch. Without the work for the poor the Aim dies—Jesus's thirst is only words with no meaning, no answer. Uniting the two, our MC vocation will remain alive and real, what Our Lady asked.
Be careful choosing retreat preachers. Not all understand our spirit correctly. They may be holy and learned, but that does not mean they have the grace of state of our vocation. If they tell you something different than Mother is writing in this letter, I beg you not to listen or let it confuse you. The thirst of Jesus is the focus of all that is MC. The Church has confirmed it again and again—"Our charism is to satiate the thirst of Jesus for love and souls—by working at the salvation and sanctification of the poorest of the poor." Nothing different. Nothing else. Let us do all we can to protect this gift of God to our Society.
Believe me, my dear children—pay close attention to what Mother is saying now—only the thirst of Jesus, hearing it, feeling it, answering it with all your heart, will keep the Society alive after Mother leaves you. If this is your life, you will be all right. Even when Mother leaves you, Jesus's thirst will never leave you. Jesus thirsting in the poor you will have with you always.
That is why I want the Active Sisters and Brothers, the Contemplative Sisters and Brothers, and the Fathers to each one aid the other in satiating Jesus with their own special gift—supporting, completing each other and this precious Grace as one Family, with one Aim and purpose. Do not exclude the Coworkers and Lay MCs from this—this is their call as well, help them to know it.
Because the first duty of a priest is the ministry to preach, some years back I asked our Fathers to begin speaking about I Thirst, to go more deeply in to what God gave the Society Sept. 10. I feel Jesus wants this of them, also in the future—so pray Our Lady keeps them in this special part of their 4th vow. Our Lady will help all of us in this, since she was the first person to hear Jesus's cry I Thirst with St. John, and I am sure Mary Magdalene. Because she was there on Calvary, she know how real, how deep His longing for you and for the poor.
Do we know? Do we feel as She? Ask her to teach—you and the whole Society are hers. Her role is to bring you face to face, as John and Magdalene, with the love in the Heart of Jesus crucified. Before it was Our Lady pleading with Mother, now it is Mother in her name pleading with you—"Listen to Jesus's thirst." Let it be for each what Holy Father said in his letter—a Word of Life. How do you approach the thirst of Jesus? Only one secret—the closer you come to Jesus, the better you will know His thirst. "Repent and believe," Jesus tells us. What are we to repent? Our indifference, our hardness of heart. What are we to believe? Jesus thirsts even now, in your heart and in the poor—He knows your weakness, He wants only your love, wants only the chance to love you. He is not bound by time.
Whenever we come close to Him—we become partners of Our Lady, St. John, Magdalene. Hear Him. Hear your own name. Make my joy and yours complete. Let us pray.
God bless you.

M. Teresa, MC
The first time I heard Mother Teresa speak was at St. Albert's College in Ranchi, India. I was doing my studies in philosophy at the college, and she came to address the staff and the students in March 1966. I met her personally at noon on November 30, 1966, in the motherhouse parlor in Calcutta. (In January 2001 the Indian government officially changed the city's name to Calcutta.)
The last time I was with her was on July 19, 1997. I was the main celebrant at a Mass at the sisters' house at 222 Via Casilina in Rome. After the Holy Mass she started talking to us brothers in the chapel. A sister came to wheel her away in her wheelchair, and Mother told us to go have breakfast.
While we were doing so, she sent the regional superior, Sr. Elena, to ask us to stay afterward so that she could talk with us again in the chapel. She came in her wheelchair and spoke to us for over 45 minutes about humility and charity and how to become holy. The only way to humility, she told us, is to accept joyfully all the humiliations, mistreatments, and trials of everyday life.
One of the brothers asked, "Mother, who is your favorite saint?"
She said without waiting for him to finish the question,"Our Lady."
The brother was not happy with the answer. "But Our Lady is very special. Who else?"
She said, "St. Joseph"—in other words, the Holy Family.
She told us to keep praying for China. She told us not to get preoccupied with many useless things but to concentrate on Jesus and His life and mission. She blessed us all.
She did not want to stop. She repeated some things many times, as she tended to forget what she had said a minute before. She had totally surrendered her memory, her will, everything. These things the Lord had taken away from her, but remaining with her were His grace and His love. This was enough for Our Lord, for her and for us.
'We Know Each Other by Heart'
On the afternoon of that same day, Br. Charbel and I accompanied her to the airport along with some sisters and others. We were given the VIP room, where she enquired about how things were with the brothers. She wrote a few notes for us and for the Lay Missionaries of Charity, and then she had me sit closer to her.
She spoke with me about the Corpus Christi Movement, an international movement she had founded, with the blessing of Pope John Paul II, for diocesan priests. Fr. Pasquale Cervara, the coordinator of Corpus Christi, was present. Her last words to me were "I want you to be a part of it."
By then the Air India official had come to take her to the aircraft. Our eyes were full, as we all felt that perhaps it was the last time we would see her in this world. It was a symbolic take-off. Air India would not bring her to the home of her heavenly Father, but her hour would soon come.
Mother Teresa's last letter to me is dated August 23, 1997. It was a short note of recommendation for an elderly person who wanted to become a priest.
I talked to her on the telephone from our house in Albania on August 26, 1997, her 78th birthday. She sounded quite well. "How are you, Fr. Sebastian, and how are all the brothers? You are always in my prayers. Pray much for Mother. All right."
I told her that 26 of us were on our annual retreat, to which she replied, "Thank God for the vocations and try to help them to become holy. Pray much for Mother. God bless you.. . . If you need anything, do not hesitate to ask the sisters. God bless you. Mother loves you." This was the last time that I spoke with Mother.
Her hour arrived on September 5, the first Friday of the month. That is when her immortal soul flew from her frail, old, worn-out body to be with the Source of life and love for all eternity. She would be like a piece of iron stuck to its magnet once and for all, destined to carry on her mission of loving service from the throne of the Most High God.
Thirty-one years of knowing a person. In one sense I knew her more than my own mother, whom I loved so much. With my mother I lived 19 years, most of which I spent at school. But with Mother Teresa I spent the best part of my life, working with the poor in various parts of the world. She used to say, "We know each other by heart."
Grace from God
Through her life and work Mother Teresa gave visibility to the invisible God, as a light bulb makes electricity visible. As the light bulb does not produce the electricity, so too the power to do good belonged not to her but to the Lord. There were therefore no grounds for her to be proud. It was clear to her that the more united she was to Jesus, like the branch to the vine, the more abundantly she would bear fruit for Him.
"Let us thank God and Our Lady" was her spontaneous response when people thanked her for the blessings they received through her prayers. Aware of the Source of all power, she wrote in the first pages of her handwritten Constitutions:
It was Jesus Christ on the Cross through His blessed Mother—in His great mercy and love—who chose one of His most unworthy and most incapable of human beings to start His own work among the poor. Therefore the Society as a whole or in detail is completely and will always remain the sole possession of the Mother of God.
Jesus redeemed the world. But He calls people to carry on His work of redemption in the world. Mother Teresa was chosen to help the world recognize the presence of Jesus under the distressing disguise of those broken in body and soul. Her invitation to become holy was a pleasant appeal to hearts: "God wants us all to be holy. In the evening of life when we appear before God, we are going to be judged on love."
The task God entrusted to Mother Teresa, though difficult, was very important: namely, to surrender herself totally to His holy will and to dedicate her life entirely to the service of the poorest of the poor on the streets of Calcutta. According to her, "This was an order." With the command he also gave her the assistance of the Holy Spirit. For her the "Upper Room" was the passenger compartment of a train headed for Darjeeling in the dark hours of the night of September 10, 1946. The gift that she received on that night unfolded with time.
Mother Teresa was given the grace to understand that the biggest disease in the world today is not leprosy or tuberculosis, but rather the feeling of being unwanted, uncared for, and deserted by everybody. The greatest evil is the lack of love and charity, the terrible indifference towards one's neighbor who lives by the roadside and is assaulted by exploitation, corruption, poverty, and disease. . . . Only in heaven we will see how much we owe to the poor for helping us to love God better because of them.
Mother Teresa's joy was an expression of God's loving presence in her. "Joy is prayer. . . . Joy is love. . . . Joy is a net of love by which we can catch souls," she wrote in the sisters' Constitutions. I often marvelled at her untiring energy, her calm, and her charming smiles. I saw people come to her with frowns and scowls and go away with radiant faces. Many even confessed their sins to her, and these she directed to a priest for sacramental confession. She had the gift of touching hearts with peace, of anointing them with "the oil of gladness" (Ps 45:7).
A Powerful Witness
Her work disturbed the consciences of many and moved even the most hardened hearts. I have seen politically potent people kneel to kiss her feet. Often her appearances required police protection and even military assistance because of the crowds. When she was sick and stooped, people of all ages and walks of life still ran to her. Many just wanted to touch her feet or her sari, to get her blessing or even just a glimpse of her aged, smiling face.
It was the firm belief of countless people throughout the world that Mother Teresa was a "living saint of our time." Not only Roman Catholics but people of all religions and denominations considered her sanctity heroic, her spiritual gifts extraordinary. The Hindus in India believe that she was another manifestation of one of the goddesses of charity.
The popularity and the formal recognition she received from the most prestigious quarters did not make any difference to her personality or her behavior. Her lifestyle remained simple, humble, joyful, available, ready to serve rather than to be served, ready to do any sort of work.
One day she could be with the president and leading ministers of India, and the next she could be found washing and feeding people in one of her homes for the poor. This constancy, this heroic humility and charity, convinced the world of her exceptional holiness of life.
Her photos were distributed by the thousands. Her simple words were quoted at gatherings of the mighty. Her letters and autographs are treasured with meticulous care. Audiocassettes, videos, books, and articles are sold not only in Catholic bookshops but in other religious and nonreligious venues. Many of these items can be found in various languages, even some of the less spoken languages of the world.
The years of selfless and dedicated service in no way diminished her initial fervor, her heroic charity, her zeal for the salvation and sanctification of souls, or her love for the poor. Her heart burned with the "fire of divine love," which continually gave her new energy. She desired nothing except to love until she died of love.
Mother was very hardworking. Previous to her first serious heart attack in 1989, she often spent a large part of the night writing letters. Even on that last Friday, September 5, 1997, she spent the whole morning working.
Mother wanted to die working and to die in the room that had been hers for most of her life as a Missionary of Charity. God granted both desires.
Love Is Limitless
From the moment the news of her going home to God was announced on the night of September 5, the world showed exceptional love and devotion, interest and concern. A week of vigil over her body was another form of preaching—not by mere words, nor even by action, but simply by physical presence.
Thousands of people lined up to have their last "dharsan" of the little "Mahatma—Mother Teresa" and to offer their final homage to her, many bringing flowers. Throughout the world Masses and prayers were offered in thanksgiving to God for His gift of Mother Teresa to the Church and to the world.
Her funeral was unprecedented: Never before had a religious received a Catholic and state funeral at the same time. This was her final way of evangelizing the nations, when on that morning of September 13, 1997, the eyes of the whole world focused on the solemn historic event in Calcutta.
A military band accompanied the slow procession from the Church of St. Thomas, Middleton Row, to the Netaji Stadium, with Mother's corpse travelling on the funeral carriage that had been used previously for only Mahatma Gandhi and Jawaharlal Nehru, two great political leaders of the Indian nation.
Here religion and politics met in a momentary experience of heaven: the visible meeting the invisible; the Church meeting the nations. Here religions went beyond their boundaries; here political powers bowed their heads in respect and reverence to a simple religious.
Here God made Himself known, once again through His humble and obedient creature Mother Teresa, as the King of Kings of the whole world. Here the words of St. Paul were manifest: "God chose what is foolish in the world to shame the wise; God chose what is weak in the world to shame the strong" (1 Cor 1:27).
Is there anything that love cannot achieve? Charity coupled with humility is the mightiest of all weapons in our struggle to conquer the world for God.
Through Mother Teresa the love of God triumphed and the nations of the world bowed before the power of love—the love that can never be defeated, the love that ever conquers and goes forth to fresh victories, the love that made itself known on that solemn morning of September 13, 1997.
Sebastian Vazhakala, MC, was the first priest ordained as a Missionary of Charity. He is the superior general of the Missionaries of Charity Contemplative.
Mother Teresa was born into a loving family. Her parents, Nicholas and Rosa, nurtured their children and the young Bojaxhiu family flourished. During the day, their devoted mother cared for the children while their father was at work. When evening approached, Rosa would rush about and prepare to greet Nicholas. No matter what had happened during the day, Rosa was always smiling when Nicholas returned home. Growing up in the midst of this joyful existence was a pleasure for Aga, Lazar, and Agnes.
These days of bliss were numbered, however. Nicholas was a prominent businessman involved in local politics. His political activity may have been connected to his sudden death, which many suspected was due to poisoning. Agnes was only seven years old. Rosa was now entirely responsible for her children, and while the home had always been a devout one, it now began to radiate even more clearly the light of the faith.
The Bojaxhius were active in the parish church across the street from their home, Sacred Heart of Jesus. The widow and her children regularly participated in church meetings, religious services, and the choir. Agnes was a gifted soprano and the soloist for the choir. She was also an active member of the Daughters of Mary, and she faithfully attended her catechism classes. She relished every opportunity to learn about her favorite topics: the lives of the saints and the work of missionaries.
The faith of the family extended beyond the walls of the church. When poor beggars came to the door of the Bojaxhiu home, Rosa never allowed them to go away hungry. She explained to her three children that these people, poor though they were, were their brothers and sisters, too. This Christian perspective made an impact on the youngsters, who grew up serving the poor. Agnes would eventually make this her life's work.
A Heart for Service
Agnes had a special interest in missionary service. As a young girl she eagerly absorbed any news of missionary activity. Whenever she heard of a new missionary endeavor, she would locate the mission site on a map of the world that hung in her house and record little notes next to it. She followed the reports of Christian men and women working in far-off places, hoping one day to join their company.
When she was 12 years old, Agnes told her mother she wanted to be a missionary, but Rosa said she needed to wait until she was older. Six years later, Agnes was ready to assert that her long-standing desire was more than a child's fancy. While offering prayers at an altar in honor of Mary, the patroness of Skopje, Agnes felt her vocation confirmed in her heart. She believed that Mary had interceded for her to help her know her vocation with certainty. Agnes' call to religious life and attraction to missionary service would soon lead her to her home in India.
At 18 years of age, Agnes waved good-bye to her little family, whom she would never see again, and she stepped onto the train alone. Traveling through Yugoslavia, Austria, Switzerland, France, and England, she arrived safely at the motherhouse of the Sisters of Our Lady of Loretto in Dublin, Ireland. This was the missionary teaching order she had decided to join.
Agnes studied English for two months before boarding a ship for India, which arrived there 37 days later. After spending one week in Calcutta, Agnes traveled to the novitiate house in Darjeeling, India. Two years more, and Agnes took her religious name, Mary Teresa (after Saint Thérèse of Lisieux).
After making her temporary vows, Sister Teresa went to Calcutta for her first assignment. She moved to the pristine campus of St. Mary's High School, which served girls from wealthy Indian families. During her first years there, Sister Teresa taught history and geography. Later she served as the director of studies. Sister Teresa was quite content at St. Mary's, where she would spend 17 years. She embraced her new home and culture to such an extent that she would later declare herself to be "Indian by choice." She considered herself the happiest nun in the community, though her life there was one of routine responsibility. She prayed and taught, and then she did it again the next day. The sisters who lived with her considered her to be ordinary, quiet, and shy.
New Challenges
But on September 10, 1946, something out of the ordinary took place in Sister Teresa's life. On this day, which she later referred to as "Inspiration Day," she heard God speak to her while she was traveling by train to Darjeeling. She understood that God was asking her to start a new order of missionary sisters who would work among the poorest of the poor in India. But she did not know how she was to carry out this divine directive.
"I knew where I belonged," she later said, "but I did not know how to get there."
This dramatic "call within a call" persisted. Sister Teresa felt that God was asking her, "Wouldst thou not help?" This was not her own whim or idea: She firmly believed Jesus was making this request, and she wanted to respond with generous love.
In a letter to Archbishop Perier dated January of 1947, Sister Teresa explained how she had heard God asking her to begin an order of Indian sisters to serve the poor, and she asked for the archbishop's permission to do so. In spite of her desire to begin this work, however, she respectfully wrote, "At one word that Your Grace would say, I am ready never to consider again any of those strange thoughts which have been coming continually." Thankfully, Archbishop Perier did not tell her to abandon the idea. But it would be some time before she was able to carry out the call God had placed in her heart.
Sister Teresa had no intention of giving up her religious vows, but she did need permission to leave her religious community. She planned to start an entirely new order, which required additional ecclesiastical sanction. After several years marked by letters and visits to obtain special permission from the archbishop of Calcutta, the mother general of the Loretto nuns, and the Holy Father, Pope Pius XII, Sister Teresa was finally ready to say farewell to her convent home.
On August 17, 1948, Sister Teresa left behind the beautiful buildings and gardens of St. Mary's School, the community of sisters and students who had become her friends, and the comfort of stability and routine. She took off the religious habit she had worn for twenty years, donned the white sari of the poorest Indian women, and walked out into the streets of Calcutta.
Once again she was beginning an unknown journey alone. In fact, Mother Teresa later said that this was the most difficult thing she ever did in her life; it was more challenging even than leaving her family and her country to become a nun. And she did it for the love of God.
Champion of the Poor
After taking a course in nursing, Sister Teresa conducted classes for children. Gathering them together in the open air, she taught the basics of personal hygiene and then gave lessons in the faith. At the beginning, this makeshift school was truly humble: dirt and sticks had to suffice in place of paper and pencils. In spite of the scarcity of proper materials, however, the children came to love Sister Teresa, and the crowds grew each day.
Soon Sister Teresa was paying personal visits to the children's families. As she walked through the slums on these missions of charity, she witnessed extreme destitution. Those families who dwelt in ramshackle huts were the lucky ones; many people were living on the streets or in the gutters. Most of these forgotten men and women were on the verge of death, laying miserably without so much as a sympathetic glance from another human being to bring them comfort. But Sister Teresa did not ignore them. Her attentiveness to people in the direst situations became the hallmark of her work.
She recalled the moment when she first picked up a woman whom she saw in the street. "I could not have been a Missionary of Charity if I had passed by when I saw and smelt that woman who was eaten up by rats—her face, her legs. But I returned, picked her up and took her to a hospital." It was not as simple as handing the woman over to the doctors, however; at first the hospital would not admit the woman. But Sister Teresa refused to move until they accepted the dying patient.
Sister Teresa approached the city authorities and asked for a place to bring the suffering people she was passing in the streets. They gave her an empty building in a Hindu temple, which she filled with patients within 24 hours.
A Growing Need
And so the Society of the Missionaries of Charity was born. In the next months several young women came to join in Sister Teresa's work, all of them her former students from St. Mary's. They were eager to give themselves to God through this special mission. With their help Sister Teresa soon set up her first school. Then came a home for the sick and the dying, Nirmal Hriday, "Home of the Pure Heart." The building immediately filled to capacity with suffering people for whom the sisters lovingly cared. It didn't take long for Sister Teresa to become known as Mother Teresa, or simply Mother.
The sisters did not have a convent at first; they lived simply in a rented apartment. Within two years the Missionaries of Charity, with its 12 original members, had gained pontifical approval. Trusting entirely in God's providence to sustain their work, in only three years they had built a motherhouse, established an orphanage, and set up a program to serve lepers throughout the city of Calcutta. Twelve years later they opened their first home outside of India. By 1971 the order ran 50 homes throughout the world, and many more were yet to come. Mother Teresa once told several sisters who were about to begin a new mission, "If there are poor people on the moon, we will go there."
She went on to help found the Missionary Brothers of Charity and two contemplative branches, the Missionary Brothers and Sisters of the Word. She also worked to establish the Coworkers, who support the Missionaries of Charity by offering prayers and resources for the work of the order.
With such productivity one might assume everything came easily to Mother Teresa. Not so. She dealt with opposition and resistance from political authorities, as well as the ongoing challenge of caring for the poor and sick without any regular income for her order. On a personal level, she also endured decades of intense spiritual darkness, as well as physical pain and trauma.
When she was 78, she suffered from heart problems, likely aggravated by exhaustion from her work. Her doctors installed a pacemaker, and Pope John Paul II asked her to take concern for her health. She took six months of rest. Within another year she stepped down as superior general of the order, but five months later she was reinstalled.
Mother Teresa never fully recovered her health. She suffered five heart attacks before she finally rested in peace. She died on September 5, 1997, at the motherhouse in Calcutta, which had long since become her home.
This is an excerpt from the book Thirsting for God: Daily Meditations, edited by Angelo D. Scolozzi, M.C.III.O., a close associate of Mother Teresa. He is the cofounder, with Mother Teresa, of the universal fraternity of the Word—Missionaries of Charity Third Order, M.C.III.O.
On October 19, 2003, Pope John Paul II beatified Mother Teresa of Calcutta, who died in 1997. The process leading up to the beatification has been the shortest in modern history. In early 1999—less than two years after Mother Teresa's death—Pope John Paul waived the normal five-year waiting period and allowed the immediate opening of her canonization cause.
In 2002, the Holy Father recognized the healing of an Indian woman as the miracle needed to beatify Mother Teresa of Calcutta. That healing occurred on the first anniversary of Mother Teresa's death. It involved a non-Christian woman in India who had a huge abdominal tumor and woke up to find the tumor gone. Members of the Missionaries of Charity, the religious order Mother Teresa founded, prayed for their founder's intervention to help the sick woman.
"Her life of loving service to the poor has inspired many to follow the same path. Her witness and message are cherished by those of every religion as a sign that 'God still loves the world today,'" members of the Missionaries of Charity said in a statement after Mother Teresa's beatification was announced.
Since her death, they said, "people have sought her help and have experienced God's love for them through her prayers. Every day, pilgrims from India and around the world come to pray at her tomb, and many more follow her example of humble service of love to the most needy, beginning in their own families."
In 2001, on the feast of the Assumption of Mary, officials closed the diocesan inquiry into Mother Teresa's sanctity. The yearlong gathering of testimony from those who knew Mother Teresa was the first major step in a typically long process. A year earlier, at an August 26, 2000, celebration in Calcutta marking Mother Teresa's birth anniversary, Hindu, Sikh, and Muslim admirers joined in common prayers for her speedy canonization.
Road to Sainthood
If Mother Teresa of Calcutta had lived in earlier centuries, the Church might have gathered at her funeral to declare her a saint. That's the way things worked in ancient Christianity. Now achieving official sainthood is more complicated—and not without its own brand of politics and other human imperfections. But just as this "Saint of the Gutters" seemed above politics in her life, her utter and simple devotion to the poor will transcend bureaucratic obstacles between her and official sainthood.
Why the formal process of canonization? Why the delay? It has been observed that the Catholic Church thinks in centuries, not in years. It is good for the Church to test the enthusiasm of the day, to wait awhile, to discern whether one seen as a saint today will stand the test of time. As Archbishop Thomas D'Souza once said, the Church "must be sure that someone who is declared to be a saint is truly such." The formal investigation will document details of Mother Teresa's life that may have gone unnoticed, and thus provide a wealth of information for generations to come.
D'Souza, a longtime friend of Mother Teresa's, never doubted that "God would provide the miracles" to prove her cause. It was Teresa's single-mindedness, her simplicity, and consistency that captured the world's imagination. One can only recall the beatitude of Jesus, "How happy are the pure of heart." That pureness of heart is a simple, single-minded commitment to the ways of God. We computer-dependent citizens of the 20th century long for simplicity; Mother Teresa of Calcutta lived it.
A Holy Example
In a 1981 interview, Mother Teresa spoke about another champion of the poor: St. Francis of Assisi. In a famous story of a turning point in Francis' life, he encounters a leper by the side of the road and passes him by. Then he realizes that if he is going to devote his life to the poor he must embrace the leper—he must welcome him into his life as a brother. Francis then runs to the leper's aid. Mother Teresa commented, "The encounter with the leper made St. Francis." So, too, it is Mother Teresa's selfless encounter with the dying that made Mother Teresa.
It is the calling of Christians to serve the poor, to make room at the table for everyone. Francis came to see that. He reveled in the foolishness of God who has special love for those whom most of us would rather avoid. Teresa learned that, too, during mid-life. She will be named a saint because she cleared away life's clutter and allowed God to work through her in a powerful way. We should imitate her.
Source: Mother Theresa
Fr. Michel Rodrigue explaines The Events of the End Times
Do you want a quick overview of the end times? Then read "The great events of purification will begin this fall". If you want all the details of the unfolding events, then go to "Virtual Spiritual Retreat with Fr. Michel Rodrigue about the End Times".
The Pope's approval of homosexuality
Beware of the 'New World Order'
The Rosary is the weapon of these times
The truth about the Coronavirus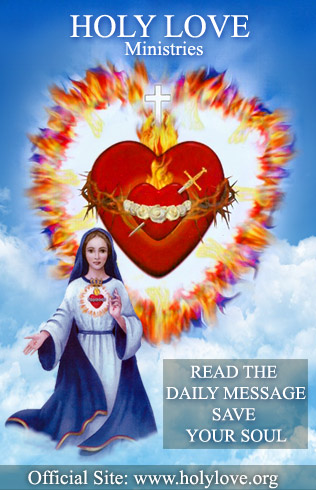 Read the daily messages
Catholics, we have entered the Pre-Tribulation, observe the Commandments, go to Confession; receive the Holy Eucharist; pray at least 3 Rosaries a day to keep your faith and save your loved ones. Prepare for the events that will devastate our planet: plagues, famine, WW3, cataclysms, antichrist's World Order