July 5, 2015
Urgent call from Mary the Sanctifier to God's Children
The chaos is about to start in the city of seven hills
"My little children, may the peace of the Most High be with you and My Maternal protection accompany you always.
Little ones, today I am very sad to see that many nations have approved laws that go against life and Christian morals.
My Motherly heart is being pierced by all those world leaders and lawmakers who are approving laws in favor of abortion and same sex marriage.
Rebellious children, I tell you that by approving these laws what you are doing is to speed up the Divine Justice over your nations.
All nations where laws against Christian life and morality have been approved, will be destroyed; and all the leaders and lawmakers who have signed of given their vote in favor of these death laws, are anathema and if they do not ask for forgiveness and repair for that, I assure you that they will be removed from the Book of Life and their eternal sentence will be: Eternal Death!
My little ones, I want to communicate that the Masonic plan to destabilize My Son's Church, to collapse the world's economy, and to implement the mark of the beast, has already been put in motion and being executed.
The emissaries of evil inside the Vatican have already planned everything and they are giving the start to the Church's Calvary.
The purple ones are divided, some in favor and some against the reforms; some support the Pope, other reject him. The wick that will trigger the Church's schism is about to be ignited.
Many heads will roll and the people of God will know who the traitors are; the chaos is about to start in the city of seven hills and this will be leveraged by the army of evil whose black flag has made the blood of many innocents run.
Rome will fall, the pope will escape surrounded by cadavers and the blood of many of My faithful predilect ones will run through its streets.
My little ones, be prepared to walk with Me to the Calvary, because My Son will be betrayed again. My children, the Passion of the Church of My Son is approaching; the spilled blood of My faithful predilect ones will be the blood with which My Son will purify It so that tomorrow a new Church can resurrect, which will be poor, simple and filled with the Holy Spirit's charism.
Marian Army, accompany Me with your prayers, dress with the robes of prayer, fast, penance and mortification. Unite with me so that together and in a single voice, we ask the Father for the prompt purification and redemption of the Church and of God's people. May the peace of My Lord be always with you.
Your Mother loves and protects you, Mary the Sanctifier
Let My messages be known to all humanity."
Source: mensajesdelbuenpastorenoc.org
The truth about the Coronavirus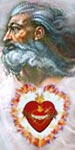 May 1, 2020 - God the Father says: "Today, I invite you to realize that this virus - the coronavirus - is no ordinary disease. It has been created from human ingenuity to specifically target the elderly and physically challenged. This is the plan of future generations to purify the human race around the world. It was released into the general population ahead of schedule - by accident. Those in charge were waiting for less capable government officials in your country (USA) to be in office. Nevertheless, proposed harm is being unleashed on the whole human race."
"I tell you these things to help you to realize the underlying evil at work and hidden in hearts these days. You cannot be confounded by any turn of events. Over all situations, I am in Dominion. No one will be given power over you that is more powerful than your Eternal Father. Therefore, be emboldened with this knowledge. If you persevere in Truth, you have loaded your weapons against what seems to be and discharged them with Truth." (Source: Holy Love)
Help the Lord spread His voice, time is running out
Please help spread these messages of faith, hope, salvation,
defense
against evil (by email, printing, Facebook, Twitter, and other media) to your loved ones, your friends, and all the people you may meet, who seek salvation or who are in danger of being eternally lost. The Lord gives great graces and blessings to those of goodwill who, according to their own possibilities, collaborate with His Plan of Salvation.
Who helps the Lord save a soul predestine his own
, independently from the outcome.