8 June 2016
Appeal of Mary, Auxiliatrix(1) to the children of God
Rome will burn like in the time of Nero
"Little children of My Heart, the peace of My Lord be with you all.
Little children, remain united to My Son and to this Mother who loves you so much; attend Holy Mass as much as you can and feed yourselves with the Body and Blood of My Son.
Pray my Holy Rosary every day, pray for the Church and for the conversion of all sinners throughout the world.
Consecrate yourselves to Our Two Hearts and consecrate your families to Us, so that no one is lost in the Warning and is able to return to this world, convert himself and be part of My Son's flock. 
A large rock of fire is approaching Earth and nothing and nobody can stop it, because it is the Justice of God sending it; fire from heaven will fall upon Earth and will punish the wicked nations.
Little children, do not be stubborn, run to put order in your house (soul), because the days of the Divine Justice are about to begin and the vast majority of my little ones go turning away from the path that leads to salvation.
Your Mother does not get tired of interceding for you, My rebellious children; but you must do your part so that Heaven can act, because otherwise, you will be the ones who condemn yourselves.
Remember that we respect your free will, of your will to change, it depends that you live or lose your souls eternally.
My Father is love and wants all to be saved and to come to the knowledge of the Truth.
Do not be foolish, return to God as soon as possible; look that the time is getting shorter and shorter every moment and by keeping on going as you are, walking in sin, what you are going to find very soon is eternal death.
I am appearing in many places and especially in those where people do not know me.  I want to draw them all and bring them to the love of God and to His mercy; as Mother of humanity, it is my desire that all be saved.  I want to gather my Son's flock into one fold, so that we are one family united in faith, and together, hand in hand, to go and meet My Lord.
Little children, the banner of communism is extending itself through many nations and very soon will arrive in Rome.
This one will lose her faith and will turn into a sewer of sin and apostasy.  Many will be lost and will reject both God and the Church, through the scandals that will take place within Her.
Rome will open her doors to my adversary, so that he will finally end up sitting on the Chair of Peter.  God's Justice will punish her and the city of seven hills will burn like in the time of Nero.
Prepare yourselves, little children, because it is near the day in which the man of iniquity will appear to humanity.
Flock of my Son, beware of falling into deception, you already know that this is the son of perdition, who comes to take the place of God and to deceive many, causing them to lose their faith and their eternal life.  Walk, then, My children, as children of light, so that nothing or nobody will separate you from the love of God.
Your Mother loves you, Mary Auxiliatrix.
Let My messages be known to all mankind."
(1) Maria vero adstat regina a dextris eius, tutissimum cunctorum periclitantium perfugium et fidissima auxiliatrix, ut nihil sit timendum nihilque desperandum ipsa duce, ipsa auspice, ipsa propitia, ipsa protegente (Pius IX in Bull). (Mary sitteth at the right hand of her Son – a refuge so secure and a help so trusty against all dangers that we have nothing to fear or to despair of under her guidance, her patronage, her protection)
Source: mensajesdelbuenpastorenoc.org
The truth about the Coronavirus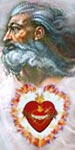 May 1, 2020 - God the Father says: "Today, I invite you to realize that this virus - the coronavirus - is no ordinary disease. It has been created from human ingenuity to specifically target the elderly and physically challenged. This is the plan of future generations to purify the human race around the world. It was released into the general population ahead of schedule - by accident. Those in charge were waiting for less capable government officials in your country (USA) to be in office. Nevertheless, proposed harm is being unleashed on the whole human race."
"I tell you these things to help you to realize the underlying evil at work and hidden in hearts these days. You cannot be confounded by any turn of events. Over all situations, I am in Dominion. No one will be given power over you that is more powerful than your Eternal Father. Therefore, be emboldened with this knowledge. If you persevere in Truth, you have loaded your weapons against what seems to be and discharged them with Truth." (Source: Holy Love)
Help the Lord spread His voice, time is running out
Please help spread these messages of faith, hope, salvation,
defense
against evil (by email, printing, Facebook, Twitter, and other media) to your loved ones, your friends, and all the people you may meet, who seek salvation or who are in danger of being eternally lost. The Lord gives great graces and blessings to those of goodwill who, according to their own possibilities, collaborate with His Plan of Salvation.
Who helps the Lord save a soul predestine his own
, independently from the outcome.