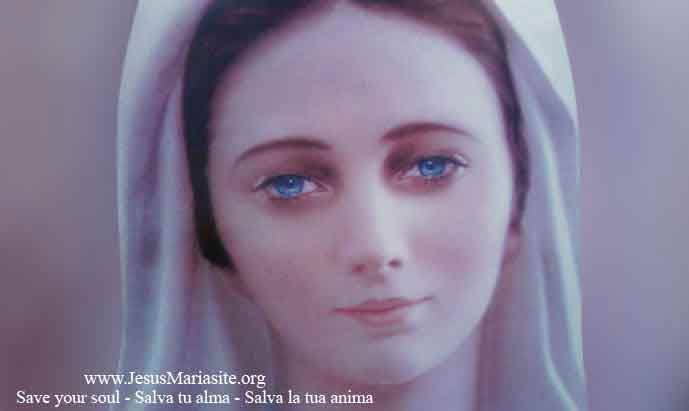 Rising Up Every Day
Maria says: (Maria Mother and Teacher, Vol. 1) "
My children, here I am to bring you a brief word that may help you to link the thought of the Resurrection of my divine Son to that of the resurrection to which everyone is called after this earthly life, in order to live in the glory of Heaven that divine life which is the end, the conquest of every created soul.
To me, before anyone else, Jesus appeared after his resurrection and I saw his glorious and luminous Body, in which the marks of the passion shone like suns and the wounds of which He was covered, smelled like the most delicate flowers.
The Son whom I had seen reduced to a worm of the earth, wounded and bleeding, appeared to me now in all his splendor. My maternal heart full of love gave vent to its tenderness and, while at the foot of the cross the comfort of tears was denied me because my body was petrified by sorrow, at the sight of my risen Son abundant tears and joy furrowed my face.
Children, even today I wander continuously through the world in search of children to resurrect. Sin puts them as in a sepulchre. I approach everyone, I speak with the sweetness of a mother, with the strength of grace, with the power that God gives me. If I am listened to or if in these buried alive ones the desire of conversion is born, I help them in everything and tern them also into saints.
I need an assistance which comes from your prayers so that the miracle may come about. Everyday, every moment is good to work grandiose things. Sometimes faith is extinguished and then it is again a death even though not apparent, but I make use of everything, even of your faith to rekindle that of the children that have lost it.
Then they are true resurrections and you see young and not so young take up again that way of living which perhaps they had forgotten; take up again those good works, that charity, those virtues that seemed as if buried under the ashes.
So, children, just as my Jesus is risen, just as nature rises to a new life, you too rise and, in the fervor of the Christian life, spread faith and love, so that all may find themselves again in the risen Christ.
I said to you that I saw my Jesus with the luminous and glorious marks of the passion. Well then, know that the wounds produced in your soul by the sin that you will have confessed and the wounds caused to you by the sufferings that continually torment your heart, shall shine with an indescribable light that will give you a great joy and to God a great glory.
Learn to rise up every day, by lifting yourselves up in those virtues that render you even in this life luminous before your brethren through the good example that draws them, and may these risings serve to make you catch a glimpse of the Fatherland.
I bless you all."
The thoughts, the reflections and the meditations in this booklet, were inspired by Our Mother Maria, Mother of Jesus, to Carmela Negri Carabelli. They are, however, addressed to all those souls, who, desirous to love the Lord, seek to put into practice his teachings and to live the Christian life more perfectly. May Jesus bless these pages and those who read them with the desire to improve themselves, granting the help of his grace.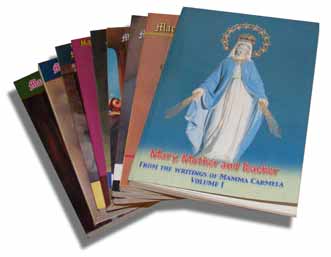 For more information about these magnificent teachings, for any spiritual assistance you may need or to participate and spread throughout the world the cenacles of prayer and the apostolate of the Divine Mercy, please contact:
"CENACOLO DELLA DIVINA MISERICORDIA",
Viale Lunigiana 30, 20125 Milano, Italy
Nihil Obstat: Reverend Gerard Diamond MA (Oxon), LSS,
D. Theol, Diocesan Censor
Imprimatur: Rev. Monsignor Les Tomlinson, Vicar General
Date: 20th July 2007
The Nihil Obstat and Imprimatur are official declarations that a book or pamphlet is free of doctrinal or moral error. No implication is contained therein that those who have granted the Nihil Obstat and Imprimatur agree with the contents, opinions or statements expressed. They do not necessarily signify that the work is approved as a basic text for catechetical instruction.
Catholic Archdiocese of Melbourne