Thursday, March 2, 2017:
Jesus said: "My people, in the first reading Moses presented the Commandments to his people, and gave them a choice between the blessing or the curse. He told them to choose life and avoid the sins. You all have free will to follow My Commandments or not. There are consequences for all of your actions that you will have to account for at your judgment. Those people, who follow My laws and love Me and their neighbor, will have eternal life. Those people, who disobey My laws and do not repent, are risking the fires of hell. In the Gospel and during Lent, I asked My people to pick up their cross of life daily, and carry it for My sake. Unless you deny your life and follow My ways, you cannot be one of My disciples. Offer up all of your trials and disappointments to Me out of love, and you will have your reward with Me in heaven."
(Jerry Schneider Funeral Mass) Jerry said: "I am grateful for all of my family and friends who were able to come to My funeral. I suffered with my lung problem, but now I am with my Jesus after this Mass. I love Grace and my family so much, and I will be watching over you and praying for all of you. I loved my working with wood, and you can remember me every time you look at the cross I made, that is now hanging in St. Charles Borromeo Church. I remember this altar and the Holy Name altar, where I prayed many times with my Nocturnal Adoration members in front of the Blessed Sacrament. I love my Jesus so much, and now I am resting with Him. I am waiting to see you when you all can come to heaven with us."
Prayer Group:
Jesus said: "My son, I know your needs, and I will find a way with My angels to get you out of the problem you are in. Have patience and pray for My assistance. I have never let you down in your needs, so do not worry about your situation that needs a way out."
Jesus said: "My son, the picture of Maria Esperanza and Geo Bianchini was a gift from Juliet that you have placed on your altar. Geo died recently, and your conference was your tribute to a great man. You used to get messages from Maria for a while at Holy Communion time. You have made many trips to see Maria and Geo. You had the Bianchini family talk to your group using Skype, and they sang three songs for you. Several daughters gave some words to your Gospa Prayer house group. Give thanks for this experience."
Jesus said: "My people, when you had air turbulence on the plane, you were praying harder for safe travel. This same windy storm caused some downed tree limbs to your property and others. With your storm prayer, I protected your refuge and the people around you. You saw a downed tree that frightened your daughter, and it just missed her garage. There were also some power outages in your area, as you saw your lights flicker a little. Be grateful that you did not have much damage, and you only had some branches to pick up."
Jesus said: "My people, your President's talk was very uplifting for your people, but your stock market is speculating that his plans will be carried out. The opposition party and even some of his own party members are not all helping your President, and they may even make his plans hard to implement. Keep praying that your President and Congress can come together on what is best for your country."
Jesus said: "My people, having a national health plan without being forced on everyone, will require some compromises from your people, the insurance providers, and your doctors and nurses. It is difficult to see how the premiums will be paid, and how many people will be allowed free medical help. This will be difficult to get through Congress, especially through the Senate. Your old health system was collapsing, so pray that you could have a satisfactory health plan that truly is affordable."
Jesus said:
"My people, you know My Church's historical position on having relations outside of marriage. Such relations, whether heterosexual or homosexual, are considered mortal sins outside of marriage. This requires Confession before such a sinner could receive Holy Communion. Even divorced Catholics require annulments for a proper marriage. When you defy My laws, you need to seek My forgiveness, otherwise people in mortal sin commit a sacrilege if they receive Holy Communion. Pray for poor sinners that they will seek My forgiveness for their sins."
Jesus said: "My people, the Lenten Season has begun, and you need to decide what penances you will carry out to help in your spiritual lives. Fasting between meals and avoiding meat on the Fridays of Lent is just the beginning. You could make some personal sacrifices to help restrict some of your temptations for sin. By fasting you are controlling some of your passions and desires for things that you could do without, as desserts, sweets, TV, smoking, or any other addictions that you have. By working to make your spiritual life better, you are preparing yourself for your judgment day. Try to be persistent in your Lenten intentions and sacrifices."
Wednesday, March 1, 2017: (Ash Wednesday-beginning of Lent)
Jesus said: "My people, today you start the season of Lent, and you will be fasting between meals, and not eating meat today and on the Fridays of Lent. This vision of a Baptismal font represents the washing away of your sins in Baptism and Reconciliation or Confession. This is a time to renew your spiritual life with fasting, prayer, and almsgiving. You can make some Lenten penances by giving up something as sweets or TV, and you could come to daily Mass or make some extra visits to My Blessed Sacrament in My tabernacle or in the monstrance. You could also make some extra donations to help the poor and My churches. All your penances or sacrifices can store up treasure in heaven, and I will give you graces for your gifts. You can also work on healing your bad habits. All of your Lenten efforts will help strengthen your spiritual life against the devil's temptations."
Jesus said: "My people, you have seen some unusually warm weather for the winter time. You normally would be in the 30sF with snow, but instead you are seeing 60sF and setting records for high temperatures. Your wind has been so strong tonight that you were prompted to pray your storm prayer. Your warm temperatures have been all throughout your Northern States. Such anomalies can be caused by the HAARP machine by directing the jet stream patterns. You have a proper concern about your fruit trees that could bud and get frozen. You have seen lost apples and cherries in other years because of this kind of weather. You are right in praying for no damage from the weather. You have seen a lot of damage from tornadoes in the Southern States. I am watching over your refuge, so do not be afraid."
Tuesday, February 28, 2017:
Jesus said: "My people, I call people to various vocations, whether to the religious life, the married life, or the single life. Within your vocations, I call everyone to be evangelists by your Baptism and your Confirmation. In all that you do, I call you most to follow My Will so you can carry out the mission I have given you. If you follow your own will, then you will not be open to do your unique mission. My son, you have answered My call to travel to many places to share My messages in your talks. You have also taken the time to journal My messages, and put them in your books and on the internet. You are sacrificing your time and work for Me, and this is your reward to see the conversions, and to be able to spread My Word. I rely on My evangelists and My prayer warriors to help save souls, and pray for the souls in purgatory. I love all of you, and I thank you for your service, but this is the work that My followers said 'yes' to follow. All the good works and deeds of people will store up treasure in heaven. Continue praying because the souls who were converted, and the souls who were released from purgatory, are also grateful for the work and prayers of My prayer warriors."
Source: John Leary
Urgent call of Jesus the Eternal High Priest
August 9th 2020 from 12:00 am to 6:00 pm - Worldwide day of fasting and of prayer to the Heavenly Father for the protection of Catholic Temples, Shrines and Holy Places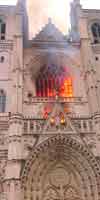 "I make an urgent call to the whole Catholic world for a day of fasting and of prayer to be held worldwide on August 9th with the prayer of the Rosary of my Most Precious Blood and with the prayer of the Exorcism of St. Michael, from 12:00 am to 6:00 pm, asking the Heavenly Father for the protection of my Temples, Shrines and Holy Places, which are being destroyed and desecrated by the forces of evil of this world. I'm counting on you, my Flock." —Jesus the Eternal High Priest
The truth about the Coronavirus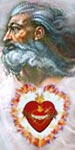 May 1, 2020 - God the Father says: "Today, I invite you to realize that this virus - the coronavirus - is no ordinary disease. It has been created from human ingenuity to specifically target the elderly and physically challenged. This is the plan of future generations to purify the human race around the world. It was released into the general population ahead of schedule - by accident. Those in charge were waiting for less capable government officials in your country (USA) to be in office. Nevertheless, proposed harm is being unleashed on the whole human race."
"I tell you these things to help you to realize the underlying evil at work and hidden in hearts these days. You cannot be confounded by any turn of events. Over all situations, I am in Dominion. No one will be given power over you that is more powerful than your Eternal Father. Therefore, be emboldened with this knowledge. If you persevere in Truth, you have loaded your weapons against what seems to be and discharged them with Truth." (Source: Holy Love)
Help the Lord spread His voice, time is running out
Please help spread these messages of faith, hope, salvation,
defense
against evil (by email, printing, Facebook, Twitter, and other media) to your loved ones, your friends, and all the people you may meet, who seek salvation or who are in danger of being eternally lost. The Lord gives great graces and blessings to those of goodwill who, according to their own possibilities, collaborate with His Plan of Salvation.
Who helps the Lord save a soul predestine his own
, independently from the outcome.