Reach out to save souls from hell in My Name
(Please read all from begin to end)
Tuesday, August 21, 2018: (St. Pius X)

Jesus said: "My people, what does it profit a man to gain all the world's wealth and lose his soul? (Matt. 16:26) Your true wealth can only be found in Me, because only I can give peace to your soul. Some people on earth strive to accumulate wealth so they can live comfortably in this world. Instead, you should trust in Me only to give you what is needed. This is why you love My saying: 'Seek first the Kingdom of God and His justice, and all these things shall be given you besides.' (Matt 6:33) It is better to trust in Me than your wealth, that will rust and disappear. The rich people will have a difficulty to be saved, because such people make money their god. You cannot have any gods or idols before Me according to My First Commandment. So focus your lives on loving Me and your neighbor, instead of loving your cold possessions that will never love you as I do. You were put on this earth to know, love, and serve Me of your own free will. So follow the path of My Will, and you will have eternal life in heaven."

Jesus said: "My son, I have directed you in many projects how to get them completed. It takes faith that I will find solutions to help you solve your problems. For man some of your problems seem impossible to solve, but for Me, all things are possible. Trust in Me in faith that I can fix the problem with getting your solar charge controller working to charge your new batteries. It is still a good idea to have some solar power working during the winter to run your pumps. You may have to remove the snow, but you can have some power working for you. Pray your rosary for a good outcome when the solar man comes to make the needed repairs."
Wednesday, August 22, 2018: (Queenship of Mary)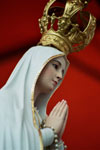 The Blessed Mother said: 'My dear children, you have been faithful in your devotions to praying my rosary and wearing my scapular. I hear all of your prayer petitions, as I take them to my Son, Jesus. You are also my faithful pilgrims in your travels and in sharing your faith with others. There are many souls that need converting, and this is one of your prayer petitions. I also see some refuge builders who need help in finishing their preparations to receive my children during the tribulation. Keep storming heaven with your prayers, and trust my Son to answer your pleas. Continue your prayers for Queenship Publishing that they will be able to carry on their business."

Jesus said: "My son, I am showing you a jar of honey to remind you of how St. John the Baptist lived in the desert eating locusts and wild honey. You remember well when you went to Israel, and you visited the Jordan River in the place where St. John the Baptist baptized people. He called out to the people to repent and convert their lives by being baptized in the Jordan River. He was even brave enough to call out Herod for living in sin with his brother's wife. I call My prophets of the end days to follow in St. John the Baptist's footsteps, by going out to all the nations, and speak My words of the Gospel to save souls from hell. I send My angels out with you for protection at your talks. So do not be afraid to go forward to preach My Word of salvation to all those people who listen to you. Today, you had your solar worker come out and fix your solar charge controller, so you could charge your new batteries with your new solar panels. You prayed for the success of his work, and your prayers were answered. Now you can pray some prayers of thanksgiving that you have a working system that could work in the winter when you remove the snow off of the solar panels. I told you that I would solve your problem, and you trusted in My Word, and you were rewarded. You are seeing again how I am helping you with all of your projects. Give praise and thanks to Me for helping you and all of My refuge builders."
Thursday, August 23, 2018: (St. Rose of Lima)

Jesus said: "My people, many times I have spoken of how you are all invited to My wedding banquet in heaven. All of you in My Church I consider as My bride, and I am the Groom. I am speaking of My invitation to confess your sins and accept Me as your Savior in order to enter heaven. In another parable I told you about the five wise virgins and the five foolish virgins. The Bridegroom was slow in coming. The five wise virgins were prepared for My coming because they bought extra oil for their lamps. When the foolish virgins tried to light their lamps, their lamps went out, and the foolish virgins had to go out to buy more oil. When they returned, the door was shut, and the gatekeeper said: 'I do not know you, for you know neither the day nor the hour.' (Matt. 25:21) This is how it will be for those souls who do not follow Me in faith, nor have confessed their sins in sorrow. Those, who are prepared to enter heaven, will be allowed into My wedding banquet, but those, who refused to accept Me, will fall into hell. 'For many are called, but few are chosen.'" (Matt. 22:14)

Jesus said: "My son, you are going to have good days and bad days in your life, but it is how you react to life's events that you need to be watchful. Once something happens, it cannot be changed, and you may be humbled in difficult situations. You make the best of your situations, and try not to repeat any bad actions. I am always willing to forgive you, but other people have a choice to forgive you or not. Pray to Me to help you through your problems, as I have helped you in the past. Pray also for any people who you may have offended in any way."
Friday, August 24, 2018: (St. Bartholomew, apostle)

Jesus said: "My people, you have been watching and listening to the news report of Hurricane Lane coming into the Hawaiian Islands. I was asking you to pray the Divine Mercy Chaplet for any people who might die from this storm. This storm is the second natural disaster to strike Hawaii, in addition to the increased lava flow on the main island. Because of America's sins that you are not repenting for, you will continue to see more natural disasters. You are also seeing an increase in earthquakes and volcanic eruptions in various parts of your country, in addition to the fires in the West. Israel also was chastised for worshiping idols and false gods. America is worshiping idols of money, fame, and possessions which are sins against My First Commandment. Keep focused on Me, as I should be the center of your lives."

Jesus said: "My people, as you come to the time of the tribulation, you will see the masons and those who are led by the demons who will be destroying all of My churches. They will crush the statues and the stained glass windows. They will burn down My churches. My angels will come and rescue My consecrated Hosts in all of the tabernacles. None of My tabernacles will be destroyed. My faithful will be led to My refuges to protect their lives and their souls. Every day I told you My angels would give you Holy Communion, if you did not have a priest. The Hosts that they will be giving out, are the Hosts that will be rescued from all the tabernacles of the destroyed churches. Give praise and glory to Me for showing you where all these Hosts would come from, because they need to be consecrated at a Mass by a priest."
Saturday, August 25, 2018: (St. Louis, St. Joseph Calasanz)

Jesus said: "My people, I want to give you a lesson in trusting in Me all of the time, because I can do the impossible for each of you, since I love all of you so much. When you think about how you are to make a living, what you are to eat, or where you are to live, do not worry about these things because I always take care of My people. If you have trouble finding a job, pray to Me to find one, and you will find a job. When you need a home and the mortgage to pay for it, trust in Me, and pray to Me, and I will find a shelter for you. When you have true faith and trust in Me, you will have no worries, no fears, and no anxieties. These are the fears that the devil will tempt you with. Pray every day and trust in My love, and I will satisfy all of your needs that are proper for your soul. Pray to follow My Will and you will have all that you need. When you repent of your sins, accept Me as your Lord and Savior, then you will be on the right path to heaven. Give everything over to Me, and I will provide for all of your needs. In a word trust in Me for all that you do and all that you will need, then you will find true salvation for your soul in heaven."

Jesus said: "My son, you are seeing certain situations where you could sense evil beings were present. If you can leave easily, then it is good to avoid evil temptations or haunted places. If you are confronted with evil spirits, then you need to call on Me to bring My angels to protect you. When you have Me with you, do not be afraid, but call out My Name for the demons to leave. You must have faith and confidence that My Name will make them leave. When you had to face possessed people, you were strong to stand up to the demons, as you had confidence that My Name could heal them. Have trust that My power is greater, and the spirits will leave you, and the person you are praying over."
Sunday, August 26, 2018:

Jesus said: "My people, I am showing you how civilizations rise up and how they fall. Some like the Roman civilization, fell because of their spiritual decay when their families were broken with the sexual sins of their day. America started out following Judeo-Christian morals as you had Me mentioned in your Declaration of Independence and your Constitution. Your civilization has lasted over two hundred years, but now you are seeing a similar decay in your morals, similar to the Roman decay. Your families are seeing more divorces, and you are even seeing homosexual marriages. Because your people are more promiscuous, some couples are living in fornication without marriage. Your society is less focused on Me, which is why you have so few people coming to Sunday Mass, and even fewer are coming to Confession. When families stop praying together, it is hard to pass the faith down to your children. This is why family prayer is so important to keep families together. Your morals have decayed as well, so you are seeing abortions and drugs which are ruining your society. I have mentioned how important it is to stop the legalization of recreational marijuana. This drug can lead to cocaine and heroin, which destroys your youths and kills brain cells. America needs to repent of its sins and change its sinful lifestyles, or you will see your country fall and face My punishments from your natural disasters. Come back to Me in faith and love, and your country will continue to prosper, instead of decaying in your sins."

Jesus said: "My people, I am thankful to be able to share Myself with everyone at today's Mass. When you receive My consecrated Hosts, and consecrated Wine, you are receiving My very Body and Blood of My Real Presence. Give praise and thanks to Me for loving you so much, that I leave you My very Self in your soul every time you receive Me in Holy Communion, worthily. In the second vision you are seeing Me at the center of a large pool to indicate that I need you to place Me at the center of your lives. When you let Me lead you in all that you do, then I can use you to fulfill the mission I have given you. So continue to pray to Me every day so I can lead you to do the right thing in all of your activities."
Monday, August 27, 2018: (St. Monica)

Jesus said: "My people, you are the Light of the world, and you need to share your faith out of love for your neighbor and love of Me. Just as you are drawn to My Light, so people will be drawn to your Light of faith. So be a good example and practice what you preach about Me. You do not want to be a hypocrite like the Pharisees who I told the people not to follow in their selfish example. St. Monica prayed persistently over thirty years to convert her son, St. Augustine. My people need to imitate St. Monica when you pray persistently for your relatives and friends to be saved and converted to the true faith in Me. Be a shining example of faith in your good works and persistent prayers for souls."

Jesus said: "My people, in the vision you are seeing a snake trying to upset your mission. It is not by accident that every time you come to see your spiritual advisor, he has just had a snake come into his house. You also heard of a large snake that came into your daughter's house. It was very frightening to see these snakes, as it took some doing to capture them and get rid of them. Serpents can be a sign of evil among you without being invited. Continue to pray your St. Michael long form prayer to protect yourself from any demon attack on yourself or on your relatives and friends. Trust in My protection all of the time, even when you are confronted by demons in the form of serpents."
Tuesday, August 28, 2018: (St. Augustine)

Jesus said: "My people, in today's Gospel I was criticizing the Scribes and Pharisees for being hypocrites in their actions. They proclaimed the Mosaic Laws which I told people to listen to, but not to follow their actions. This is true for My followers who need to practice My Christian teachings in all that you do. It is by your good example that people can see My love in you, so they could be converted. If you act in a non-Christian way, then you too, could be called hypocrites. The more that is given to you, more will be expected. So imitate My life in all that you do. If you follow My ways instead of man's ways, then you will have your reward in heaven."
(Mass intention for David S.)


Jesus said: "My people, at times it is good to walk in a quiet place for contemplative prayer as in a quiet forest. As you walk the trails, you could be praying your rosary for your intentions. It is good to walk amidst nature and My creations. When you see how beautiful everything is, you can see My touch of beauty in the trees and the animals. You need to give Me thanks for giving you life, and a gift of faith to know and love Me in return."
For David S.:


Jesus said: "My son David died a little young, but he had a good life in doing My work. Give thanks for the gift of his life, and pray for all the family who miss him dearly. Keep praying for his soul, and with some Masses for his intentions. Pray also for Claire, his family, and their business."
Wednesday, August 29, 2018: (Passion of St. John the Baptist)

Jesus said: "My people, you have a contrast in personalities between King Herod and St. John the Baptist. King Herod loved to flaunt his authority, and he even put St. John the Baptist in prison for criticizing him for marrying his brother's wife. He was later humbled for promising Herodias' daughter anything she wanted, for performing a dance for him. When she asked for the head of St. John the Baptist, King Herod was too proud to refuse her request, and he had St. John the Baptist beheaded. St. John the Baptist was fulfilling his mission to prepare My way, by calling sinners to repent and be baptized. He was a righteous man, and he even corrected the King for marrying his brother's wife. This was dangerous to criticize the King, but St. John stood up for the truth, no matter what the consequences he would face. In the same way I call all of My faithful to stand up for the truth, especially in spreading My Good News of My Resurrection with everyone. You may not be martyred, but you need to witness against those people who are fornicating and having abortions. Reach out to save souls from hell in My Name, and you will have your reward in heaven."

Jesus said: My people of America, you are seeing storms in the Atlantic Ocean moving toward your country in the vision. September is the peak of your hurricane season in the Atlantic Ocean. You have had little activity there, but now you will see storms coming one after another. You have had a lot of activity in the Pacific Ocean, but you are now seeing storms starting up in the Atlantic Ocean. The vision of a swirling storm, is a sign that you could see at least one storm hit the mainland. Some of your forecasters were showing the destruction of Hurricane Katrina which happened about this time of year. In your technology advances you have a lot more forecasts of when and where a storm could hit, which gives you more time to evacuate. Your people need to be alert to any storms that could hit land. I have warned you that such natural disasters will be your punishment for your sins. Last year you had to endure three storms that caused major damage. This is why your people need to be ready to endure another hurricane season. Call on Me to protect your people from any harm, so you can minimize any deaths. Pray for all the people who will be enduring any storms."
Thursday, August 30, 2018:

Jesus said: "My people, 'Stay awake' are the first words of warning in today's Gospel. All of My faithful are awaiting My return to the earth when I will judge everyone if they are either with Me or not. Those people, who are faithful and without serious sin, I will welcome into My Era of Peace at that time. But those people, who are not prepared and have serious sin, will not be accepted, and they will grind their teeth and cry out in the flames of hell. This is like the parable about the five wise virgins who were prepared to meet the Bridegroom with extra oil for their lamps. They were welcomed into My Wedding Banquet, and the door was shut. The five foolish virgins were not prepared, and they went away to buy extra oil for their lamps. When they returned, they could not enter the closed door, and I told them: 'You cannot enter because you know neither the day nor the hour.' So keep your souls free of sin by frequent Confession so you will be ready with a clean soul for when you have to face Me at your judgment."
Prayer Group:


Jesus said: "My people, your schools have become a place to teach the students more about the world without teaching them about prayer to Me. Your colleges have been purged of any teachers who teach about Me as the Creator of this world. Even the textbooks have distorted the history of your country and any mention of Me. You have taken prayer out of the schools, and the students are brainwashed with atheism. People with faith come out of college with their minds emptied of any devotion to Me. This is why Bible study is needed, and parents need to encourage their children to come to Sunday Mass and monthly Confession. Pray for your children to be strong in their faith by your example."

Jesus said: "My people, some of your politicians are claiming falsely that there is nothing wrong with using marijuana. Some extracts may help pain, but this drug being promoted, will cause addictions and lead to more serious drugs as cocaine and heroin. This drug kills brain cells, and it could cause accidents while driving and smoking. Marijuana should never be promoted as good, because the bad effects are worse."

Jesus said: "My people, awhile back your Congress passed a Real ID law that mandated states to issue drivers' licenses with a microchip in them. Your states have been slow to carry this out. Now the states are being forced to implement these chips, or they could lose Federal funding. This is all about the one world people trying to control you with more chips to track you. Pray for your authorities to vote this down."

Jesus said: "My people, these new smart meters are supposed to make it easier to read your water meter from the street. This smart meter puts out a microwave radiation that may not be good for your health, and it could be considered an invasion of your privacy. Some people are fighting against such a mandate. There is an alternative by installing an analog meter without the radiation. Pray that your people can stop this forced invasion into your homes."

Jesus said: "My people, you can see various rich people who are trying to use their money to buy elections and votes to change the policies of your government. You are even seeing political cleansing of any conservative voices from your social media. The socialists are making a big push to change your government's decisions. This is why there will be a strong attack against your incumbent Congress people and Senators. Pray for your country to come closer to Me in prayer and repent of your sins. Choose to support people who defend My ways."

Jesus said: "My people in the end days you will see an increase in earthquakes, famine, and pestilence. Earthquakes and volcanoes are increasing in activity all along the Ring of Fire. You also will be seeing more viruses that will cause a pestilence. There is a goal of the one world people to reduce the population, so they will use viruses to kill many people. I call My people to have masks, and take Hawthorn pills to build up your immune system to protect you from these viruses. When you see people dying in large numbers, this will be a sign to come to My refuges, where you will be healed by looking on the luminous cross in the sky."

Jesus said: "My people, the one world people are using flu shots to break down your immune systems and cause more harm than good. Avoid taking these flu shots as I have warned you in the past. This is another means for the pharmaceutical companies to make more money from your government without proving that their shots stop the flu. Pray for your people to have good health with hawthorn, herbs, and vitamins, which will stop some of the harmful effects of the laboratory made viruses."
Friday, August 31, 2018:

Jesus said: "My people, if you saw a small child drowning in the lake, you would take immediate action to try to save the life of that child. All life is precious, and you should also reach out to mothers to stop having any abortions of the small child in their womb. It is also important to reach out as quickly to save the souls of children who are in danger of losing their souls in hell. You are seeing teenagers who are engaged in vaping and addictive drugs that could endanger their lives and their souls. The demons are trying to steal souls from Me through addictions. So pray deliverance prayers for the youth of today so they are not killed with opiod overdoses. Continue to fight against legalizing recreational marijuana to help prevent more youth and adults from drug addictions. You can help save souls from going down the wrong path to hell."

Jesus said: "My people, in the vision you saw a fire truck racing down the street to put out a fire. This vision is how in the spiritual world the priest puts out the fire in your soul in Confession. People in mortal sin have their souls on fire, and they need to come immediately to the priest, so with absolution, he can put out these flames of sin on their souls. Once you receive the grace of absolution of your sins, you have peace in your soul and rest in your spirit. Rejoice every time you have the opportunity to come to Confession."
For Margaret:


Jesus said: "My people, in the vision of Margaret you are seeing her dressed in a white wedding dress with a white veil. She was smiling and happy to be with her Bridegroom in heaven. She is thankful for all the prayers and Masses that were offered up for her intention, so she could be released from purgatory to come to heaven. Give praise and glory to Me for My death on the cross that has enabled souls to be able to enter the gates of heaven."
Saturday, September 1, 2018:

Jesus said: "My people, today's Gospel speaks about My coming to the Cana Wedding with My Blessed Mother. When the wine ran out, My Blessed Mother told Me, and she told the servants: 'Do whatever He tells you.' These words referred to the wine problem, but they could also be directed to everyone to follow My example in life. I told the servants to fill the six large stone containers with water, and take some to the head waiter. The waiter remarked that they had saved the best wine until now. This first miracle of changing the water into wine, also helped My apostles to believe in Me and My mission. There is another lesson in this miracle, because at the Last Supper I changed the wine into My Blood, and the bread into My Body. This gift of Myself in Holy Communion is one of My lasting miracles that far surpassed the multiplication of the bread and fish that fed the 5,000 and the 4,000. Give praise and thanks to Me for feeding you My Real Presence whenever you receive Me worthily in Holy Communion at Mass."
Sunday, September 2, 2018:

Jesus said: "My people, you heard the deacon give a good homily on faith and works. Faith is a gift I offer to everyone out of My abundant love. I offer it freely, and it is up to your free will to believe in Me or not. If you truly believe in Me, you will return your love for Me. It is mentioned by St. Paul that if you do not have love of Me and your neighbor, then all of your works are as nothing. When you have faith in Me, then you will desire to follow My Commandments which are based on love of Me and love of your neighbor as yourself. When I am the center of your life, then you will want to help your neighbor in good works out of love for Me. This faith that you have in Me, is like My love, because you need to share it with as many people as possible for all those people who listen to you. If faith and love for Me is lacking in your family or friends, then you need to pray for them to be open to My love. I desire that all people will come to know and love Me, and I use My faithful as My instruments to spread the Good News of My Resurrection upon everyone. Those souls, who accept Me, love Me, and repent of their sins, will be rewarded when I lead them up the steps to heaven."

Jesus said: "My people, in the Gospel I spoke of all the filthy sins that come out of your hearts as sinners. Many people are quick to judge others' bad actions, but they quickly forget their own sins. I am the only One to judge all sinners, so avoid judging others. Recently, you have been seeing some clergy accused of abusing young children, and some of these events happened years ago. It has been a bad example that many of these cases were hidden from the public, and possible prosecution. Since all of you are sinners, you all need to pray for sinners and especially for your priests who are being criticized. So instead of judging or criticizing others, you all need to practice what you preach without being hypocrites. Give good example to everyone, because your actions are seen by people on earth, and all of us in heaven."
Monday, September 3, 2018: (Labor Day)

Jesus said: "My people, today you are celebrating Labor Day, and the gift of working to earn money for your families. It is common to see both parents working to help pay for the expenses of your children. Single parents may even have to work two jobs to keep up with paying for shelter and a car. You are fortunate to have enough employers to provide good paying jobs. Running a household takes patience and skill to meet all of life's demands. In the Gospel you are seeing why prophets can have problems with the people's belief in the prophet's hometown. Because the people of Nazareth did not have faith in My healing, I could not heal people in My hometown. Pray for your priests and prophets so they can fulfill their missions to My people. Your retired workers need to be paid their pensions and Social Security as a reward for the many years of paying into their retirement plans. Social Security for retired workers was earned, and it is different from welfare recipients. You will not find much justice in this world, but you will in your next life."

Jesus said: "My people, you are seeing how progressives control the schools, the newspapers, the television programs, and the social media. It is very difficult for a conservative voice to be heard, let alone a true reading of history. Through all of these channels the progressives can brainwash the students in the schools and colleges, and brainwash the people who watch the television programs. It is hard to determine the truth of anything because of the fake news and disinformation. You are seeing the communist tactics carried out in front of you every day: 'If you tell a lie often enough, you can get people to believe it as the truth.' This is also a tactic of the devil when it comes to faith in Me. The devil is full of lies to deceive you into hell. If you want to know the truth in the Catholic faith, you need to read the 'Catechism of the Catholic Church'. This has all of the truths of the faith that the devil and the evil ones are trying to hide from the people. If you follow the Catechism, you will see the liars who claim there is no hell, or that hell is not eternal. Eventually, you will see New Age teachings take over parts of the Church, but they only worship things, and not Me. You will need to discern which voices are telling the truth, and which ones are telling lies. Call on Me to help you stand up for the truth in My Good News, that I died on the cross to save all souls who will believe in Me."
Tuesday, September 4, 2018:

Jesus said: "My people, in the vision you are seeing someone in a confined space, which represents times when you are asked to go outside of your comfort zone to help someone. It is easier to help people when it does not take much effort, as in giving a token donation. It is much more of a challenge if you are asked to make a substantial donation, or to help someone for an extended period of time. It is also easier to help a close relative than it is to help a stranger in need. When you go the extra mile to help someone, you will have your reward in heaven, because I see your extra effort. So when you are asked to pray for sinners and the souls in purgatory, this does not take much effort. So be willing to include these intentions in your daily prayers, because you can help people spiritually as well as physically."
Source: John Leary
Fr. Michel Rodrigue explaines The Events of the End Times
Do you want a quick overview of the end times? Then read "The great events of purification will begin this fall". If you want all the details of the unfolding events, then go to "Virtual Spiritual Retreat with Fr. Michel Rodrigue about the End Times".
The Rosary is the weapon of these times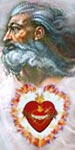 God the Father: "Children, the best way to change the conscience of the world and this country (U.S.A.) in particular is much prayer and many sacrifices. You may not see the effects of your efforts but persevere and do not be discouraged. Use your Rosaries as the mighty weapons that they are. A Rosary said from the heart is more powerful than any weapon of mass destruction. The Rosary is the weapon of these times. Do not let the daily news frighten you. Often, what you hear is not the Truth and only meant to influence your opinions..." (Read more..)
The truth about the Coronavirus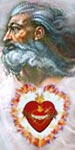 God the Father: "Today, I invite you to realize that this virus - the coronavirus - is no ordinary disease. It has been created from human ingenuity to specifically target the elderly and physically challenged. This is the plan of future generations to purify the human race around the world. It was released into the general population ahead of schedule - by accident. Those in charge were waiting for less capable government officials in your country (USA) to be in office. Nevertheless, proposed harm is being unleashed on the whole human race." (Read more...)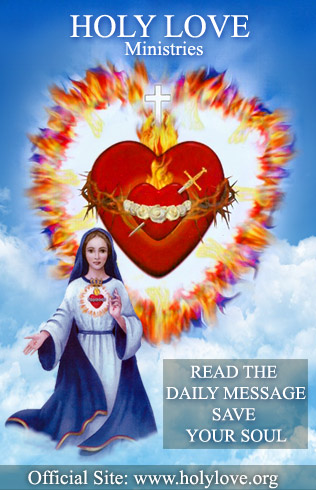 Read the daily messages
Help the Lord spread His voice, time is running out
Please help spread these messages of faith, hope, salvation, collaborate with God's Plan of Salvation. Who helps the Lord save a soul predestine his own, independently from the outcome.