SPIRITUAL ARMOUR
Pray every morning and night.
Lord Jesus I … (name and Last name) consecrate to you my mind, with all its powers, senses, thoughts, memory, conscience, unconsciousness, and sub consciousness, to Your Glorious Blood, shed for me, in my favor. I seal and protect myself with Your Redemptive Blood from every false thought, every negative suggestion, every false imagination, every fear, from every deception. Lord Jesus, may Your Redemptive Blood cleanse me, purify me, decontaminate and liberate me, and grant me the grace to have control over my own integrity, be it physical, psychological, biological, and spiritual. Powerful Blood of Salvation, fight the enemy in my body, mind, and soul (Say this aspiration 3 times when you feel strong attacks of the enemy).
My peace I leave you. Your Master, Jesus of Nazareth.
Help the Lord spread His voice, time is running out
Please help spread these messages of faith, hope, salvation, defense against evil (by email, printing, Facebook, Twitter, and other media) to your loved ones, your friends, and all the people you may meet, who seek salvation or who are in danger of being eternally lost. The Lord gives great graces and blessings to those of goodwill who, according to their own possibilities, collaborate with His Plan of Salvation. Who helps the Lord save a soul predestine his own, independently from the outcome.
The truth about the Coronavirus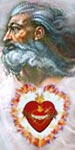 May 1, 2020 - God the Father says: "Today, I invite you to realize that this virus - the coronavirus - is no ordinary disease. It has been created from human ingenuity to specifically target the elderly and physically challenged. This is the plan of future generations to purify the human race around the world. It was released into the general population ahead of schedule - by accident. Those in charge were waiting for less capable government officials in your country (USA) to be in office. Nevertheless, proposed harm is being unleashed on the whole human race."
"I tell you these things to help you to realize the underlying evil at work and hidden in hearts these days. You cannot be confounded by any turn of events. Over all situations, I am in Dominion. No one will be given power over you that is more powerful than your Eternal Father. Therefore, be emboldened with this knowledge. If you persevere in Truth, you have loaded your weapons against what seems to be and discharged them with Truth." (Source: Holy Love)