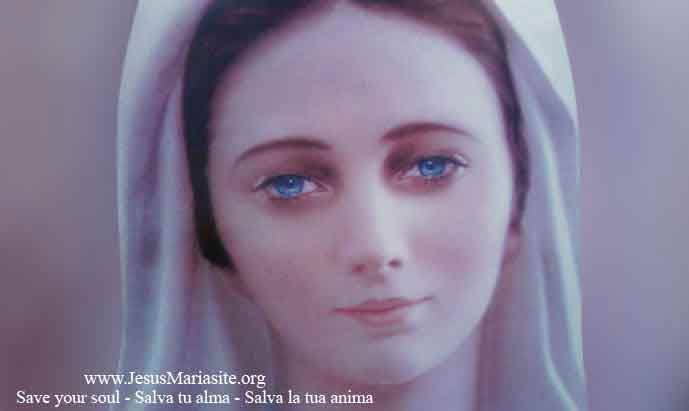 Prayer and Penance
Maria says: (Maria Mother and Teacher, Vol. 1) "My dear children, I am here with you to help you and instruct you: I am the Immaculate One. Just as, appearing at Fatima, I asked the three shepherd children for prayer and penance, so also today I launch an appeal made out of anxiety and love, out of maternal solicitude and sorrow.
Children, "prayer and penance" is my anguished cry that reaches your heart, the cry of the Mother who sees her children drift away and get lost. I showed hell to the three shepherds and they were horrified of that vision, but I assure you that my horror is even much greater in seeing an endless number of souls getting lost in that horrible precipice which irreparably swallows the souls who freely choose to go there.
Well then, make reparation to this sorrow of mine, run to my help. Bring me the hearts of my children an say to them that the Heavenly Mother weeps over their sad end. Speak to all the mothers of my desire to be accepted by them. Let every mother consecrate her children to me every day: I shall guard them as precious treasures and I will mot permit that they be turned away from me.
Mothers have too much thoughtlessness, nonchalance and carelessness, and they do not realize their responsibility. They worry excessively over too many things, while they neglect the spiritual and moral formation of those creatures that will be for them like a pledge of eternal life or death.
Listen to me, all you children. I also say to you like my Jesus from the top of the cross: "I thirst!". I thirst for the souls of all the sinners, of all those ungrateful and lapsed children who now and always I call in order to clasp them to my heart and make them mine.
You know how much I love you, and you continually see the signs of my protection and predilection, but I desire to pour out my love over everyone, to embrace, to clasp everyone to my heart, to present everyone to my Jesus so that they may be pardoned by him.
Children, I am always close to you: live in grace, since you do not know neither the day nor the hour in which the Supreme Judge will call you to account. Always forgive one another and render good for evil.
Love one another and banish every trace of selfishness, pride and envy from your heart. Do good only for the glory of God, since self love and pride like woodworms ruin your good works, which in this way no longer bear fruit and which rather will be a cause of pain for you.
Children, I have opened my heart to you not to distress you, but so that your life may decidedly take up a right road and so that you would be able to lead with you, if it were possible, the whole of humanity. I bless you and I thank you for the many prayers that you have offered me. I know your intentions and your needs, I promise to help you.
To whoever has some great sorrow in his heart, I wish to dry his tears and lead his desires to a good end. My little children, my babies, make yourselves very little, humble and trusting: this is the royal road to reach the true good.
Maria Mother and Teacher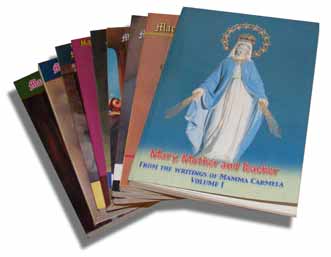 The thoughts, the reflections and the meditations in this booklet, were inspired by Our Mother Maria, Mother of Jesus, to Carmela Negri Carabelli. They are, however, addressed to all those souls, who, desirous to love the Lord, seek to put into practice his teachings and to live the Christian life more perfectly. May Jesus bless these pages and those who read them with the desire to improve themselves, granting the help of his grace.
For more information about these magnificent teachings, for any spiritual assistance you may need or to participate and spread throughout the world the cenacles of prayer and the apostolate of the Divine Mercy, please contact: "CENACOLO DELLA DIVINA MISERICORDIA", Viale Lunigiana 30, 20125 Milano, Italy –
www.cenacolodivinamisericordia.it
Nihil Obstat: Reverend Gerard Diamond MA (Oxon), LSS, D. Theol, Diocesan Censor Imprimatur: Rev. Monsignor Les Tomlinson, Vicar General, Date: 20th July 2007 – The Nihil Obstat and Imprimatur are official declarations that a book or pamphlet is free of doctrinal or moral error. No implication is contained therein that those who have granted the Nihil Obstat and Imprimatur agree with the contents, opinions or statements expressed. They do not necessarily signify that the work is approved as a basic text for catechetical instruction. Catholic Archdiocese of Melbourne
Fr. Michel Rodrigue explaines The Events of the End Times
Do you want a quick overview of the end times? Then read "The great events of purification will begin this fall". If you want all the details of the unfolding events, then go to "Virtual Spiritual Retreat with Fr. Michel Rodrigue about the End Times".
Messages of Holy Love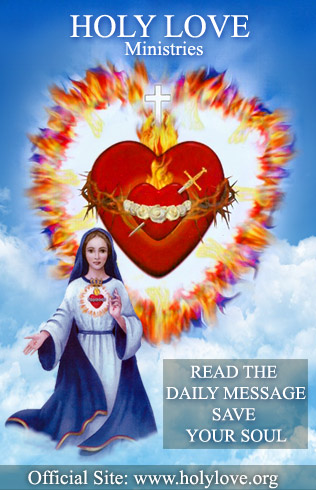 Read the daily messages
Catholics, we have entered the Pre-Tribulation, observe the Commandments, go to Confession; receive the Holy Eucharist; pray at least 3 Rosaries a day to keep your faith and save your loved ones. Prepare for the events that will devastate our planet: plagues, famine, WW3, cataclysms, antichrist's World Order