April 05, 2020
Call of Jesus Mercy to His faithful People. Message to Enoch.
Pray the Rosary of Provision for times of scarcity and famine
"My Peace and the Joy of my Holy Spirit, be with you all.
My Beloveds, I am your Jesus of Mercy who today communicates with you, through this, my little Prophet. Don't be afraid, my People. I will not forsaken you, remember that I am with you until the end of time; follow my instructions and put them into practice; and I assure you that nothing, no one, no viruses, no plagues, no catastrophes, no famine, or any other calamity will be able to touch you.
Pray with faith, my Rosary of Mercy, ask for my protection and fear not; my Rays of Mercy will protect you and keep you from all evil and danger. I ask you: why are you afraid, if I am with you? Where is your faith and trust in Me? If you were men of faith, you would feel no fear, and nothing, no one, could steal your Peace. Look, you are so fragile, like little children, to the slightest misfortune, you tremble with fear; and there, yes, you cry to heaven and remember Me.
I want my little ones, that you strengthen yourselves in the faith, so that you may endure tomorrow the great trials that will come to you. Fear not, if you put your faith and your trust in Me, I will be your strength that will help you overcome the trials. Prayer, fasting, and penance will strengthen you; read also my Holy Word, which is the Sword of the Spirit, so that you may confront the attacks of the evil one. The Spiritual Armor, you must wear, before entering into every combat; prayer, fasting and penance, together with the prayer of my Mother's Holy Rosary and the prayer of my Rosary of Mercy, should never be lacking.
My beloved People, My Rosary of Mercy, next to the Rosary of Provision, will be of great help to you for the times of scarcity and famine that are approaching. Pray them with faith, and ask for my provision and heaven, will bring you the every day Manna. Again I tell you, fear not. I am your Refuge, Sustenance, Protection, and above all, I am your God. Come to me, all you who labor and are burdened, and I will give you rest. (Matthew 11:28)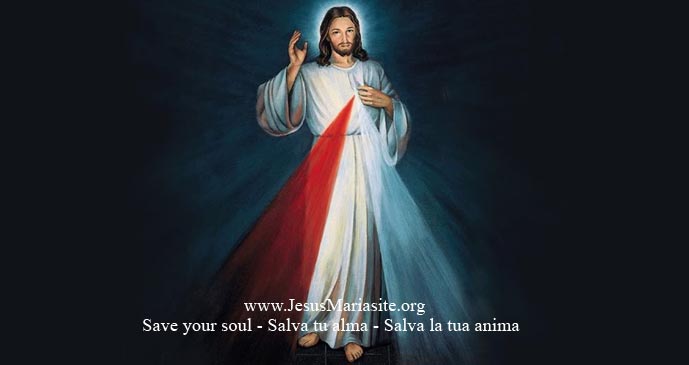 ROSARIO OF PROVISION
(For times of scarcity and famine)
"O infinite Mercy of God, which you provide to men of good will, to those in need, to widows and orphans, covering their material and spiritual needs; Open the pantries of heaven and in the Name of the Father, (blessing) in the Name of the Son, (blessing) and in the name of the Holy Spirit, (blessing) send me the provision I need to accomplish my needs of this day (make request).
Creed and Our Father."
In the big beads say: I can have grace and mercy even in times of need. (Hebrews 4, 16)
In the small beads say: In the name of God One and Triune, Divine Mercy, provide for me. 10 times
At the end of each dozen, pray:  1 Our Father and you start as in the beginning.
I can have grace and mercy…  and so on until the end of the five dozen.
At the end of the rosary, pray the Psalm 136.
Anyone who prays this Rosary with faith and devotion will not lack the bread of every day. It is the promise of Jesus of Mercy.
May my Peace, my Love and Mercy always remain in you, my Beloved People.
Your Jesus of infinite Mercy.
Make my messages known My children, to all mankind."
Source: mensajesdelbuenpastor
Fr. Michel Rodrigue explaines The Events of the End Times
Do you want a quick overview of the end times? Then read "The great events of purification will begin this fall". If you want all the details of the unfolding events, then go to "Virtual Spiritual Retreat with Fr. Michel Rodrigue about the End Times".
The truth about the Coronavirus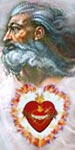 May 1, 2020 - God the Father says: "Today, I invite you to realize that this virus - the coronavirus - is no ordinary disease. It has been created from human ingenuity to specifically target the elderly and physically challenged. This is the plan of future generations to purify the human race around the world. It was released into the general population ahead of schedule - by accident. Those in charge were waiting for less capable government officials in your country (USA) to be in office. Nevertheless, proposed harm is being unleashed on the whole human race."
"I tell you these things to help you to realize the underlying evil at work and hidden in hearts these days. You cannot be confounded by any turn of events. Over all situations, I am in Dominion. No one will be given power over you that is more powerful than your Eternal Father. Therefore, be emboldened with this knowledge. If you persevere in Truth, you have loaded your weapons against what seems to be and discharged them with Truth." (Source: Holy Love)
Help the Lord spread His voice, time is running out
Please help spread these messages of faith, hope, salvation,
defense
against evil (by email, printing, Facebook, Twitter, and other media) to your loved ones, your friends, and all the people you may meet, who seek salvation or who are in danger of being eternally lost. The Lord gives great graces and blessings to those of goodwill who, according to their own possibilities, collaborate with His Plan of Salvation.
Who helps the Lord save a soul predestine his own
, independently from the outcome.