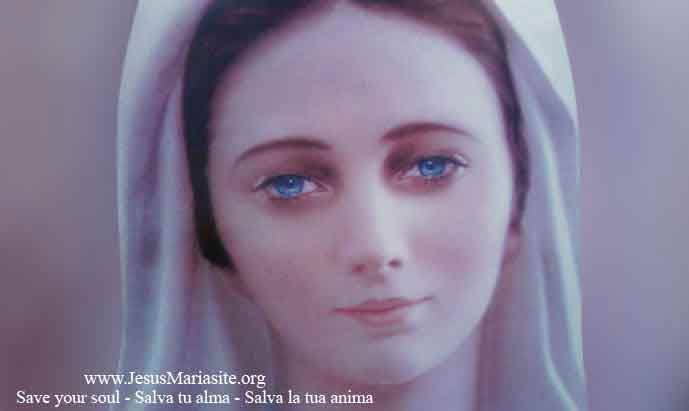 Pray for the Young
Maria says: (Maria Mother and Teacher, Vol. 1) " My children, I am the Queen of Carmel, but I am also your Mother end as such I am always anxious to have you close and to communicate to you my thoughts, my desires, my hopes, my joys and my sorrows.
Beheld. children, my heart full of affection for you and my hands fell of graces. Ask, ask and never fear of exaggerating asking above all for others. Who is that subject, who, finding himself before his own sovereign, invited to ask for any gift, restricts himself to asking for insignificant things?
That's how it would be of you if, being able to ask for great gifts, you restricted yourselves to asking for almost useless things or even little things concerning your private life only.
My children, the God who fills the universe gives me power over all the universe. Ask therefore, graces and favors for all men, so that you are able to help all and give comfort and joy to all. Ask me for the conversion of men. It is hard, I know, for all to be converted, because every conversion presupposes the collaboration of each one's will, but am I not she who touches hearts and moves the wills in order to spur to good?
Therefore, make your intentions and your desires into a gift for every creature that exists on the face of the earth, so that Heaven is moved and is able to shower down its graces.
As Queen of Carmel you think of me in the pious act of giving a little habit to a saint or of giving refreshment to the souls in Purgatory, and they are two truly important tasks for me: to save souls by means of the scapular and to give refreshment to the souls of Purgatory.
But were you to know how pressing it is to me to give to the youth that continually go cutting their wings, getting lost in the enjoyment of the senses, that spiritual sense of life that renders it serener, lighter and holier.
You call the young sometimes "the lost youth". How I would like for them to burn with the love of God and were to have great ideals, so that their hearts would truly burn in the desire of great conquests. Pray and work for the young.
They are the future of your country and the world. Yes, let the young through, and you make way, be their defense and guide since alone they'll get lost.
To you all, my children, my special blessing.
  The thoughts, the reflections and the meditations in this booklet, were inspired by Our Mother Maria, Mother of Jesus, to Carmela Negri Carabelli. They are, however, addressed to all those souls, who, desirous to love the Lord, seek to put into practice his teachings and to live the Christian life more perfectly. May Jesus bless these pages and those who read them with the desire to improve themselves, granting the help of his grace.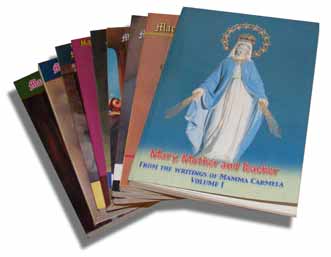 For more information about these magnificent teachings, for any spiritual assistance you may need or to participate and spread throughout the world the cenacles of prayer and the apostolate of the Divine Mercy, please contact:
"CENACOLO DELLA DIVINA MISERICORDIA", Viale Lunigiana 30, 20125 Milano, Italy Nihil Obstat: Reverend Gerard Diamond MA (Oxon), LSS, D. Theol, Diocesan Censor Imprimatur: Rev. Monsignor Les Tomlinson, Vicar General Date: 20th July 2007
The Nihil Obstat and Imprimatur are official declarations that a book or pamphlet is free of doctrinal or moral error. No implication is contained therein that those who have granted the Nihil Obstat and Imprimatur agree with the contents, opinions or statements expressed. They do not necessarily signify that the work is approved as a basic text for catechetical instruction.
Catholic Archdiocese of Melbourne