MESSAGE FROM OUR LORD JESUS ​​CHRIST TO HIS BELOVED DAUGHTER LUZ DE MARIA
MARCH 27, 2020
Pray for the See of Peter
"Dearly beloved People!
I BLESS YOU WITH MY DOLOROUS PASSION. WITH EVERY DROP OF MY BLOOD.
In every pain of My Passion of Love, I saw you who are reading this Word of Mine, so that at this moment you might be grateful for your lives and be disposed to gaining Eternal Life.
I EXPERIENCED CONTEMPT, SCREAMS, HUMILIATIONS, CURSES, I EXPERIENCED WITHIN MYSELF THAT WHICH FOR MAN HAS NO ANSWER: I EXPERIENCED WRATH, ANGER, I WAS THE CREATURE UPON WHOM WERE UNLOADED INCONCLUSIVE OR UNSATISFIED ANSWERS, MISUNDERSTANDINGS AND FANATICISM.
And I have continued to offer My children Revelations in advance so that they would prepare themselves, especially in the spirit, and take the path of conversion. This has not sunk in: it took the coming of what man himself created in order for you to draw near out of fear of falling sick, although without commitment, but rather out of convenience.
My beloved People, this is the time that is no time; the great suffering of all humanity is approaching, so you will see before you eyes greater diseases and natural catastrophes, moments of fear faced by threats from space; you will live in terror, THE RESULT OF HUMANITY'S DISRESPECT – YOU HAVE NOT LISTENED, YOU HAVE REBELLED AND LEFT ME OUT OF MY KINGDOM.
World news will tell you of a new viral mutation and panic will reach the world, because you live in darkness and therefore your petitions are momentary; most do not live out in Faith what they ask for with their mouths.
You, My children, stay together: Faith is the support of My People, love for My Mother captivates me and I listen to what My Mother asks of me.
The Devil has gone blindly against My faithful and has brought them to moments of doubt and trials, which I have allowed so that you would grow in humility, and set aside the armor of reason and human logic so that I might direct it in my ways, where I want, and this is more appropriate for the human being's attainment of a stable spirituality with greater security and greater obedience.
Bend your knees (cf. Eph 3:14-21), not in order to ask me to eliminate what does not benefit your soul; bend your knees and humbly ask My Holy Spirit for His Light.
A WORLD LEADER WILL SUFFER IN THE MIDST OF HIS PEOPLE'S AGITATION; THEY WILL TAKE HIS LIFE, GENERATING CHAOS AND DESTRUCTION. THOSE WHO ARE SEEN AS INVINCIBLE WILL BE OVERCOME AND EVERYTHING WILL BE FULFILLED; SCARCITY AND HUNGER ARE COMING, THE CONFUSION WITHIN MY CHURCH DOES NOT STOP AND THE ECONOMY IS HANGING BY A FINE THREAD THAT WILL BREAK WHEN LEAST EXPECTED.
Pray My children, pray. Without prayer and conversion it will not be possible for man to regain a little stability.
Pray My children, the earth continues to shake in the midst of human suffering.
Pray My children, pray for the See of Peter.
You are not alone (cf. Mt 28:20): I am with My children and My Envoy will come to mitigate the suffering of My People. In the midst of unbelief, there will always be some of My faithful who will welcome him and see that he is My Envoy, My Angel of Peace. (1)
My Mother sustains you, She is the Beacon of My Light on the path of all My People. My Mother is the Mother of each one of you, ACCEPT HER WITH LOVE!
My Beloveds, My Mother will wipe away your tears, she will console you and sustain you at this time when I have been suppressed Sacramentally for My People. I remain in you, and the communions that you have received when properly prepared, today arise in each one of you, this being a spring of Living Water, as I and only I am capable of this miracle of perpetual Love (cf Jn 7:37; Ps 84:2).
I bless you with My Love, I anoint you with My Precious Blood.
DO NOT FEAR, YOU ARE NOT ALONE!
Your Jesus."
HAIL MARY MOST PURE, CONCEIVED WITHOUT SIN
HAIL MARY MOST PURE, CONCEIVED WITHOUT SIN
HAIL MARY MOST PURE, CONCEIVED WITHOUT SIN
(1) Revelations about the envoy of God, forerunner of the second coming. (Read…)
Source: Revelaciones Marianas
The truth about the Coronavirus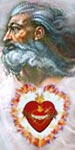 May 1, 2020 - God the Father says: "Today, I invite you to realize that this virus - the coronavirus - is no ordinary disease. It has been created from human ingenuity to specifically target the elderly and physically challenged. This is the plan of future generations to purify the human race around the world. It was released into the general population ahead of schedule - by accident. Those in charge were waiting for less capable government officials in your country (USA) to be in office. Nevertheless, proposed harm is being unleashed on the whole human race."
"I tell you these things to help you to realize the underlying evil at work and hidden in hearts these days. You cannot be confounded by any turn of events. Over all situations, I am in Dominion. No one will be given power over you that is more powerful than your Eternal Father. Therefore, be emboldened with this knowledge. If you persevere in Truth, you have loaded your weapons against what seems to be and discharged them with Truth." (Source: Holy Love)
Help the Lord spread His voice, time is running out
Please help spread these messages of faith, hope, salvation,
defense
against evil (by email, printing, Facebook, Twitter, and other media) to your loved ones, your friends, and all the people you may meet, who seek salvation or who are in danger of being eternally lost. The Lord gives great graces and blessings to those of goodwill who, according to their own possibilities, collaborate with His Plan of Salvation.
Who helps the Lord save a soul predestine his own
, independently from the outcome.