MESSAGE FROM OUR LORD JESUS CHRIST
TO HIS BELOVED DAUGHTER LUZ DE MARIA
APRIL 27, 2018
Pray for Guatemala, the fire awakens and causes suffering
"My Beloved People:
I SEE YOU AS A REFLECTION OF MY PATH TO CALVARY… IN MY CROSS YOU FIND THE TRUTH OF MY LOVE AND THE GLORY OF THOSE WHO MAKE UP MY MYSTICAL BODY…
IN THE EUCHARIST YOU RECEIVE ME, IN IT I AM PRESENT, ALIVE AND BEATING, OUT OF LOVE… (cf. Mt 26, 26-28).
My People must live in constant communion so that, in the midst of the tribulations, the roots of fraternity causes you to be "one" with Me.
At this instant when pain, tragedies, folly, conflicts, the decadence of society in all its areas and the narrowness of man's reason itself have led My children to delight in the pleasures provided by evil, they live by the deceptions of evil in order that they succumb as worshipers of evil.
The course of Humanity, distant from Me and devouring itself, is a sign of voluntary submission to the devil.
The instant of hardship will not pass quickly, since evil's hope is to steal the greatest number of souls.
Great and damaging spiritual confusion has arisen and will continue arising with greater frequency so that My People totally surrender to evil.
You should not walk without knowing Me so as not to be led into darkness when you believe you are walking towards Me.
I AM NOT AN ACCUSATORY OR VENGEFUL GOD, I AM MERCY AND FORGIVENESS, THEREFORE MY FATHER SENT HIS CHILDREN THE COMMANDMENTS SO THAT THEY OBEY AND FULFILL THEM.
My Law is love and love is fulfillment, and fulfillment is obedience, and obedience is love. Whoever loves Me fulfills the Commandments, does not break them or diminish them at their convenience. (cf. Jn 14,21-26)
I forgive and love, love and forgive so that My children repent and, with a firm purpose to change their lives, are worthy to receive Me and to attain My Mercy and Eternal Life.
MAN HAS TURNED AWAY FROM ME; I DO NOT TURN AWAY FROM MY CHILDREN, I CALL YOU CONSTANTLY.
Far from Me you do not find good, but the falsehood of the devil and his machinations in which you cannot distinguish good from evil.
You are at ease with thinking that I forgive everything without the need for man's repentance and firm purpose of amendment…
THIS IS NOT MY MERCY, BUT HUMAN LICENTIOUSNESS IN ITS FULL EXPRESSION. (cf. Ps 89,14)
Remain alert, My children, so that evil no longer confuse you. I constantly call you to remain alert at this instant when the world seems peaceful … You know full well, My children, that I have already warned you about this instant.
My People, you must be firm in the faith, therefore I call you not to be lukewarm.
Pray and put this prayer into practice, do not be indifferent towards the suffering of your brothers and sisters.
Pray, My children, pray for Costa Rica.
Pray, My children, pray for Nicaragua, My People suffer.
Pray, My children, pray for Argentina, men brandish the specter of violence.
Pray, My children, pray for Guatemala, the fire awakens and causes suffering.
Communism has not left Humanity, but has disguised itself in order to continue against My People.
MY BELOVED PEOPLE, PERSEVERE, DO NOT FALTER, MY HAND REMAINS OVER EACH PERSON. YOU ARE NOT ALONE, EVEN WHEN YOU DO NOT FEEL ME, I LIVE IN MY PEOPLE.
Be patient, My Angel of Peace will come to comfort you (1).
I SEE YOU AND I SEE MYSELF REFLECTED IN YOU …
MY CROSS IS NOT DEATH, IT IS RESURRECTION AND LIFE IN ABUNDANCE.
EVERY PRAYER, EVERY PHRASE OF MY PEOPLE IS HEARD IN MY HOUSE.
I bless you with My Love.
Your Jesus.
HAIL MARY MOST PURE, CONCEIVED WITHOUT SIN
HAIL MARY MOST PURE, CONCEIVED WITHOUT SIN
HAIL MARY MOST PURE, CONCEIVED WITHOUT SIN
(1) Revelations about the Angel of Peace: read…
Source: Revelaciones Marianas
Help the Lord spread His voice, time is running out
Please help spread these messages of faith, hope, salvation, defense against evil (by email, printing, Facebook, Twitter, and other media) to your loved ones, your friends, and all the people you may meet, who seek salvation or who are in danger of being eternally lost. The Lord gives great graces and blessings to those of goodwill who, according to their own possibilities, collaborate with His Plan of Salvation. Who helps the Lord save a soul predestine his own, independently from the outcome.
The truth about the Coronavirus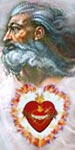 May 1, 2020 - God the Father says: "Today, I invite you to realize that this virus - the coronavirus - is no ordinary disease. It has been created from human ingenuity to specifically target the elderly and physically challenged. This is the plan of future generations to purify the human race around the world. It was released into the general population ahead of schedule - by accident. Those in charge were waiting for less capable government officials in your country (USA) to be in office. Nevertheless, proposed harm is being unleashed on the whole human race."
"I tell you these things to help you to realize the underlying evil at work and hidden in hearts these days. You cannot be confounded by any turn of events. Over all situations, I am in Dominion. No one will be given power over you that is more powerful than your Eternal Father. Therefore, be emboldened with this knowledge. If you persevere in Truth, you have loaded your weapons against what seems to be and discharged them with Truth." (Source: Holy Love)